Splinterlands - Opening Chaos Legion packs COULD be worth it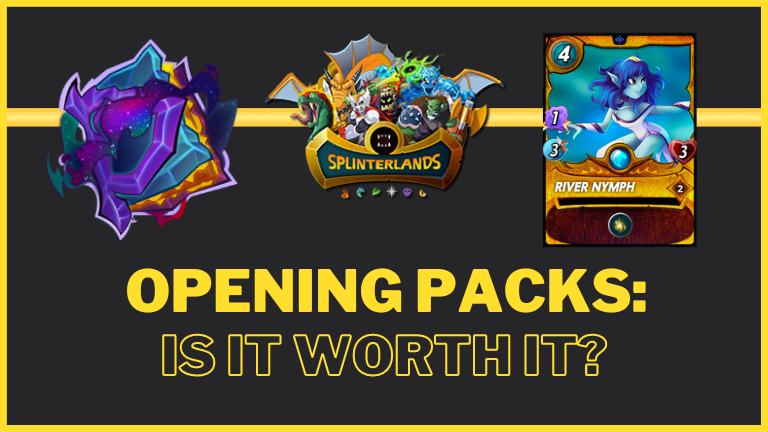 ---
Hello Splinterlandians,
in my recent end of season rewards I got three (!) packs. I thought about holding them and hope to sell for a higher price in the future, but I just wanted to have some fun and opened them. In this blog I want to show you the results, what I got out of the packs and answer the question was it worth to open them.
Thanks in adavance for reading and every sort of support!

My EOS rewards: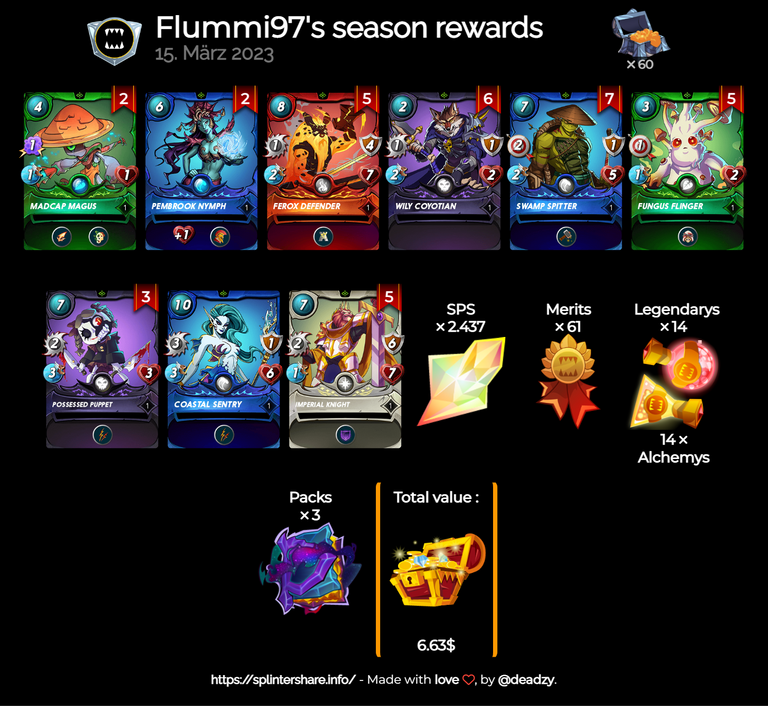 For evidence I want to show you my rewards. As you can see I played in the silver league and got 60 silver chests. I had great luck when getting three chaos legion packs out of it. Because of that I'm not mad, because I only received common and rare cards. A total value of 6.63$ is a very solid result for me.
Let's see what was inside those juicy packs.
---
Pack #1:

It started very well, with two rare and one epic card in a pack. On top of that one rare card, the River Nymph, was a gold foil. Even though I had not that much luck with my epic card, the Temporal Master, because he is one of the cheapest Chaos Legion epic cards, the pack had a solid value about 2.46$.
---
Pack #2:

The second pack cointained another rare and epic card. Like in the first pack I got another gold foil card, this time a common, the Venari Scout. The epic card, Hunter Jarx, wasn't great again for a epic card, but of course I take it. The pack had a value about 1.47$, which honestly isn't very good.
---
Pack #3:

With the third and last pack I got the third gold foil card in a row with the common card Mycelic Morphoid. Aside of that the pack had three rare cards insdite of it, two of them were summoners, Obsidian and Kelya Frendul. The two summoners have a high value for rare cards and pushed the value of the pack up to 4.65$.
---
Conclusion:
I have to say, I got a little bit lucky opening these packs. Normally you get one rare and four common cards out of a pack, but that wasn't the case in my three packs. On top of that I've got a gold foil out of every single pack.
The summed up total value of all three packs was 8.85$, so the average value for one pack was around 2.86$. Looking at the current price for a Chaos Legion pack on Hive Engine says to me, that a single pack is traded around 2.17$. So in my case and at this point, it was worth to open the packs.
Lastly I have to mention, that this isn't a financial advice to open your packs instead of selling or holding them. It is all about luck opening packs and you could make a loss. I had luck this time and I'm happy about it.
Thanks for reading up to here and have some great days!

Why I'm blogging about Splinterlands?
I want to increase the growth of my Splinterlands account with the rewards of blogging about my experiences, tactics and much more on Splinterlands.
Not playing Splinterlands yet?
You can use my link to sign in. Write me a message or a comment under this post and I will help you to start!
---
---