10,000 Staked SPS! First Major Milestone for me + Daily Rewards 11.28.21
Hello! Thanks for visiting my SPS 10,000 celebratory post!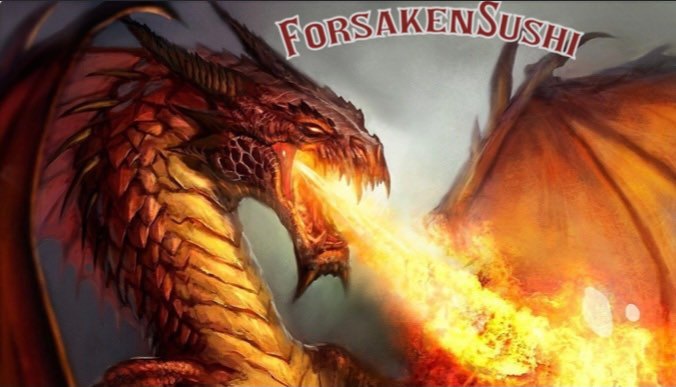 My name is ==ForsakenSushi== and today I hit a Huge milestone in my Splinterlands Journey. This journey began in Late August of 2021, a mere 3 months ago! Back then I had just begun playing splinterlands and SPS had just recently launched. I bought 3800 SPS at multiple points between .40 and 0.24. Today I reached 10,000 Staked SPS!!!! Please check out my old post for nostalgia and to see how my state of mind was at that time. Heres the link!


PLEASE READ ME BEFORE CONTINUING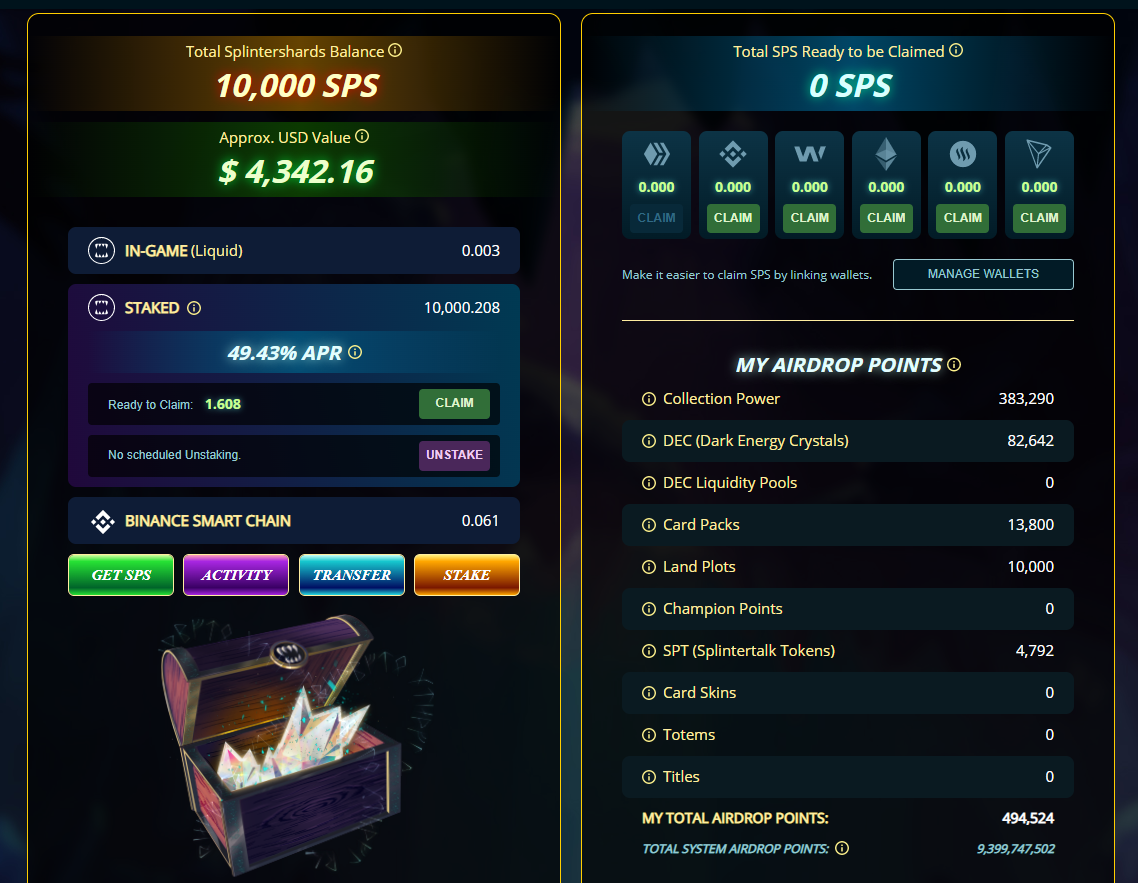 Im pretty proud of accomplishing this in 3 months. Let me give you my reflections about SPS now, and What is coming and what could be coming in the future.

Why I love SPS Now
SPS currently pays 49.43% APR per year paid out in SPS tokens on a daily basis. Even though this rate is much lower than the inception of SPS, it is still quite a large annual yield. Those are Staking rewards.
SPS is airdropped on a daily basis to all players based on their airdrop points(Splinterlands Assets), continuing for 240 more days.
The price is down from a high around $0.90 to currently around $0.44 which is in my opinion, (not financial advice) is a good price to start accumulating SPS, I dont think its time to go all in, slowly accumulate and cost average.
Voucher Drop has already begun, and we can already see the value of staked SPS in unlocking new content that Splinterlands releases now and in the future henceforth. My staked SPS allowed me to buy 50 packs of chaos legion without buying any vouchers. I got really lucky with the numbers when the event started I thought i would have 56 packs but that slow diminished over the event as more people staked SPS.



My Status
In Total Ive earned 6163 SPS Through a combination of Airdrop rewards, Staking Rewards, and recently Tournament rewards since I started in August.
Im earning approximately 12.8 SPS a day in staking rewards.
Im earning approximately 57.6 SPS a day in airdrop rewards.
Total per day approximately 70.4 SPS a day. Wow! I LOVE IT!!! $31 USD

Please Check out the Splinterlands Game yourself at this link:Splinterlands Game Homepage

MY GOALS AND THE FUTURE OF SPS

Personal Goals:

At least 20,000 Staked SPS by time airdrop ends.
At least 100,000 Staked SPT by the time airdrop ends.
At least 1,000 Hive Powered up by the time airdrop ends.
Very ambitious goals, but hey, lets shoot for the stars right!


Why SPS will way better than now in the coming future:

Confirmed that SPS will be used to speed up building upgrades on land.
Confirmed that Staked SPS will vote on governance like right now we have a suggestion page that Splinterlands started but in the not too distant future our votes will carry weight on those potential game updates based on our staked SPS.
At some point in the near future they introduce SPS rewards for brawls and regular ranked matches. Some speculate that the amount of SPS staked will influence your payout in ranked matches payout.
Although the airdrop will end this coming August, SPS paid from Staking rewards will continue for 4 more years after the airdrop ends. Also voucher drops will continue indefinitely after the 2nd phase of the presale.

Daily Rewards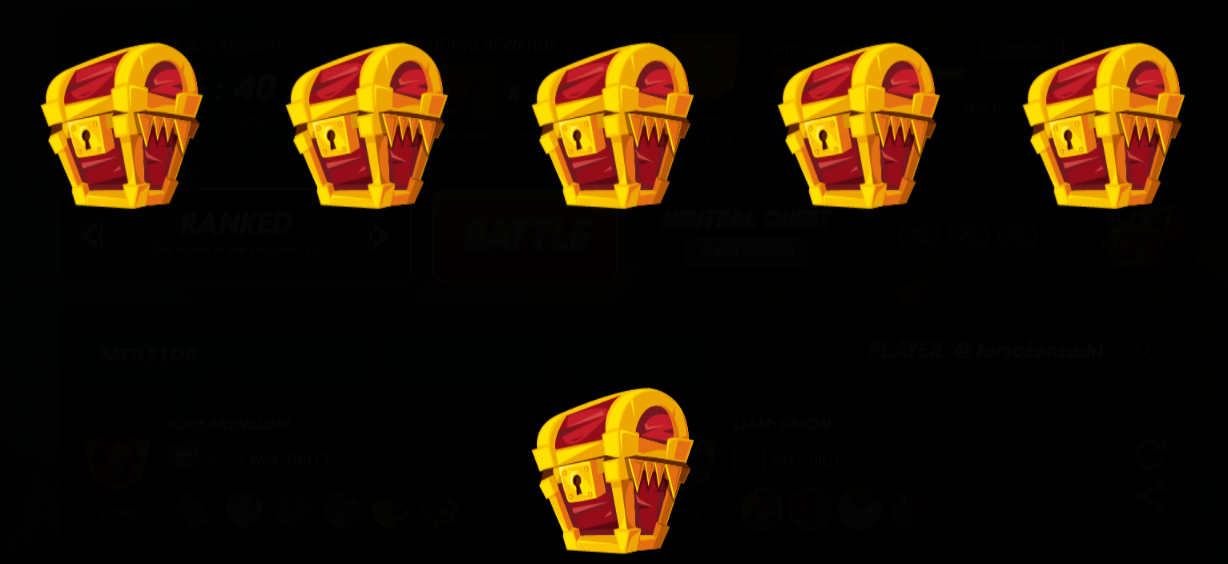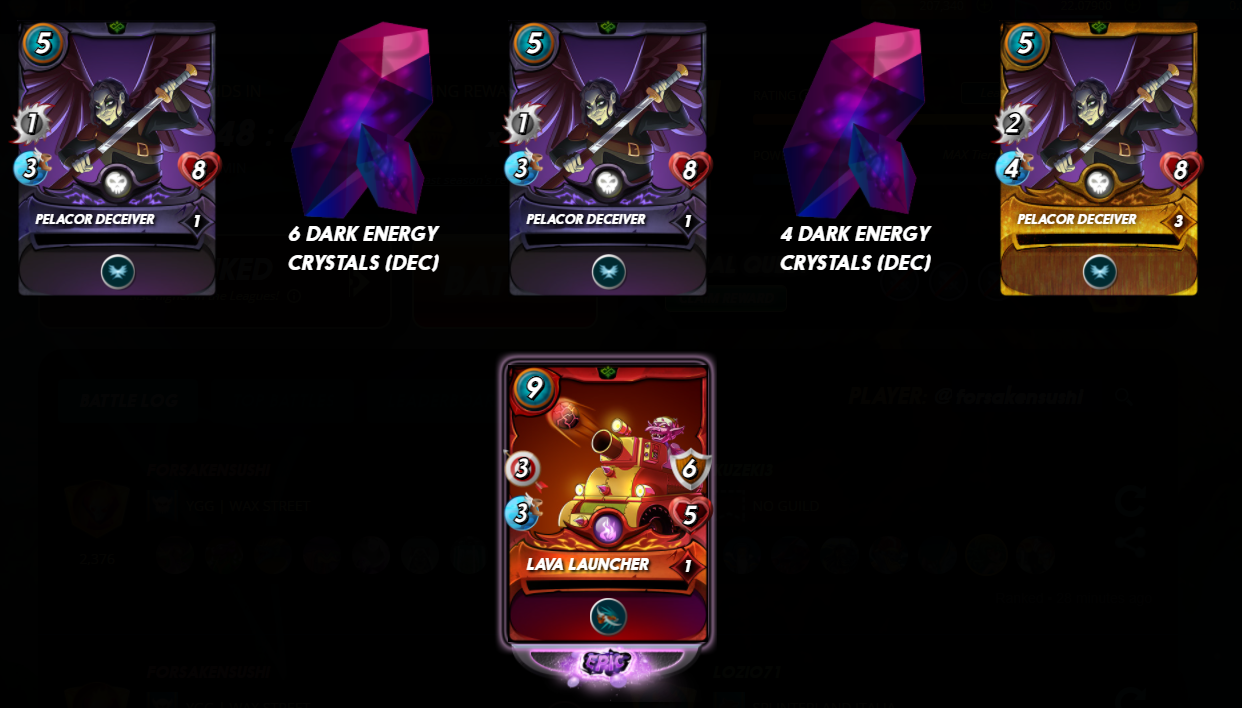 I gotta say the Daily Rewards were great today also! One of the best Ive had while playing! We are very blessed to be a part of this great community here at Splinterlands! Take care everyone and be safe in these times!!
---
---