(ENG/SPA) Fanart @Splinterlands: "FIRE ELEMENTAL" | +Detailed Illustration Process |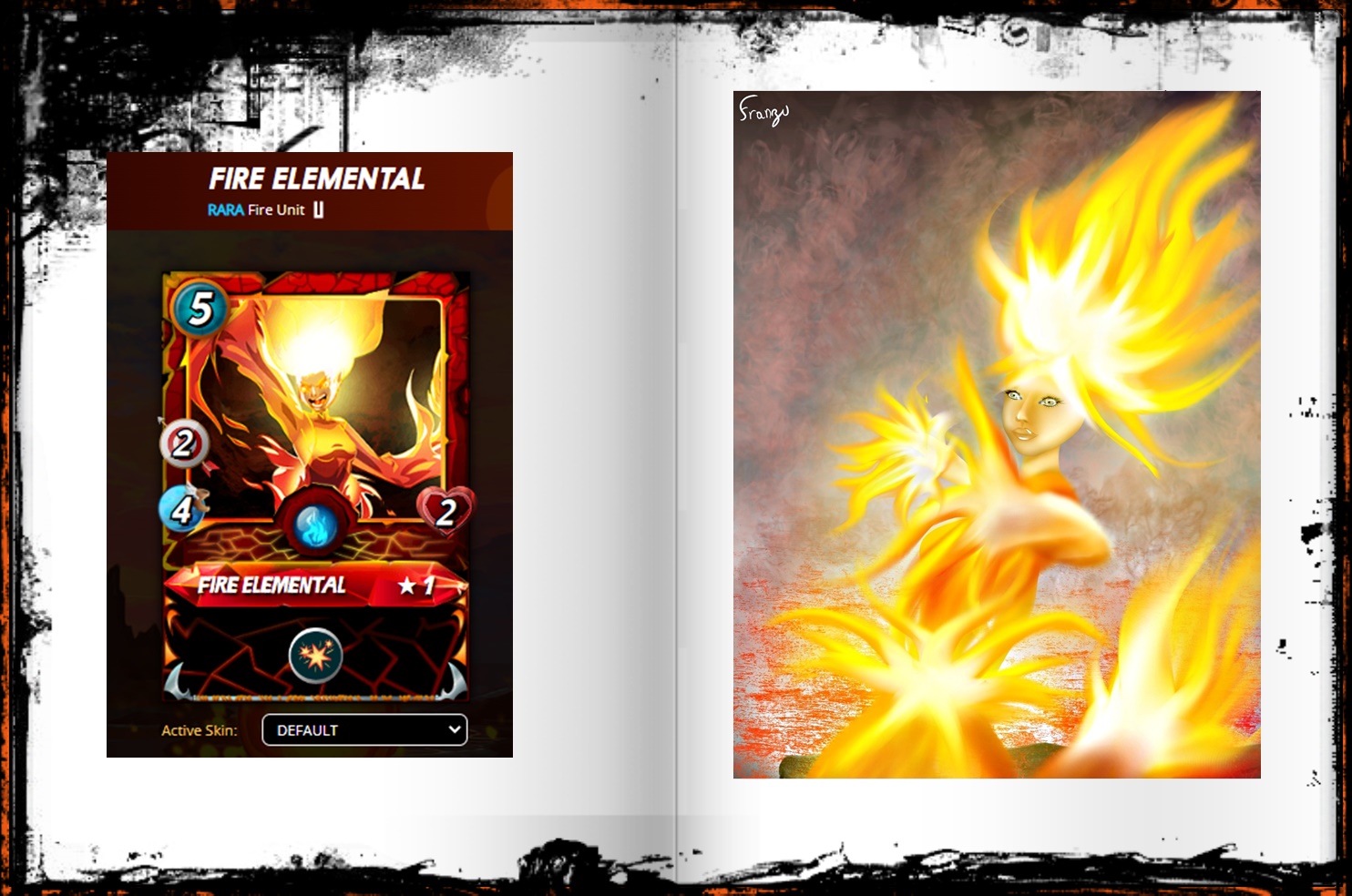 FIRE ELEMENTAL
| | |
| --- | --- |
| ¡Hola amigos! nuevamente por acá para contar le sobre otro proceso de ilustración que hice para otro concurso de @splinterlands, escogí una carta de la unidad de FUEGO llamada: "FIRE ELEMENTAL" quise dibujar a este personaje por que me gusto y me atraen los personajes de fuego, esta se ve es poderosa ya que Solo los invocadores de fuego más habilidosos pueden llamar a un elemental de fuego usando ataques de llamas mortales. | Hello friends! here again to tell you about another illustration process I did for another @splinterlands contest, I chose a letter from the FIRE unit called: "FIRE ELEMENTAL" I wanted to draw this character because I like it and I'm attracted to fire characters , this one is seen to be powerful as only the most skilled fire summoners can summon a fire elemental using deadly flame attacks. |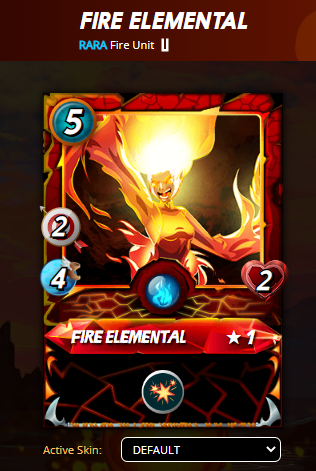 REFERENCE

AND THE PROCESS BEGINS: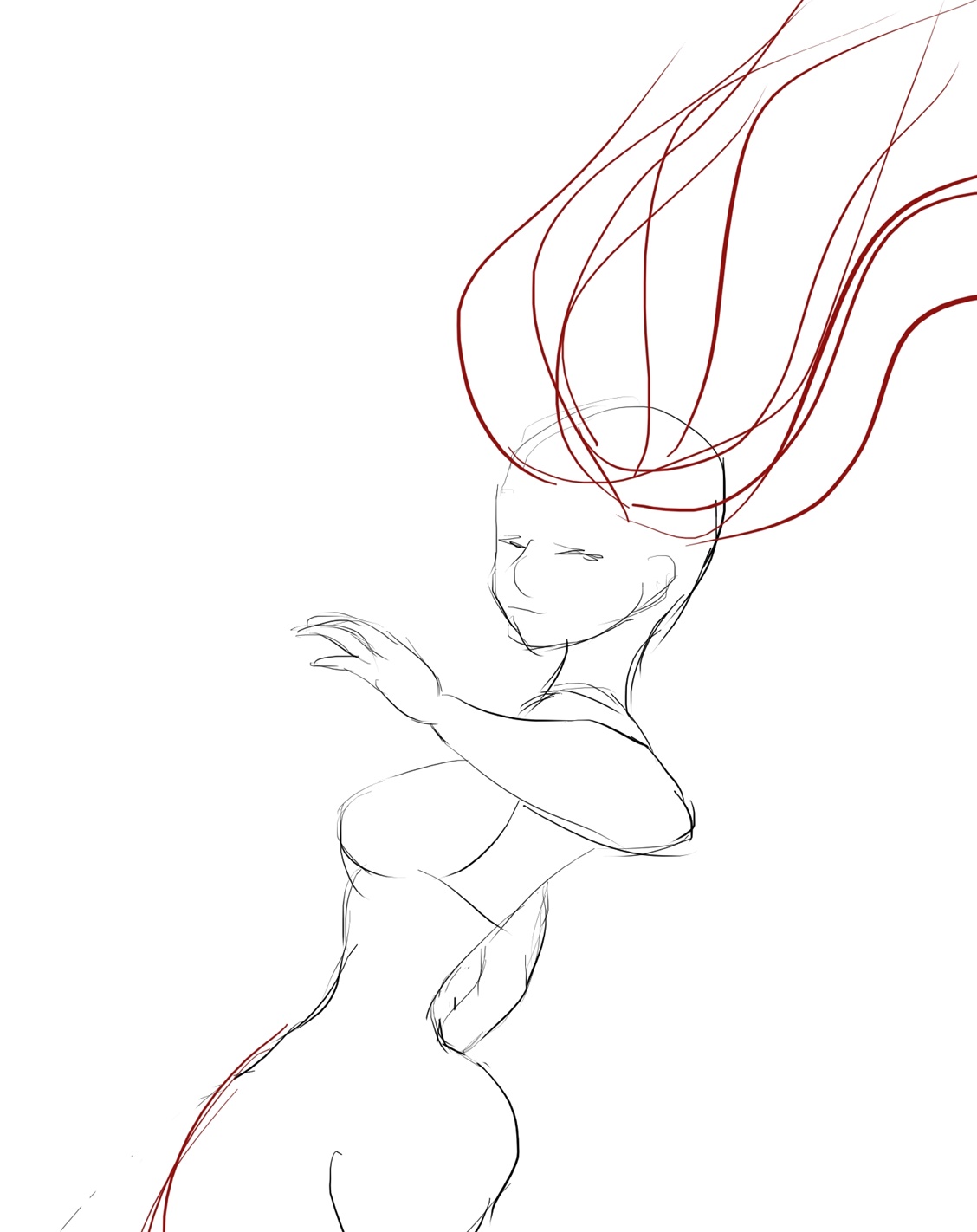 | | |
| --- | --- |
| Amigos siempre comienzo el proceso, dibujando el boceto con unas líneas rústicas y muy básico siendo estas algo tosca, muy sencillas para tener una nocion de lo que haré. | Friends, I always start the process, drawing the sketch with some rustic and very basic lines, being these somewhat rough, very simple to have a notion of what I will do. |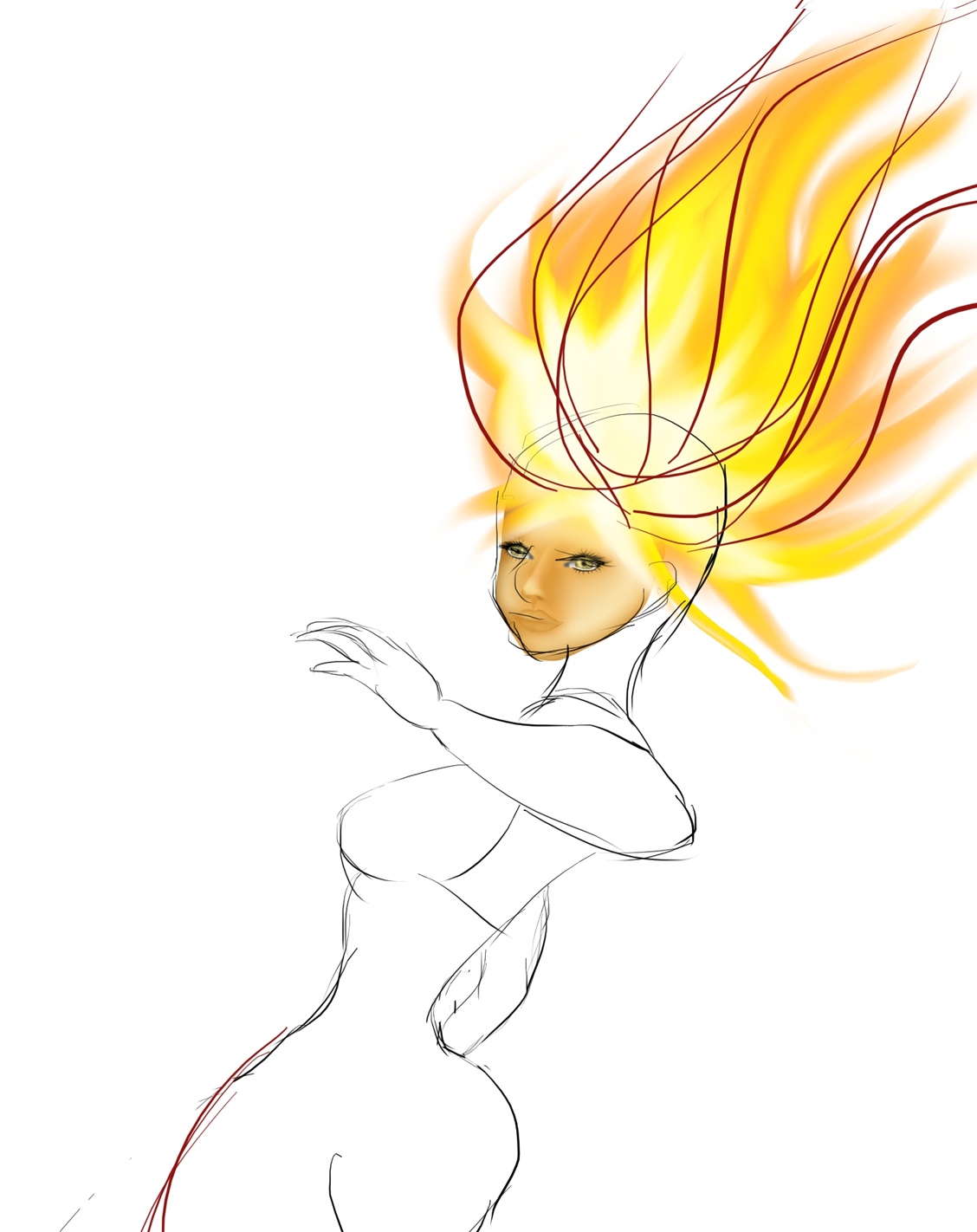 | | |
| --- | --- |
| En segundo lugar utilicé un pincel común para pintar la cabeza con un tono naranja, luego con Pincel Aerógrafo en otra capa sature y aclare este mismo color para hacer las luces y sombras, la nariz boca y ojos los hice con el mismo pincel cambiando los colores, hice las pestañas y cejas con el pincel de pelo y para el cabello de llamas usé un pincel común con los colores naranja, amarillo y blanco luego un Pincel Mezcador para hacer que pareciera fuego. | Secondly, I used a common brush to paint the head with an orange tone, then with an Airbrush Brush on another layer saturate and lighten this same color to make the lights and shadows, the nose, mouth and eyes I did with the same brush changing the colors , I made the eyelashes and eyebrows with the hair brush and for the flame hair I used a regular brush with the colors orange, yellow and white then a Rocker Brush to make it look like fire. |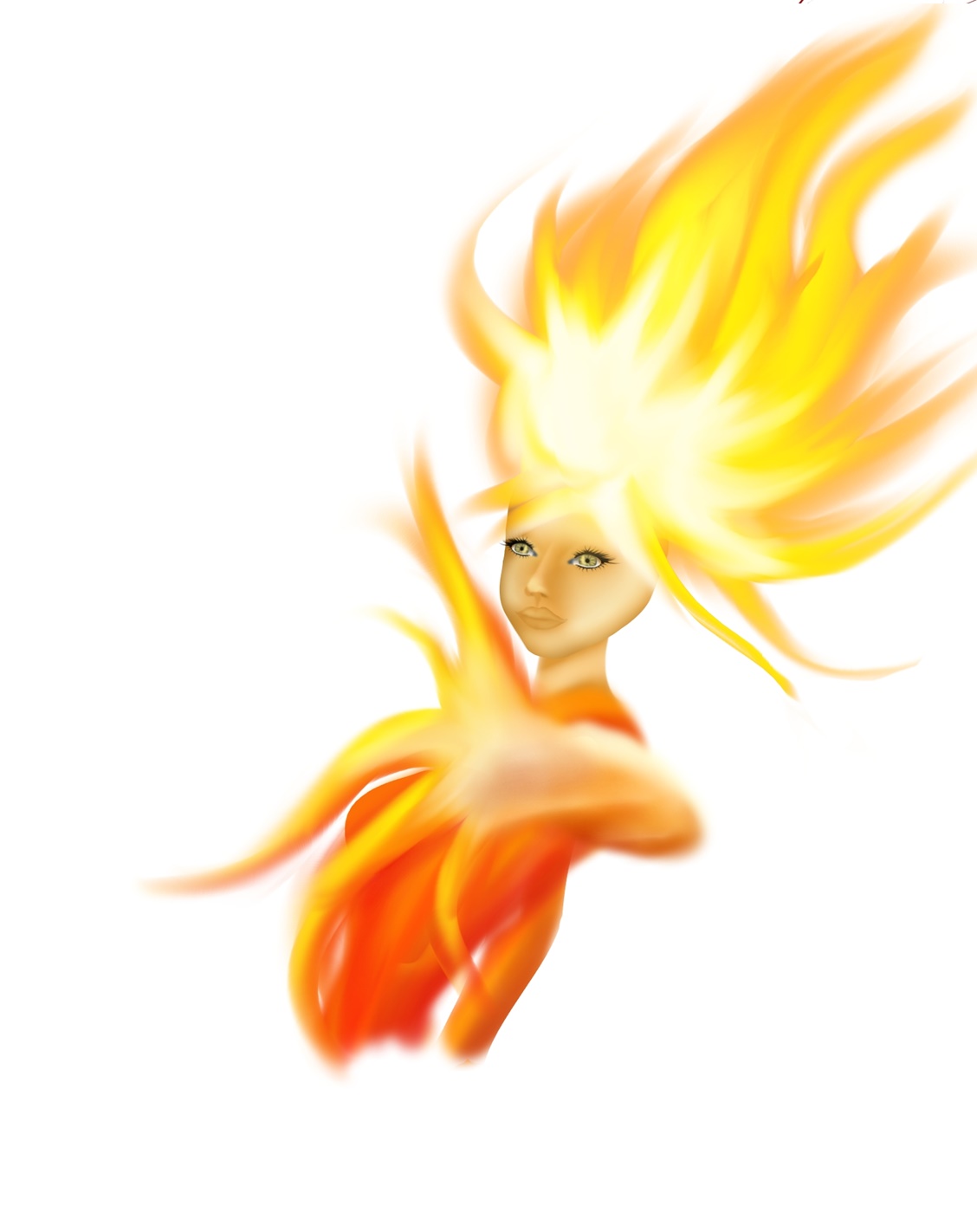 | | |
| --- | --- |
| En esta parte realicé el cuello usando la misma tonalidad, tecnicas y pinceles de la cara, luego hice los el brazos y el torzo usando los colores que mencione antes al igual que el Pincel Mezclador para realizar las llamas que salen en la manga del traje y usando la misma tecnica. | In this part I made the neck using the same tone, techniques and brushes of the face, then I made the arms and the torso using the colors that I mentioned before as well as the Mixer Brush to make the flames that come out on the sleeve of the suit and using the same technique. |

FINISHED ILLUSTRATION: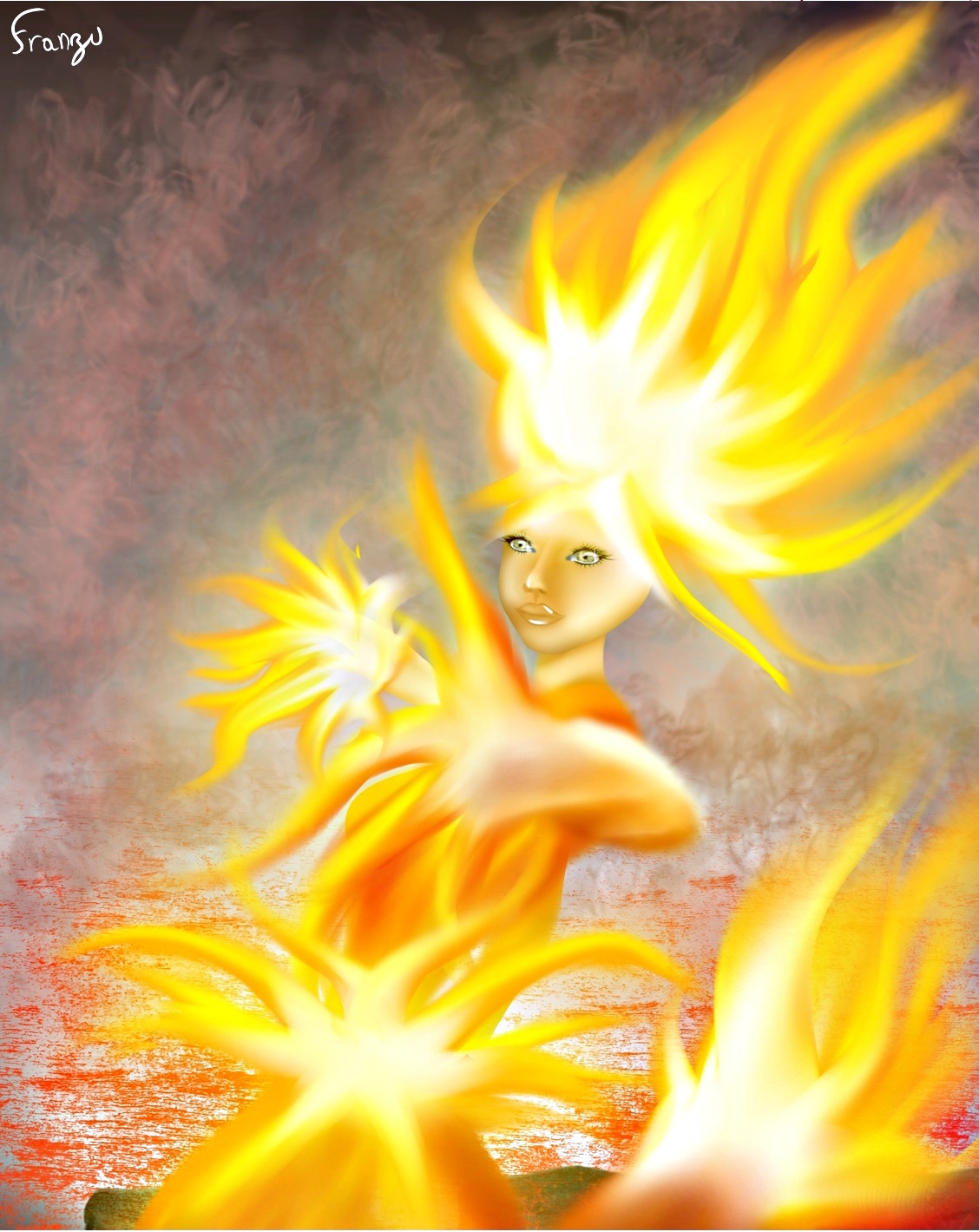 Title: FIRE ELEMENTAL
Duration: 12 hours
Program: Krita i used a graphic tablet: Wacom Intuos S
| | |
| --- | --- |
| Por último mis queridos amigos, les haré un resumen rapido de lo que hice. aqui pinte la parte inferior del cuerpo, luego la mano y llamas que salen de la mano siempre usando los mismo colores ya que como saben es un personaje de fuego, para su realización utilicé los mismo pincel que e mencionado anteriormente, despues quise hacer un rio de lava el cual usé un Pincel se salpicadora con el color rojon luego hice nuves de humo con una tonalidad gris y un poco de blanco y en la parte inferior del fondo hice unas rocas. Para culminar duplique todas las capaz que contenian llamas juegue con los modos de difucion y aplique un Desenfoque Gaussiano para que el fuego tubiese resplandor. | Finally my dear friends, I will give you a quick summary of what I did. here I painted the lower part of the body, then the hand and flames that come out of the hand always using the same colors since as you know it is a character of fire, for its realization I used the same brush that I mentioned before, then I wanted to make a river of lava which I used a splash brush with the red color then I made clouds of smoke with a gray hue and a little white and in the lower part of the background I made some rocks. To finish, duplicate all the layers that contained flames, play with the diffusion modes and apply a Gaussian Blur so that the fire had a glow. |

My social network:
| About Franzu 💎 | INSTAGRAM! |
| --- | --- |
| Frank Perez, Venezuelan. He is an apprentice of digital illustration. He is currently experimenting with new ways of painting in search of creating his own style. / Frank Pérez, venezolano. Es un aprendiz de la ilustración digital. Actualmente se encuentra experimentando nuevas formas de pintar en busca de crear un estilo propio. | |
Bueno ese fue el resultado final, me agrada el resultado espero que a ustedes también les agrade y espero tener la oportunidad de ganar algún lugar en el concurso.
Well that was the final result, I like the result I hope you like it too and I hope to have the opportunity to win some place in the contest.
I hope you like this illustration as I do and see you in future publications!
---
---