(ENG/SPA) Fanart @Splinterlands: "WATER CALLER" | +Detailed Illustration Process |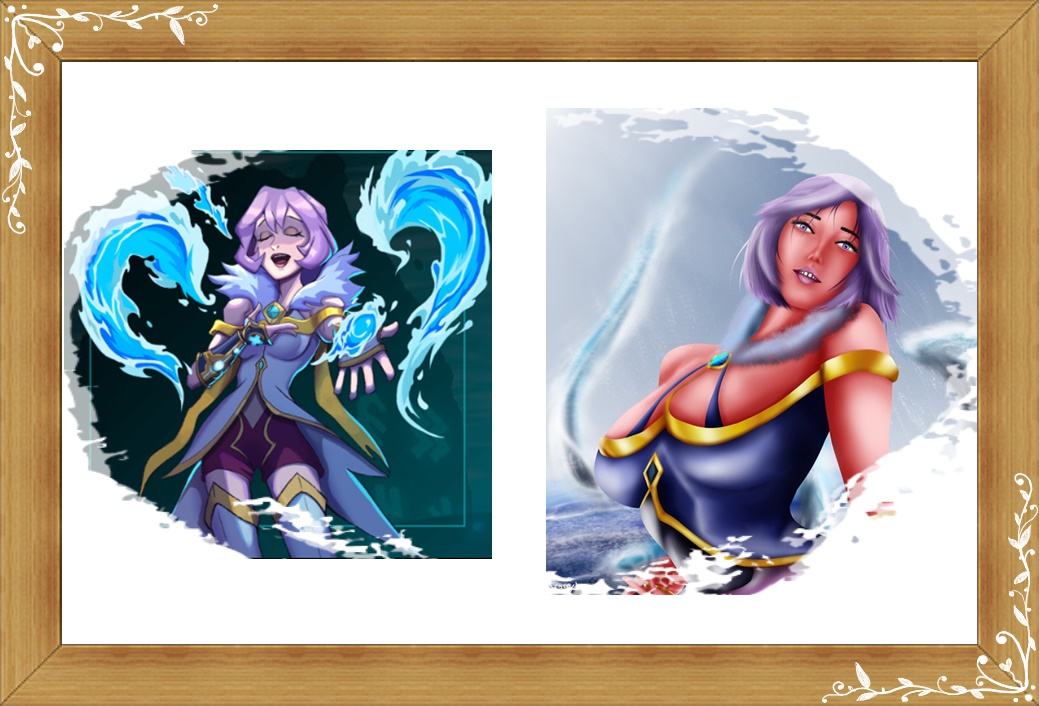 WATER CALLER
| | |
| --- | --- |
| ¡Hola amigos! nuevamente por acá para contarles sobre otro proceso de ilustración que hice para otro concurso de @splinterlands, escogí una carta de la unidad AGUA llamada: "WATER CALLER" esta hermosa mujer nació y creció en el reino acuático de Lemell. Desde temprana edad, tuvo una fuerte conexión con el maná elemental del agua. Para fomentar sus habilidades, sus padres la enviaron a entrenar con los druidas de Lemell Gwen pasó sus años formativos en el agua, aprendiendo a canalizar su poder. Mientras que algunos druidas se especializaban en hechizos ofensivos, Gwen prefería usar sus poderes para ayudar a otros, ultimamente e dibujado mas mujeres para el concurso porque me gustan mas. | Hello friends! here again to tell you about another illustration process I did for another @splinterlands contest, I chose a letter from the WATER unit called: "WATER CALLER" this beautiful woman was born and raised in the aquatic kingdom of Lemell. From an early age, he had a strong connection to the elemental mana of water. To further her abilities, her parents sent her to train with the Druids of Lemell. Gwen spent her formative years in the water, learning to channel its power. While some druids specialized in offensive spells, Gwen preferred to use her powers to help others, lately I've drawn more women for the contest because I like them better. |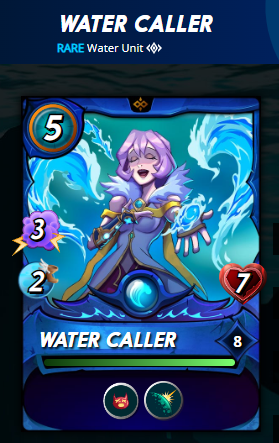 REFERENCE

AND THE PROCESS BEGINS: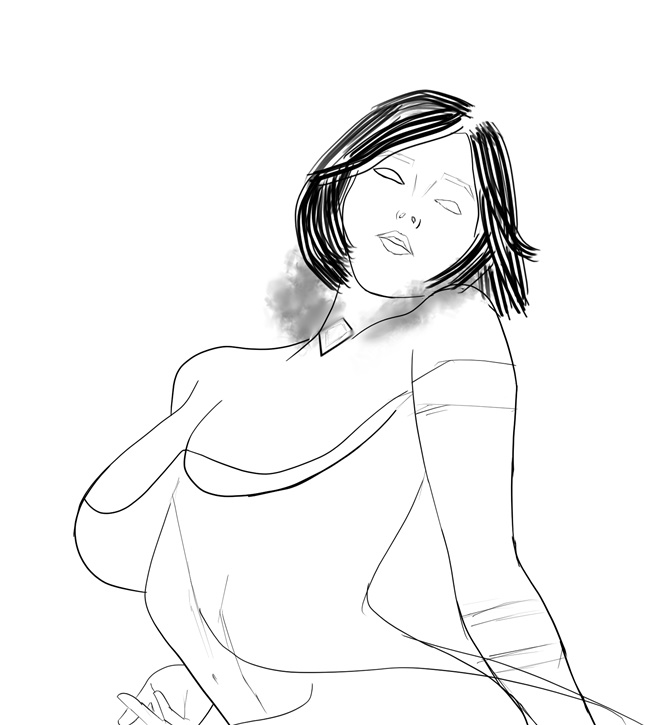 | | |
| --- | --- |
| Amigos siempre comienzo el proceso, dibujando el boceto con unas líneas rústicas y muy básico siendo estas algo tosca, muy sencillas para tener una nocion de lo que haré siempre hago esto es mis dibujos. | Friends, I always start the process, drawing the sketch with some rustic and very basic lines, being these somewhat rough, very simple to have a notion of what I will do, I always do this in my drawings. |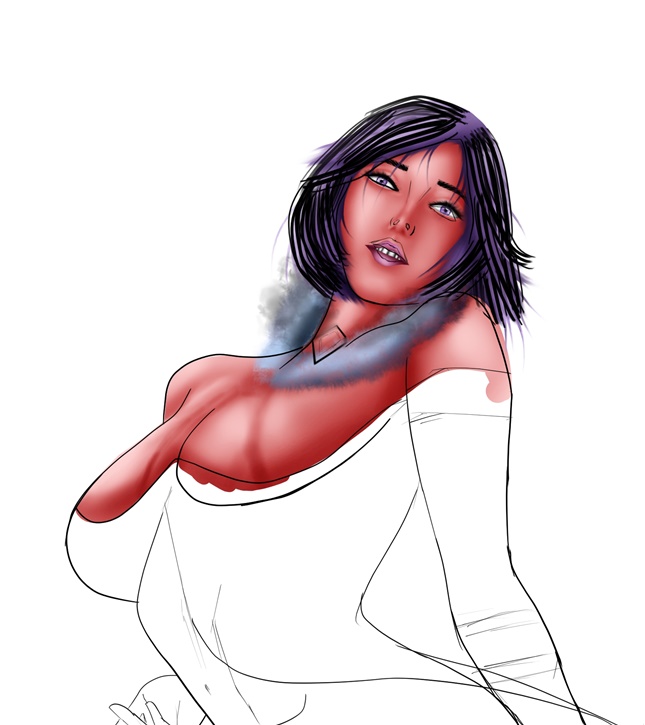 | | |
| --- | --- |
| En esta parte pinté la cabeza con todo lo que la conforma como ojos, cejas, pestañas, boca, nariz y cabello, tomando algunos colores de la referencia para utilizarlos como base con un Pincel Común. Para las sombras y luces usé el Pincel Multiplicar y Superponer, para el cabello use los pinceles de Pelo, Mezclador de Manchas uno de Desenfoque a su vez usando los pincel que mencione antes para luces y sombras agradandome como me quedo todo y para la bufando use un Pincel De Ruido luego difumine en algunos lugares. | In this part I painted the head with everything that makes it up such as eyes, eyebrows, eyelashes, mouth, nose and hair, taking some colors from the reference to use as a base with a Common Brush. For the shadows and highlights I used the Multiply Brush and Overlay, for the hair I used the Hair brushes, Smudge Mixer one of Blur in turn using the brushes that I mentioned before for highlights and shadows liking how everything turned out and for the puffing I used a Noise Brush then blend in some places. |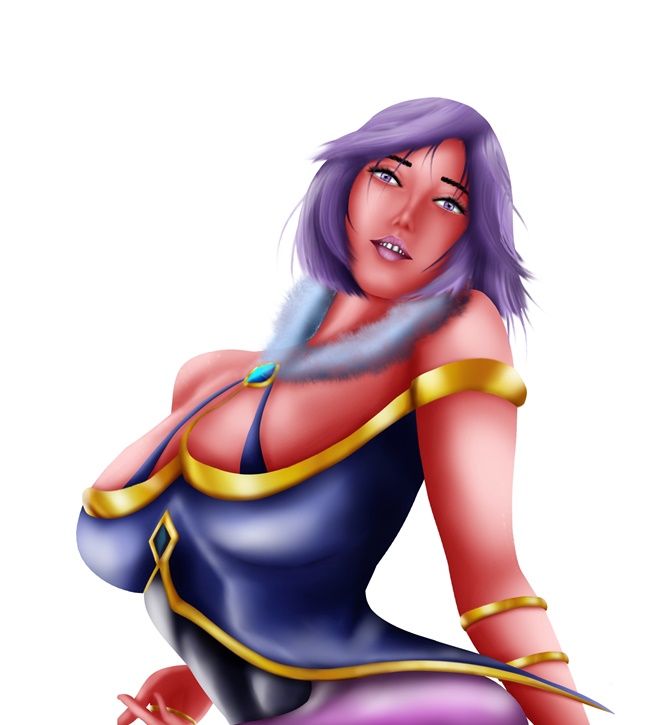 | | |
| --- | --- |
| Para resumir un poco aqui Pinté el resto de mi personaje usando la misma técnica y pinceles que mencione antes, tomado para los colores base a mi referencia, gustandome como se veia todo. | To summarize a bit here I painted the rest of my character using the same technique and brushes that I mentioned before, taken for the base colors from my reference, liking how everything looked. |

FINISHED ILLUSTRATION: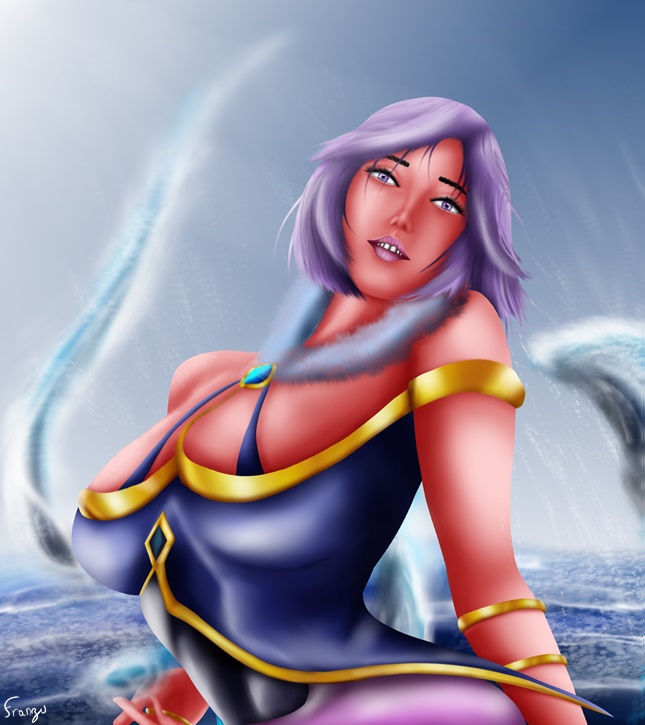 Title: WATER CALLER
Duration: 14 hours
Program: Krita i used a graphic tablet: Wacom Intuos S
| | |
| --- | --- |
| Para culminar quise pintar el mar y algunas flujos de agua el fondo, mezclando diversas tonalidades de azul para hacerlo, en diversas areas hices varias lineas blancas y luego aplique un Desenfoque Gaussiano para hacer el reflejo de luz y espuma. Por ultimo hice un degrado con azul para el cielo y luego con un tono blanco hice otro dregradado en la parte superior izquierda para hacer una luz. | To culminate I wanted to paint the sea and some water flows in the background, mixing different shades of blue to do it, in different areas you made several white lines and then applied a Gaussian Blur to make the reflection of light and foam. Finally I made a gradient with blue for the sky and then with a white tone I made another gradient in the upper left part to make a light. |

My social network:
| About Franzu 💎 | INSTAGRAM! |
| --- | --- |
| Frank Perez, Venezuelan. He is an apprentice of digital illustration. He is currently experimenting with new ways of painting in search of creating his own style. / Frank Pérez, venezolano. Es un aprendiz de la ilustración digital. Actualmente se encuentra experimentando nuevas formas de pintar en busca de crear un estilo propio. | |
Bueno ese fue el resultado final, me agrada el resultado espero que a ustedes también les agrade y espero tener la oportunidad de ganar algún lugar en el concurso.
Well that was the final result, I like the result I hope you like it too and I hope to have the opportunity to win some place in the contest.
I hope you like this illustration as I do and see you in future publications!
---
---