Hive and Splinterlands-Goals for October (ENG/GER)
Hive and Splinterlands-Goals for October (ENG/GER)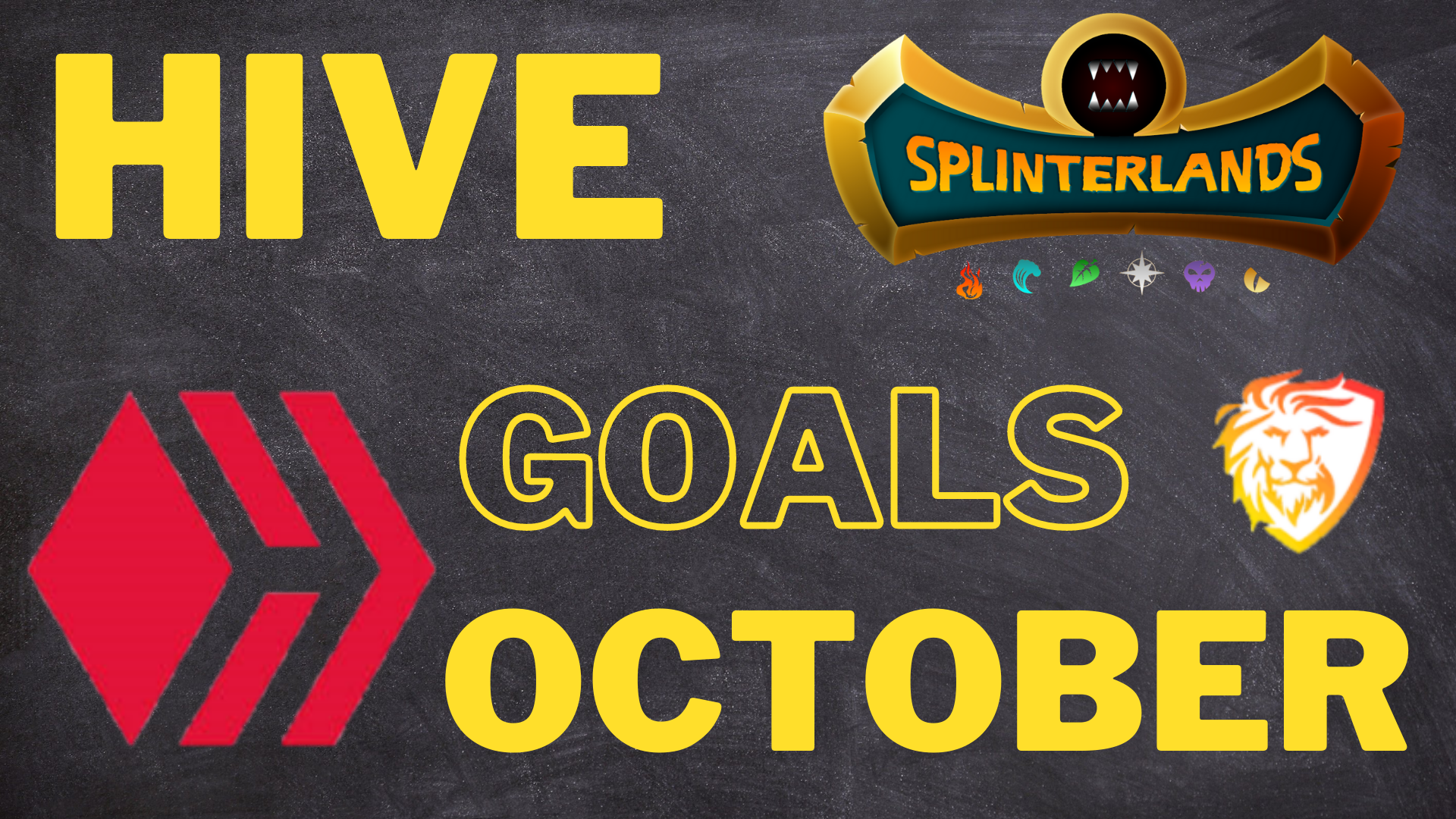 This post is bilingual and written in English and German.

Hey fellow Hiveians,
after a brief absence, I wanted to return with a post for my short-term goals on Hive in October.
I have to admit, I love reading those kinds of posts, because they motivate me to reach my goals (or at least thinking about them), when I read from veterans, who are much farther along on their journey as I am and who are still highly focused and motivated.
A very good example is @rentmoney, who continually records his progress on Hive with monthly posts. (His September-entry is found here
My first goal is pretty easy to accomplish. I just have to write regularly. Last month I was very busy, so I didn't have time to write long articles anyway, which is why I limited myself to reading and commenting. But beyond that, I have to lose the attitude to write up an essay of 10 pages to push the "publish button".
Sometimes a little post with a pretty picture or an interesting thought might suffice, even if that means, the big curators shun you :o).
The most important thing for us all is to get into the work-flow, where writing a post becomes second-nature.
A fellow German user, @beeber encouraged me to enter the multitude of contests here on Hive and that is a great idea. I already utilized the contests for a few Splinterlands posts and intend to write more.
To name a concrete goal: I want to write 10 posts - including this one - in October.
Reputation-wise it would be cool, if I could rise from 57 to 60. This one, I don't have entirely in my control, but if the posts are partly readable, I hope to reach this goal as well.
Follower: The same holds true for the follower count. I unfortunately can't force others to follow me, but I can do my best to write regularly good posts and we established, that I intend to do exactly that.
Hallo liebe Hiveians,
nach einer kurzen Absenz wollte ich mich zu Beginn des goldenen Oktobers mit einem Post zurückmelden, der meine kurzfristigen Ziele auf Hive zusammenfasst.
Ich muss zugeben, ich lese diese Artikel selbst sehr gerne, weil sie mich motivieren, die Ziele von Usern zu lesen, die bereits etwas weiter auf ihrer Reise sind als ich und dennoch weiterhin fokussiert ihre Ziele verfolgen.
Ein Beispiel ist @rentmoney, der kontinuierlich seit einigen Monaten seine Entwicklung auf der Blockchain protokolliert (sein September-Eintrag ist hier zu finden).
Das erste Ziel ist einfach. Regelmäßiger zu posten. Der September war zeittechnisch so vollgestopft, dass ich ohnehin kaum Zeit hatte, längere Texte zu schreiben, weswegen ich mich aufs Lesen und Kommentieren beschränkt habe, aber ich glaube, ich muss etwas runterkommen von dem Gedanken, unbedingt lange Texte schreiben zu müssen. Manchmal reicht eben auch ein kurzer Gedanke oder ein Bild. Ich glaube, man muss beim Schreiben wie bei allem anderen im "Flow" bleiben und das schafft man nur, wenn man sich nicht bis ins kleinste Detail Gedanken macht, sondern einfach drauflos schreibt.
@beeber hat mich noch einmal darin bestärkt, vor allem bei den Contests mitzumachen, die ich bereits ins Auge gefasst hatte (für die Splinterlands-Challenges habe ich bereits ein paar Artikel geschrieben).
Um ein hartes Ziel zu nennen: 10 Beiträge sollen es - inklusive diesem hier - im Oktober werden.
Die Reputation wird sich dadurch hoffentlich von 57 auf 60 steigern lassen (Wer hat nicht gerne eine hohe Reputation in dem Umfeld, in dem er arbeitet oder lebt?)
Follower-Zahl: Diese kann man wohl am wenigsten selbst beeinflussen, aber ich hoffe, durch regelmäßige Beiträge von momentan 61 auf 75 Follower zu kommen.
---
Token and delegations
My priority token for sure is Hive, or rather the staked version Hive Power. A distant second is HBD and then SPT and Leo. All of those are interesting to me and I want to accumulate more of. And last but not least the SPS, the splinterlands governance token. Furthermore, my Hive-home
@ecency
has legit delegation rewards, which I want to get more of. The ROI seems to be roughly 30%, if you count the Hive rewards and the ecency points you get daily after delegating. I delegated 100 HP and get around 0,022 to 0,025 Hive back and 10 ecency points daily. Ecency points are used to boost your post or the posts of others, to promote posts or to gift other users with points. I want to keep a percentage of the earned HP for myself and my voting power, but all in all, most of the HP I want to delegate to ecency. A ratio of 2 to 1 seems reasonable.
Meine wichtigsten Token sind selbstverständlich zum einen Hive, bzw. die gestakte Version Hive Power. Mit einigem Abstand der HBD und SPT, LEO ist der dritte Token, den ich etwas näher im Auge behalten und nebenbei meinen Anteil vergrößern möchte. Außerdem ist die Governance-Währung von Splinterlands (SPS) ein Token, der mittelfristig wertvoller wird und den ich allein durchs Spielen und staken einsammle. Außerdem habe ich für mich herausgefunden, dass mein Lieblings-Frontent
@ecency
auch eine sehr gute ROI bei Delegationen bietet. Ich habe 100 HP delegiert und bekomme nicht nur den gerechten Anteil an den Kuratoren-Rewards täglich ausgezahlt, sondern auch ecency Points (10 ecency points pro 100 HP täglich ausbezahlt). Die ecency points kann man zum boosten für eigene oder Beiträge von anderen benutzen, zum Promoten von Artikeln oder als Geschenk an andere Benutzer. Einen gewissen Anteil will ich zwar behalten, um selbst auch zu voten (und ein Mindestmaß and monetärem Gewicht auszuüben), aber einen Teil möchte ich wieder an ecency delegieren.
---
Goals
Hive-Power (HP): from 177 to 350
HBD: from 16,157$ to 30,00$ in savings
SPT: from 1747 to 5000
LEO: from 6 to 40 (and at least 3 articles in LeoFinance)
SPS: from 51,2 staked to 80
delegating to @ecency: from 100 to 250
Ziele
Hive-Power (HP): Von 177 auf 350 erhöhen
HBD: Von 16,157$ auf 30,00§ in savings
SPT: 1747 auf 5000 erhöhen
LEO: von 6 auf 40 erhöhen (mind. 3 Artikel in LeoFinance schreiben)
SPS: Von 51,2 gestakten auf 80 erhöhen
Delegation an @ecency: von 100 auf 250 erhöhen
---
Splinterlands-Goals


Presale begins on October the 18th and I don't have nearly enough SPS staked to even dream of one voucher, so I skipped my previously made plans for the presale period.
If voucher prices aren't as high as I fear, I will buy a few, to at least own the odd presale pack, otherwise I will wait until the plebs get access to the crumbs, the whales left us. This phase however will begin on November the 17th and if I understand correctly, the voucher phase will still be intact at that point.
For October, I have my eyes on 5 cards from old editions to improve my deck and to prepare for Silver III. I would lose in Silver, if I would just jump to the higher leagues without preparations, so I will stay in Bronze I until Chaos Legion full release.
DEC gains from battles will be invested directly back into the game as always.
The following cards are in my eyesight and I hopefully can buy all of them, when I consistently have the same win/lose ratio as I have now.
Splinterlands-Ziele


Der Presale-Beginn ist am 18.10. und da ich nicht genug SPS habe, habe ich mich von den Pre-Sale Packs verabschiedet. Falls die Voucher nicht allzu teuer sind (um die 2$ würde ich mir noch bieten lassen), werde ich ein paar Packs kaufen, ansonsten werde ich auf die Phase für das ungewaschene Volk warten, um meine Packs zu kaufen. Die Phase beginnt allerdings leider erst am 17.11.2021 und wenn ich es richtig verstanden habe, wird das Voucher System dann auch noch nicht beendet sein.
Am günstigsten wird es wohl sein, die paar Packs, die man bekommt, aufzubewahren und zu verkaufen, wenn sie im Wert gestiegen sind und die Karten einzeln kaufen, die man haben möchte.
Im Oktober werde ich mich daher auf 4 oder 5 Karten der alten Sets begnügen, um mein Deck etwas zu verbessern und mich so langsam auf Silber III vorzubereiten (bevor ich gewisse Karen nicht habe, lohnt es sich nicht, weil ich in Silber III dann nur verlieren würde).
Die DEC-Gewinn aus den Battles werde ich wie immer direkt wieder in Karten stecken, die mich hoffentlich etwas weiter bringen und damit meine ich eher im Gameplay als in der Karten-Power.
Folgende Karten habe ich für mich in den kommenden Wochen ins Auge gefasst, um mein Deck zu erweitern.
---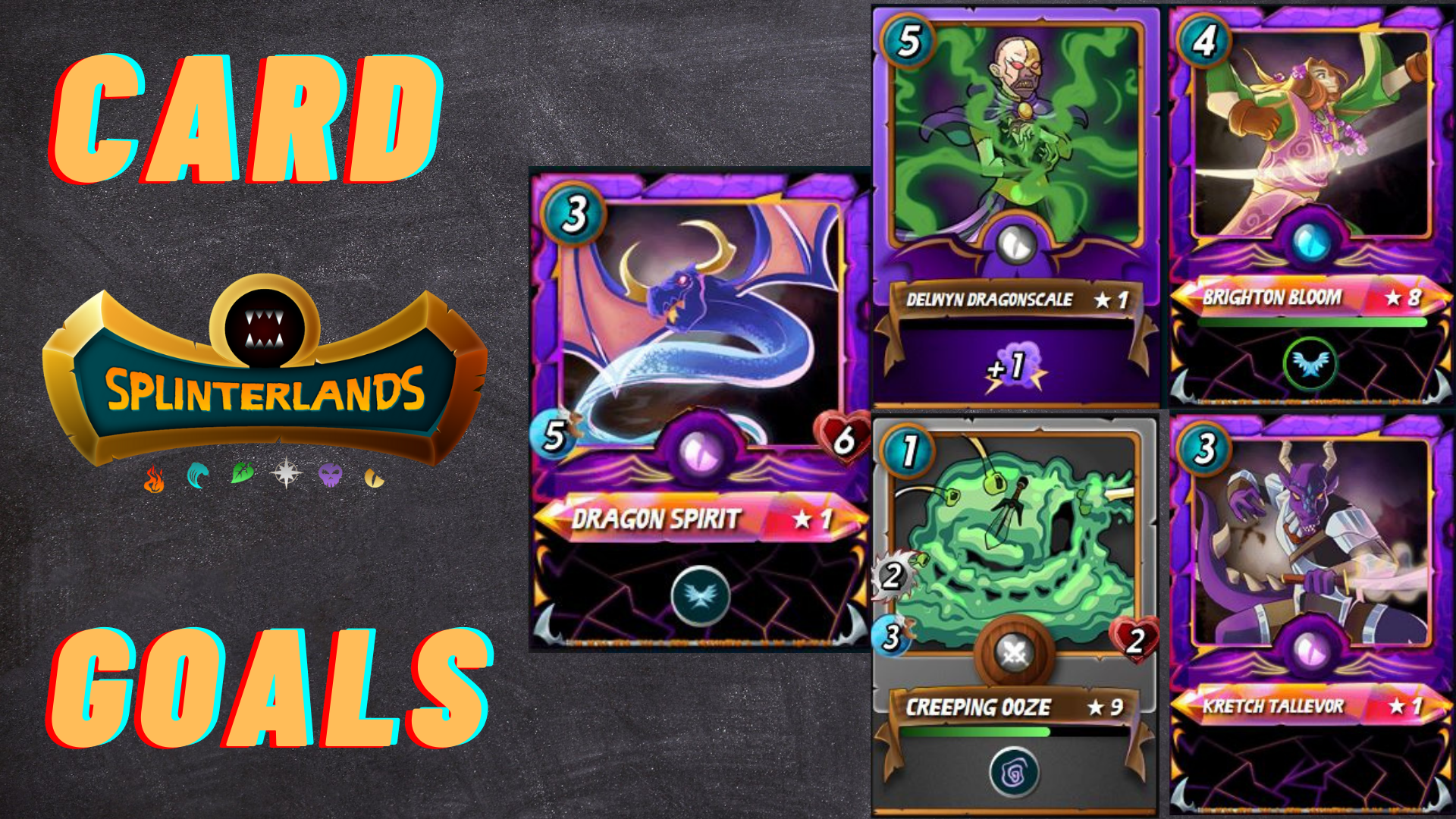 Creeping Ooze (7,50$ )
Delwyn Dragonscale (Summoner: 7,20 $)
Dragon Spirit (6,49 $)
Kretch Tallevor (8,50 $)
Brighton Bloom (Summoner: 9,50 $)
Total price is 39,19$ with today's value and this is 3,920 with today's value. I have to gain 140 DEC a day to grab all these cards. It will be tough, but manageable.
You can imagine, it won't be a piece of cake but I think, I can reach those goals. Let's get to it and have a great month, everybody.
Creeping Ooze (7,50$ )
Delwyn Dragonscale (Summoner: 7,20 $)
Dragon Spirit (6,49 $)
Kretch Tallevor (8,50 $)
Brighton Bloom (Summoner: 9,50 $)
Gesamtkaufpreis (Stand: Heute) = 39,19$ (= 3,920 DEC nach heutigem Stand)
3.920 DEC sind 140 DEC pro Tag (einschließlich heute bis zum 31.10.2021). Ambitioniert, aber machbar.
Wie ihr seht, habe ich mir im Oktober tatsächlich einiges vorgenommen. Also, packen wir es an :o). Ich wünsche euch einen erfolgreichen Monat.
---
---