Hold On To Your Scarf, The Elven Cutthroat Roves Around

Hold On To Your Scarf, The Elven Cutthroat Roves Around


Hey Splinterlanders,
Last weeks battle challenge was a blast for everyone, I presume. Dragons are the best and I for one had multiple battles to choose from and I found a pretty good one.
For this weeks challenge, we have a Neutral common card. The Elven Cutthroat.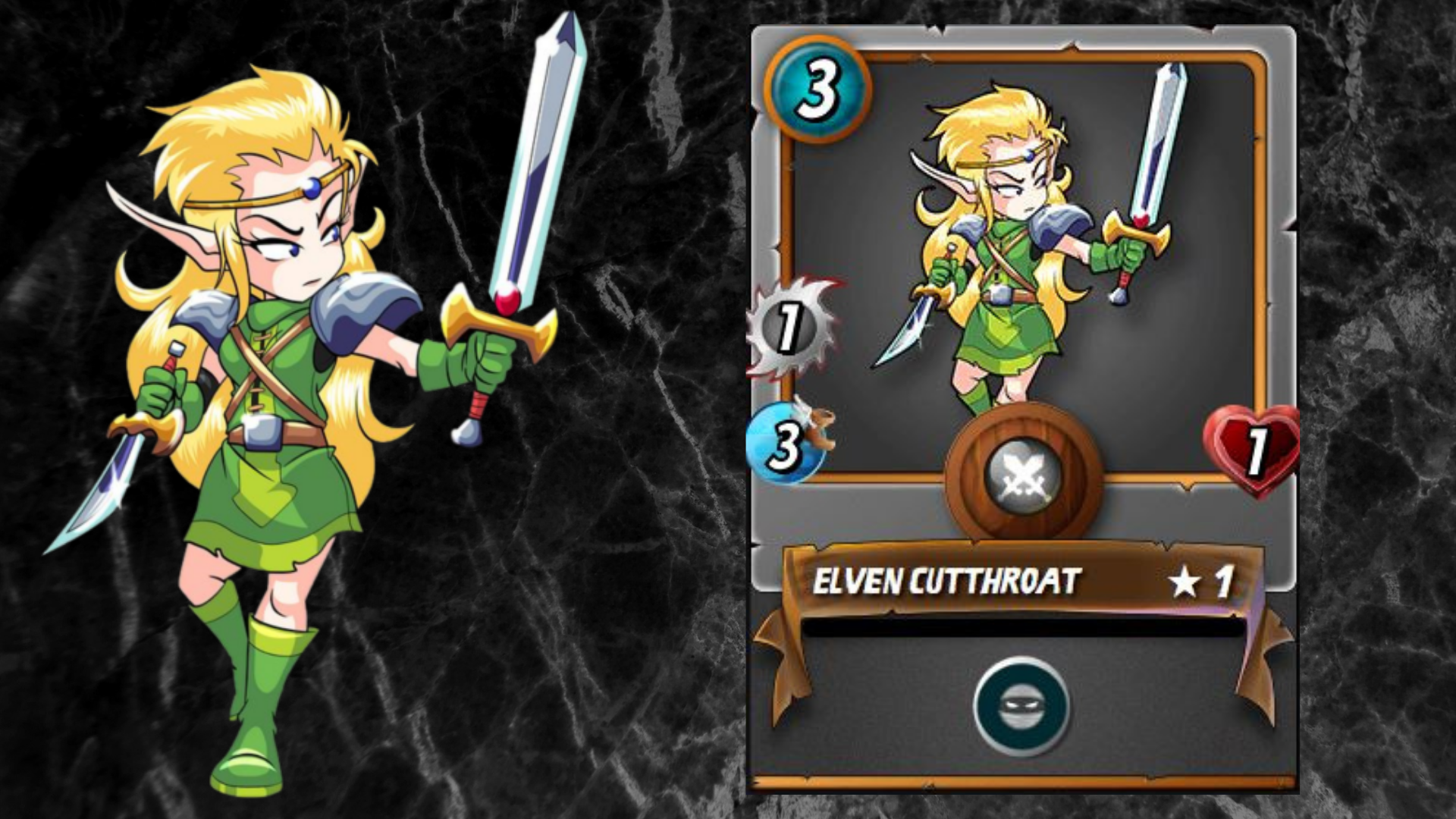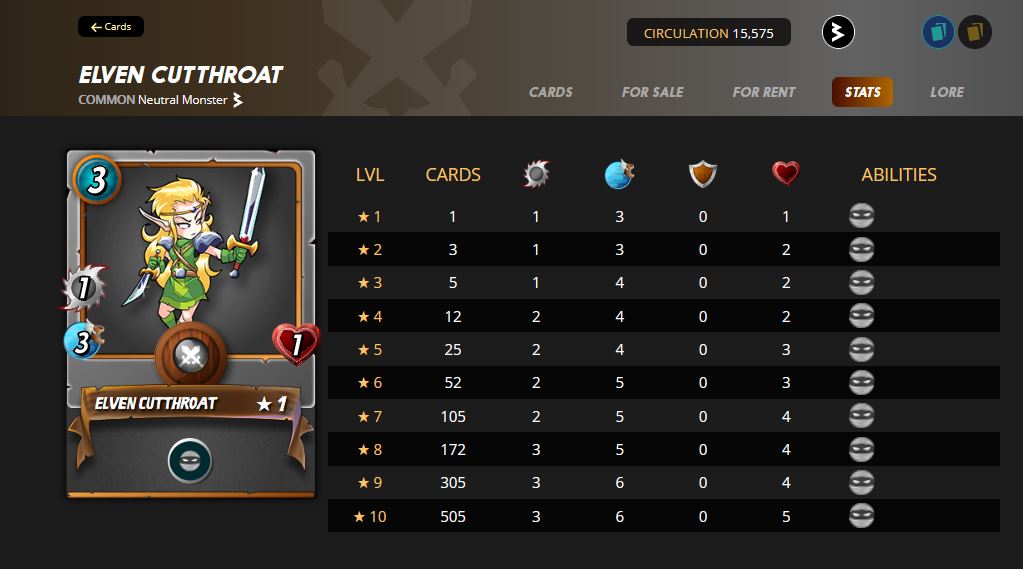 He costs 3 man, has 1 initial damage points, 3 speed points and 1 life. He has a sneak attack, which gives the card extra utility, but he never gets another ability. Instead, he gets a second life point with level 2 (just 3 cards) and another speed point with level 3 (that's 5 combined cards). When you get to level 5 with 2 attack and 3 life points, this card is very interesting and can do a lot of damage with the right rule set.
It's not the most effective card, but not a throwaway either. Althoug I only have a level 1 Cutthroat (and only level 1 summoners), I wanted to try him out.
Here is the result of that try. Video-Link
---
Game Settings
Rule-Set was Up Close & Personal (Only Monster with Melee Attack may be used in battles)
Mana cap was at 32
The active Splinter were Fire, Water and Life. Water wasn't a good idea, because my opponent had mighty antiwater cards in his deck.
He choose Life as well as myself. His Mother Khala was level three, so he could utilize level 3 and 4 cards in his deck. I on the other hand, only had level 1 cards. I chose Tyrus with +1 Shield.
For Upclose & Personal, it would have been perfect to use Mylor, because every monster in the lineup will suffer. Conversely, your monsters will suffer, when your opponent has access to Mylor.
But as Earth (and Dragon with Djinn Chwalla and his thorns)
wasn't on the table, I decided to go with Life and Tyrus (+1 Shield). I wanted to try out Elven Cutthroat, who was perfect for an all melee line-up, where there is little risk to come across a thorn monster/summoner (In higher levels, more monsters have thorns, but it is rare in Silver III and under).
---
Battle Line-Up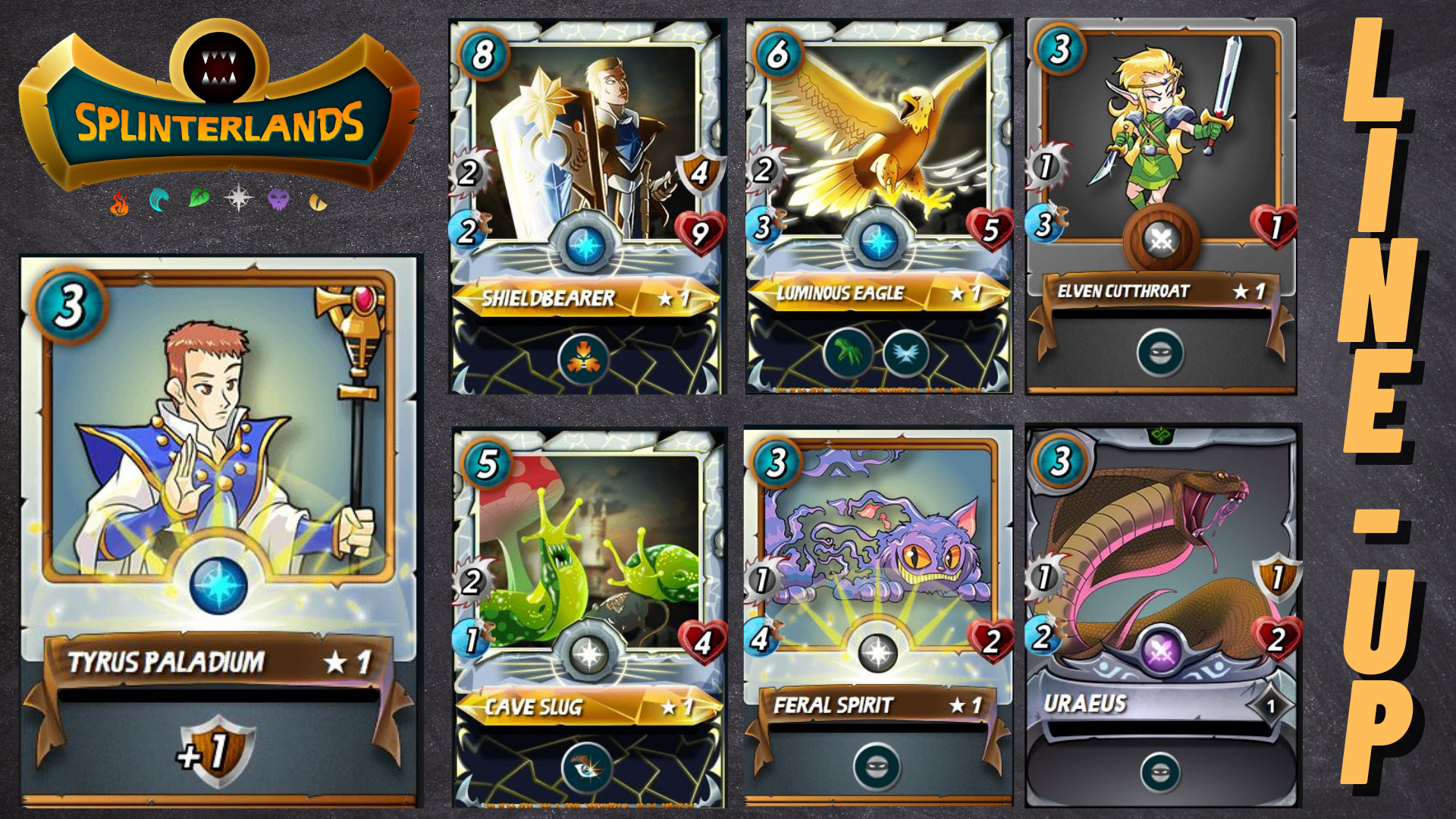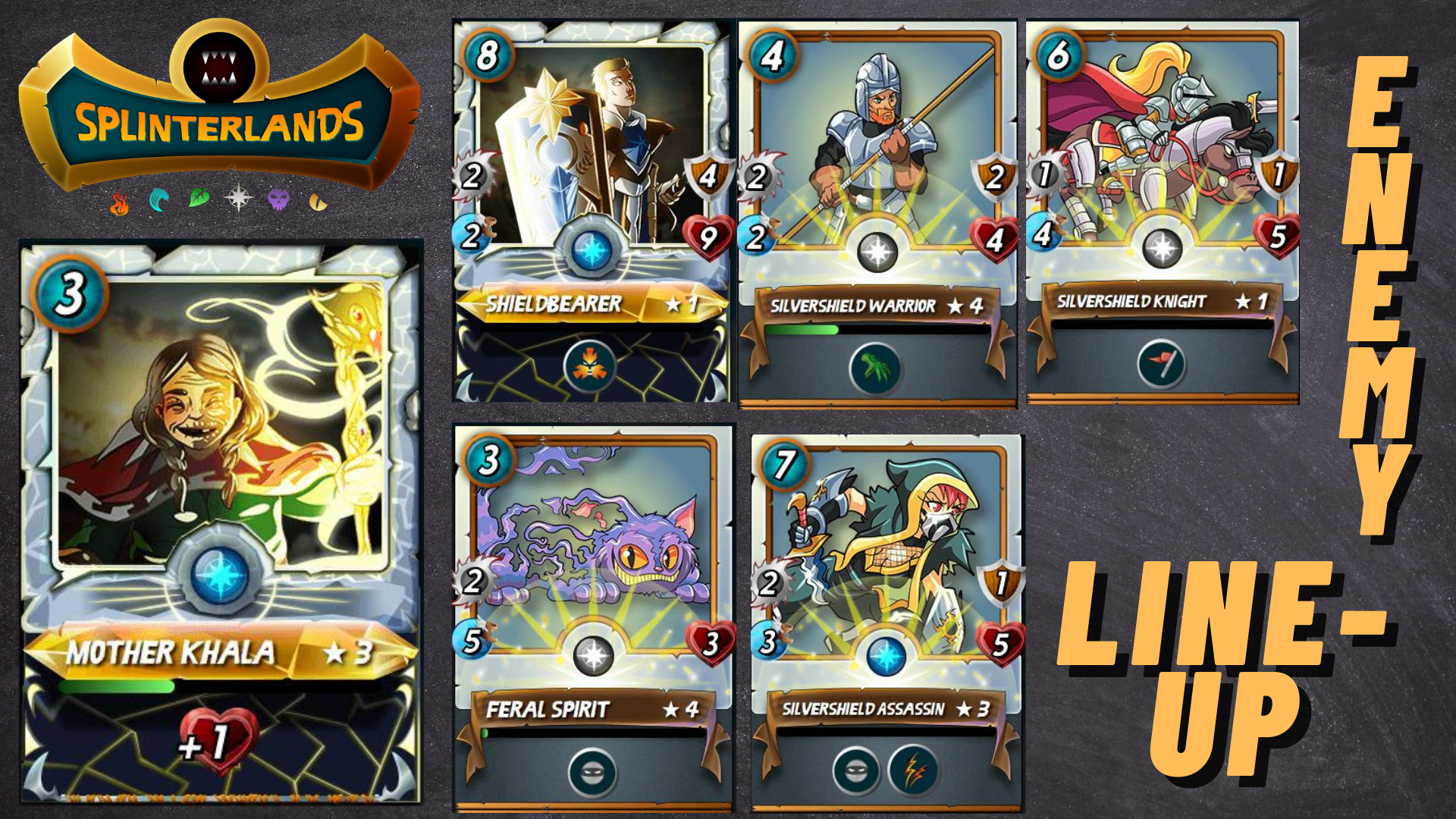 ---
---
First Round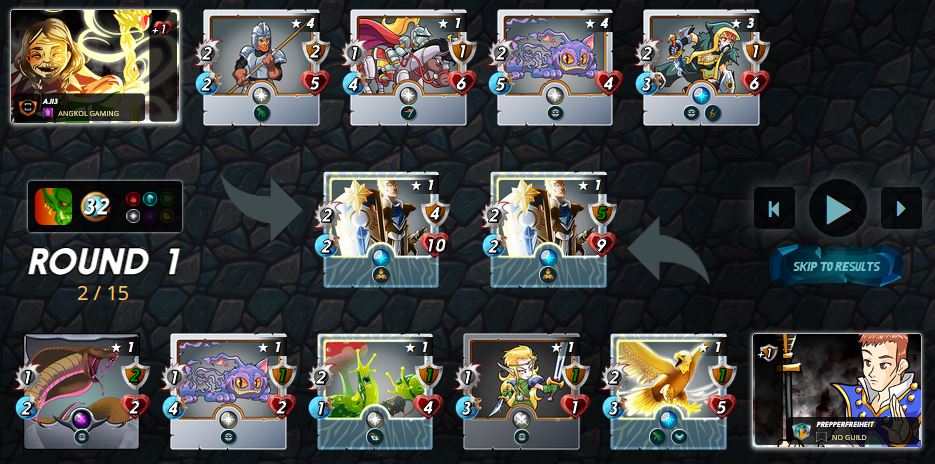 My opponents cards were way better right off the bat. Mother Khala Level 3, a Level 4 Silvershield Warrior, level 4 Feral Spirit and level 3 Silvershield Assassin.
It would be hard, to win this battle.
As we had a nominally similar line-up, you can see, how effective higher level cards are. My tank was gone with the end of Round 1 and his Silvershield Bearer had 5 health points left.
---
Second Round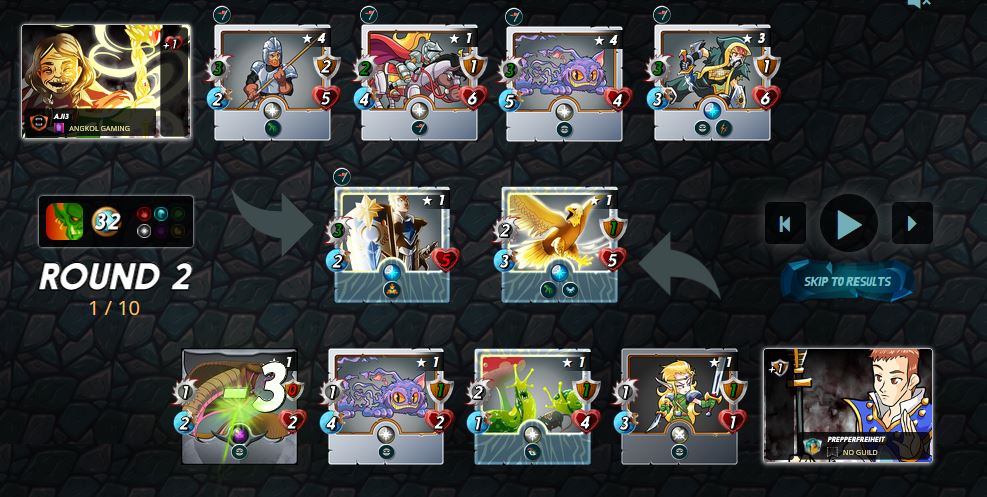 His Silvershield Assassin with two Melee Attack (3 dmg each) was a beast and burnt through my backline.
Elven Cutthroat did one dmg at a time, which wasn't effective at all. A crucial miss from Cave Slug sealed the deal early on as his Shieldbearer still was on the battlefield.
---
Third Round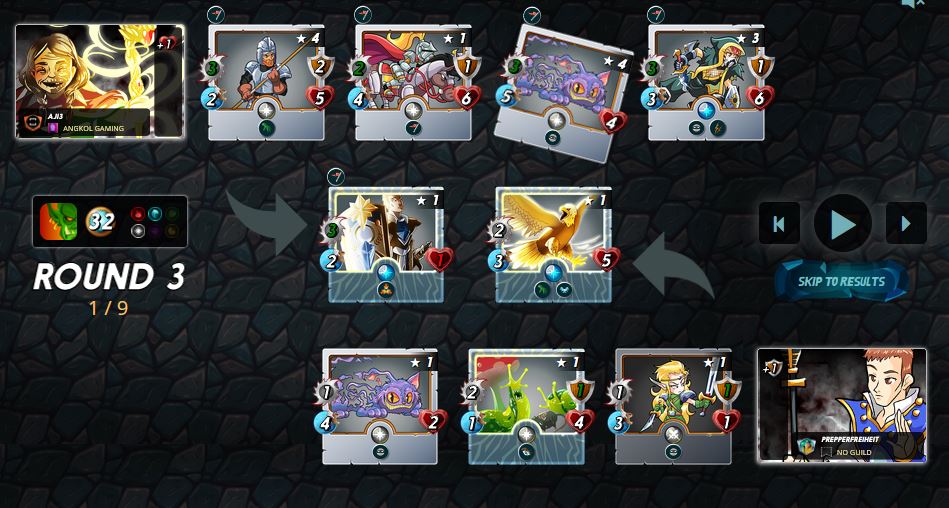 His Assassin killed my Feral Spirit and almost the Cave Slug. Elven Cutthroat only now destroyed the Assassins shield. It was only a matter of time until my fate as cannonfodder was revealed.
---
Fourth Round and Conclusion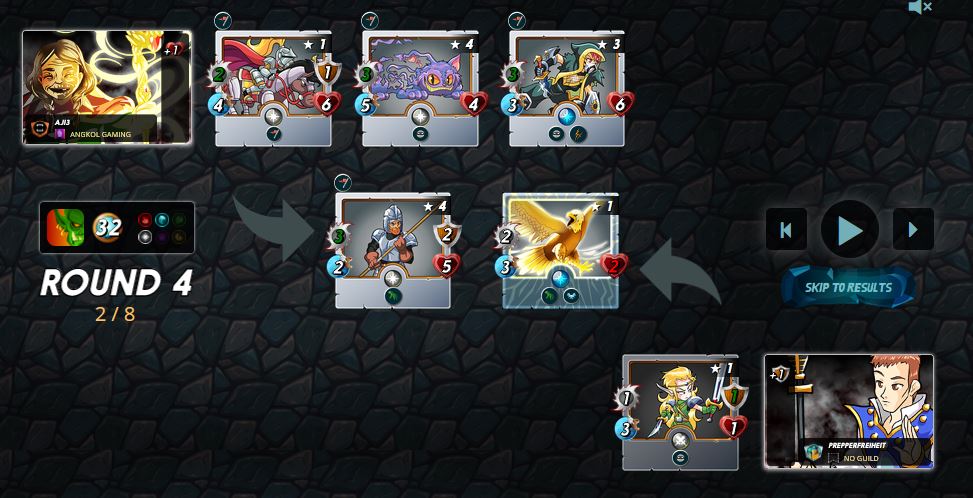 His Feral Spirit (with 5 speed) killed my slow Cave Slug and then Elven Cutthroat's time was up. He was killed by the Assassin with two grim blows two the throat.
I didn't stand a chance from the start, but this battle too has lessons to be learned from.
I should have built a better backline with 32 mana available and I should have emptied out my bank account to buy higher level cards, I guess? Well, my turn will come, I hope.
---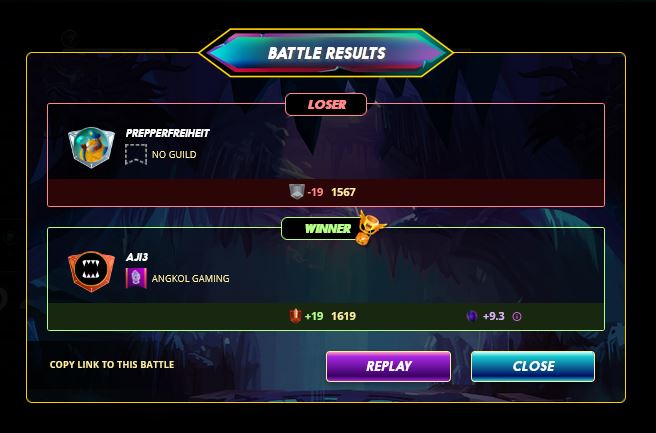 Thank you for reading my entry for the Weekly Battle Challenge of Splinterlands.

**This Article was published as part of a Challenge and as a Social Media Promotion on the Hive Blockchain as well as on the Social Media platforms Twitter, Reddit and Instagram. If you've found your way here through Twitter, Reddit or Instagram, feel free to use my referral-link, to register on Splinterlands and play the best and most innovative Blockchain-Game around. You can browse the Hive-Blockchain as well as the Splinterlands-themed frontend "Splintertalk.io" to widen your knowledge and become a better player.
Splinterlands hosts multiple contests each week, with which you can earn Hive and SPT, two crypto-tokens which are very valuable on the blockchain and in-game.
If you need help with anything regarding the game, join the official discord server here: https://discord.gg/Zq9qqUCX and/or read the faq page on Splinterlands.com.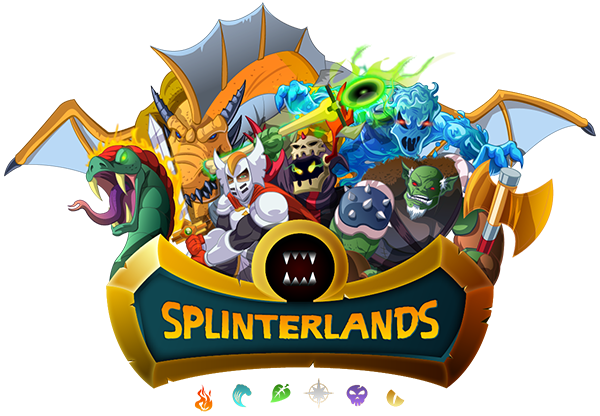 ---
---