Splinterlands | Guide for new players | Your first steps explained
Not signed up for splinterlands yet? Make sure to use this link and sign up!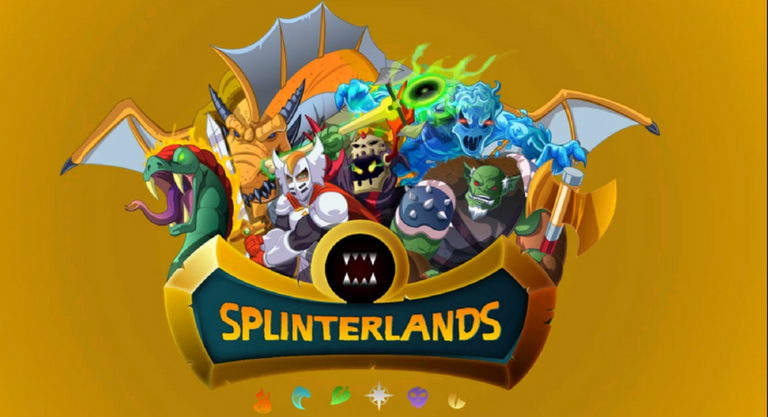 When I first started playing splinterlands I had a lot of questions. A lot about what I should do with my dark energy crystals, should I buy cards on the market, should I buy packs, should I buy potions, should I save? I had no idea, and I hate the feeling that I might be wasting resources.
However, there where also other questions like: should I focus on mastering 1 splinter, should I start leveling monsters/summoners or focus on getting more monsters first, etc.
In this guide I will give you answers to what your first steps in the game should be, so you can be sure that you are not wasting time and/or resources on beginner mistakes.
I will not cover all the basics like how does armor work, I believe that you will figure that all out on your own. However, the only thing that I found confusing at first is that attack speed does not only dictate the order (the monster with the highest attack speed attacks first), but also the higher the attack speed the higher chances of dodging an attack. If you do prefer to have an overview off all the basic statistics, I would recommend this post.
I will also not discuss splinterlands strategies, but if you want a complete beginner guide to strategy, take a look at this post.

1. Get experience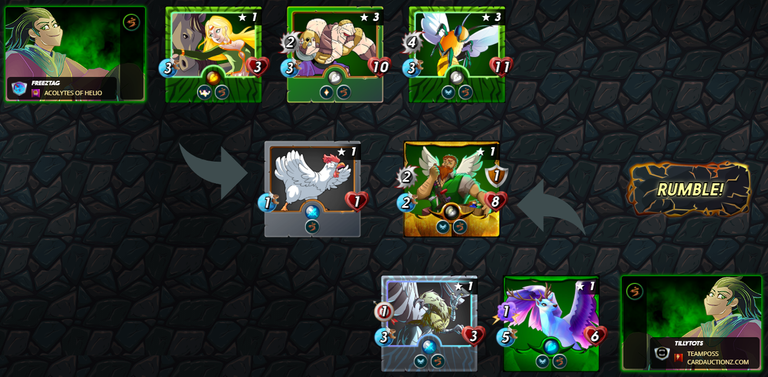 Step 1 is easy and predictable, simply play a lot of games and get some experience.
However, it's important to try out different things, try different summoners, different monsters, read all the abilities, notice what lineups you are getting wrecked by. Try to get as much information as you can.
If you see that you are losing a lot to certain lineups, it might be an idea to try and copy that strategy. If you see that you lose in certain situations (low mana fights or earthquake battles for example). You might want to think about what you are doing wrong in those specific battles, etc.
All that being said, some of you might not like the approach "just try out stuff" when you have absolutely no idea where to start. Therefore I will provide 2 free 2 play starter guides that you can use to get started.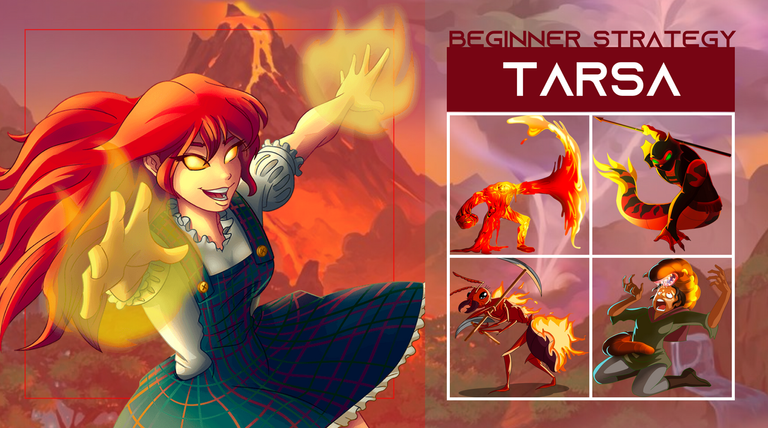 As usual, the basic idea is really simple, Tarsa gives our monsters +1 health and +1 melee damage. Well, health affects everybody, but the melee damage buff obviously only affects the melee monsters.
Therefore, we want to use as many melee monsters as possible, to get the maximum value out of our summoner buff. Sure, you have to care about your monsters not being idle, so you want all your monsters to be able to attack from any position (opportunity ability, sneak ability, battle conditions).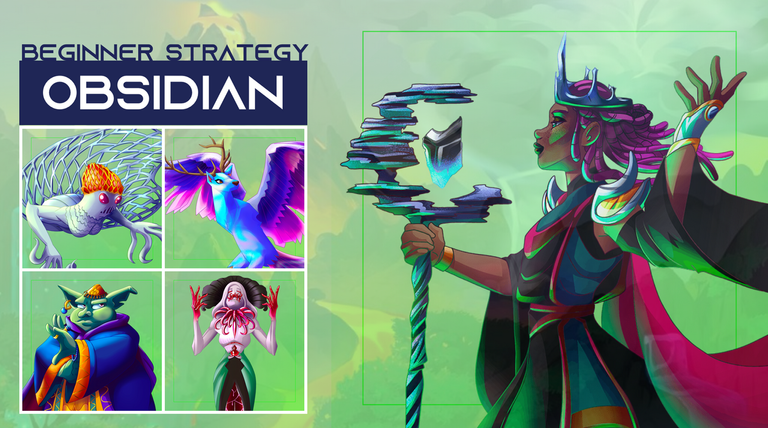 The basic idea is simple, Obsidian gives all monsters +1 magic damage, so what is our plan?
Exactly, use a lot of magic monsters.
Getting the most out of your summoner ability is a good way to get a lot of wins at the lower leagues. That being said, you will still need some strategy on top of this basic principles. Let me walk you through it.

2. Eyeball the market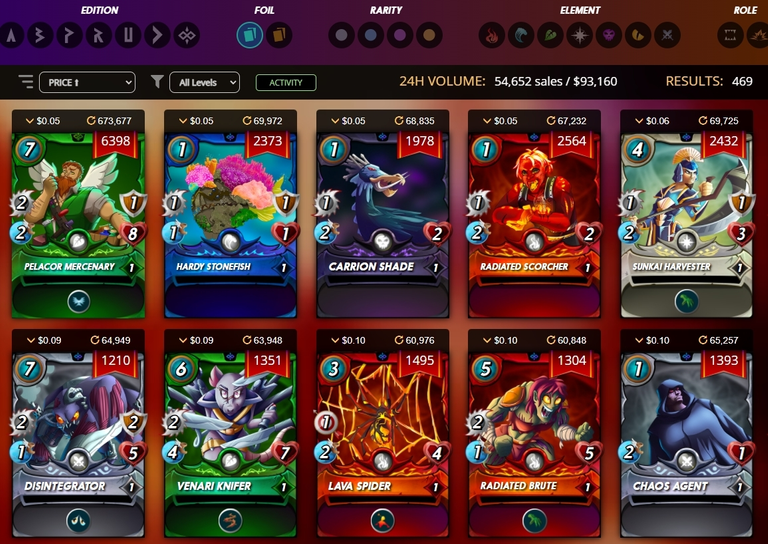 While you are getting experience and play lot's of different games, you will get a better understanding of what monsters are really good. Eventually you are going to want to buy some new monsters yourself, so it's time to consider your options.
When you have one/multiple monsters that you are interested in, it's time to go to the market, you can either rent or buy. Buying is the long-term plan ofcourse, but renting might help you out in the short term, just be careful not to spend too much on renting. In this post, I will focus on buying, because this way you will acquire splinterlands assets yourself (but know that renting is an option).
You will soon notice that some monsters are very expensive and it will take forever to get enough dark energy crystals. Therefore we want to find strong and cheap monsters, they are out there, I have seen them! (more on that later).
Once you know what card you are interested in (one that is both good and cheap), it's a good idea to eyeball the market for a couple of days/weeks, sometimes you can get good deals and sometimes you will realize that cards are overpriced from time to time.
Eyeballing the market from time to time gives you a better idea of the value of the cards.
So, how do you find these good and cheap cards? Well, if you get enough experience (play enough games and eyeball the market enough) you will be able to make these judgement calls yourself, but for now, I will help you out.
First, it's important to know that you can use neutral cards with any summoner, but you can use splinter-specific card only with that splinter-specific summoner (meaning you can only use a fire card if you use a fire summoner).
So, there is a clear benefit from getting neutral cards. However, splinter specific cards are overall a bit stronger (not always true though). If you use a lot of different summoners, I would recommend to focus on getting some neutral cards first. If you are playing 90% of your games with fire, I would recommend to get some fire cards first.
In my guides that I have posted above, you will see all my buying/renting recommendations for that specific strategy. As these are meant for beginners, the recommendations are limited to budget friendly options.
For neutral cards I would recommend the following:
Sand worm
My number one recommendation for beginners.
You are going to want to include this monster in all of your high mana battles as a beginner.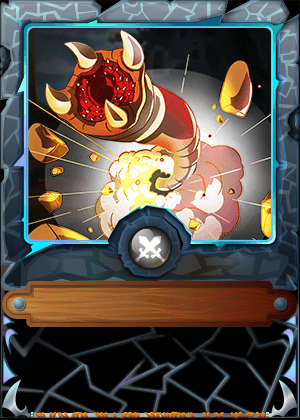 Creeping ooze
A very strong 1 mana monster that will prove usefull in many situations.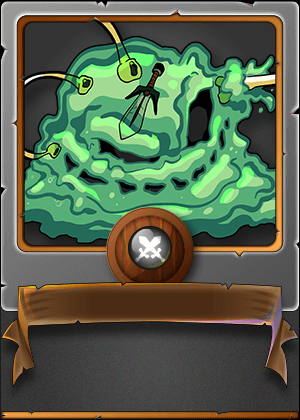 Gelatinous cube
Can be very strong in certain situations, especially when combined with healing.
Might be a bit harder to use correctly as a beginner.

3. Pick 2 main splinters
This is not something you absolutely have to do, but this is what I would recommend.

The first X amount of games you should get experience with all splinters. However, at one point you might want to choose 2 main splinters. The reason for this is that you might want to focus on certain splinters first and really get better. If you are going to try and buy cards for every splinter, you might see very slow progress.
If you have 2 splinters you will usually be able to pick at least one of these 2. Sometimes you will be unlucky, but that's fine, the pro's are outperforming the con's in my opinion.
If you prefer to hard focus on 1 splinter and soft focus on 2 other splinters, that's fine aswell. However, I would not recommend to try and master every splinter unless this is something that brings you great joy ofcourse.

4. Start buying cards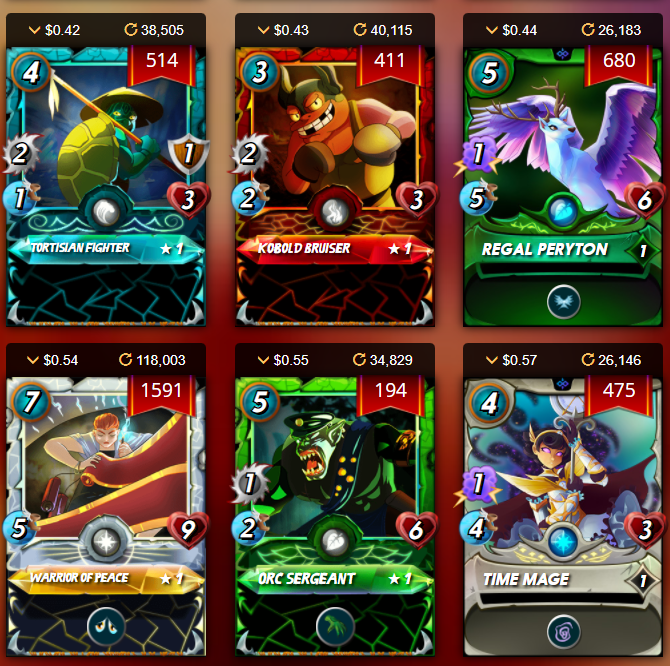 Only now you are ready to buy cards.
You don't want to focus on levelling cards just yet, because everything gets a lot more expensive. I would have to create a follow up guide for that.
Focus on building 2 strong level 1 lineups before you should considering levelling up. For those of you who don't know, you have to level your summoner before you can use levelled up monsters.
Buying cards directly from the market is usually better than buying packs and hoping you get lucky. However, I understand that opening packs can be fun, so don't feel bad if you get tempted from time to time.
Also, buying summoners is actually an option, but these are usually really expensive.

5. Reach silver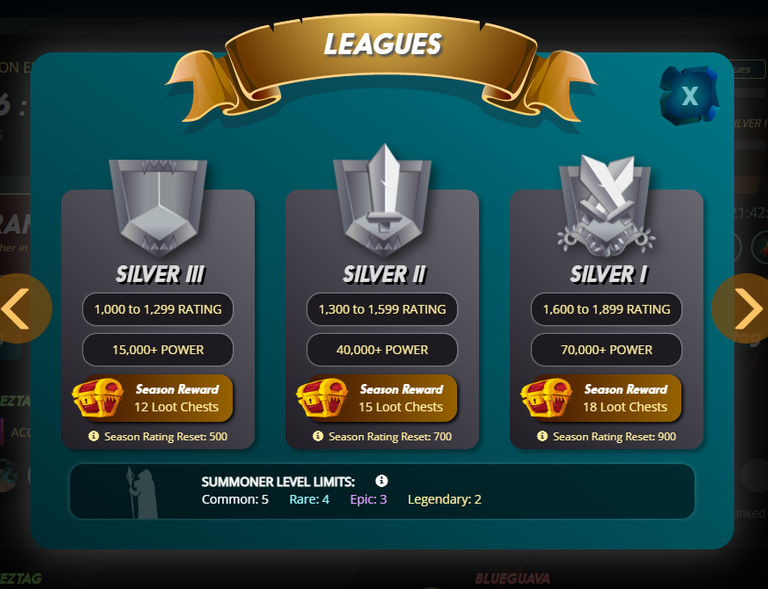 The next goal is reaching silver league. You should be able to do that with level 1 summoners if you have a solid strategy.
However, you also need 15.000+ power, this might be more difficult.
If you don't know how this works, every card gives a certain amount of power. So if you buy (or rent) 1 sandworm for example you get +10 power.
I will not go into too much detail about power (there are other resources out there that you can find). However, this is going to be your first goal, get 15k power. Once you reach silver, rewards will be better (you will not receive credit rewards anymore) and the game will become more interesting.
Only after you have reached silver you should start to think about leveling your first summoner.

Other things
If you have more questions feel free to comment on this post. Also, joining discord is a really good idea for people with questions.
Writing posts on Hive can really help with boosting your splinterlands carreer.
Playing games like rising star along side splinterlands can also help to get some more crypto (= more cards).
Checking the events page (tournaments) once in a while is a good idea, but usually these events aren't really worth your time. However, they can simply be fun.
Being active on hive and joining discord will be worth your time (giveaways, curation rewards, author rewards, challenges with rewards, etc.).

That's it! (this unintentionally became a very long article, sorry)
Now you know what your first steps should be as a complete beginner in splinterlands.
I hope this article was helpful, feedback is always appreciated.
If you have any questions feel free to leave a comment below!

Want to earn more money with blogging? Make sure to join HIVE and Start cross-posting to publish0x!
---
---