A busy but interesting Friday awaits us!
Fridays normally are not so stressed compared to other weeks days. And the busy and interesting Friday doesn't situated itself on the work floor but in the private part of life.
Not only are we in front of the last prolonged weekend for a long time, we also finally have the birthday party for the youngest son!
Finally?
Yes, finally. His birthday is on the 25th of February but only now we did find place to give his birthday party for his friends. There are several reasons for this delay. First of all, when we had his birthday still lots of Covid restrictions were still in place. Strangely but now 3 months later, Covid seems to be forgotten! We couldn't be more wrong, but it is nice to celebrate life again without too much of a hassle.
Another reason to delay his party, because we all did get Covid ourselves. Not really suited when hosting a birthday party.
Besides that he is a football player, so lots of potential days to host the party were already taken, or by a game of himself, but also by games for his friends he did want to invite.
But finally we are here and he is looking forward to it! He really deserves his part.
Always interesting to see how many times he was flipping names who he did want to invite. We did set the maximum on 7 friends. The reason for that is that we are going to play some Gellyball, which appears to be a kid friendly version of paintball. The promise to bruises after being hit.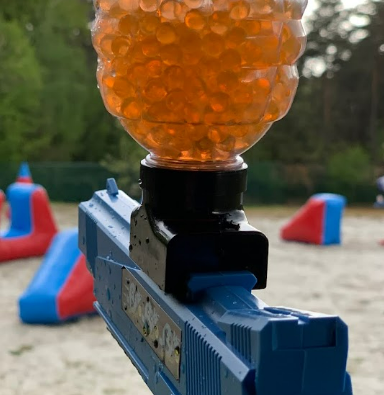 So after 1 an hour we will drive to the school and pick up 5 of the 7 invites. The other 2 are on another school and will be dropped at our house. Around 17.30 we will go to the Gellyball thingy, which should last for an hour. And after that we will have to drive home immediately for some food and another good reason, but more about that later on.
The parents will pick up the kids at our home around 20.00.
I always do find it interesting to see what the place of our kids is within their friend group. Also when you do look carefully you can easily see the picking order. Interesting for sure, since it has been more than 2 years ago that we could throw a party for him.
Date night
No, not mine or the misses. But the oldest son decided that it was time for a first date. Okay, maybe he didn't decide it, but was asked. How cool is that :)
So this evening he will go to the cinema (theater) together with the girl who did ask him out. Very curious how that will turn out. We already knew that something was going on, because since a week or 2, his phone was going berserk. One message after the other. Not only from the girl who did ask him on a date, but of course also by all her friends, to put some peer pressure I assume.
I really can't remember my first date anymore. That was many, many, many moons ago. No no, dinosaurs were already extincted, if you really want to know.
There is no pressure at all from us, we are just curious. He is only 13, but thinks he is an adult already :). Which of course he isn't. But I would grant it him, it will be very good for his self esteem.
Cheers,
Peter
---
---