I did get the first ever printed Golden Foil Pyromancer (Steemmonsters/Splinterlands)

Well I'll be darned! My quest this morning did feel like cruising on a straight and calm highway! So I didn't expect a lot from the daily rewards. These days due to the mandatory change in the steemmonsters reward system, it sometimes is a lottery. One of already happy if they do get a card. In the old days it was hoping on a good card, now more or less just any card is a good catch!
But to my surprise this card did reveal itself! Not only did it turn, but it also did get some Alchemy!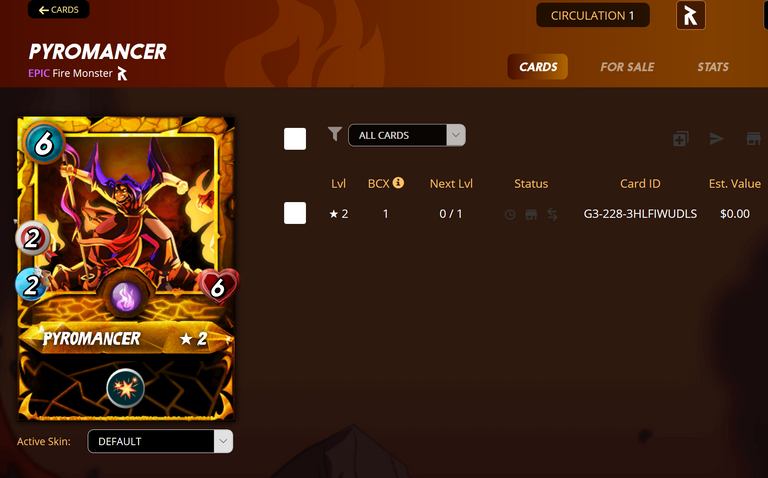 Whoopsydaisy!! So what is the first thing you do when getting a golden foil epic card? Correct, you go to the market to check it's value. But when I did go to the card, the estimated value was $0. Strange! And then sudden it became clear to me that this is the first ever printed golden foil of this kind!
So what do you do with this card? A regular golden foil card goes for around $12. Do I keep it or just give it to the market? Well I decided to go for the last option. I did put it up for sale for a rather ridiculous asking price of $55. Of course it will never be sold for this, but one never knows. It is still the only one up for sale and there are at the moment of writing this post only 2 in circulation.
The season so far.
Well it looks like it is going to be a record breaking season! So far the daily rewards, excluding the extra DEC and potions, does have a value of $19.84! This is even better than the 2 past season with their season rewards.
I did get one Orb Pack, which also did help.
The mobile app
Well the long awaited mobile app is out but still in APLHA version. You can try it out on http://m.splinterlands.io
I did try it out yesterday and was pleasantly surprised by the look and feel of it. Of course one has to get used to it but it feels great!
Hopefully, this app can attract lots of new players to the game! The game does deserve this!
If you never have tried out the game. Well why don't you. It is fun to play, has great economics and one can earn some extra cash with it!
Feel free to use my referral link: https://steemmonsters.com?ref=fullcoverbetting
Cheers,
Peter
---
---