SHARE YOUR BATTLE Weekly Challenge! -- Dragons
this week's challenge hosts the Dragon Splinter and i love when we get this Splinter as a task
i don't know if you agree with me but i believe that the Dragons enclose the most well-drawn monsters from all the other Splinters
i would like to dedicate this post to Daria Dragonscale ,one of my best Dragon's Summoner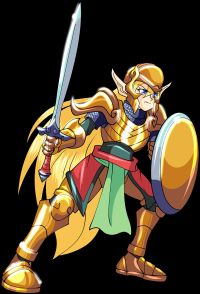 she is a very old Summoner , a Reward card from Beta edition if i remember correctly
her ability provides +1 melee attack point to all her team melee-monsters
she is an epic card so her stats is no different from every epic Splinterlands Summoner as we see in the card below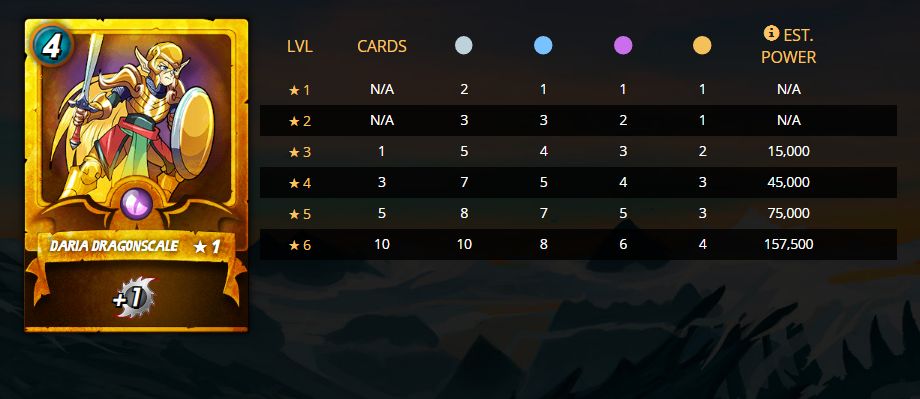 i used the gold foil edition in the card above cause the gold foil edition of Daria Dragonscale is the one i use in battles

you can click on the following link to see my battle where i used Daria Dragonscale and the Dragons Splinter

..Dragons Splinter Battle..


it was a beautiful battle against a very good opponent
the battle offered 36 mana points to be used as we wished and the ruleset was really tempting
we had the blast ability while magic attack monsters could not be used ,also only the odd mana cost monsters were available
we could choose between 4 Splinters ...fire ,water, earth and dragons
i chose to go with the dragons and of course with Daria
now let me spend a few lines to describe a bit my situation at the given time..
i play in GOLD 1 category
the big problem is my deck which very weak in order to play in this league
i managed to climb here under very difficult circumstances plus i have to face the game's unfavorable to weaker decks attitude
when i say unfavorable i mean that upgraded cards always get the advantage against weaker cards even when the stats of the cards are different...you have no idea how frustrating is when lvl 5 Gorlodon witha speed of 1 never miss against my lvl 1 Phantom of the Abyss which has a speed of 6 points plus flying plus dodge ability...come on guys.. @splinterlands devs this is serious... i have many times complained about this and i don't know how many times i'm going to express my disappointment against this unfairness
i never complain about rewards or anything that is happening around the game but for this...this is above me
the stats of the cards are there to give us our 'map' on how to create our battle teams...when the stats of the cards do not mean anything against an upgraded card then i think this is bad for the game
anyway i'm saying this cause i'm trying to make you understand that i have to take into consideration when i 'm picking my monsters that i'm going to be treated unfair in the battle in GOLD 1 league cause my deck does not have this kind of upgraded monsters
and it sucks guys
..it sucks cause it's not only my opponent i have to think about but the 'game' structure as well
in this battle the situation was the same and my strategy was simple
i was going to try my best in speed, i wanted a very fast team and i put my 'stakes' on opportunity ability
Daria was going to boost opportunity monsters with her +1 melee attack
as everybody knows when you get the Dragons you can choose one more splinter to play with
in my mind there was only the Water splinter and only one card
the magnificent Kulu Mastermind..this new Rewards card was the key to get the victory in this battle
at least this is how i was organizing the battle plan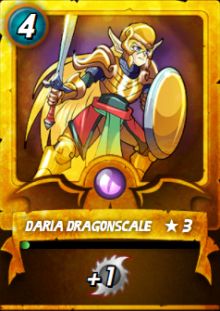 i have spoken again about this Summoner
Daria is lethal if you use her wisely
the gold foil edition which i use is a bit expensive right now the truth is..
it is traded for 149$ per BCX which is not cheap at all, but you can always rent the card for a small amount of DEC and try it
her ability to boost melee attack monsters with one more point of attack power is unique in the Dragons clan as no other Summoner can provide this buff
---
as i said above the strategy in this game was focused on opportunity monsters ,i just had to pick a tank to hold the lines as much time as i could
for that reason as a tank i picked Alvar who could buy the time i wanted for my team with his Void Armor ability
the structure of the rest of the team was as follows
in second place the opportunity Riftwatchers monster Whelp Herder
in third place just a bit de-buff for my opponent, the Creeping Ooze..i wanted to be faster than my rival and reducing his speed was one of my goals
in fourth place the assassin Elven Cutthroat, this monster was not in the plan but she was the last to pick with my remaining mana points...the reason why i put her in fourth place was just to protect her fragile life from enemy attackers
in the last two spots i placed my main weapons!!
in fifth place Dragon Jumper and in sixth and last place Kulu Mastermind
i felt like i had a solid team, a powerful solid opportunity built team and i was totally anxious to get to the battle so i could put my team to the test
Legionnaire Alvar lvl 1
gold foil Whelp Herder lvl 3
gold foil Creeping Ooze lvl 4
gold foil Elven Cutthroat lvl 4
Dragon Jumper lvl 2
Kulu Mastermind lvl 1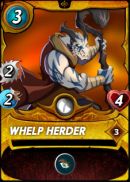 |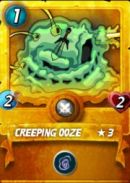 |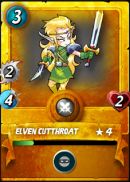 |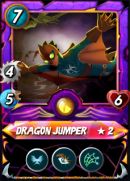 |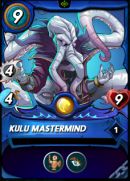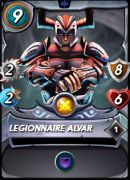 the battle was divine!!!
don't forget that one of the rules was blast so this was another boost for my damage as every time one of my opportunists was attacking ,he was causing damage left and right to the neighboring monsters
of course this was the case for my team as well every time an enemy monster was attacking but i was counting very much on my speed..
i had a difficulty as my rival had Disintegrator in his team which actually de-buff , Daria's +1 melee attack buff but thank god this was not enough to get me down
watch the battle guys, it's very entertaining and instructional
victory for my team , 0.312 SPS to my wallet , not bad at all!!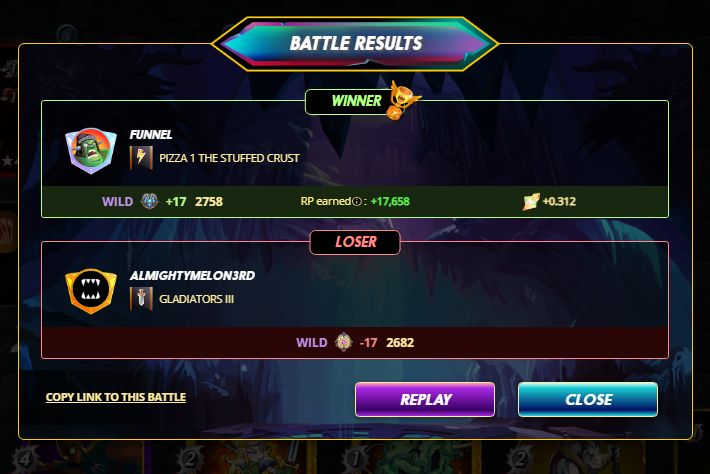 Get on board by clicking this link it is never too late to start playing

---
---