SHARE YOUR BATTLE Weekly Challenge! -- Molten Ash Golem
Ash Golem believe it or not was my first Chaos Legion card i acquired when i started building my collection in Chaos Legion Series
i don't remember how much i paid to get it but i liked the art so i purchased it
it is not one of the best designs but when i first looked at it , it captured me!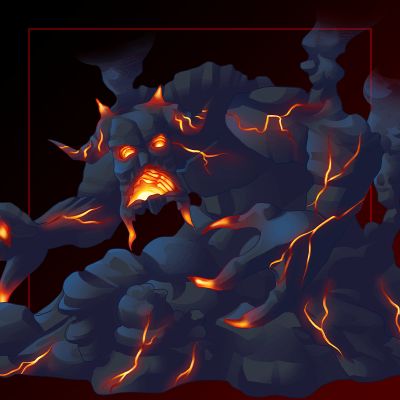 the Molten Ash Golem is a ranged attack monster, extremely slow which is an advantage is reverse speed battles and has a very unique ability
'close range' ability gives the opportunity to this monster to perform attacks even from the first position, if you consider that it has a pretty high life level then you can consider it as a tank as well and not only as support card
it is not an easy-played card though
of course i'm talking as a 'WILD' player ..i have a great variety of cards so when it comes to summon my monsters the Ash Golem is not one of my favorites
for newbies it is a different story, i think for players who got on board last year , the Ash Golem is a very useful and cheap to purchase moster -card
let's have a look at its stats

as you can see if you decide to upgrade the monster it develops to a very serious figther
not only he gets 3 attack points in lvl 10 but also it acquires 'WEAKEN' ability in lvl 5 causing 1 damage instantly to its opponent's monsters and in lvl 5 it also gets 'DEMORALIZE' causing all rival melee attackers to loose 1 hit point


you can click on the following link to see my battle where i used the Molten Ash Golem
..Molten Ash Golem's battle...


i was not so sure that i was going to take part in this week's challenge
as i said above the Ash Golem is not one of my favorites monsters and i'm not using it a lot
but yesterday i played with the Fire Splinter and i used the card, immediately i grabbed the opportunity to create this post as i have some time till the deadline
it was a very nice battle , i enjoyed it very much till the last second
medium mana cap was perfect for me to use Yodin
actually it was not the mana cap that pushed me to get Yodin but my opponent
when i checked on him i saw he was strong so i thought that i had to be very very careful with my weaker deck
Yodin was the choice as he provides blast to the team which gives me some advantage against a stronger opponent
what can i say about Yodin... a true Splinterland's miracle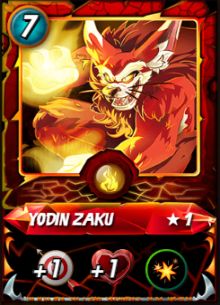 a Summoner which is delegated to me ,a very important card which every user must posses
whether you buy it or rent it or get it through delegation like me,this Summoner is a Must-have
he is an army just by himself
just think how many have you been intimidated just by seeing him on the battlefield
a truly massive Summoner providing +1 to range attack and life points and of course his true power the blast ability
this is like a nuclear weapon in Splinterlands gaming
the rest of the team's structure was like follows
in first place what i like to call a pseudo-tank , Furious Chicken placed there just to absorb the first battle-hit
in second place the actual tank the very much Caladuum, i felt like i needed cards with strong life points to manage to survive my opponent's attacks, Caladuum is a magic attack monster with a serious life level protecting himself by armor as well
in third place, same way of thinking, i placed our host the Molten Ash Golem,his ability of Close Range was crucial to transforming the Golem into the new tank in case Caladuum fell into the battlefield
Lava Launcher ,another Close Range monster was picked in the fourth place, this is a Rewards card and to my opinion such a serious epic card, get the chance now that is almost free to get the Launcher, except the close range ability it has a massive attack of 3 points from lvl 1
in the last two places i picked two snipers...the Mantoid and the Fire Beetle..i hope you can see the strategy behind this move..a sniper with Yodin as a Summoner transforms himself to a serious blast weapon
Gold Foil Furious Chicken lvl 2
Caladuum lvl 1
Molten Ash Golem lvl 1
Gold Foil Lava Launcher lvl 2
Gold Foil Mantoid lvl 3
Fire Beetle lvl 1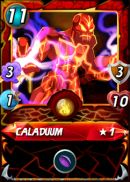 |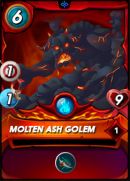 |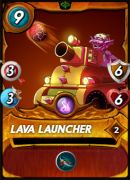 |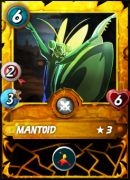 |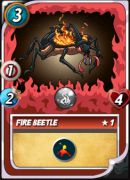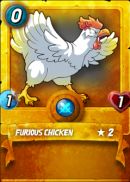 the battle was great
first round was tricky as i thought i was gonna loose the fight but in the second round my monsters managed to survive and i got some hope
in the third round i understood that i was gonna be victorious but actually it was a risk as a miss attack could change everything
i sincerely won the fight just one hit away from disaster
very nice battle i enjoyed it very much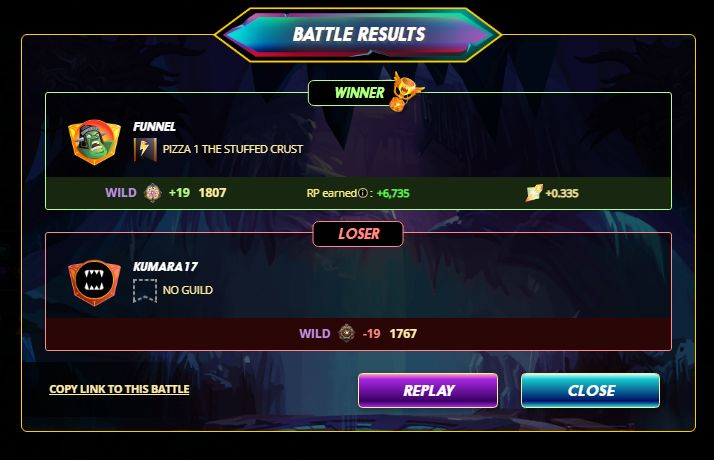 Get on board by clicking this link it is never too late to start playing

---
---