SHARE YOUR BATTLE: RADIATED BRUTE!!!
Radiated Brute is a Common Fire Melee Chaos Legion´s card! I consider it as Fineas Rage´s little brother. It´s not as powerful as Fineas but because of it´s lower price is a good option for new players. Radiated Brute is a good reach card that helps you to kill your enemy´s first card.
Let´s see a battle!
Battle link:
https://splinterlands.com?p=battle&id=sl_ea2c0233a36078f7b5ebfb528645d738&ref=furenze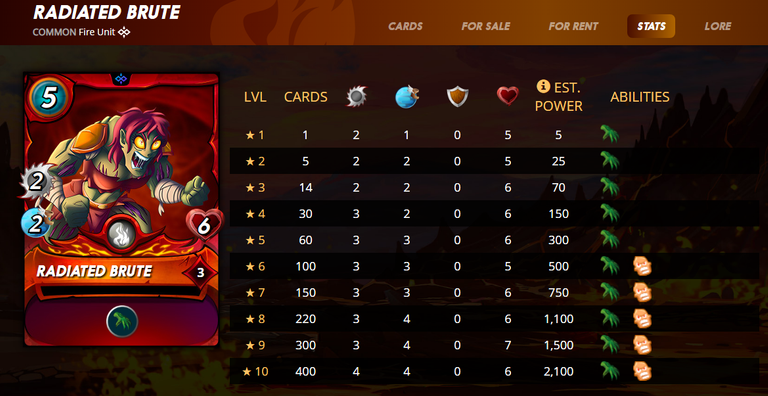 As you can see, in this battle, Radiated Brute helped me to kill Thorhilo the Frozen. This was a low mana battle with "Equal Opportunity" ruleset, Radiated Brute was a better option than Fineas Rage because it allowed me to play two extra monsters (Flame Monkey and Chaos Agent) as baits for the enemy´s monsters.
I believe that with Tarsa lvl2 a lvl3 Radiated Brute is a great option for those players who are in a budget.
I hope you enjoy this battle challenge! Stay safe!
---
---