Splinterlands - Share Your Battle - Dragon Void Edition!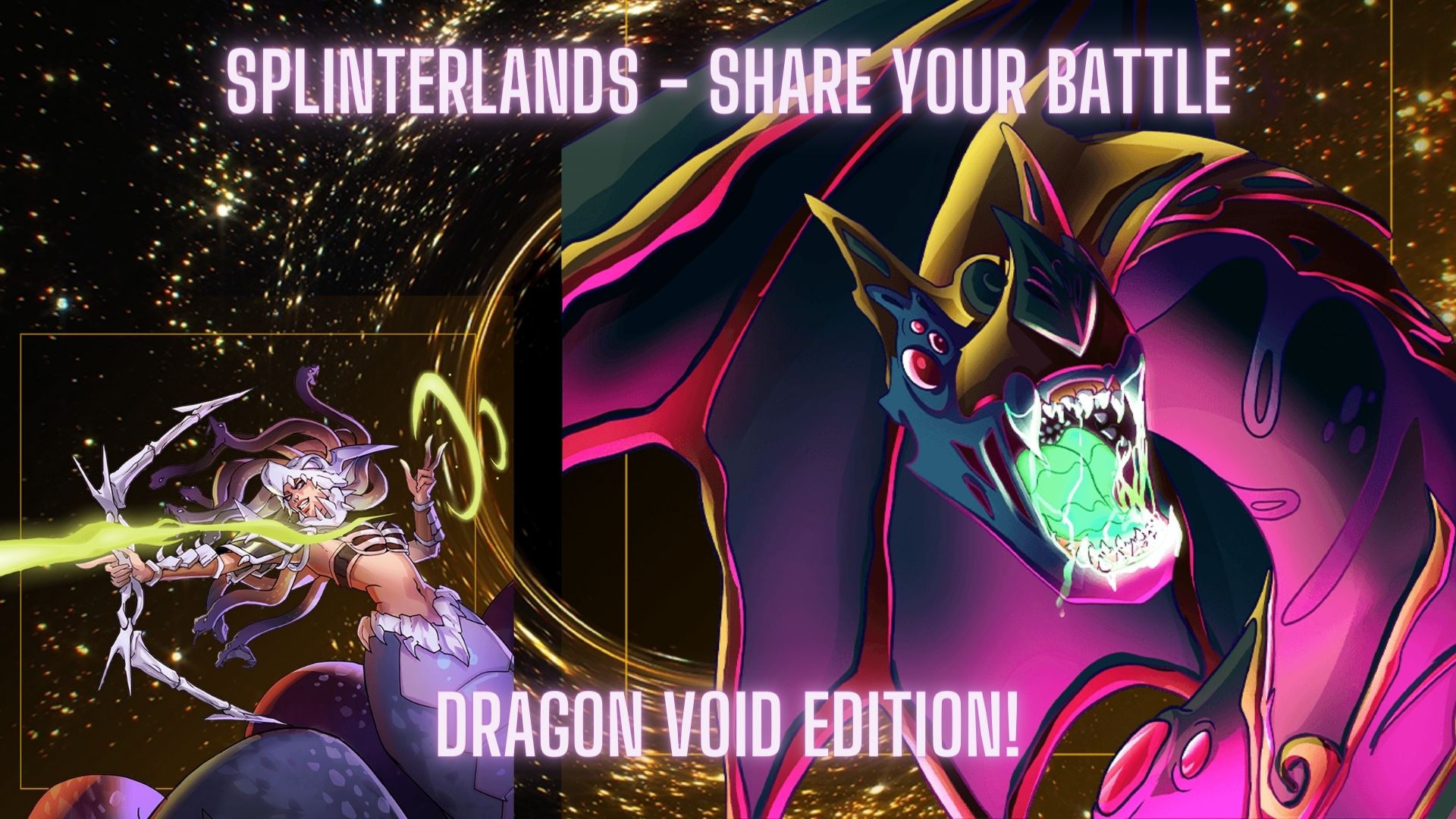 Another week, another "Share Your Battle" Challenge! This time around we are fighting with Dragons once again. I really like these kind of competitions where it is not only one card that is important. The reason for that is that it gives you some kind of creativity freedom on how to choose your strategy. This time around I chose an Anti-Magic comp that might be interesting for all of you that are actually struggling against Magic Opponents. I must admit that I love to play Magic comps myself, so don't use it against me!
Anti-Magic Comp
Let's start off with the core element of this team: the Anti-Magic pills. For starters we are selecting the Dragon summoner who is able to give all of our cards the Phase Ability. While this is a great card to have in my opinion, it will not help us in this battle, since the Battle Ruleset is Silent summoner this time. Nevertheless, the summoner allows us to use Dragon cards and that is why we are here today.
The first card that I want to mention is Void Dragon. The name gives it away, it has the Void ability which is very effective against Magic attacks. It basically reduces the Magic effect and can it even bring down to zero. Additionally this card has the flying ability which can be very useful in Earthquake Rulesets. With 5 speed and 7 health, this card is definitely worth playing for only 5 mana and is one of my favorite dragons. Yes, we only inflict 1 Magic damage but this is most often enough against other Magic cards as they do not have a lot of health.
To top the Anti-Magic Comp off, I like to use the father of them all: Djinn Oshannus. Very similar to the Void Dragon, he also has the Void Ability. Paired with his 5 speed, 10 health and 2 magic attack, this card is an absolute must-have against every magic team. On level 2 he even gets the Phase ability which makes him even more resistant against all these slow magic attacks. On top of that he is a great tank, so if our tank will faint we definitely have a great back-up here.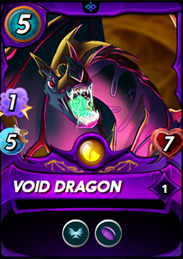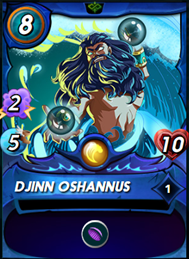 Dragon-Tank & Support
This brings us to the next section of this team: the tank and support cards. In this case we are having a pretty cool tank in the form of the Dragon Djinn Chwala. For just 8 mana we are getting 5 armor, 9 health and 3 attack. The cherry on the cake is the Thorns ability which inflicts an additional 2 damage to every melee attacker. On top of that we need something to support our tank. The beauty about that is that the longer our tan can survive, the more Thorns Damage it is able to inflict.
For this purpose, I like to put cards with Tank Heal into my team. For water specifically there is the Merdaali Guardian who is pretty good at doing that. For just 3 mana we are getting a Health Guardian who is healing our tank each round. As you will se later, it will extend the lifetime of our tank and will make us possible to deal more damage in a few more turns. Unfortunately, the Guardian is not able to attack himself but this is why we get into the next section.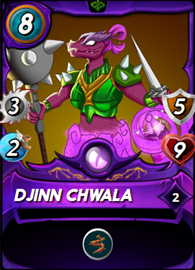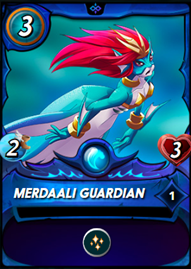 More Damage!
What do you need not win a Battle? Exactly! More damage! This is why we need to fill the rest of our spots with cards that are great at dealing damage. As we are paired with the Water Splinter, this is an easy case of picking. The first card that can not be forgotten is Deeplurker. This card might be the ugliest card in the game but could also be one of the most powerful ones. Although it is a common card, its stats are actually very solid. For only 6 mana you are getting a 3 attack 3 speed and 6 health monster that can attack from any position due to its Opportunity ability. This is a great way to destroy backlines or deal some damage in general.
Furthermore, we have another sea monster: Kulu Swimhunter! This card might be not as powerful as the previous one but for 4 mana, you will get a card that gives out 2 damage and has an appropriate amount of speed and health. Without an Ability this card can still attack from any position at it is a Ranged attacker. The only problem is that this card will not attack from the first position. But this is not something to fear as we put this card in last place, decreasing the chance of it getting into the first position.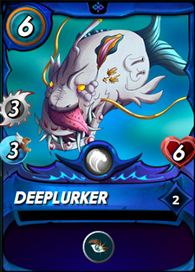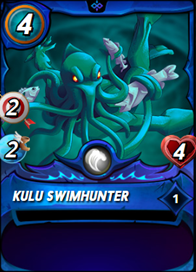 Example Battle
With the team out of the way, we are getting into the actual fight where we are facing a very strong magic team. Due to the Silent Summoner Ruleset, we are both a little handicapped which is a little bit devastating but we will deal with it! Over the first few rounds it gets pretty clear that he will not be able to kill a lot due to our void blockade in position2 and 3. Furthermore, Chwala was able to deal some good amount of damage to the opposition's tank. All in all Oshannus was the one who was able to absorb almost every attack due to his Void Ability. In the end we were able to win this fight pretty comfortably.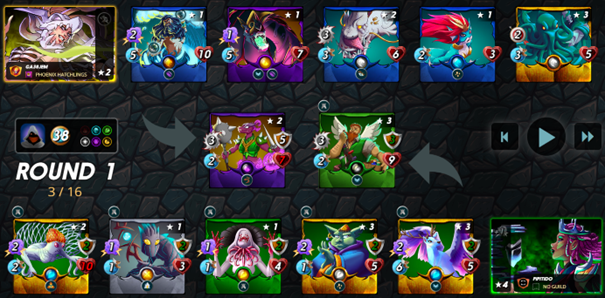 https://splinterlands.com?p=battle&id=sl_b8f4a18822ba611a2368b59e63f3fabe&ref=ga38jem
Published by ga38jem on
LeoFinance
On 5th January 2023
---
---