Legends, Pseudo-legends and many thorns! - Weekly Battle Challenge
What's up? Today I'm back with another battle full of emotion to share, this time legendaries like Behemoth and the well known pseudo-legendary, Quora were present.
---
From Splinterlands and edited with CANVA
---

---
In front, the double hammer carrier and therefore double hit, the mini godzilla, the aggressive monster of 10 mana, Grund, was in the enemy team, with extra armor by the powerful bear known as Arkemis that by the characteristics of this battle, was in both teams.
In my case I opted for a very tough tank, the classic Mycelic Infantry, with 8 mana, known for its slowness but also for its "shield", it is an armored tank in every sense of the word, because in addition to its toughness there were the thorns that Mylor gave it, so it inflicted a lot of damage. Although the enormous amount of magic in rival terrain left him very hurt in the first turn, falling in the second at the hands of the feared Quora, which fulminated him and began his accumulation of charges to his thirst for blood.

In the second position I opted for the classic minotaur with Reach, this, despite its low life, served as a distractor while in the rear were preparing for the attack and Arkemis kept the defense tight.
On the opponent's side, a golden Arkemis was there to show his face, he had a clear level advantage that he was able to take advantage of very well.
The minotaur fell at the hands of Grund but not without leaving him at 1 point of life, so his fall was not without fruits. However, his contribution was not enough to compensate for what was coming from the pseudo lengendary known as Quora, and he did not use the prefix "pseudo" in a derogatory way, but rather to describe well the fact that despite being an epic card, it has a power comparable to that of a high-level legendary.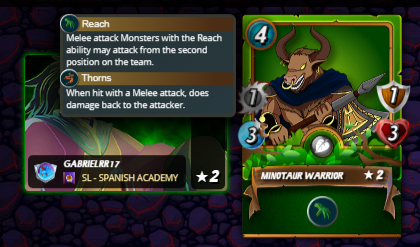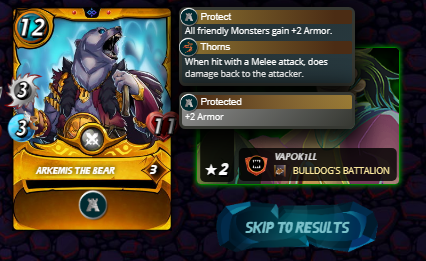 Behemoth, that beast with a tail like an oak, gigantic as described in the book of Job, together with Leviathan. Its representation in the game is a kind of mystical boar with great power, which stands out for its Reach that allows it to hit from the second position and at the same time added to its magic makes it a monster with double circumstantial attack. It also has Void Armor, so it has a small advantage against mages.
This beast did a lot of damage to my team, as its double strike weakens very effectively whoever is its target.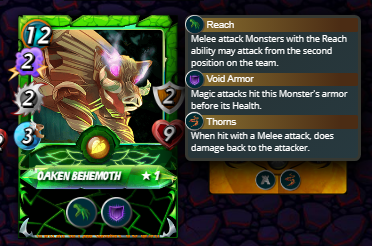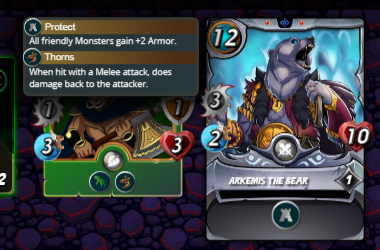 Goblin Thief was my choice for the fourth position, this elusive attacker supported from the rear but suffered quite a lot from the thorns, even died when it was his turn to be in front and attacked Arkemis golden, with only 2 life, so he was doomed to die.
On the other hand, Quora in nothing more and nothing less than his imposing golden version, came to cause massive destruction since round 1, by round 2 he already had his first charge accumulated and although he could not accumulate more, he was tremendously efficient for his team.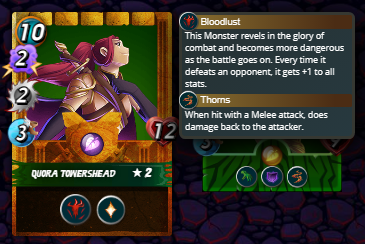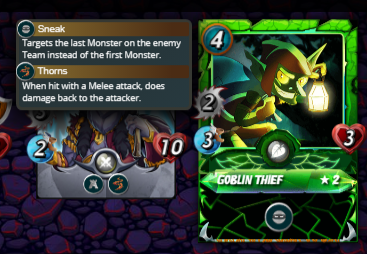 Katrelba Gobson was my fifth pick, with her bloodlust she was a candidate to secure victory and although she started by finishing off the little 0 mana Chaos Legion edition monster, giving good indications that her bloodlust would boost her quite a bit, she soon fell to the enemy Goblin Thief's spines, which, despite being down, took her without being able to build up her second charge.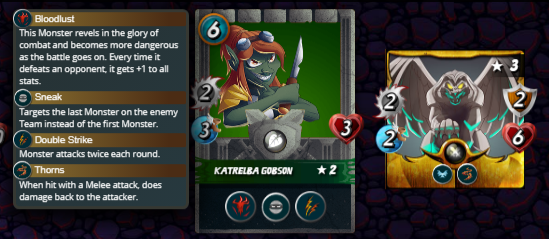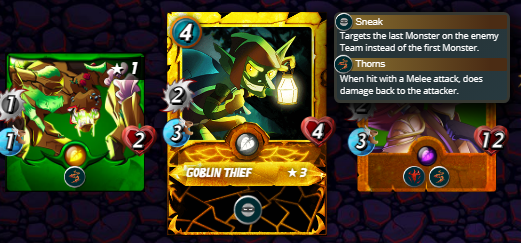 The complete alineation was: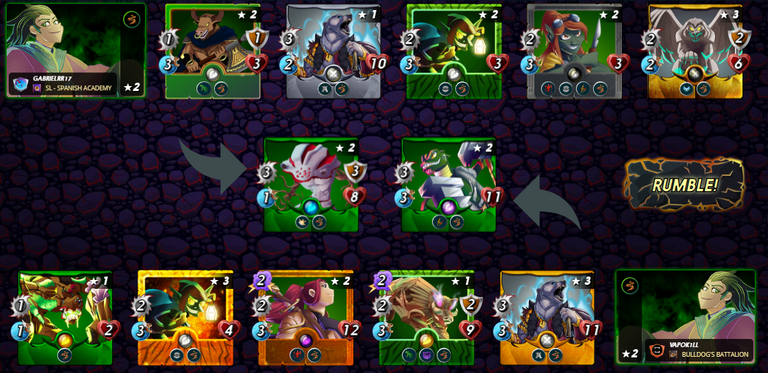 If you want to see the replay click here. For information to join in this challenge click here.
---
Curious fact:
The summoner and two more cards were repeated on the battlefield, these were Arkemis The Bear and Goblin Thief, even so, the superiority of my opponent was devastating, magic was the Achilles heel of my team.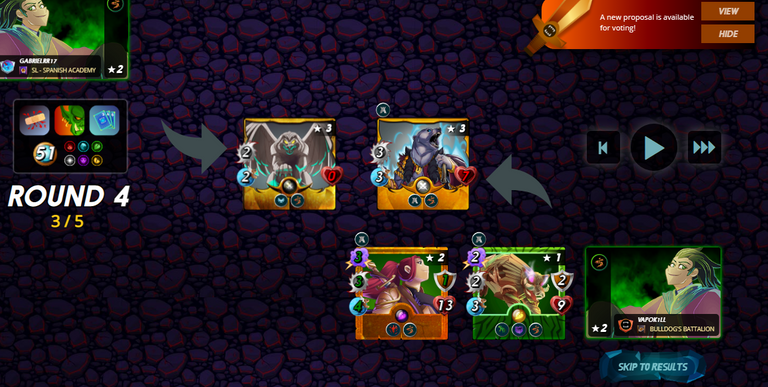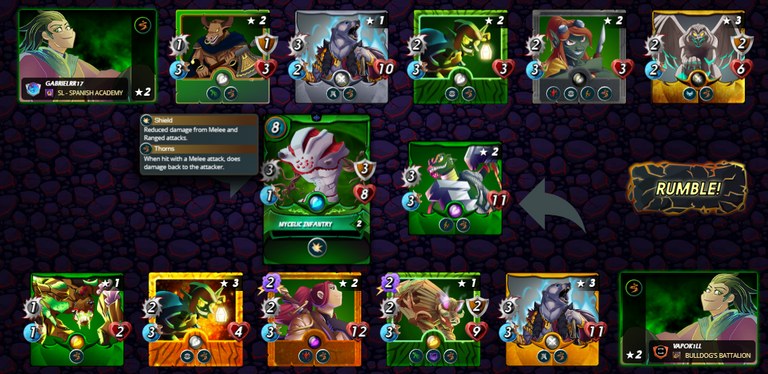 ---
If you want to join in the wonderful world of Splinterlands be my referal clicking here
---

---
---