About Goals, Focus and Presales
After at least a week of promoting yesterday's Town Hall meeting, I believe most people who have a vested interest in the Splinteconomy were either listening live last night (my time) or has since seen the recording.
What we know now are the details about the Riftwatchers mini-set and its presale and also details about the Splinterlands Tower Defense (SPLTD) game and its presale.
To be honest, I didn't expect the two presales to basically overlap. But there is a reasoning behind that, I believe, to raise interest for all Splinterlands tokens simultaneously. What do I mean by that? Riftwatchers is purchaseable using SPS + VOUCHERs only. The preferred method of payment for SPLTD will likely be DEC + VOUCHERs since it currently provides the highest discount (3$ per voucher and DEC's price under 0.001 USD but considered at 0.001 USD). So, all Splinterlands tokens (SPS, DEC, and VOUCHERs) should be in demand for the presales.
Whether the strategy will work or not is hard to say. I'd rather say it will force most investors in the Splinterlands ecosystem to pick and choose. And that, to be honest, I think it's a great idea - to pick and choose!
I believe Aggy said in the Town Hall meeting, that there's no need to be involved in everything. I don't remember the exact quote, but that's the gist of it.
Here's where goals come into play.
What are your goals? What is their state of achievement? Are these investments aligned with your goals or will they make you go in a different direction?
I wrote less than a week ago about having a plan and focusing.
Splinterlands is definitely one of the few things I focus a lot of energy and investments in. The investment part is mainly reinvesting a large portion of the income I produce there in the same ecosystem.
But Splinterlands itself is a big ecosystem and on the way to becoming huge. I came to realize I can't be involved in everything, or I'll be at most average in them. Not to mention the growing time demands.
So I started to pick and choose.
I didn't get involved with the SPS node validator license sales for a number of reasons:
it would have diluted my other holdings, like SPS, and I don't have so much to not feel the difference (remember the opportunity cost I talked about?)
I don't believe one license will be enough later on
I don't intend to run a node myself
Following the same process, I decided quite a while ago I won't participate in the Riftwatchers presale.
Don't get me wrong, I believe that the Riftwatchers mini-set will have some interesting cards, and I will buy (and likely max) SOME of them. But participating in the presale won't help me this time, especially since to make it worth it one needs to buy in bulk.
Plus, any major buys with SPS would push me back a great deal from my SPS staking goal, which is now completed.
Then, I still have a great deal of Chaos Legion cards to max out until the end of the year. And that is my goal, Riftwatchers isn't.
Splinterlands Tower Defense Game
Regarding the Tower Defense Game presale, the decision is the same, to not participate in the presale (90% decided).
It's not that I don't want to, but I have to think strategically about what's best in my case.
Here are a few reasons I'm considering:
funds for 500 packs is a LOT to divert from Splinterlands to the Tower Defense Game; we seem to need lots of cards since the ECR is at the card level in that game
there will be continuous costs for playing the game (which is great for the Splinterlands economy)
Q1/Q2 should be(?) land time in Splinterlands; I am a significant land owner and there will be upgrading costs for land buildings (as they are for guild buildings too, and they will become more important too); rather than pushing on all fronts and being mediocre at best in all of them, I should focus on the things I'm invested in already
What I said above doesn't exclude the possibility that I will get involved in SPLTD at some point. But for the presale, this seems out of the question, unless I find out information in the meantime that convinces me to participate at a much smaller scale than 500 packs.
Later on, we will know more details, we will see how the development progresses and I will see what funds become available for me once I complete my goals (all of them, not only Splinterlands-related).
The roadmap seems promising: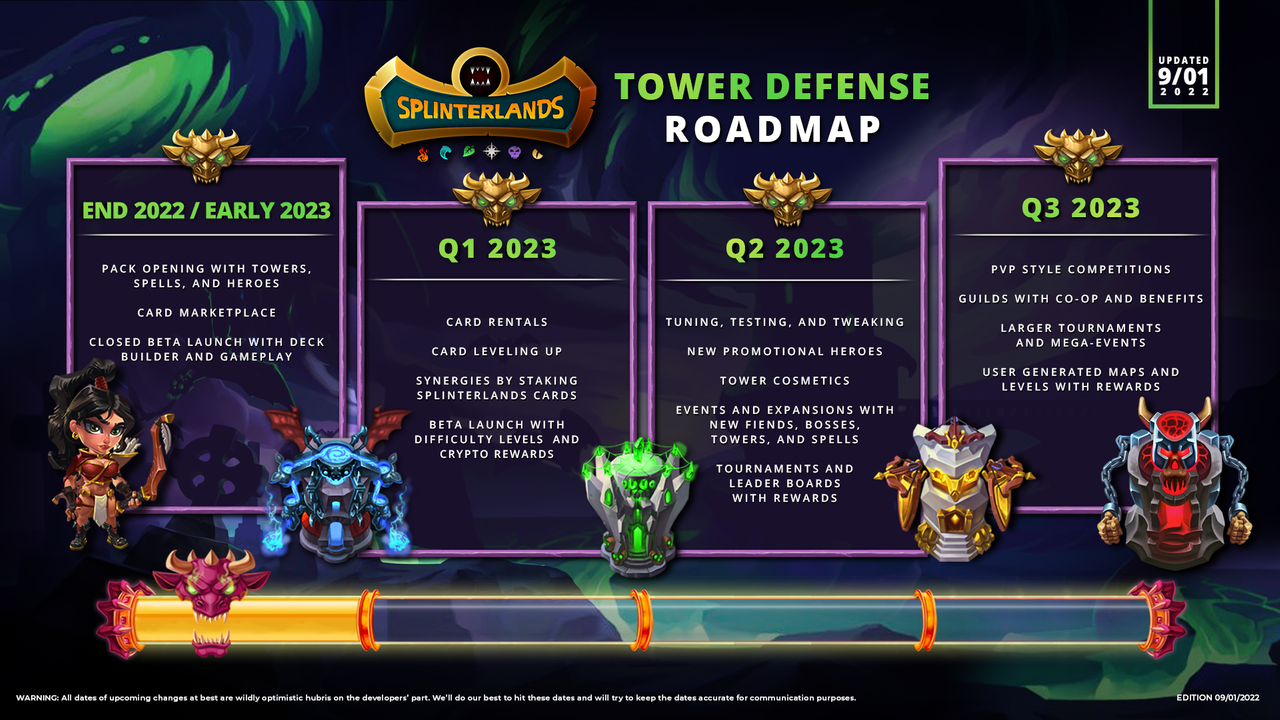 From Splinterlands post.
Posted Using LeoFinance Beta
---
---