Decisions, Decisions... * My Hive Goals, Week 36, 2022

This is a short sum-up table with the state of my goals in easier TLTR form. The table has only some information, so if you want details, they can be found in the post.
| Goal | State |
| --- | --- |
| Completed | 2 (Staked SPS, Replies Received) |
| Ongoing | 4 (HIVE Power, Maxing CL Set, Staked LEO, Comments Made) |
| Stopped | 1 (HBD) |
| Initial Goals | 2 (HIVE Power & HBD) |
| Stretch Goals | 2 (HIVE Power, Maxing CL Set) |
| Increased | 1 (Comments Made) |
| Lowered | 0 |
Decisions, decisions... It was an important week for making decisions.
Most of my goals could have been impacted by decisions taken during this week. First, there are the presales from Splinterlands for Riftwatchers and the Splinterlands Tower Defense Game, and my decisions regarding that.
Then the market made a local bottom near 50 cents per HIVE this week.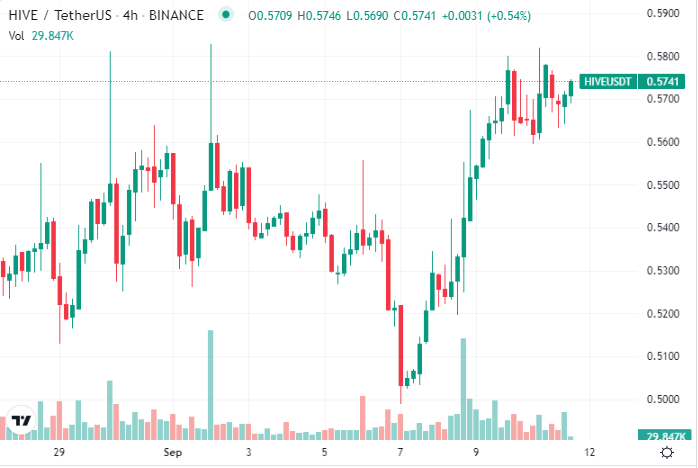 Had I been more inspired, I would have bought more HIVE at those levels. But nope, I wasn't. Only a little bit more. I expected September to be bloodier, from the way it started but looks like Microstrategy has other plans and that news pumped the market.
Let's see what changed since last week.
I added 142 HP this week, most of it organically. I also moved part of my liquid HIVE and HBD to the CubFinance farm, earning some CUB rewards (which I compound in the same liquidity pool), instead of nothing on the base layer, as liquid tokens. I didn't move all the tokens, as sometimes when pumps or dumps happen, speed is of the essence, especially if you discover them late.

I stopped this goal in favor of HIVE Power. Initially, the goal was to reach 5000 HBD in savings by the year-end, starting from almost nothing.
LEO Staked
This week I only added 49 LEO to my stake, with more liquid LEO waiting for the LPUD. That's 2450 LEO more than when I started tracking this goal, 12 weeks ago.

122 LEO per week are currently needed to complete this goal by the year-end. I might increase this target if I get there too soon. We'll see when we get there.
Splintershards (SPS) Staked Goal - Completed
The SPS staking goal is COMPLETED!
However, the new SPS rewards from ranked battles come in a staked form and will keep increasing the stake.

Announcements from the team made me realize the more SPS the better, even above my goal. So I stopped using it to buy CL cards.
I won't stake it though (for now). Besides what comes staked from the gameplay, SPS goes to the diesel pools.
If I had decided to participate in the Riftwatchers presale, this goal would most likely have been compromised. And this doesn't mean I am inflexible with my goals, it means SPS itself is very important, more important than the Riftwatchers mini-set, and certainly more important than buying Riftwatchers packs.
*) or reaching the limit beyond which I consider upgrading a card not profitable
The overall situation, to better gauge my progress, because I still need to push hard on this goal:
| Total CL Cards (incl. reward) | Maxed or Limit | Percent |
| --- | --- | --- |
| 132 | 71 | 53.78% |
| Total CL Cards (excl. reward) | Maxed or Limit | Percent |
| --- | --- | --- |
| 99 | 46 | 46.46% |
This week I maxed Wave Brood (actually, I have all the BCX, remaining to combine them as the ones from the rental market come back). I also combined Vampiric Blossom to the max, after cards returned from the rental market.
I'm still opening packs as I earn more alchemy and legendary potions.
| Common Monsters | Maxed | Reached Max Desired Level |
| --- | --- | --- |
| 29 | 10 | 1+? (9 under consideration) |
| Rare Monsters | Maxed | Reached Max Desired Level |
| --- | --- | --- |
| 23 | 7 | ? (2 under consideration) |
| Epic Monsters | Maxed | Reached Max Desired Level |
| --- | --- | --- |
| 17 | 7 | ? (2 under consideration) |
| Legendary Monsters | Maxed | Reached Max Desired Level |
| --- | --- | --- |
| 23 | 12 | 2+? (2 more under consideration) |
Social Targets
I started the week with 9727 comments.
Increased target: 10k->12k comments by the year-end.
The 10K target for replies is COMPLETED and I won't increase it.
I have currently made 9850 comments, which means 123 comments this week. This is below the average I need to complete this goal. This was an adjustment week with the new target. Looks like I'll have to do better.
With the new comments target, and 16 weeks left in 2022, I need an average of 135 comments per week to reach the goal.
Posted Using LeoFinance Beta
---
---