How Are You Handling the Splinterlands Rental Market These Days?
The rental market in Splinterlands is not the same as a few months ago.
A couple of days ago, I exchanged a few words with @revisesociology who, unlike me, is still having some consistent returns from the rental market. Before becoming very concerned about it, I remembered he used to have on the rental market his best cards (the ones he used to play in high leagues with). I'm not sure if he still follows that strategy, but if it does. I am a little less concerned. I believe I could get a decent DEC return out of mine too if I had it on the rental market instead of playing them.
In fact, with my need of DEC instead of loot chest rewards at the moment, that would have been a better solution. But it's a bit late now to switch.
But there are a couple of other elements that affected the rental market, besides the general downtrend. They are not necessarily (all) bad things, they are strategy-changers though, and I haven't adapted to what probably works better right now.
For example, we now have both daily and season rentals. I have my rentals handled by the Splexx.gg rental golem, and I think it only does daily rentals. If the market moved toward season rentals (I haven't checked), I haven't moved with it.
Then, PeakMonsters has the option to define and offer entire decks for rent. I believe that's a more convenient option for humans to use, especially if they don't have a deck for which to only need a few inserts here and there. But it's a lot of work to create those decks and you have to have the right cards, not like me, a few of this, a few of that, and a few of the other type, unrelated.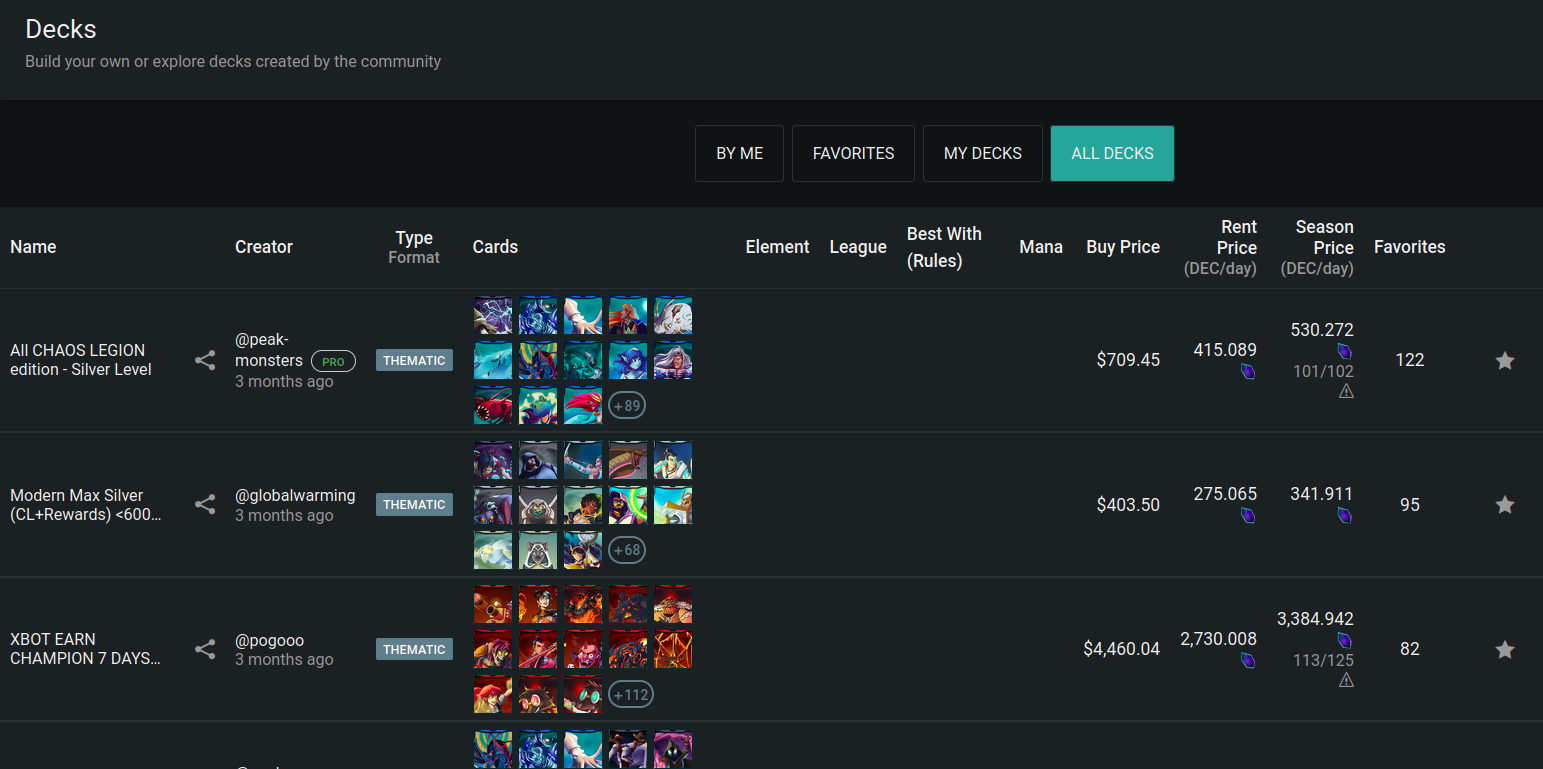 Then, there is now the fee for listing or changing the market price which brought back the rental golem from Splexx.gg and any any other rental bot a ton.
There are more things I could think of. Land lords started amassing cards for land, and, in the meantime, they are flooding the rental market, driving the prices down for similar cards.
Since updating strategy for the rental market can be very time consuming and I'd rather not do it many times, I want to gather some information before I do it, and wait for Land 1.5 to see how the demand and offer on the rental market changes. Particularly since Land 1.5 may come with rental market options, either on launch or soon after.
If you have some tips or would like to share how you are currently renting your cards out, that would be helpful. Thanks in advance!
Posted Using LeoFinance Alpha
---
---