Moving Assets Between Games... Sort of...
It's been a few days since the last day of the vouchers airdrop (presale variant) stopped, and I haven't had a chance to write a Splinterlands post yet, although I've done tons of things since then.
But we'll take them one by one.
A day before the vouchers drop ended, I could afford the final 100 batch of Chaos Legion packs from the presale. For a total of 330, including bonuses.
If I bought some vouchers (less than 10 actually), I would have reached another 50 packs and another guaranteed Doctor Blight. But still, with 330 packs, I have 6 guaranteed Doctor Blight cards, which means at least a level 3 legendary card, and most of the abilities, except Weaken. That without an additional investment in Dr Blight, although depending on the price, I will likely max him.
But I decided against it, and sold my remaining approximately 15 vouchers for something like 16-17 SWAP.HIVE per piece, if I remember correctly.
There was a better time to sell them, but a weird market bug that happened with a few limit orders I had early on prevented me to take advantage of higher prices. Plus I decided to buy the Chaos Legion packs as soon as I had enough vouchers for each batch.
I decided to use most of the SWAP.HIVE resulted from the sale to prepare for another important step in another game. Thus the title...
So, I bought 900,000 STARBITS with that SWAP.HIVE to use in the Rising Star game, which I recently started to play (about a month or so ago).
In Rising Star, I'm slowly approaching level 50 (almost level 45 now), at which point I'll be able to play the STARBITS Millionaire's Mission.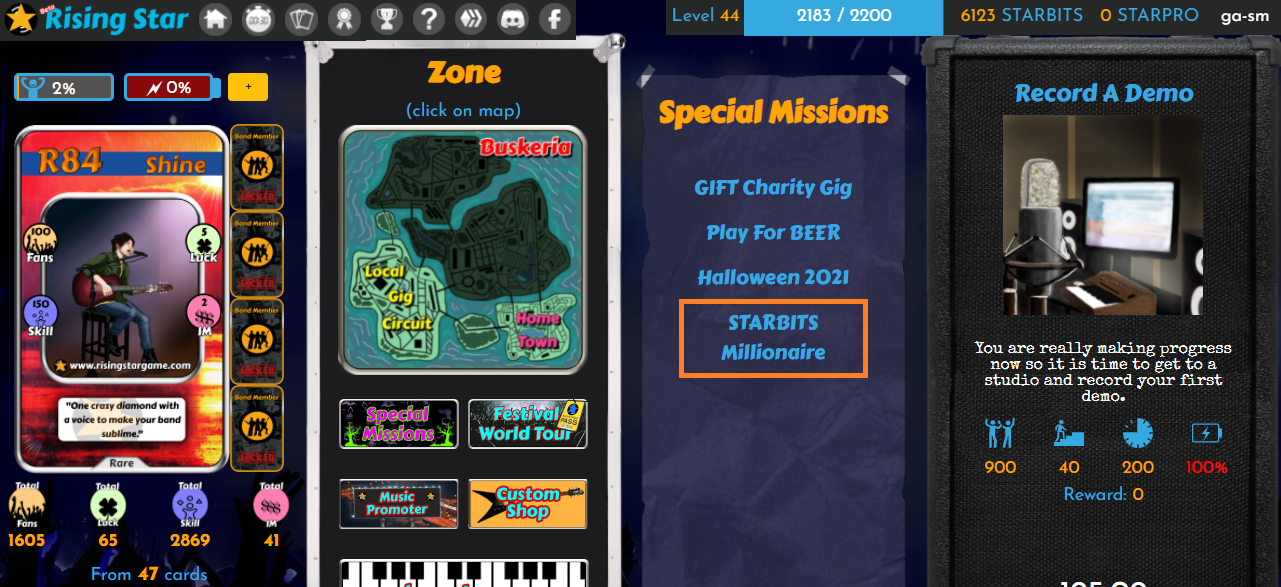 For that I'll need 1,000,000 STARBITS to be able to request the STARBITS Millionaire's card from @ jux in Rising Star discord.
I didn't have enough SWAP.HIVE for the entire amount so I decided to pile up the remaining 100k STARBITS using the in-game rewards, instead of buying cards. There is still enough time, since going from level 45 to level 50 will take a while.
The STARBITS Millionaire's card doesn't cost anything, but there are these conditions to receive and use it:
1 million STARBITS in your account (on Hive-Engine) to receive it
level 50 to be able to play the mission
What I don't know is if there is any condition about the 1 million STARBITS going forward after receiving the card (to keep it to be able to play the mission), or may I go on a buying spree with it afterwards? If there's no condition, that'll boost my collection quite a bit practically instantly.
This STARBITS Millionaire's mission is quite awesome, earning a fixed 10,000 STARBITS per day. Of course, you need to play the mission, otherwise you get nothing.
---
---