Rewards, Fees and Collection Power
Another season came to an end for the ranked battles in Splinterlands.
Like the season before, I let the bot play my account in Wild, which is the main format for my account. Unlike the previous season, this time fees were involved. 35% on the SPS rewards from playing (except in the Modern format) for my type of token pass.
If we look at the season's summary (see image), we see a 26.38% fee taken by the bot from the total rewards (potions included) worth almost 114 USD at the time of the screenshot. Or more accurately, around 525 SPS out of 1500 SPS (I included Modern, to ease calculations, but the rewards there were minuscule).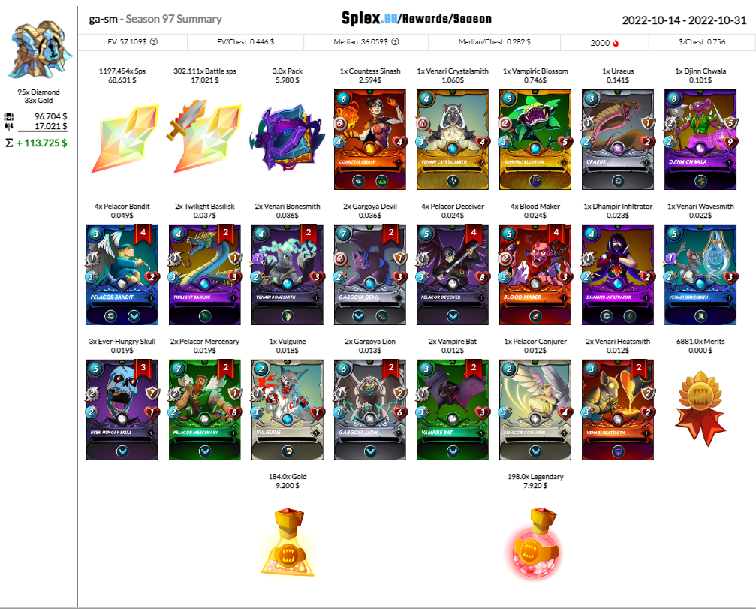 With a much higher initial investment, I could have lowered that fee down to 15%, from 35%. But is it worth it? Certainly not for me at the time. Plus, when the land expansion will come out there will most likely be a period when this or any other bot will be worthless until they are adapted.
I still think 35% is an exaggerated fee and the majority of users have this fee. Maybe things will be slightly different when the cards pick up value, but certainly not now.
Besides the bot, I also used the other passive alternative, now at the end of the season and extending a bit into the new season: renting out my playing deck.
The renting part makes me understand even more why the Splinterlands team believes the Collection Power is not a good-enough solution to limit access to higher leagues.
I came to this realization from two perspectives. I have an account that normally should play in Bronze. But because I delegated to it a 50k CP GFL (pretty much worthless for the gameplay), it reaches as high as Silver 1. While I am growing that account from its own rewards, it's still very much basic right now, with many level 1 cards and even starter cards used (I have no summoner yet on that account).
The other side where Collection Power is a non-optimal solution is on my main account. When I'm renting cards out for the EOS from my playing deck, I need to keep enough cards unrented to have the minimum CP at the end of the season for the league I reached. Those cards don't do anything. They don't help me, because my playing account is idle while I'm renting out, and they don't help any potential players who might've been interested to rent the (powerful) cards I have. Wasted 400k or 500k CP-worth of cards.
That's why I am glad the proposal to adjust rewards based on the level of cards played passed. It is the first step to replacing Collection Power with something else, hopefully better (but you never know).
I also played throughout the season, mainly in the Brawls for my Guild and in a couple of tournaments (mostly Diamond ones). Plus, I pushed my account into Gold 3 in Modern - as I got used to every season - to not drop below Silver 3 at the reset time.
Posted Using LeoFinance Beta
---
---