Snapshot Time Passed * "Triple" VOUCHER drop rate over * Packs, Packs and more packs...
Snapshot Time Passed
For anyone who didn't notice anything significant in their day, month and probably year as Hive holders, the snapshot time came and passed for the SPK Network and Ragnarok claim drops.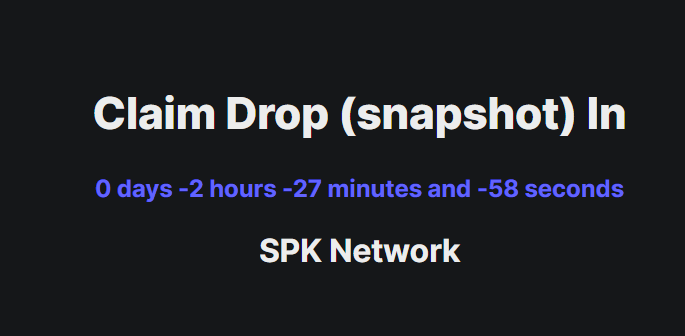 Should the count down stop at zero? Yes, but I kinda like it this way. :) It shows that the snapshot only immortalizes a moment in passing time.
Should you have noticed anything as the count down hit zero? NO!
We will be notified about the steps to do next, to claim our drops. The Hive accounts to follow for the announcements are @spknetwork and @ragnarok.game.
After the snapshot, what you can do is move your Hive around to other accounts, to Hive-Engine, sell it or whatever you want to do with it.
Personally I moved a portion of it back to Hive-Engine and into the diesel pools, and the rest I moved to Binance and into BUSD expecting a potential drop in the price of Hive. This BUSD will come back as Hive later on.
Whether my anticipation was correct or not, we'll see. Hive could as well hold its ground or even go up if the market turns.
Why didn't I use HBD instead of BUSD and keep funds in the ecosystem the entire time? I thought about it, but my idea at the time was that the move would be rather sharp, and HBD is much better with longer trends, because of the 30-day interest and the 3.5 day lock period in savings.
In the end this is a speculative move with a few hundred Hive and I might end up with less Hive than initially. That would be a bummer, especially since doubling my Hive holdings is my main priority this year.
"Triple" VOUCHER drop rate over in Splinterlands
Yesterday was the last day with double VOUCHER drop (compared to phase 1) during the Chaos Legion Presale.
Vouchers continue to be printed but at a rate lower than 1/3 of the one we had until yesterday during Phase 2: 20000 vouchers / day, compared to 66666 vouchers / day until yesterday.
Triple rate worked great for me, as I finally moved to a higher tier with better bonuses, from dropped VOUCHERs alone.
Packs, Packs and more Packs...
Yep, I managed to buy 600 packs using my dropped VOUCHERs. That's 100 + 500, because I couldn't wait to get to 500 vouchers without any packs. It took too long. That also means 85 bonus packs. And I haven't even opened my bonus packs yet, lol. It will take a while to open all of them, I believe. And yes, I will probably open all of them.
Since we are at the packs topic, I also bought another 12 packs at Rising Star today. Nice!
I'm finishing this post kind of abruptly, because I just noticed I'm late for a meeting and I don't know if the saving feature works or not, to continue later... Sorry about that.
Posted Using LeoFinance Beta
---
---