What do you do with your Splinterlands vouchers?
Splintershards (SPS) stakers receive daily VOUCHER airdrops, based on the amount of SPS they have staked compared to total amount of staked SPS and the fact that 20k vouchers are airdroped daily.
The price of vouchers depends on existing or immediate use case. If there is an use case at the time we consider the price usually pumps. If not, it slowly drops until something concrete comes up that excites people.
The problem is, among SPS, DEC and vouchers, the latter has no use case on a continuos basis. DEC is used to upgrade buildings and to buy cards and is very valuable for the airdrop points. SPS at least offers staking rewards and by staking it you receive vouchers too. Plus, there are some diesel pools with both SPS and DEC which offer rewards. None with VOUCHER which offer rewards.
So, the question is, do you pile up vouchers for when they are needed or not?
I've chosen not to.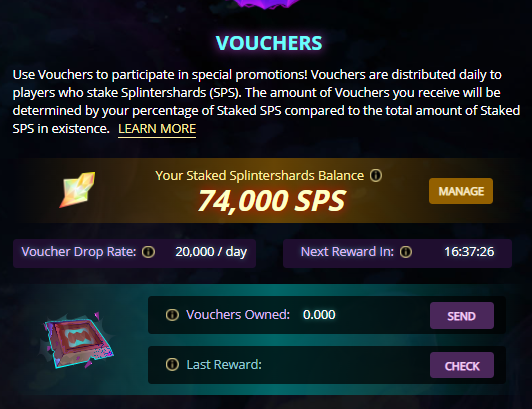 As you can see I have no vouchers in my account and neither in Hive-Engine.
At first I simply extracted value by selling them for SWAP.HIVE, so I can help with my HIVE Power goal for this year.
But as their price started to move to lower and lower levels with interest fading away, and the price of HIVE going up, I started thinking this isn't a good deal at all, even if they come "for free".
There are however two alternative options.
1. Swapping vouchers for DEC
This option has both good and bad parts.
The bad part is that the price of DEC is slowly falling towards the peg. But so is the price of vouchers going down. However, the price of vouchers will turn around when the next use case for vouchers is around the corner.
That doesn't mean we can't swap back DEC to vouchers then.
Until then, the good parts would be:
airdrop points for holding DEC
rewards if you have DEC in a diesel pool
2. Swapping vouchers for SPS
Depending what you do with the SPS, you can aim at different benefits.
If you hold SPS liquid, you are betting SPS price goes up while VOUCHER price still goes down OR in case of a major pump that the SPS price will perform much better than vouchers. And when/if you need vouchers, you can still swap back, and you've made a profit in the meantime.
If you stake SPS, the additional benefits are the staking rewards for SPS and that you receive more vouchers. Interesting, huh? You'd actually sell vouchers to receive more vouchers. :)
I have started to use a combination of 1 & 2, depending on how my needs evolve over time.
So, what do you do with your vouchers?
---
---