Blurt Enginedrop Attestation - Gamestate Megaverse

Logic will get you from A to B. Imagination will take you everywhere.
-Albert Einstein

Gamestate is a a cross-chain, multi-world megaverse nexus, uniting gamers, fans, developers, creators, and merchants in a place of fun, discovery, and learning. Gamestate offers sales channels for games, apps, advertising, gaming equipment, music, media, and general merchandise, as well as a Rocket Launchpad accelerator for indie game startups.
Unified profiles solve the problem of fragmented gaming accounts and achievements; allowing gamers to create and import their existing game profiles and leaderboard ranks, collated into a single portable, immutable, privacy-centric, achievements-based blockchain digital identity profile for the ultimate in flexing and bragging rights!
Launch Plan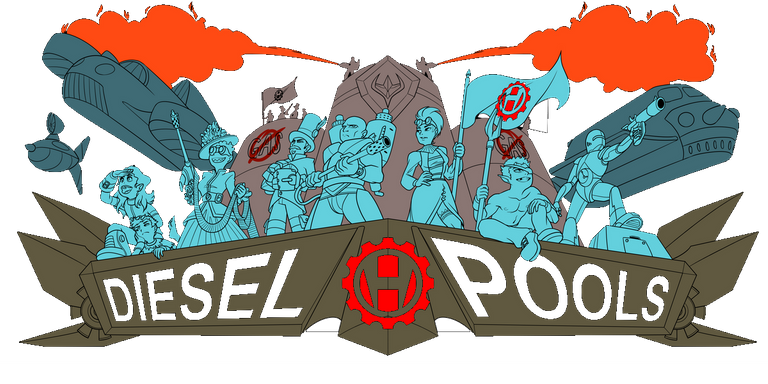 Gamestate will hold a boutique IDO on Hive-engine around the 25th to 30th November 2021. STATE tokens will be minted on Polygon and added to Tribaldex.com via the creation of a Polygon bridge.
The SWAP.STATE tokens will be sold in a cascading IDO, where tokens will be released incrementally to the market in daily escalating batch sizes and increasing offer prices.
SWAP.STATE tokens will immediately have utility in Tribaldex liquity provisioning Diesel pools created in a variety of flavours:
SWAP.STATE-SWAP.DFY | SWAP.STATE-SPS | SWAP.STATE-SWAP.BLURT
Partial token sale proceeds will be used to purchase SPS and bootstrap initial liquidity on the STATE-SPS pool.
Our launch partners Defiforyou.uk will storm into Hive-engine/Tribaldex via a BSC bridge to add SWAP.DFY to the lineup and liquidity provision on the SWAP.STATE-SWAP.DFY pair.
The Hive-Engine team is working on adding the official SWAP.BLURT token which was reserved but never activated. This will add standard and convenient withdrawal options to the Hive-Engine interface via officially supported gateways. The Blurt foundation will provide the SWAP.BLURT liquidity required for the SWAP.STATE-SWAP.BLURT Diesel pool pair.
The SWAP.STATE token can be withdrawn directly to the Polygon network for participation in further liquidity provisioning on IDO launches during December 2021.
Synergy Launch Partners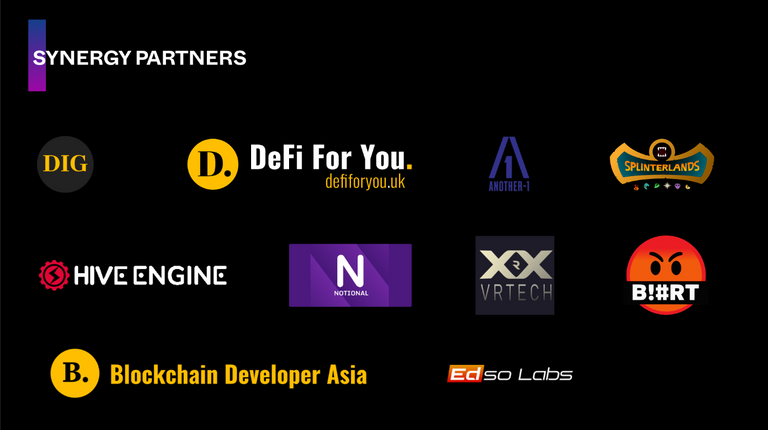 Gamestate has partnered with Splinterlands on its startup launch journey, in a mutually symbiotic hype initiative. Splinterlands will feature in the bulk of Gamestate media promotions and in turn, Gamestate will benefit from Splinterlands promoting Gamestate to its massive userbase, growing at a rate of 500 thousand incremental sessions per week.
The launch of the Gamestate megaverse MVP (Minimum Viable Product) in 2022 will feature a launch party for Splinterlands fans to celebrate in the Gamestate WAGMI stadium, followed by the launch of an actual 3D rocket to the moon to commemorate the event.
Post IDO, we will be looking to collaborate with DJs and music artists to play at the event.
Gamestate will give back to the Splinterlands community for being the first major blockchain game to believe in our vision, by using some of the proceeds of the boutique IDO to purchase SPS tokens to bootstrap the liquidity pool.
The Gamestate IDO will feature a powerful lineup of synergy partners and the might of the Vietnamese blockchain and gaming development sector via development launch partners VRTech and Blockchain Developer Asia, combined having over 300+ strong developer talents to draw from.
Check out the teaser video for the full lineup of synergy partners, more details on their collaboration to feature in future posts.
Blurt @enginedrop Attestation Airdrop
1% (One Percent) of the 1 Billion initial STATE token supply will be airdropped onto BLURT POWER stakeholders at an appropriate time during the IDO as SWAP.STATE on Hive-engine.com and the Tribaldex.com alternative user interface.
Similar to the Cosmosdrop attestation, the Blurt Foundation has set up an @enginedrop account to receive attestations of user Hive-Engine accounts.
Step 1.
If you don't already have a Hive account, visit the signup page and create one:
Remember to save your keys in a safe place.
Step 2:
Create a Blurt account on https://joinblurt.com if you don't already have one.
Pro-tip: Choose to pay in crypto and pay in Blurt, which only costs 50 Blurt to create an account. Obtain BLURT from Probit.com and withdrawal using the required memo.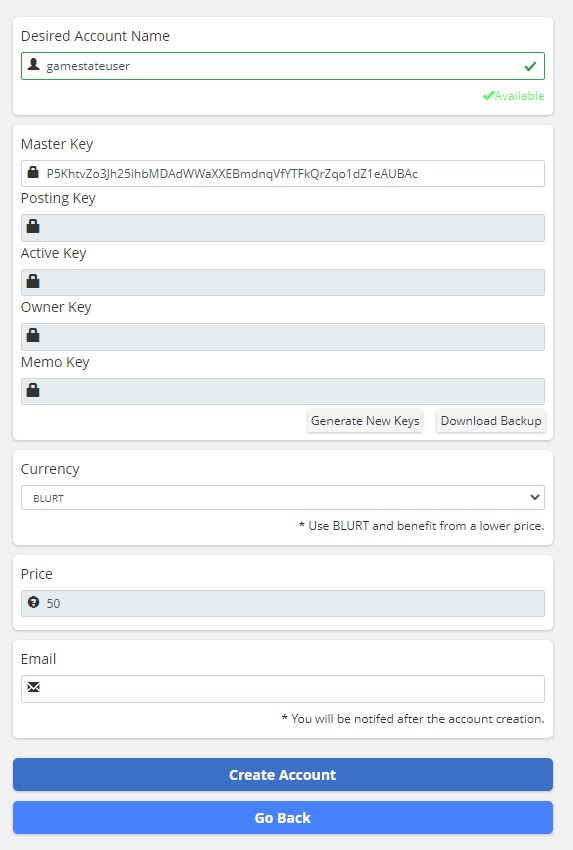 Remember to save your keys in a safe place.
Step 3.
Send your Hive address in a memo to @enginedrop.
3.1 Visit https://blurtwallet.com
3.2. Click on the dropdown on the liquid balance and select 'Transfer'

3.3. Send a memo with your Hive account address to the @enginedrop account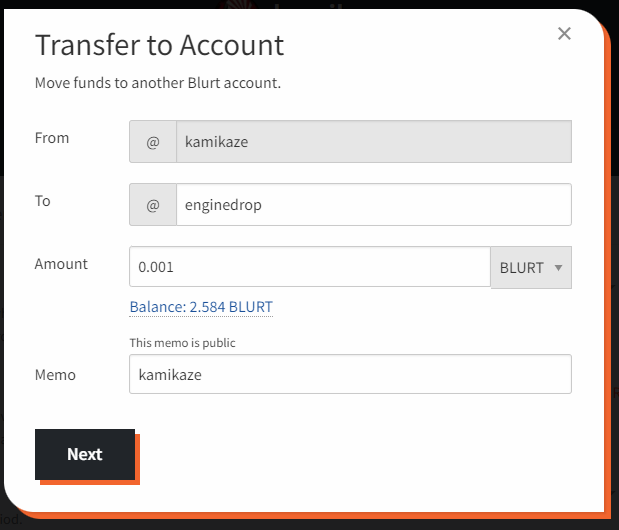 Only costs 0.001 BLURT plus negligible fees to send!
Special thanks to @saboin for building the attestation user interface!
Step 4.
Confirm attestation.
4.1. Visit https://drops.blurtwallet.com/
4.2. Enter your Blurt username and click "submit". This should return details of both your @cosmosdrop and @enginedrop attestations.

Step 5.
If you haven't done the @cosmosdrop attestation, please follow the instructions on the post below to be eligible for future Cosmos airdrops.
https://blurt.blog/blurt/@megadrive/cosmosdrop-attestation
---
Standard Disclaimer: Claimdrops may or may not occur, they will be done on a best-effort basis and may not eventuate, but it is a good idea to attest because @enginedrop will become a cache of active user credentials. The more attestations, the more interesting the Blurt community becomes to other projects seeking to bootstrap a community via airdrops.
---
DIVERSE ECONOMIES | INTERCONNECTED WORLDS | ONE MEGAVERSE!
---
Socials:
Twitter https://twitter.com/Gamestate_one
Youtube https://youtube.gamestate.one
Discord https://discord.gamestate.one
Website https://gamestate.one [Coming Soon]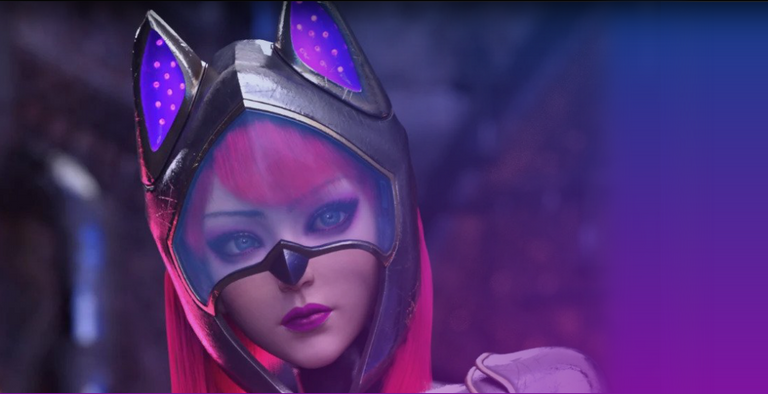 ---
PLEASE FOLLOW OUR BLURT, HIVE, STEEM AND MEDIUM BLOGS FOR FUTURE POSTS ON PROJECT AND TOKENOMICS DETAILS!
---
---
---