Splinterlands Grinding Experiment Continues. Plan at This Time.
It's been a while since I posted on this account. I didn't really have much to report and had lots of other things on my plate, so a post to say pretty much nothing didn't seem like the best idea.
For anyone who reads this for the first time, I'm using this account to conduct a Splinterlands Grinding Experiment. Rules of the experiment are the following:
I start with a fresh account without any assets and only with the Spell Book
I can't use any external funds to grow
I can't transfer or delegate to myself anything from my main account
I can't withdraw any asset to another account (including exchange) either, until I consider the experiment finished, but I can sell assets to buy other assets as I see fit
I can rent / rent out / delegate (for profit) assets
Practically, this means it will be an organic growth from reinvesting everything I earn in-game or otherwise in the Hive ecosystem, but it will take a very long time.
Since the last time I posted, I've completed the DQ every day, and also claimed the SPS and added them with DEC in a diesel pool. But the liquidity position must be too low for now, because I don't receive any rewards on it. In time that will change I suppose.
I also bought one of the cheapest cards with credits won in-game (Pelacor Deceiver), but I realized that's not the best idea. I should have waited until I had enough credits for a really useful card.
Probably a beta card if I'll have enough credits, since the spell book won't give me access to beta common and rare cards after the Chaos Legion packs are released.
What happened with my idea to buy cards with DEC?
Bad idea! DEC brings a lot more airdrop points than the cards I would be able to buy with it. And that SPS piles up and will help me more down the road, I believe.
So I gave up on that idea, and kept the DEC I already had, which I'll use to slowly add to the DEC:SPS diesel pool as I claim SPS.
I'll also use it to rent the card(s) I'll need to reach the 1000 Collection Power required to advance to Bronze II. Yes, I decided that's the only way to move forward, otherwise I'll be stuck for ages in Bronze III.
But before I do that, I want to see that I am able to maintain a rating above the one required for Bronze II for a longer period. Otherwise, it would be a shame to rent the cards, move to Bronze II and drop back because I can't handle the higher league with the spell book cards.
I don't know if Bronze II gives high enough rewards (in DEC, credits or cards) to balance the DEC spent for renting the cards for CP. If I were to guess, because I don't know, I believe not.
That means the balance could only be maintained through alternative means, like blogging rewards. This is gonna be a tough experiment!
Still looking for a guild for this account
I wonder if none of these guilds or similar need the services of a "grinding" account.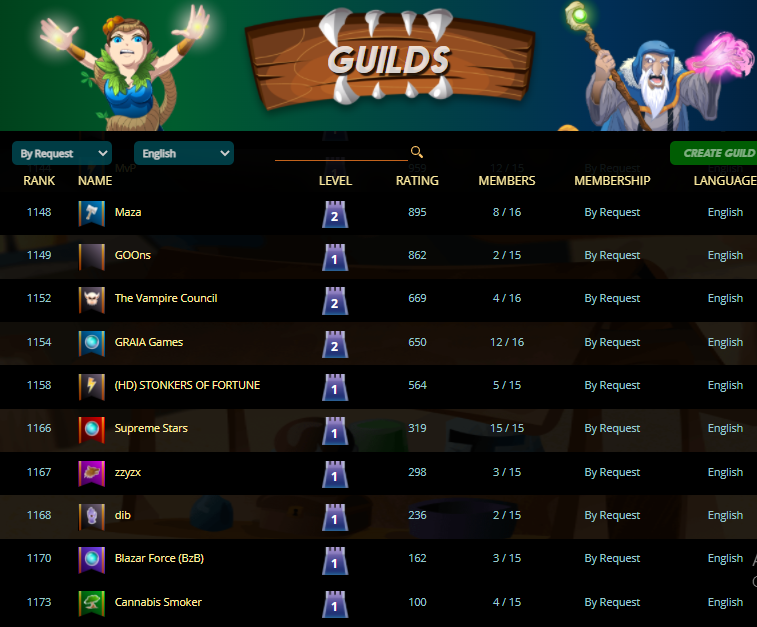 What should you expect:
DQs finished every day - counts for the benefits offered in the Lodge (Dec Bonus for ranked battles and Shop Discounts), especially for guilds which are upgraded above the base level. It doesn't matter if you have contributors, if they don't play. These benefits will slide down in time.
Not a DEC contributor at the beginning, but as the account grows things will change
I'll play Brawls if I'm needed anywhere
---
---