Splinterlands Grinding Experiment - Making Use of Hive's Social Aspect
I started this experiment about two weeks ago, to see what are the options for a player who just got into Splinterlands, doesn't have money to buy more than the spell book initially and wants to grow organically.
It used to be easier in the early days, but I think options are still available for players to grind their way up into the Splinterlands game.
What better way to see this than to actually be in this player's shoes? So here I am.
When I started the experiment I had nothing in this account, apart from a Splinterlands spellbook and some history, because it's an old account, but not used for a relatively long time.
What assets I have now in this account I earned by playing the game in Novice and mostly Bronze III leagues with my playable cards that the spellbook gives me access to, just like it would any new Splinterlands player.
I realized yesterday that I don't use the most powerful tool at my disposal to speed up growth on the Hive blockchain - the social aspect. And that's free, monetarily. But one needs time where money are not.
So I am going to post every once in a while posts from this account to hopefully help grow my account quicker. My Splinterlands account that is. That will also grow the Hive account little by little.
As any new Splinterlands/Hive account, I have no Hive Power, either mine or delegated to me. Although Splinterlands has the habit to help new players by delegating some HP to them when they run out of resource credits when they play the game. That might come for this account or not. We will see.
Of course I could delegate some HP to this account from my main account, as I could do a lot of other stuff to help speed up its progress, but I won't. Just another new player without funds experience.
Here's where I stand: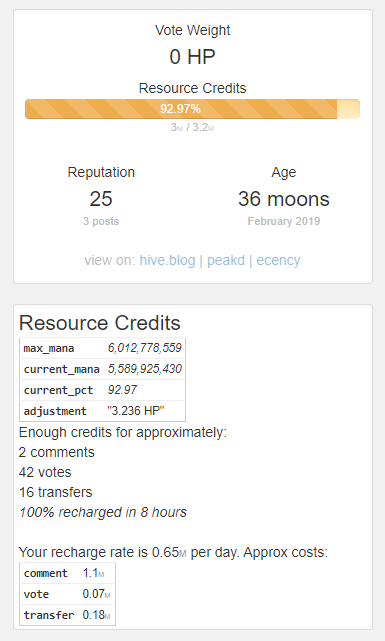 93% RC after playing today's DQ. I imagine it will drop towards 40% after publishing this post (it says my RCs are enough for 2 comments, i.e. including main posts). Which means I won't be able to reply to any comment. Not today anyway.
And the pace of posting will probably be once per week, to allow for resource credits to regenerate.
Now, what will I do with the rewards received from my content and curation later on?
All rewards will be set to 100% staked. I'm referring to Hive (posts should have the 100% power up option), but also to SPT rewards.
I also plan to stake ONEUP rewards, since they are gaming related. I believe having #splinterlands or #spt tags is enough to receive them, so I won't include "oneup" as well. Correct me if I'm wrong, please.
Unless I decide otherwise at a later date, all other Hive-Engine tokens I receive as rewards will be sold (unstaked if necessary) for DEC. Possibly for SPS at times.
Obviously I appreciate some of these tokens and their communities, but the goal is to focus on the Splinterlands gaming aspect with this account, and since the rules of the experiment prevent me to buy stuff with external funds, I can only use what I produce over time with this account.
P.S.: I wish Splintertalk would have a functional spell checker... That way I wouldn't have to copy-paste it to PeakD every time.
---
---