Chaos Legion Voucher Calculator - Find out how many vouchers you can get with your staked SPS in SPLINTERLANDS

With the Chaos Legion announcement, I started calculating the possible numbers on how many vouchers one can get with staked SPS for the presale.

By October 18, it is estimated that the total SPS supply will reach 240,000,000 (240 Million)

If 50 percent of the total supply is staked, we get 120,000,000 (120 Million) staked.
If you stake 10,000 SPS, you get 2.77 Vouchers Per Day.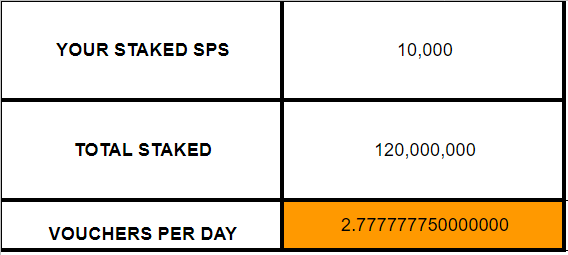 You may try this GOOGLE SHEET to calculate your estimated number of vouchers when the Chaos Legion vouchers start getting airdropped.
https://docs.google.com/spreadsheets/d/1hU7vYqcXVBU-60e4bd4iqdDDIKF13kaWRNAi94P5Emw/edit?usp=sharing
How many vouchers are you getting?
Want to get started with Splinterlands? Create an account today.
Looking for a guild with no mandatory daily / monthly fees?
Join the GOSplinterlands guild with over 100 members (one time fee only)
---
---