Share Your Weekly Battle Challenge! Chaos Knight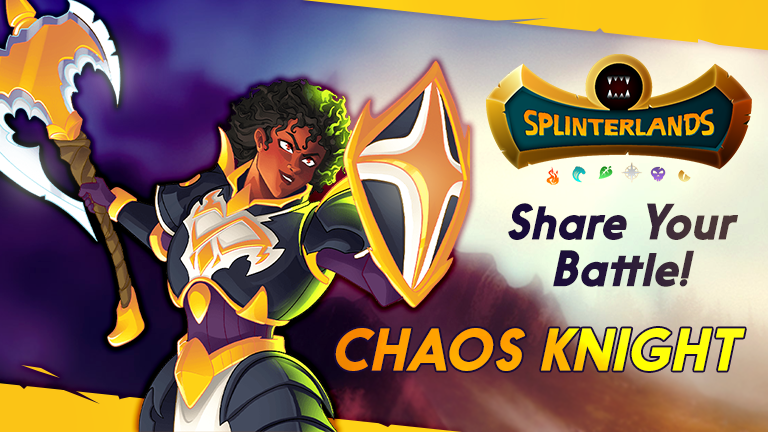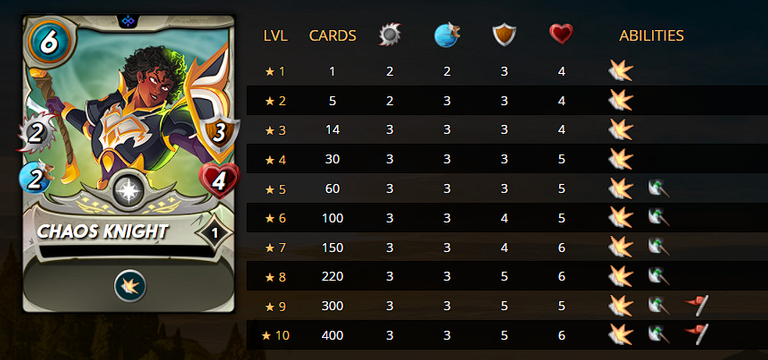 SC : Splinterlands
Chaos Knights are most often found at the front line of the Chaos Legion's invading forces, although they are sometimes enlisted to defend garrisons, leadership, and other high-value assets. They are heavily armored and wield massive battle axes that are able to cut down even the mightiest of foes.

Tell us about your lineup
RULE

Leagues = Bronze 1
Silenced summoners = Summoners do not give any stat buffs or debuffs or grant/use any abilities.
21 mana cap = your limit summons monster is 30
Summoner = All summoner available
My Lineup
positioning
Strategy
since the rules is silenced summoners so I need to use low mana summoners to preserve my mana, the summoners I use is mother kala. this summoner is from untamed edition this summoner is actually gives +1 health and mana requirement is only 3.

The tank I used in this battle was chaos knight, this card has shield ability thus making this card so tough especially when enemy mainly use ranged and melee attacks, I planned to use this monsters to receive all the damage from enemy's monster.

The second monsters is venari heathsmith, this card could be support as well as damager, the heal tank ability is very useful to make our tank more sustain in battle. this cards also has 1 ranged attack so this card could attack and heal at the same time
I used scavo hireling in this battle to support my chaos knight to regain armor after hit by enemy. this card only has 1 health this card is so vulnurable, unfortunately i did not bring any support to protect this monster
The next monsters is stitch leech, this card is a good card. you can see that this card has sneak ability with 2 attacks, two attack is a good bargain in low mana cap
last but not the least is celestial harpy this monsters is very special cause only need 2 mana to summon but has 2 abilities, flying and opportunity allowing this card to attack from any position, so I plan use this card as my damager

Did your strategy work? What will you try differently next time?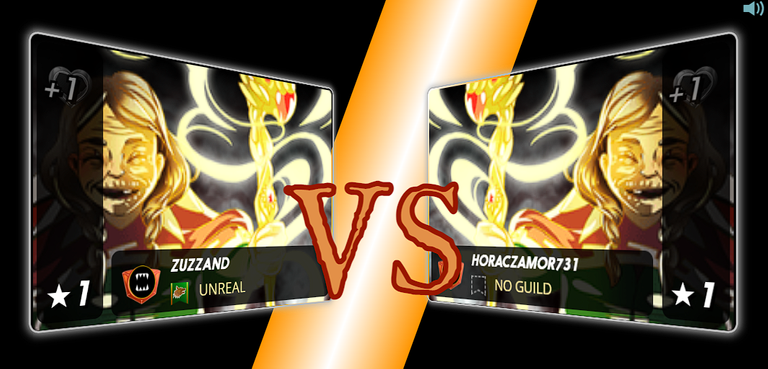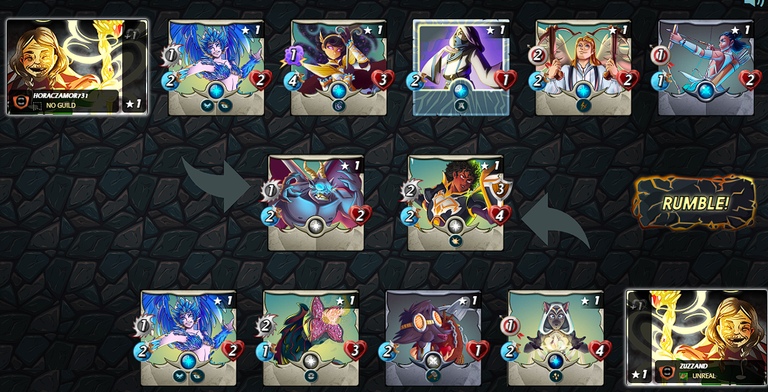 the strategy works, my chaos knight could take much damage before get killed allowing my harpy and leech to destroy enemy's line-up, my healer gives some heal but my hireling directly die at the early battle, I was thinking that I would lose after my scavo hireling died but the combination of chaos knight and my healer is very epic. I manage to win this battle

Cards Review, Do you like the card? why or why not?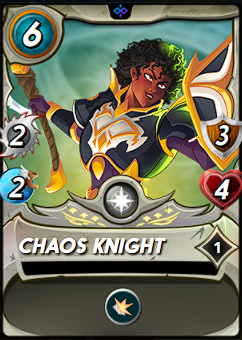 What I love about this card firstly I wanna say his his shield ability makes this card tough with 3 shield it could take lots damage before decrease his health, this card base attack is also good, 2 attacks is better than 1, to keep dealing damage even if the enemy uses shield tank as well.

Recommended to use in :
low mana cap, this card could a good tanks in low mana cap as we tend to use low mana and attack monsters in this kind of rules, that's making this card hard to defeat
Ruleset that allow melee monster can attack in any position (melee mayhem, super sneak and equal opportunity) put him as a tank or damage is good in this ruleset
weak magic ruleset,Magic attacks hit Armor before reducing Health, this card shield could take more damage in this ruleset.

Avoid to use in :
Unprotected, monsters do not have any armor and do not get armor from Abilities or Summoner Buffs this is a weakness for this card we can't truly rely on this card in situation like this.
Noxious fumes, This card basic health is kind a low only can take 2 poison damage in usual, and the enemy tend to use magic monsters, this card low health can be a serious problem

If you have not played splinterlands yet feel free to sign up here = sign up, If you are looking for a scholarship feel free to reach us in discord here = Unreal Discord
Thanks for stopping by and read my splinterlands challlenge!!
Let's get SPLINTERLANDS trending!
Credits
---
---