Civil Life of Splinterlands Characters - Splinterlands Art Contest Week 157 - Marlic Inferno

The Idea Behind This Project
I was thinking about a good way to express my enthusiasm and respect for the whole Splinterlands team, the game itself and the amazing community around it.
It's been more than a year since I've started playing the game, and by now I still can't get enough of it.
As you may know from my earlier posts, I love character design, I love the lore around them, their backstories, imagining them as they all have their own personality, their own story.
I think these things build an emotional connection between the player and the game, builds respect towards the cards you own and therefore makes you a better player as a secondary effect.
The cards have an amazing design - all of them - and if you read the Splinterlands Encyclopedia, you may know how huge this fantasy world is.
With this project, I wanted to imagine and show you the everyday life of these characters, their not-so-serious sides.
We all know them from the battlegrounds and know how deadly some of them can be.
But what do they do when they are not fighting?
Can you imagine Marlic Inferno reading the news in the morning? I did!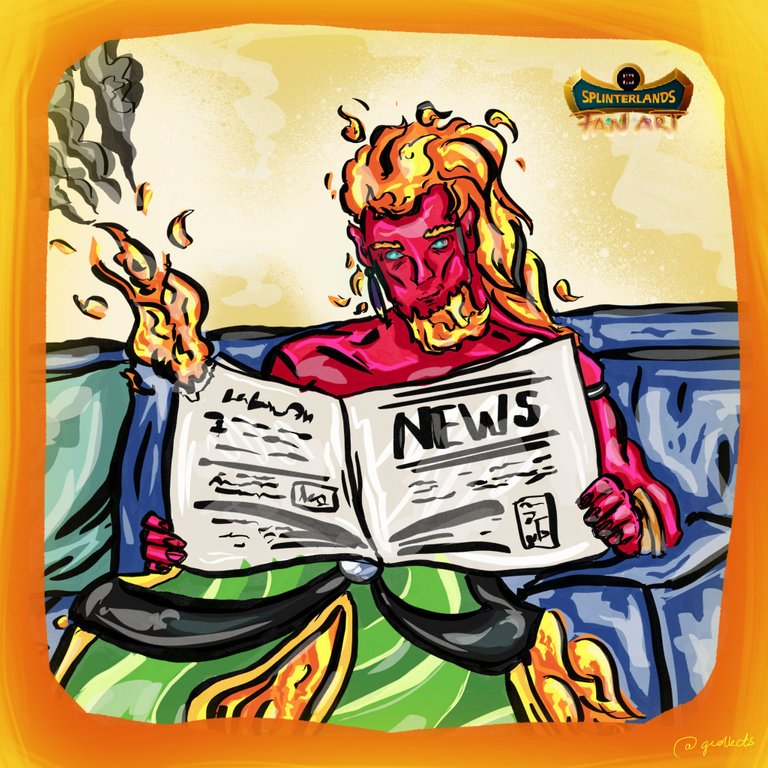 About the GIVEAWAY
Yes, I am planning to make a giveaway. But giving away what?
The art you see above, will be created as an NFT on the WAX blockchain.
Everyone who upvotes, tips or shares this post, will have a chance to WIN the #1 print of the NFT.
Also, I choose two random participants who win the #2 and #3 prints.
And it's not over yet
There will be 30 NFT's created from each piece of this project. Every week, I take part in the Splinterlands Art Contest with a different work and they all will be available on WAX as an NFT and the first three prints will be available to win
The remaining will be sold for 3 WAX each.
Since I want to build the SPLINTERLANDS COMMUNITY, all the WAX I earn from the NFT's will be turned back into Splinterlands and spent in-game - on cards probably.
The Process of Creation
---
---