How to build a gold deck with Chaos Legion in Splinterlands

Hi there, today I reached an important milestone in Splinterlands - as I have build my card deck playing for 9 months I can now advance to the Gold Level tier.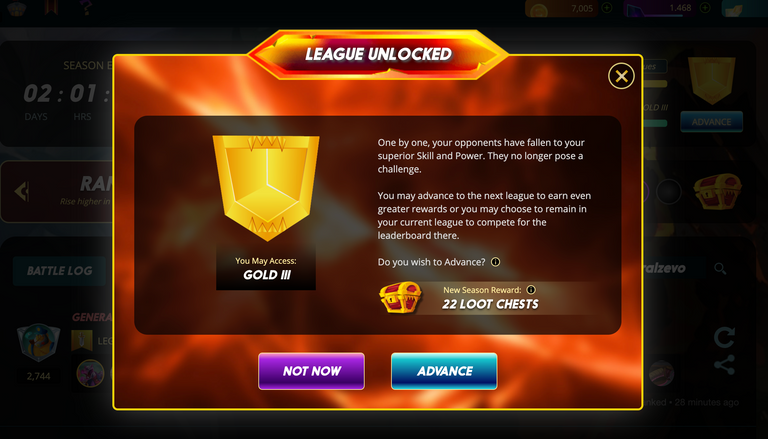 I found the game thanks to @hatoto, who brought my attention to it and helped me to advance several times. Being a gamer since more than 25 years, I thought this was just a little fun blockchain game (cool!). But I had no idea, what I was getting myself into, when I started playing Splinterlands 8 months ago. I underestimated the longterm strategy needed in order to make good decisions which help to really advance in the game. This is not a game which you play only for a weekend.
For example in the beginning I just played a few matches and bought some cards, rented others for fun - without realizing how important it is to build your own deck, get to know the cards and summoners. Because when Chaos Legion was introduced the cards from the former Starter Deck changed and all of my "best team" combos were useless without holding the cards myself.
After exploring the connected tools and the whole Hive Universe I must admit, I just love the all the possibilities to exchange, connect and analyze the data available. Of course its also a very giving community. That is why I would also like to share a few things I have learned on building my deck.
For those who do not know the game
Splinterlands is a NFT card game, where you can your send selected summoners and monsters into the digital arena. For a battle, you first choose a summoner from one of the 6 Splinters: Fire, Water, Earth, Life, Death or Dragon. The chosen summoner gives special bonuses to the whole team of monsters, which you select afterwards. Each Splinter offers a different selection of monsters, each monster is a NFT. These cards are trade-able. It allows players to sell their cards or even rent them to each other to complete their deck or simply try out new cards in battle. In the beginning you play with a "borrowed" starter deck to make yourself used to the gameplay. To register, you need a summoners spellbook, which is also a blockchain account on the Hive Blockchain, with which you can also register with some other services. Thus, it is also possible to transfer assets from one game to the next and set foot in the digital arena. In any case, it's worth taking a look at the many possibilities of gaming and NFT combined. The ultimate goal of Splinterlands is to build your own deck of summoners, monsters, battle mages and lovely creatures. When reaching higher levels you can build your deck, level your monsters and summoners to improve their skills in battle.
How to build your deck?
I feel it is more rewarding to build my set of summoners and monsters with what is available now: Chaos Legion. Of course there are older cards, which are stronger, summoners with crazy abilities but still it is possible to advance with a good Chaos Legion Deck too. The advantage is, that you can learn to use your winning combos much better than with rented monsters.
Buying Chaos Legion Packs
In the beginning it was rewarding to open a few Chaos Legion Packs with the family and tease the luck of getting powerful and valuable cards by chance. I was lucky enough to collect a few summoners and even some gold foil cards as I opened more than 250 Chaos Legion Packs over the last months. But looking back, I should have bought in bulk to lower my cost average as you get a discount with vouchers. You can buy these vouchers and even Chaos Legion Packs directly on hive engine.
Level the summoners first
It is important to understand the level system and its restrictions implied in Splinterlands. Check your summoners in the stats. Usually level 1 Summoners can only play level 1 monsters. To upgrade your summoner to the next level you need 5 of them. But a rare level 2 summoner like Tarsa can already summon common monsters on level 3, Rare and Epic on level 2.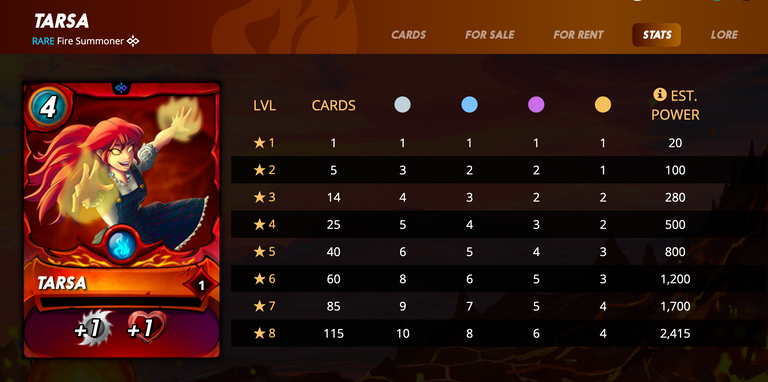 Summoners are capped by the league you are playing in. In Bronze League you can play level 2 rare summoners - which most CL summoners are (until now) - so newer players have a better chance to play against even opponents. The summoner level limits are given in the info below the League screen. In order to advance you will need to improve your rating by winning fights, build your card power and upgrade your summoners & monsters, so you might stand a chance once you advance to the upper leagues.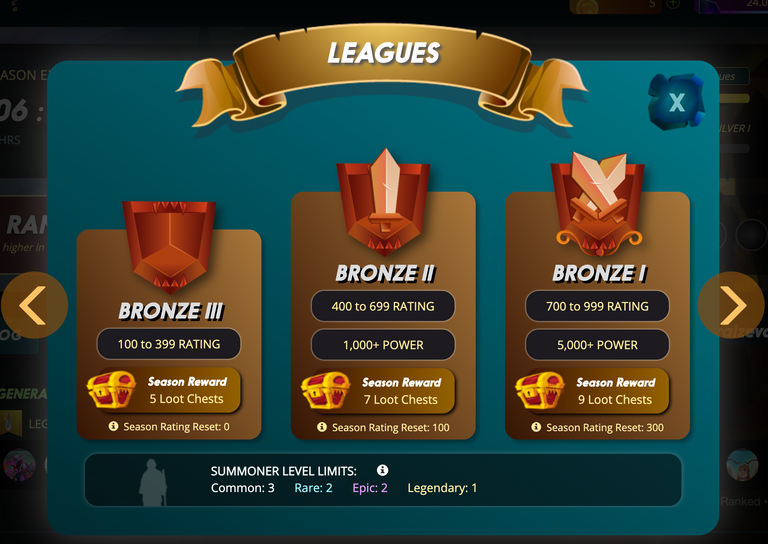 Buying cards
To improve my basic deck and level my monsters, I did start to buy cards on the market. Some common and rare cards were even cheaper than the average value given in the packs – as I calculated with the help of a few pack analyzers provided by some of the tools in the Splinterlands universe.
peakmonsters or monstermarket are pretty useful when analyzing and managing your cards, as well when you are looking for good deals and want to max your Collection Power – for example by using the "Best CP / COST RATIO" tool to determine how much dollar you pay per pure Asset Value. These tools helped me to determine, when it was a good time to invest a few dollars into some new cards.
I started to look for specific cards to complete my basic deck - splinter by splinter. In the beginning the Earth splinter felt pretty good for the first steps in Bronze and Silver. After building my bronze deck I focussed on Death, as it had interesting monsters with low mana costs. Next I upgraded my Water deck, as they have strong and fast melee warriors - which is good for high mana battles. In the end Fire and Life received a bit more attention. Now my rare Chaos Legion summoners are level 3 or higher.
When acquiring a number of cards to level your most precious monsters, it is helpful to be patient and have a look into Splintercards – the tool shows you the price development over the last 3 months and also the number of printed cards. The prices fluctuate, so it is okay to build your deck over the period of a few weeks or even months.
Note: Not all Chaos Legion cards have been printed just yet, as not all Chaos Legion packs have been opened and the pool of reward cards is around 1/3 of being already printed. So there is still some time to build your Chaos Legion deck with patience.
How many cards will be printed?
Let us do an estimate to know how many cards will be circulating, once all the Chaos Legion Packs are sold and opened. It seems that the total amount of each card might only be approximated and does not account for Gold Foil or Regular Cards difference. But given there will be 15 Million CL packs and each pack contains 5 cards: 15 * 5 makes a total of 75 Million Chaos Legion Pack Cards. The basic drop rates (as per splintercards) are:
Commons 70,4%
Rares 24,8%
Epics 4,0%
Legendaries 0,8%
Multiplying the percentages with the total should mean we will see approx.:
52.8 Million CL Commons, with 29 different common cards, there might be a total of 1.8M cards printed of each common Chaos Legion Monster.

18.6 M CL Rares, with 28 different rare cards (incl. summoners) - so we should see round about 665.000 cards printed of each rare CL Monster / Summoner.

3 M CL epic cards in total, with 17 different epic monsters – we should see approx. 176.000 cards printed of each epic monster

600.000 CL legendary cards in total, we now have 24 legendary CL Monsters, including the special airdrop cards, which can also be rewarded in CL packs once they are revealed, we might see around 25k of each legendary monster.
Until now (28.03.2022) the following Legendary Airdrop Cards have been revealed /printed:
Dr. Blight > 21,3k
Baakjira > 17,8k
Uriel > 17,9k
Lira > 26k
Iza > 26,3k
Grum > 26,1k
Spirit Hoarder > 19,5k
Carnage Titan > 15,4k
Also the generated reward cards for daily and season rewards are limited. Right now we are at 1/3 of the reward cards being printed. One tool to determine the reward cards is here
A question of patience
The number of new players is currently rising and around 600k as of lately. Not all of them have started to built their own deck, some are only renting their cards and selling the rewards.
It is not the time to FOMO into buying cards as more Chaos Legion cards will be printed still. Also the printed numbers of Chaos Legion cards will be higher than previous editions, which will make it unlikely that we will see a big hike in prices soon. But as regular players will start to build their deck and max their cards, more cards will be needed too. So there is a certain balance in play, which has been carefully purposed by the game designers to not oversupply the market with digital assets in a short-time span.
With the arrival of new summoners, we will hopefully see further disruptions in gameplay and re-balancing between different card editions with new rulesets. As the community around the game is very vibrant, I am sure there will be a few more positive surprise along the way.
---
---