SHARE YOUR BATTLE Weekly Challenge! DJINN INFERNI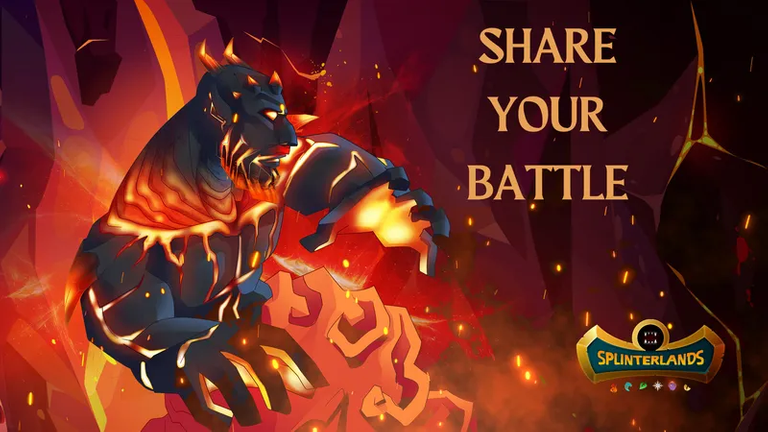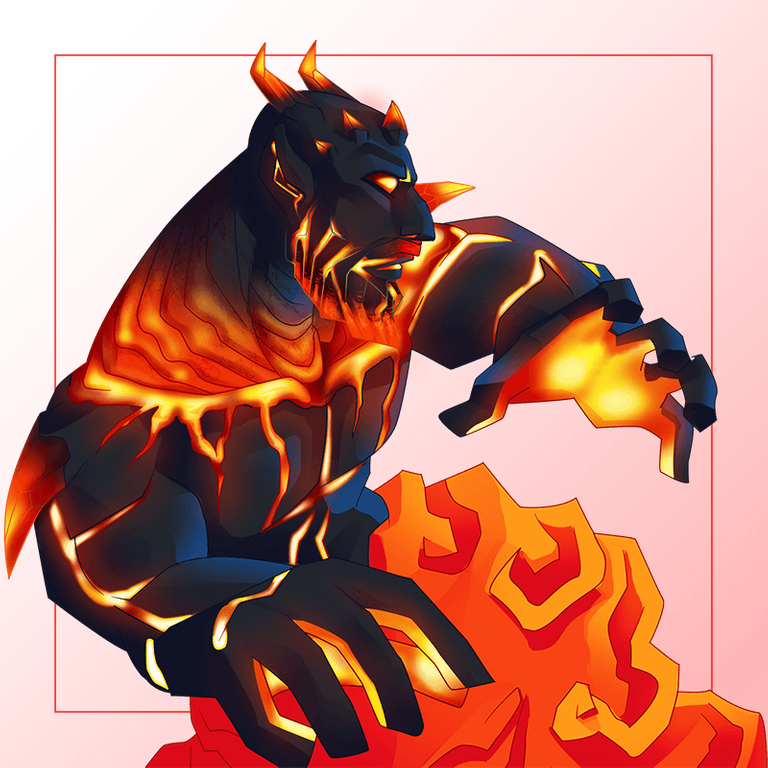 Another week, another share your battle challenge. This time we are tasked to play a battle with one of the members of the Fire Splinter - the Djinn Inferni. It is an epic Magic Attack Monster which could be quite useful in some instances thanks to its abilities. Another good use would be in an Equalizer ruleset. More about that in a sec.
Now before getting into the stats discussion of the Monster, let's have a sneak peek into its LORE
Djinn Inferni seems to dislike Djinn Muirat quite a bit, thankfully they do not seem to meet very often, at least in my experience.

Alright, we've got some idea of what the Djinn Inferni is, after glancing at its lore. Let us now have a look at its stats and abilities at different key levels.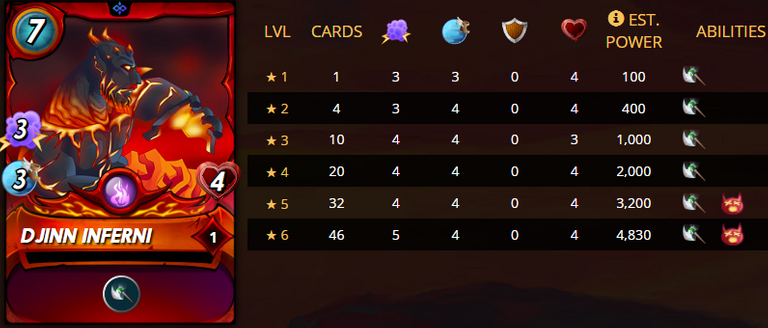 It starts off with 3 Magic Attack, 3 Speed, 0 Armor and 4 Health, but most importantly it has the Giant Killer ability right from the start, which allows it to inflict double damage against targets which cost 10 or more mana. This is actually pretty big in the current meta. The fact that it has 4 health, mean that it can benefit quite a lot when played in the Equalizer ruleset.
At level 3 it gets an addition Magic Attack point for a total of 4 but actually loses 1 health point temporarily.
At level 4 it gains it back.
At level 5 it gets an additional ability - Stun. Stun is also very useful if you are lucky enough that is.
Finally maxed out at level 6 it has 5 Magic Attack, 4 Speed, 0 Armor, 4 Health. It does not gain any additional abilities but the Giant Killer/Stun combo could be turn the tide of any battle under the right circumstances.


Now that we know what the card does (or doesn't do) at the different levels of play, let us have a look at the battle I have chosen to showcase.
<>>>>>>>>>>>>>>>>>>>>>>>>>>>>>>>>>>>>BATTLE<<<<<<<<<<<<<<<<<<<<<<<<<<<<<<<<<<<<<<>
The line-up of the Battle and the Ruleset:

The rulesets for this battle are Weak Magic (Magic attacks hit Armor before reducing Health) and Reverse Speed (Monsters with the lowest Speed attack first and have the highest chance of evading attacks). The mana budget is 99 which is the maximum amount so I can choose whatever Monsters I have available. Four Splinters are available - Fire, Water, Life and Dragon. Even though I can showcase the Molten Ash Golem using either Fire or Dragon Splinter, I basically have no choice but to go with Fire and my faithful Tarsa since the only maxed for Gold Dragon Summoner I have is Quix and he should not be played in the Reverse Speed ruleset for obvious reasons.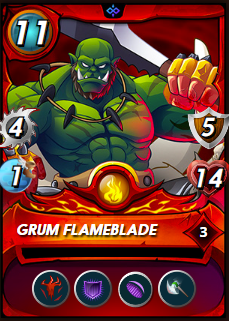 First in the line-up is Grum Flameblade. He is the go-to tank when playing Fire and one of the rulesets is Reverse Speed due to his Speed of 1. He is very resilient to Magic damage, has the most overpowered ability in the game - Bloodlust, and also has the Giant Killer ability, so giants - beware!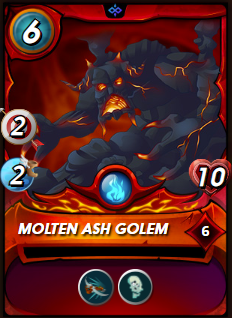 The 2nd spot goes to the Molten Ash Golem. I've got it in this position to soak any enemy Snipe attack damage if there are any such Monsters in the enemy line-up. It also has the Close Range ability so if Grum happens to fall too quickly it can stand its ground at least for a short moment.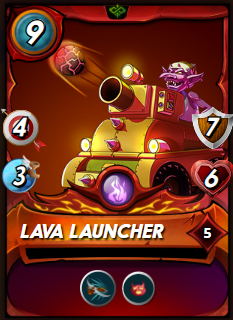 The 3rd place in the line-up goes to another favorite Monster of mine - the Lava Launcher. It does a significant amount of Ranged Attack damage and has a lot of Armor - 7 in addition to its 6 Health Points. However, what makes it even cooler is the fact that it also has Stun and Close Range in its arsenal.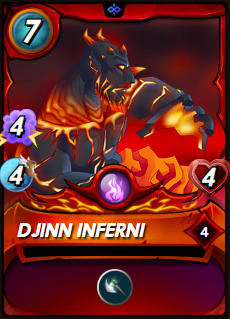 Following immediately after is this week's protagonist - Djinn Inferni. I have it in this spot because being in the middle of the line-up will give it a fair amount of protection unless the enemy has Monsters will Opportunity Strike. Opportunity Stike is its bane since Djinn Inferni is quite often the Monster with lowest Health Points on the battlefield and that makes it the primarty target for every Opportunist.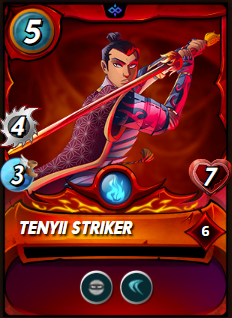 The 5th place in the line-up goes to the Tenyii Striker. It's one of my favorite Fire Monsters so I play it in almost every Fire setup I create. I think it will be very useful this time around as well.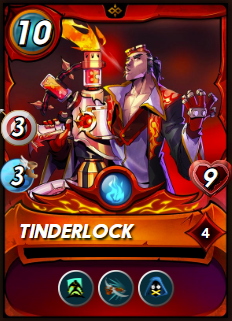 Last but definitely not least is one of the Fire Monsters which made its debut with the release of Riftwatchers - Tinderlock. It is a Monster which is destined to always be in the back of pack due to its Last Stand (Gains increased stats if it's the only Monster on the team alive) ability which could enable the Monster to win the battle by itself. Its two other abilities Close Range and Silence are also really good. Close Range specifically since without it Last Stand would not work in most scenarios.

It is time for a quick round by round analysis:
So the Summoner I am going with for this battle is my very own Tarsa. I have her at level 6 so she's not a hard pick for my gold-level battles. My enemy is rocking a level 5 Sloan which definitely gives me an edge in the battle as level 5 is not optimal for Gold. They has also chosen to go with Uriel the Purifier in the first spot and Corsair Bosun in 2nd, that great news for me because both of these Monsters cost more than 10 Mana and are considered Giants. It's high time they met my two Giant-killers.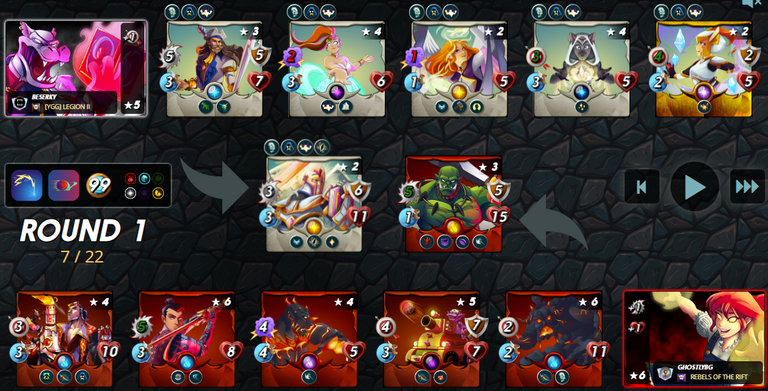 After 1 round both "tanks" are still standing, however, the enemy Uriel has already been resurrected thanks to the pressure my Grum and Inferni put on it. It is very close to dying for a 2nd and a final time. On the other hand my Grum is still standing pretty at 14 HP.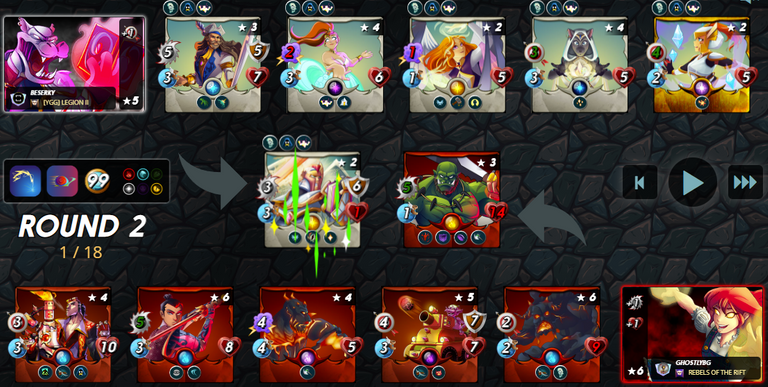 At the start of Round 3 you can see that Uriel has perished as expected while on the other hand my Grum's days are numbered but that's fine as I have a clear advantage on the board at this point of the battle.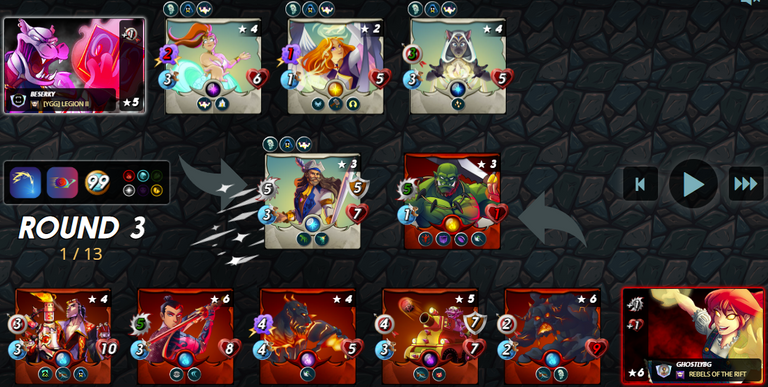 Round 4 - I have lost my Grum but that is not of any significance. All that is left for my team is to sweep the floor with the remainder of the enemies on the board.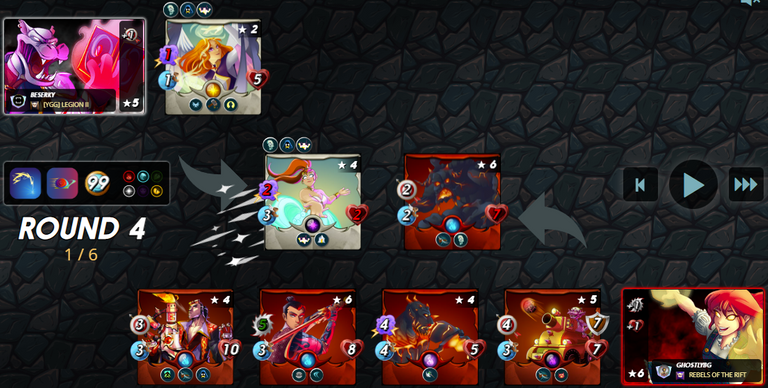 While my victory seemed very easy, Splintertools.io actually shows that I had a whopping 44% chance to lose the battle, I guess I somehow got fairly lucky then.



Djinn Inferni is a pretty good Magic Attack Monster for the Fire Splinter. It could be useful even at level 1 but, of course, if you want to use it with no potential RP penalty in the League you are competing in, it is a good idea to get enough copies and level it to the respective level. At $0.64 per BCX it is one of the most accessible Epic of the Chaos Legion lot.
Over and Out,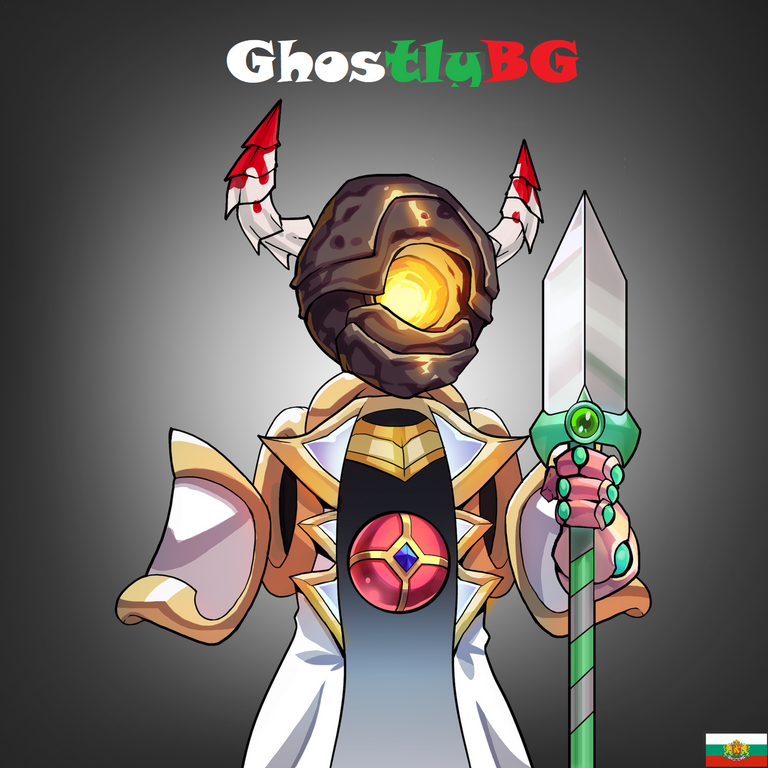 Referral


---
---