SHARE YOUR BATTLE Weekly Challenge! DRAGONS!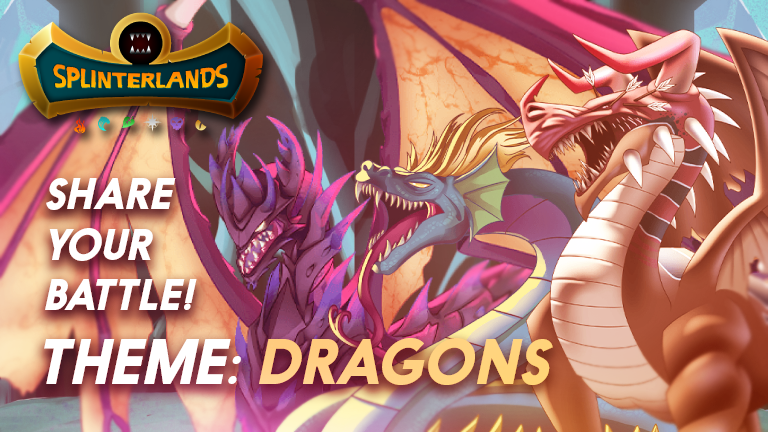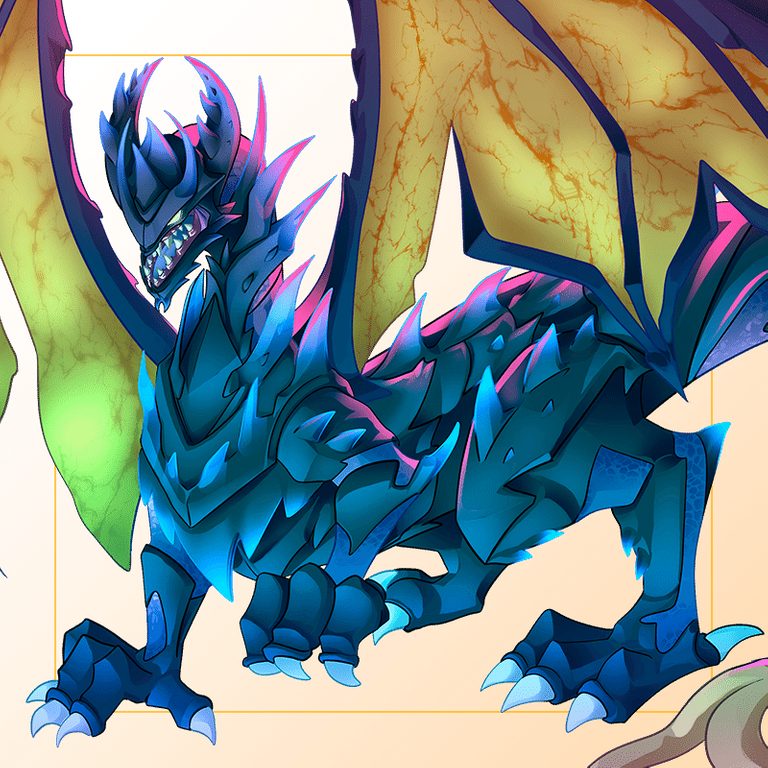 Everyone's favorite Share Your Battle Weekly Challenge - Dragons is back. It will be my eighth time writing about it so I am gradually exhausting the Dragon Monsters I can talk about, well, not really, there are still a ton. 😁 This time I have decided to showcase a battle involving a very, very favorite dragon of mine, namely the Chaos Dragon. It is as much a dragon as a dragon can get so I feel I have hit the bullseye of the challenge for this week. The Chaos Dragon is a very expensive (in terms of mana) but also a very potent Monster, so potent that even the Khaleesi herself would yell "Dracarys" at it all day long if she could.
Now before getting into the stats discussion of the Monster, let's have a sneak peek into its LORE
So, by the sound of it, resistance against the Chaos Dragon is futile and the Praetorians had better look for a new planet to live on. Nah..., I'm sure they'll figure something out.., right?

Alright, we've got some idea of what the Chaos Dragon is, after glancing at its lore. Let us now have a look at its stats and abilities at different key levels.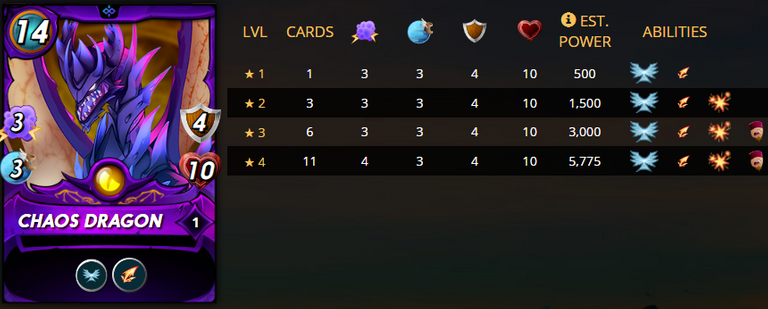 Having in mind that it is a Legendary Monster, it is expected for it to start with at least 2 special abilities and it actually does if we count Flying as one, and I think it does deserve to be counted as such, and the second one is the one it is more well-known for, namely - Scattershot (this monster's attacks hit a random enemy target). Its mana cost is 14!, and the stats it starts off with are 3 Magic Attack, 3 Speed, 4 Armor, 10 Health
At level 2 its stats do not change, however, it gains its third ability - Blast (does additional damage to Monsters adjacent to the target Monster). Blast is another ability which could be gamechanger if RNG is on the side of the "Dragon rider".
At level 3 it gains her 4th and final ability - Blind (all enemy Melee & Ranged attacks have an increased chance of missing their target). Blind, I feel, is often underestimated but it is actually a pretty good ability as well.
Finally maxed out at level 4 the Monster has 4 Magic Attack, 3 Speed, 4 Armor and 10 Health. Together with the 4 aforementioned abilities it has now become clear why it costs a ton of mana.


Now that we know what the card does (or doesn't do) at the different levels of play, let us have a look at the battle I have chosen to showcase.
<>>>>>>>>>>>>>>>>>>>>>>>>>>>>>>>>>>>>BATTLE<<<<<<<<<<<<<<<<<<<<<<<<<<<<<<<<<<<<<<>
The line-up of the Battle and the Ruleset:
The rulesets for this battle are Heavy Hitters (all Monsters have the Knock Out ability.) and Tis But Scratches (all Monsters have the Cripple ability). The mana budget is 54 which is an above average amount so I can choose more freely but I can't get all most expensive Monsters I have available for sure. Only Death and Dragon Splinters are available. I am obviously going to choose the Dragon Splinter as I want to showcase this week's Monster and my secondary Splinter will be Death - there's no other option so no surprise here. I am going to go with my faithful level 3 Quix. I actually now own a level 3 Sthispa but I have to get her at least to level 4 before thinking of using her in Gold League.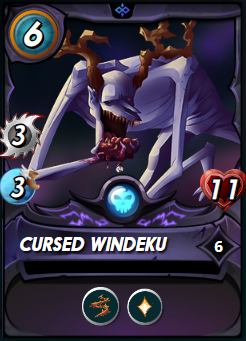 The main tank for this battle will be my favorite Death tank - the Cursed Windeku. It has a perfect stat balance for the 6 mana it costs, pair that with the Thorns ability it has right from the start and the Heal ability it gains at level 5, and you have a truly potent tanking Monster, especially when facing low-mana, low-health melee opponents.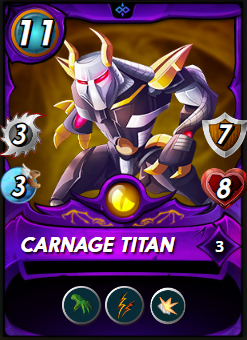 The 2nd place in the line-up goes to a Monster I have also already blogged about, namely the Carnage Titan. It's currently the best off-tank in the game due to its Reach and Double Strike abilities.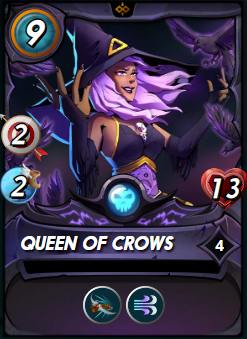 The 3rd place in the line-up goes to a Rift Watchers newcomer I have been using quite frequently ever since it came into existance - the Queen of Crows. I currently have it leveled to level 4 so I enjoy its Headwinds ability (Reduces the Ranged Attack of all enemy Monsters) but my aim is to get it to level 5 where it also gains the Slow ability. It can also attack from the tank spot tanks to its Close Range ability.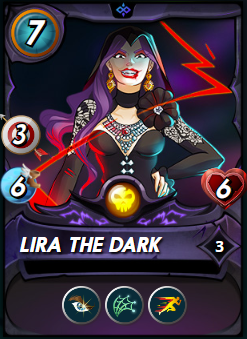 4th in the line-up is Lira The Dark. It is a great legendary as far as I am concerned and I include it often in my Death Splinter line-ups as long as the mana cap allows it. Opportunity and Swiftness are two abilities you should never leave home without.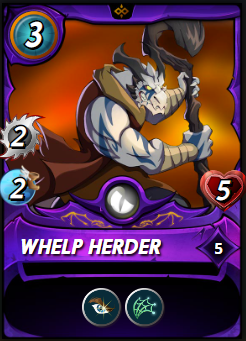 Following immediately after is the Whelp Herder. It is a pretty inexpensive (in mana terms) Monster from the Dragon Splinter but it actually can do some decent work with its Opportunity Strike ability. I often use it as a filler when I have 1 left-over spot and enough mana for it to fit into.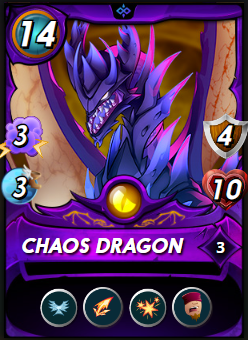 Last but definitely not least is our star today - the Chaos Dragon. I have in the last spot since it is a flying Monster (a true dragon) with a decent health pool and armor so it can evade a few hits or take a few hits if it has to.

It is time for a quick round by round analysis:
So the Summoner I am going with for this battle my very own Quix. I have him at level 3 so he's not a hard pick for my gold-level battles. My enemy is rocking a level 3 Kitty so I am at a disadvantage already because, as we well know, Kitty is currently considered the best Summoner in Modern (and not only). This is a battle from the most recent Brawl my guild fought in, so the outcome actually does matter. My opponent has chosen an interesting line-up with Couerl Lurker as a Main Tank and Agor Longtail as an off-tank. Let's see how good this strategy is.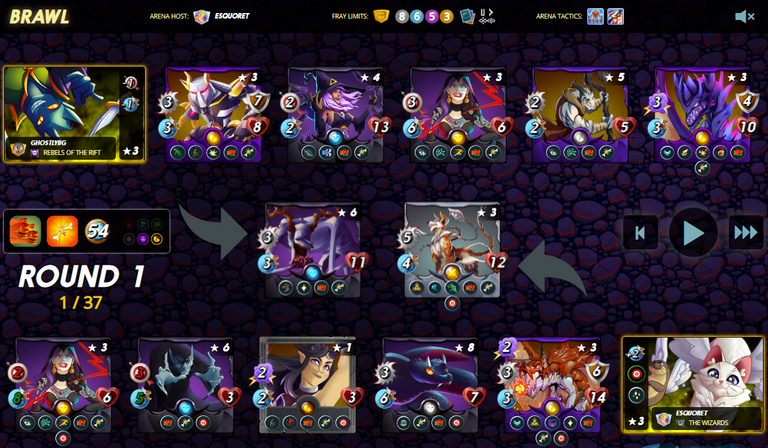 After 1 round my Cursed Wendiku has taken a bit of a beating but the enemy Couerl Lurker has actually been vaporized. That's a bit surprising but then again I am debuffing the enemy team with -1 Speed from my Quix, and Lira is also providing a +1 Speed buff to my own team which counteracts the enemy Lira, so I have better chances to hit stuff based on Speed values. Our protagonist - the Chaos Dragon actually had a lucky scattershot and hit directly the enemy Larissa Kerato, so it was dealt with before it could act.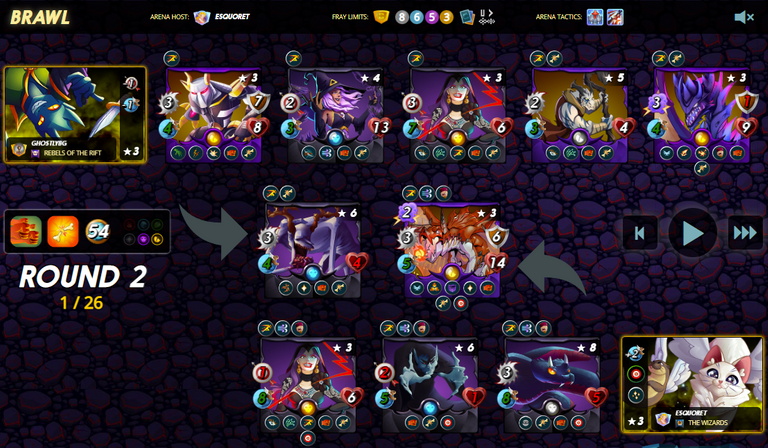 At the start of Round 3 you can see that I have expectedly lost my Cursed Wendiku, while the enemy has lost their Soul Strangler, again to our friend - the Chaos Dragon. The enemy Agor Longtail seems rather tired of life as well and will probably soon give up, even though it does have self-heal + heal coming in from the Kitty.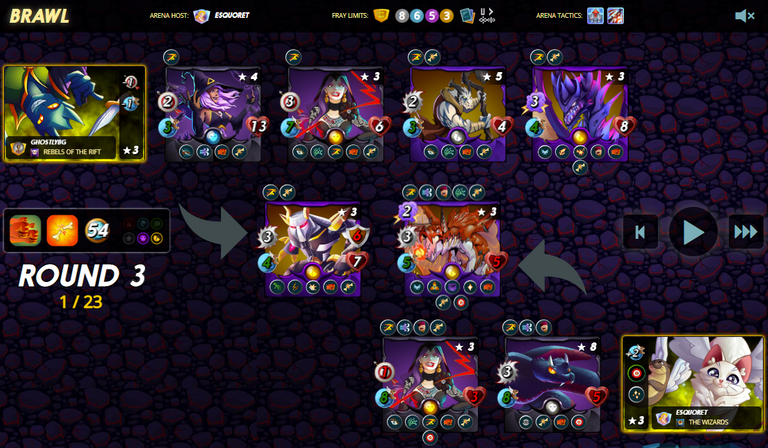 Round 4 is here and the winner is more than obvious. All that is left for me is to finish off the enemy Silent Sha'Vi and Lira.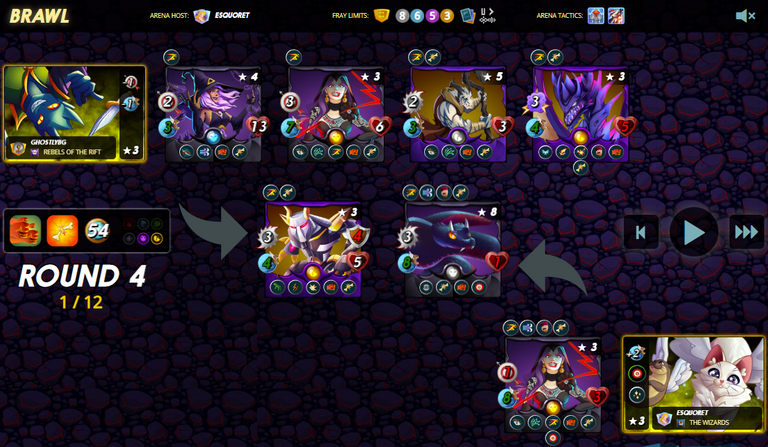 I was curious to check what the supposed win % for this battle was according to Splintertools and it seems my chances were just 18%. It definitely did not look this way on the battlefield.



The Chaos Dragon is a great card for the Dragon Splinter. It can single-handedly change the course of a battle by landing a well-aimed Scatter-Shot garnered with Blast. It is usually a must-play in high-mana battles if the Dragon Splinter is your Splinter of choice. Its current price of $3.79 per BCX is the lowest I have seen it being sold for so it is definitely a good buy. Yes, of course, you can wait "forever" and it might get even cheaper but waiting and waiting does not allow you to actually enjoy playing it sooner rather than later so if you are looking for a new Monster to buy, the Chaos Dragon should definitely be on top of the list.
Over and Out,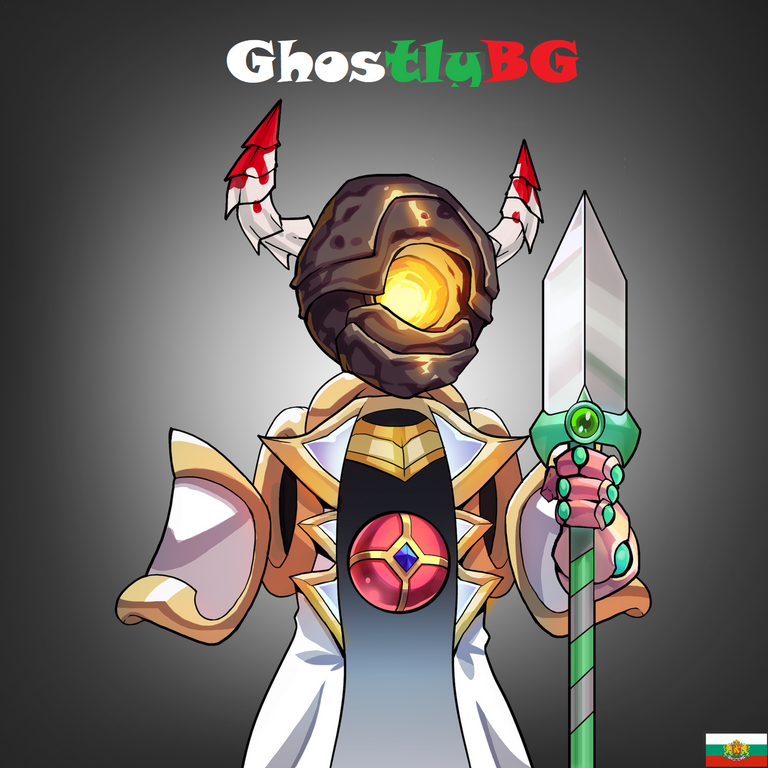 Referral


---
---