SHARE YOUR BATTLE Weekly Challenge! LEGIONNAIRE ALVAR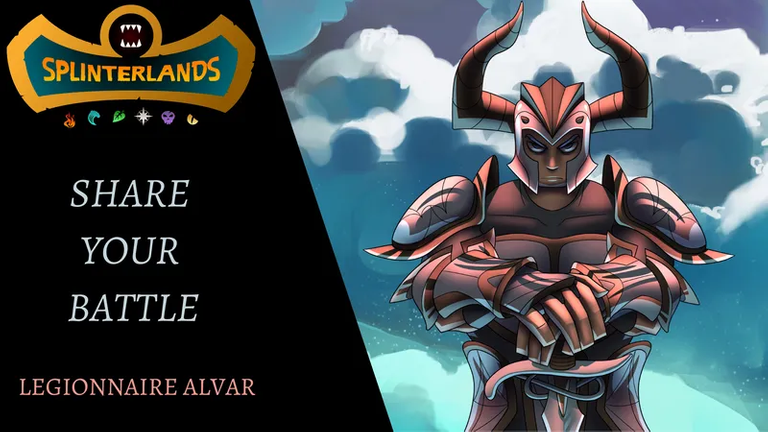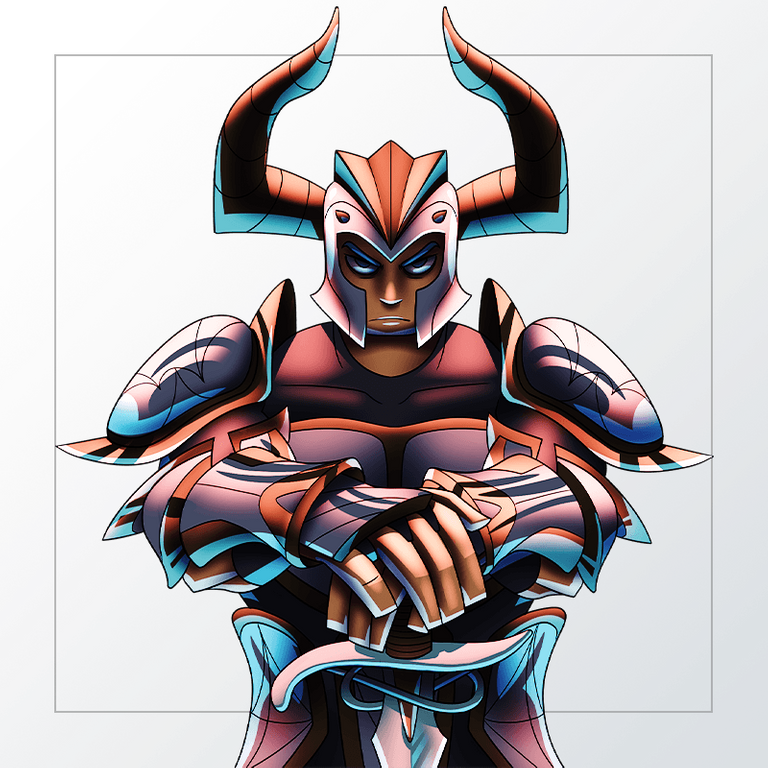 Another week, another share your battle challenge. This time we get to play around with a legendary Monster which is rarely the case in these challenges. The Monster in question is one of the better neutral tanks, namely Legionnaire Alvar. Legionnaire Alvar is great at mitigating Magic Attacks, and even better at that if he has a support Monster behind him with Resurrect ability as his significant Armor amount is brought back in full when the resurrection occurs.
Now before getting into the stats discussion of the Monster, let's have a sneak peek into his LORE
So, the Chaos Legionnaires are the Chaos Legion version of the Ottoman janissaries and General Alvar is their fearsome leader.

Alright, we've got some idea of who Legionnaire Alvar is, after glancing at his lore. Let us now have a look at his stats and abilities at different key levels.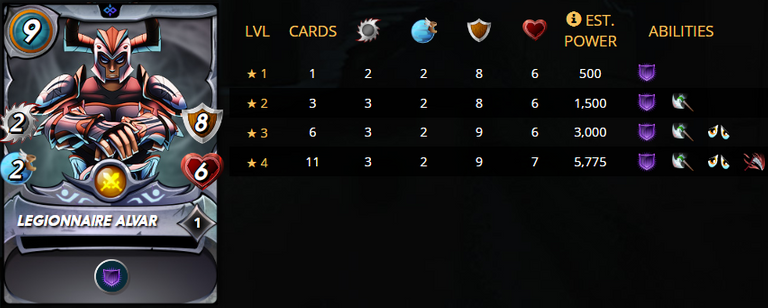 He starts off with 2 Melee Attack, 2 Speed, 8 Armor and 6 Health, but most importantly it has the Void Armor ability right from the start, which allows him to be pretty resilient to Magic Attacks.
At level 2 he gains the Giant Killer ability which makes him great dealing significant blows to Giants (Monsters who cost 10 or more mana to be summoned). His Melee Attack value also gets increased to 3.
At level 3 he gains yet another great Ability - Demoralize (Reduces the Attack of all Melee Monsters). He also gains an additional point in his Armor Value for a total of 9.
Finally maxed out at level 4 he has 3 Melee Attack, 2 Speed, 9 Armor, 7 Health, and gains a 4th Ability - Deathblow (the Monster does 2x damage if the enemy Monster is the only one remaining in the enemy team). Deathblow is also a nice ability but its a bit niche on a Tank as the Tank Monsters usually perish at some point in the battle. If Alvar is in the tank spot and survives until the end that means that the enemy team has been annihilated anyway so the Deathblow is just a "win more" ability. On the other hand in rulesets allowing Melee Monsters to attack from any position, it could play a big role.


Now that we know what the card does (or doesn't do) at the different levels of play, let us have a look at the battle I have chosen to showcase.
<>>>>>>>>>>>>>>>>>>>>>>>>>>>>>>>>>>>>BATTLE<<<<<<<<<<<<<<<<<<<<<<<<<<<<<<<<<<<<<<>
The line-up of the Battle and the Ruleset:

The rulesets for this battle are Fire & Regret (All Monsters have the Return Fire ability) and Counterspell (All Monsters have the Magic Reflect ability). The mana budget is 44 which is a bit above average. Four Splinters are available - Water, Earth, Death and Dragon. Even though I can showcase Legionnaire Alvar using any of the available Splinters as he is a Neutral Monster, I have decided to use the Dragon Splinter in this case with Water secondary. The fact that all Monsters have the Return Fire and Magic Reflect abilities due to the Rulesets means that I should go with a more melee heavy line-up. Hopefully my enemy does not have a Gold-level Mylor to counter me badly.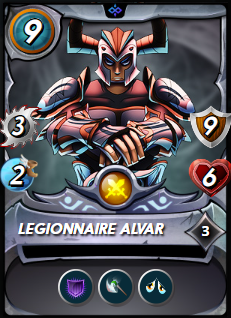 First in the line-up is, of course, our Monster of most interest this week - Legionnaire Alvar. He is at level 3 as this is a Gold-league level battle. This means he has the most important abilities in his toolkit available to him.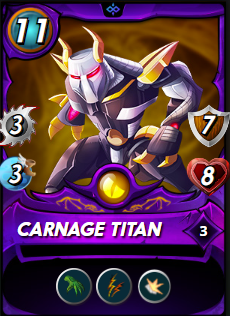 The 2nd place in the line-up goes to a Monster I have already blogged about, namely the Carnage Titan. It's currently the best off-tank in the game due to its Reach and Double Strike abilities.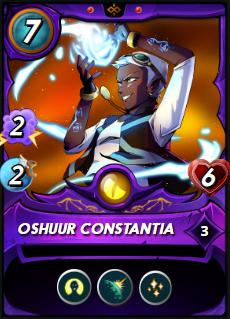 Following immediately after the Carnage Titan is Oshuur Constantia. I've got her here to support my front line Monster as long as possible. She can also take a hit or two if it gets to that, while healing herself in the meantime. What's important is that she has the Reflection Shield (This Monster doesn't take damage from Blast, Magic Reflect, Thorns, or Return Fire) ability so she does not suffer any damage when her Magic Attacks are reflected back to her.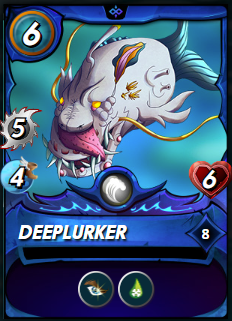 The 4th place in the line-up goes to the Deeplurker. Another favorite Monster of mine. I think most people are in love with it, not because of its appearance obviously, but because it can really wreak havoc across the enemy team should it get the "Opportunity" to do so. Its 5 Melee Attack is really deadly for low-mana/support Monsters.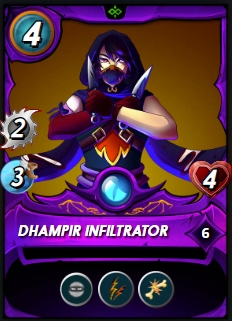 The 5th spot goes to the Dhampir Infiltrator. It has found itself in a good Sneak and Double Strike company, so I'm sure it will make the best of it.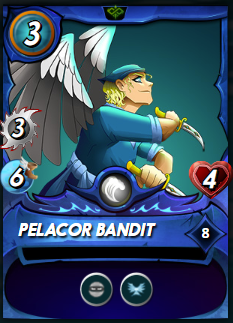 The last spot is reserved for the Pelacor Bandit. I've put it at the back since it's a flying Monster with a high amount of speed, so it really does dodge enemy Sneak attacks more often than not and that really helps by buying a decent amount of time for the rest of the team to do their thing. It itself is also a Sneak Monster so it can often be a pain in the enemy backline.

It is time for a quick round by round analysis:
The Summoner I am going with for this battle is my very own Quix. I have him at level 3 so he's not a hard pick for my gold-level battles. My enemy has also chosen to go with Quix and a Resurrect setup with two Resurrect Monsters on their side and a support one - the Merdaali Guardian. The Monsters in 5th and 6th spots on both sides are identical. River Hellondale's Inspire (Gives all friendly Monsters +1 Melee attack) is countered by Legionnaire Alvar's Demoralize, so no team has an advantage in terms of Melee Attack damage, at least initially.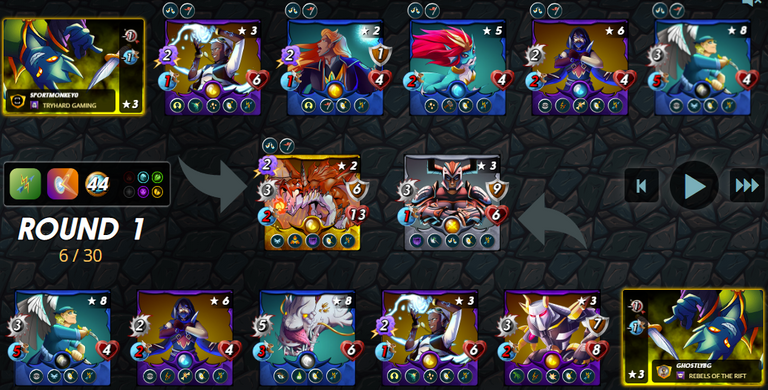 After 1 round both "tanks" are still standing, however, the enemy Agor Longtail is very close to dying even though it has a Heal itself and the support of two more Healers from the enemy backline. On the other hand Alvar's armor has been depleted but he still has some heal to take a few hits. My Pelacor Bandit is also basically about to die while the enemy one seems to have been luckier with the evasive actions in Round 1.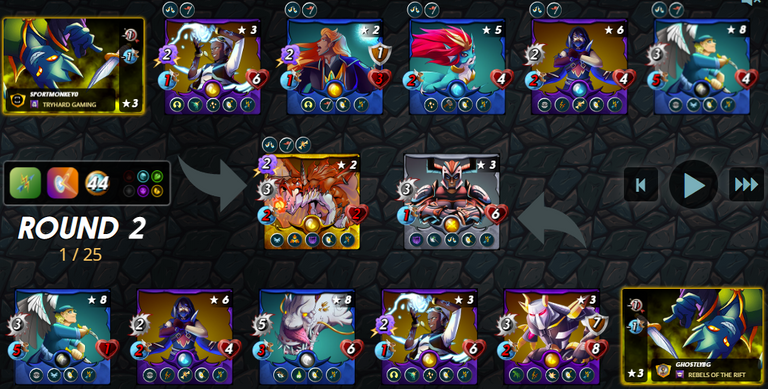 At the start of Round 3 somehow both tanks are still alive together with my Pelacor Bandit. Well it's not such a big mystery actually. Both Agor and my Bandit have been resurrected but my Bandit actually also managed to dodge two Sneak Attacks after being brought back to life so that was pretty good.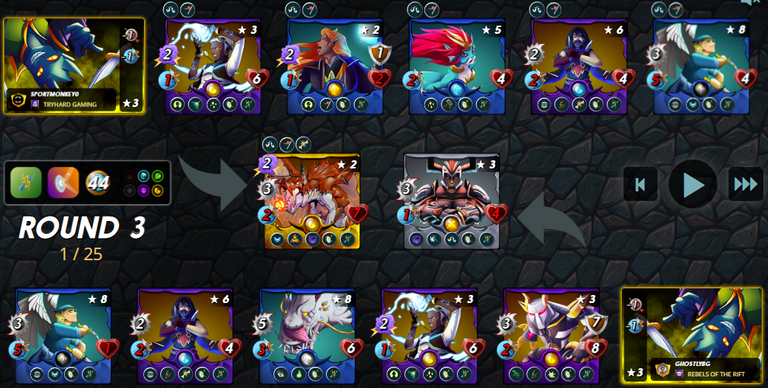 Round 4 - Agor has finally gone down, and my Alvar is still alive but barely kicking. I have also lost both of my Sneak Monsters while the enemy backline is still basically intact. The winner is still unclear at this point even though I feel I have a bit of an advantage.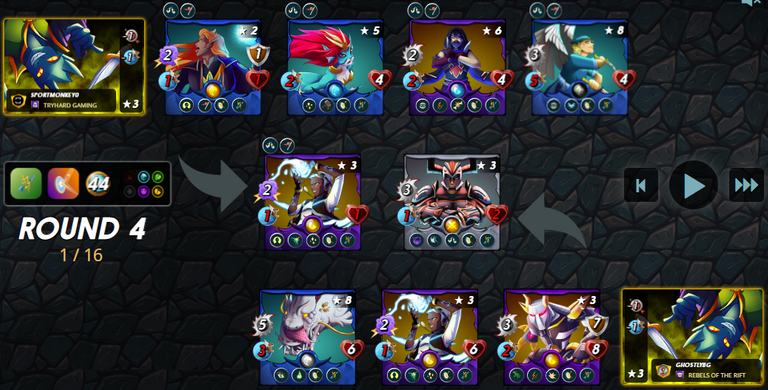 Round 5 - I have actually managed to break through the remainder of the front line, mostly thanks to the kind assistance of the Carnage Titan and I am about to win this battle. Interestingly enough Legionnaire Alvar has managed to hold his ground all the time even without any spare resurrection for him. A true General of the Chaos Legion.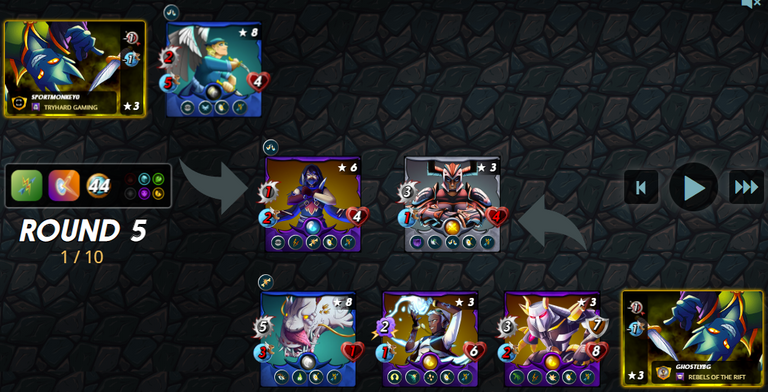 While my victory seemed relatively easy, Splintertools.io actually shows that I had a.... 3% chance to win, lol! So this is what a 3% win looks like. I guess my backline had dodged as many Melee Attacks as it could, wow!



Legionnaire Alvar is a potent Neutral Tank, specifically adept at Magic Attack mitigation. It could be useful at level 1 but, of course, if you want to use it with no potential RP penalty in the League you are competing in and take advantage of the additional abilities he gain, it is a good idea to get enough copies and level him to the respective level. At $3.99 per BCX he is one of the more accessible Legendaries of the Chaos Legion lot.
Over and Out,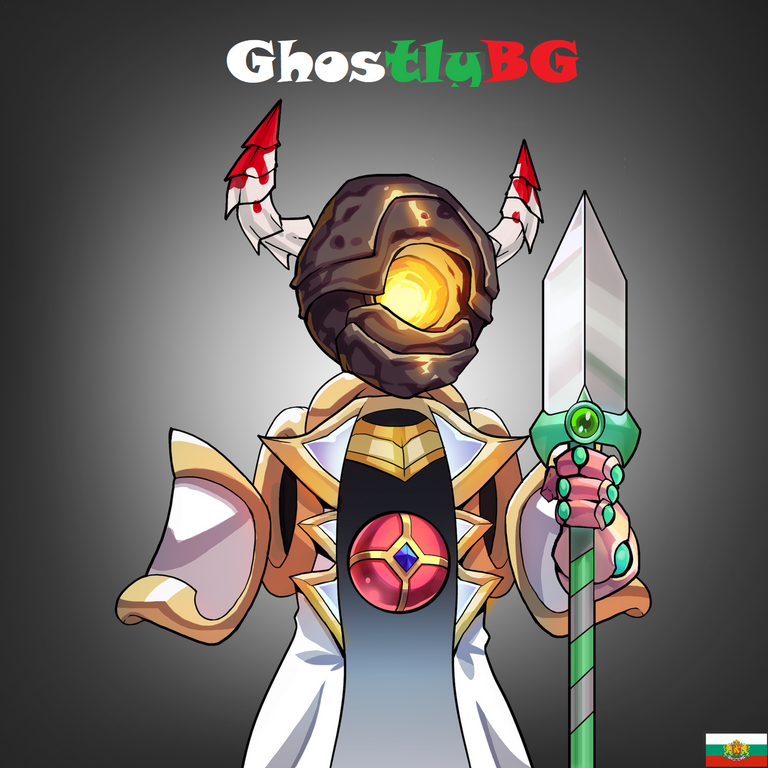 Referral


---
---