MOTHER KHALA - A War of Attrition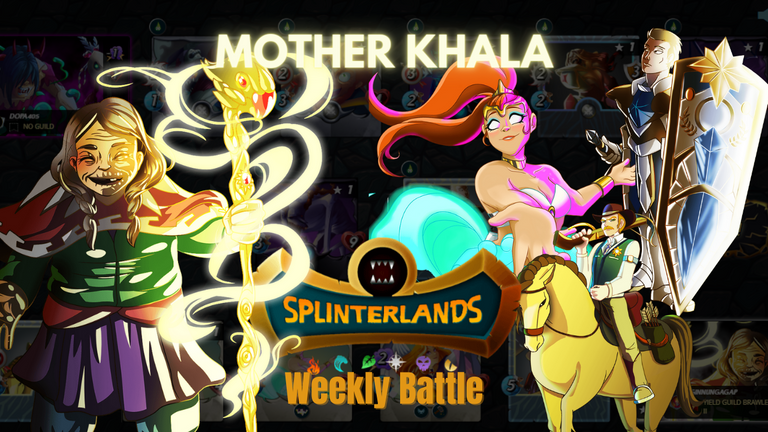 MOTHER KHALA
Well, hello everyone. Long time no see! I think I haven't posted in a month or so, and there's no single reason for that absence. At first, I got sick and was resting, and then I got a new job! So, I was getting used to it, so I wasn't playing much. But I'm glad to be back playing.
But enough with my update, let's get to this week's challenge. I'll write about Mother Khala! I have to be honest, she's my least favorite modern Life Summoner. Chanseus, Lorna, and Sloan are leagues better for me. However, there's a niche strategy that I've been using, and having a lot of success, so I wanted to share it.
---
---
Lore

At nearly eighty years old, Mother Khala is the oldest practicing summoner of Khymeria. Khala always wears a smile, and even in tournament battle she hums and whistles happy tunes to herself. She wears heavy knit clothing of various bright colors and carries a hand carved staff that seems to be the source of many of her magical powers.
---
---
Stats

Mother Khala is a rare Life Summoner from the Untamed set, which means that she's part of the base set. This is quite bad for her, since, in my opinion, the rare Untamed summoners are the weakest of all summoners. She costs 3 mana and gives +1 Health to every friendly monster.

While +1 health is good, especially for low-health monsters, it can't compare with the defenses from Lorna's Divine Shield or Tyrus' +1 Armor. However, her health buff is great when combined with a specific ruleset.

Battle
Here I'll show you a battle using Mother Khala, and a strategy that can be useful. I'll describe it as best as I can, but nothing beats the feeling of actually watching the battle, so in this link you'll be able to watch the battle yourself.
---
---
Ruleset


Noxious Fumes: All Monsters start the battle Poisoned, so they take 2 damage after each turn.
Allowed Splinters: Fire, Earth, Life, Death, and Dragon.
---
---
Team

In Noxious Fumes ruleset, I generally use Water, but since it wasn't available, I decided to go with Life and have my monsters outlast the enemy with high-health monsters.
Card
Description
MOTHER KHALA

With her +1 health buff, all of my monsters can last a little bit longer against the poison, which is my main goal. Let the poison take the enemy before it takes me down.
SHIELDBEARER

With its 9 health and Taunt, it can take a lot of hits, while protecting the rest of the team. Thanks to him, the other monsters won't be getting hit much, so they can survive for longer.
WARRIOR OF PEACE

In case the Shieldbearer falls, this Warrior can take its place as the main tank for a while.
ADELADE BRIGHTWING

She only has 5 health, but has the ability Repair, restoring the Shieldbearer's armor each turn, allowing him to live longer.
DJINN RENOVA

She is a must for this strategy, since she has Strengthen, giving +1 Health to every friendly monster. Combined with Khala's buff, every monster will leave an extra round of poison.
VENARI CRYSTALSMITH

Another low-health monster, but she's also important for this battle. With tank heal, she heals the monster in the first position each turn.
SILVERSHIELD SHERIFF

My main damage output, with 3 ranged attack. He also has 8 health, which is rare for a ranged monster, but it allows him to live until right the very end of poison battles.
---
---
ROUND 1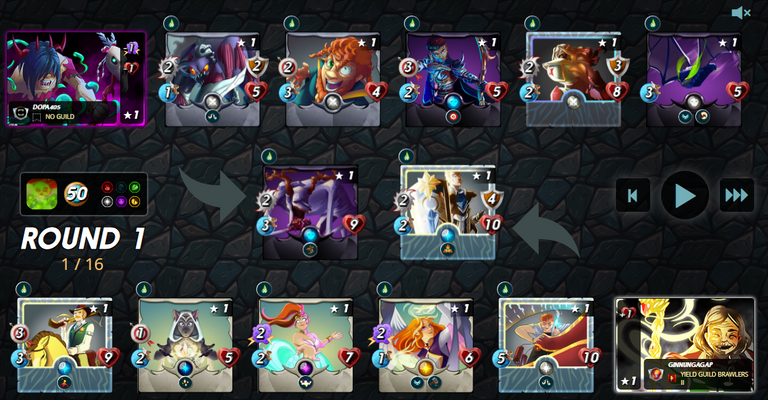 The enemy went for a common Noxious Fumes, with Thaddeus and Riftwing, hoping for my monsters to die quickly, to increase the Riftwing's health.
The Cursed Windeku and the two ranged monsters attack the Shieldbearer, but it doesn't take much damage, thanks to his armor.
The Sheriff's snipe attack almost takes out the Supply runner, while the rest of the team deals damage to the Windeku.
Nothing much happens this round, to be honest.
---
---
ROUND 2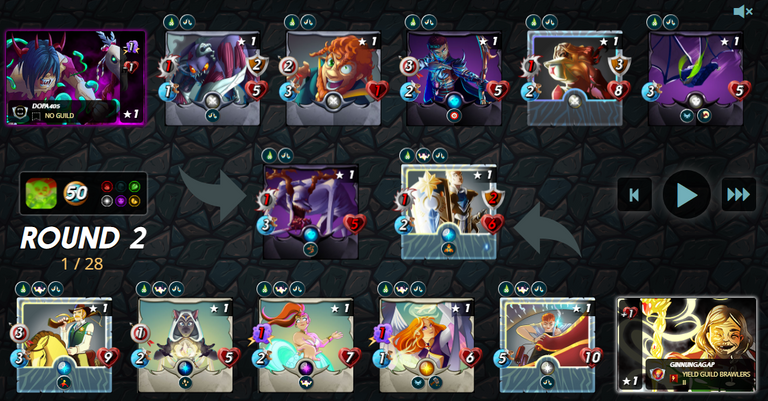 Every single monster takes damage from poison, but only the Supply Runner dies because of it.
The Sheriff takes down the Dhampir Stalker, leaving the Windeku as the only attacking opponent.
The Crystalsmith and Adelade's healing leave the Shieldbearer at almost full health and armor.
The Shieldbearer takes out the Windeku, and now it's a 6 v 3 battle.
This was a great round for me. The poison weakened the enemy much more than it did to me. Next round will probably be the last.
---
---
ROUND 3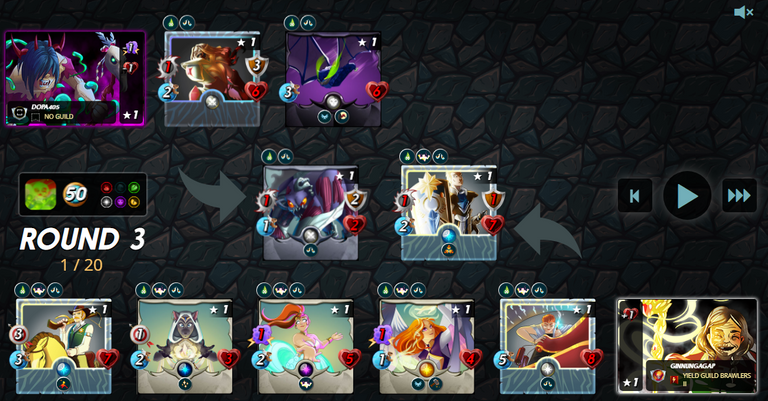 The poison takes out the Disintegrator and leaves the Crystalsmith and Adelade with 1 and 2 health respectively. This means that if it hadn't been for Renova and Khala, they would have died. This is why high health is so important.
The team attacks the remaining 2 monsters, leaving both with only 2 health at the end of the round.
This battle is pretty much over.
---
---
ROUND 4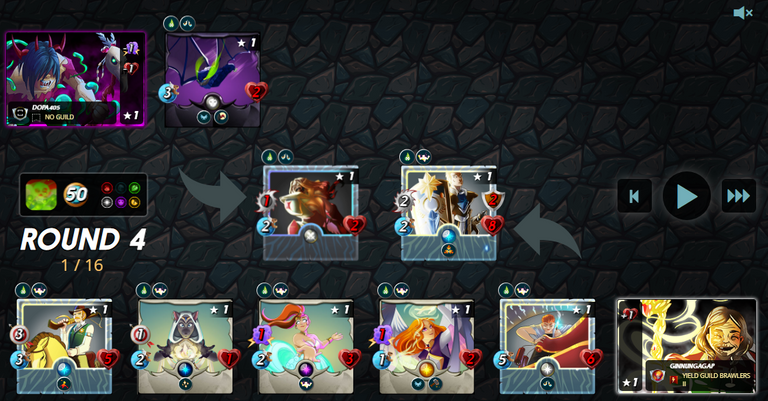 The Poison defeats 3 monsters this turn: Adelade, Crystalsmith and the enemy's Elven Defender. This gives +3 health to the Riftwing, but with only 1 non attacking monster, there's nothing they can do.
One single blow from the Silvershield Sheriff ends the battle.

Final Thoughts

So, while I don't think Mother Khala is that great of a Summoner, I have to give credit where credit is due. She's great combined with Djinn Renova in poison battles. Every one of my monsters could survive at least 3 rounds of poison, while also dealing some damage, which is something the enemy couldn't do.
Apart from the 2 health granting cards, high health monsters are pivotal for this strategy to work, with Shieldbearer and Silvershield Sheriff being two of my favorite cards.
I really like this strategy. So much that I don't really want to share it lol. But I hope that this can help a few of you win some battles.
---
---
If you want to be part of the incredible community of Splinterlands, click here!
---
---