NECTAR QUEEN - Winged Menace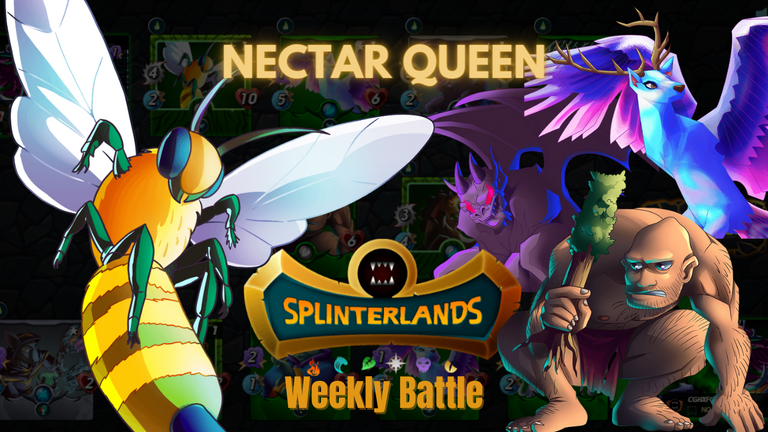 NECTAR QUEEN
Nectar Queen. She was one of the first cards that I bought, after reading that she was a great card to have for bronze players, and let me tell you, at first I didn't use her much: I thought Unicorn Mustang was simply superior. But, she has her uses, she can be deadly in certain situations, and I'll show you a battle where she shines.
The Nectar Queen is a Common Reward Card, from the old set, which means that she's out of print.
---
---
Lore

Unlike most queen bees, Nectar Queens like to get out of the nest and get their Proboscis dirty. Fortunately, you can hear one coming long before it reaches you. Unfortunately, they have a real taste for blood.
---
---
Stats

At level 1, the level I use her, she has 4 melee, 2 speed, 10 health, and Flying, while costing 9 mana. Her main drawback is her high mana cost, which makes her compete with other monsters like the Unicorn Mustang, Grund, and Mycelic Slipspawn, while also being slower than them. However, her high melee and health are huge for her.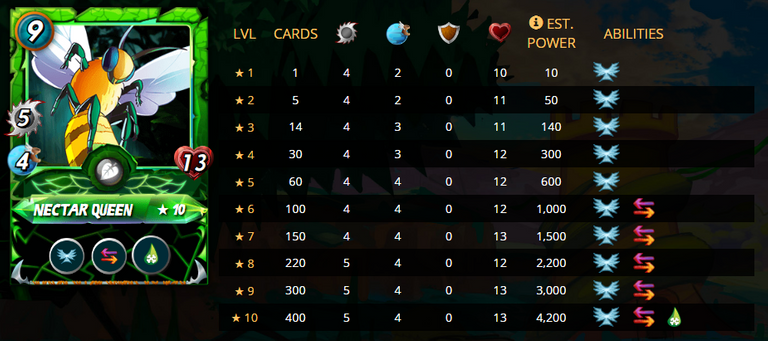 After leveling her up, she gains Retaliate and Poison. The first ability makes her a better tank, since she may be able to counter-attack the enemy after she takes damage, while the second ability can poison the enemy, dealing some damage each turn. She also gets 4 speed which is a great improvement.

Battle
Here I'll show you the guild battle using the Mushroom Seer. I'll describe it as best as I can, but nothing beats the feeling of actually watching the battle, so in this link you'll be able to watch the battle yourself!
---
---
Ruleset


Noxious Fumes: All Monsters start the battle poisoned.
Earthquake: Non-flying monsters take 2 damage each round.
Allowed Splinters: Earth, and Death.
---
---
Team

With both Poison and Earthquake, every poisoned non-flying monster will take 4 damage each round. This is the deadliest ruleset combination possible! If you don't bring the right monsters, it'll spell trouble for you.
This is why I want to focus on high health/Flying monsters, to withstand the environment.
Card
Description
OBSIDIAN

I chose her because I have good flying monsters in the Earth splinter, and she can also buff some of the monsters that I'll use.
HILL GIANT

For 3 mana, having 6 health is great. He can be a 1 round tank since the poison and earthquake will most likely finish him off. But, by putting him here, it allows the Nectar Queen to avoid damage.
NECTAR QUEEN

My main card and tank. With 10 health and Flying, it'd take her 5 turns to die from poison. She can also deal some serious damage to the enemy.
REGAL PERYTON

Another monster with Flying, although with less health and attack. Peryton is still a solid pick, thanks to Obsidian's buff.
GARGOYA DEVIL

My final Flying monster. This time, however, only with 3 health, so Poison could still take it out relatively quickly.
MYCELIC SLIPSPAWN

Another 10 health monster, the Mycelic Slipspawn can redirect attacks thanks to Taunt, protecting the rest of the team. Although she's vulnerable to both Poison and Earthquake, her massive health are a big plus.
---
---
ROUND 1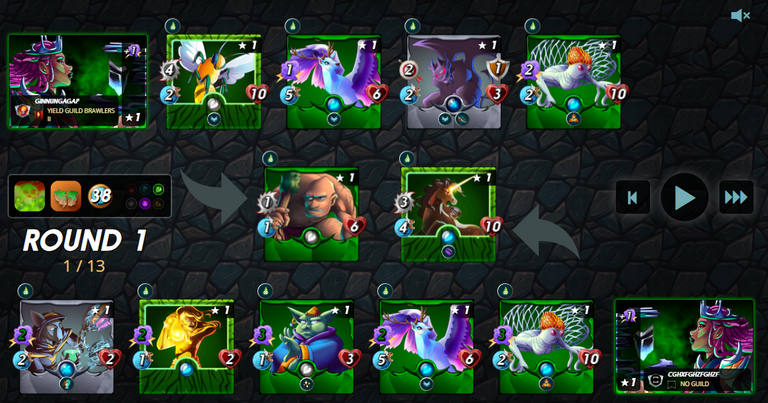 My opponent also went for Earth, although they're only using 1 Flying monster. They have more damage output but are more susceptible to the rulesets damage.
Unicorn Mustang and Hill Giant exchange blows, although the Hill's 1 attack can't compare with the Unicorn's 3.
The rest of both teams attack the enemy Slipspawn, but, since they have more offense, mine falls in battle.
With one monster down and another one soon to fall, it doesn't look very good for me.
---
---
ROUND 2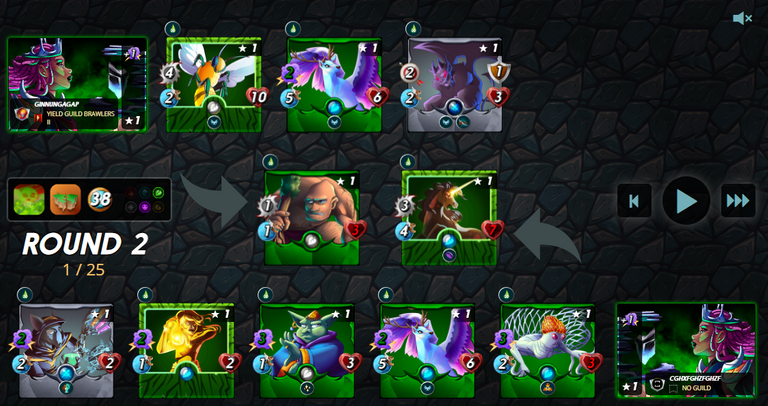 The round starts with an Earthquake, and every enemy monster except for Peryton takes 2 damage. This defeats both Khmer Princess and Venari Spellsmith.
Then, the Poison hits every single monster, defeating the Mycelic Slipspawn and Goblin Psychic, while also my Hill Giant.
Both Peryton's attack, and Unicorn Mustang deals some damage to my Queen, leaving her at only 3 health.
Finally, the Nectar Queen defeats the Unicorn Mustang, dealing exactly 4 damage.
Thanks to the rulesets, the tide of battle changed drastically. Now it's a 3 v 1, with only the Flying monsters remaining.
---
---
ROUND 3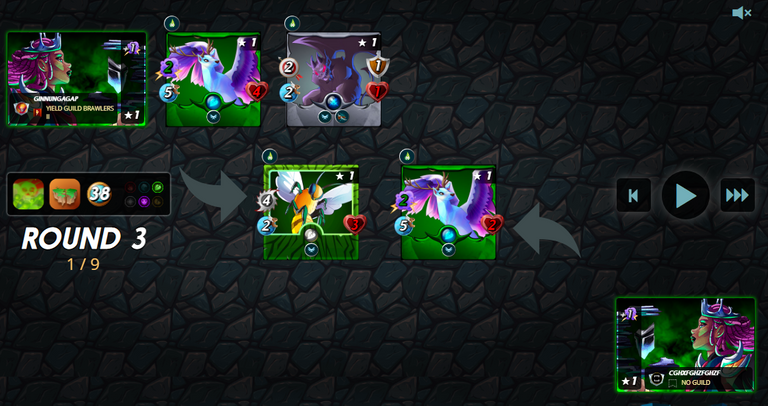 Every monster takes poison damage. This defeats the Gargoya Devil, and leaves both Peryton with 2 health, and the Nectar Queen with 1.
The enemy Peryton is the first to attack, defeating my tank. (You did great, Queen), and finally my Peryton attacks, and deals the final blow.
It was close, but I won in the end!

Final Thoughts

This was more a battle of enduring the rulesets, rather than attacking the enemy, and that's why my strategy came out on top.
The Nectar Queen is a really strong card in specific situations: here she showed her tanking capabilities, thanks to her 10 health, and Flying.
Regal Peryton was my other star card in this battle. He's always great to play with, especially combined with Obsidian.
Finally, while I still think I'll use more regularly the Unicorn Mustang thanks to its Void ability, the Nectar Queen can have an upper hand in certain situations, so I won't count her out.
---
---
Finally, I really hope you liked my review of the Mushroom Seer! And if you want to be part of the incredible community of Splinterlands, and earn crypto assets while playing a really fun game, click here! See you soon.
---
---