Splinterlands Season Rewards / Splinterlands シーズンリワード
Today was the last day of the Splinterlands season.
In the previous season I was able to reach DIAMOND III, so this time my season rewards were Diamond Chests. I battled until just before the end of the season and got 35 chests.
Here are the contents of the chest. I was happy to see the Legendary card HARKLAW and two Chaos packs.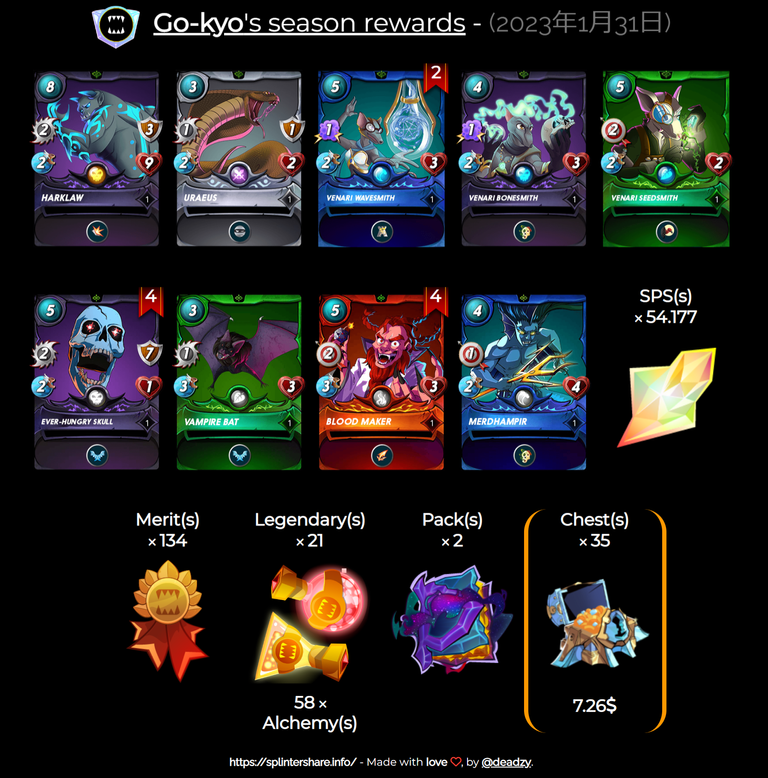 As soon as I get a pack I can't help but open it.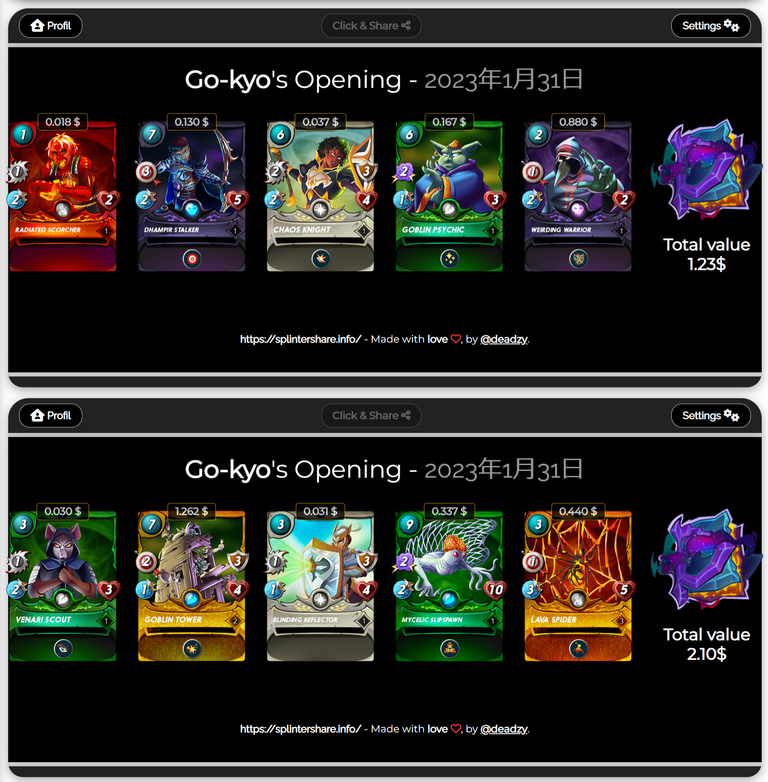 I was very lucky to have 2 gold foil cards in the box. This brings my gold card collection to 112 different cards!
Reward cards that we were able to get until today will no longer be in supply tomorrow. It seems that all reward cards from tomorrow will be Soulbound, which means that they cannot be moved from our account, i.e., they cannot be sold, rented, delegated, or burned.I don't really understand the details, but I think what they mean is that tomorrow the reward cards will be with regular in-game items (in the sense that they will have no monetary value). It seems there are plans to allow people to convert their cards to nft by paying DEC in the future., though.
It's a bit of a disappointing update, but I'm still excited about the new cards. And I recently bought two LAND plots (although I'm not sure what's going to happen with them either), so I'm really looking forward to the future of Splinterlands.




○●━━━━━━━━━━━・・・‥‥




Splinterlandsのシーズン最終日でした。
前シーズンでDIAMONDⅢに到達していたので、今回のシーズンリワードはダイヤモンドチェストになります。シーズン終了時間ギリギリまでバトルして、何とか35箱とることができました。
チェストの中身はこちら。レジェンダリーカードのHARKLAWが出たのと、カオスパックが2つ出たので良かったです。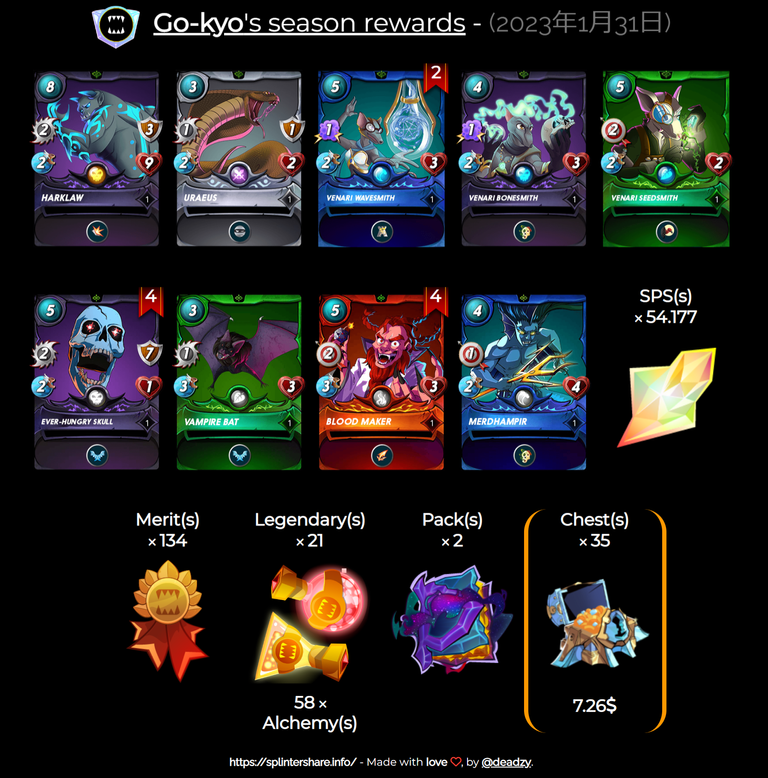 私はパックを手に入れると、すぐに開けずにはいられない性質です。ということで、即開封。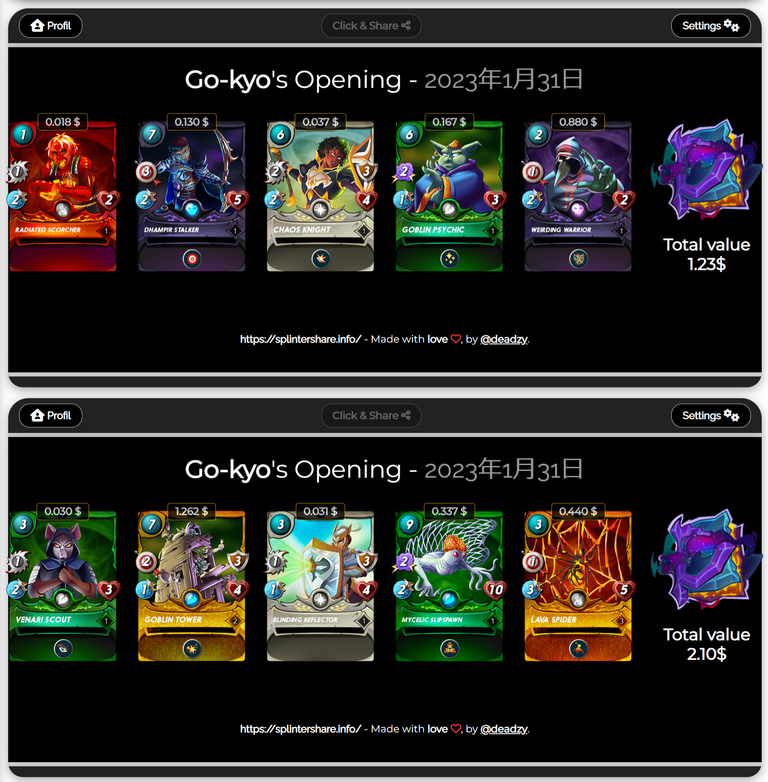 ゴールドカードが2枚入っていたのはラッキーでした。これで私のゴールドカードは112種類になりました!
今日まで獲得できていたリワードカードは、明日からはもう出ません。明日からのリワードカードは全てSoulboundといって、アカウントから動かすことができない、つまり売却・レンタル・デリゲート・バーンができないカードになるっぽいです。詳しいことはあまりよく理解できていないのですが、つまり明日からのリワードカードは、普通のゲーム内アイテムと一緒になる(金銭的な価値はない、という意味で)ということだと思います。
※今後、DECを支払うことでNFT化できるようにする計画はあるみたいです。
ちょっと残念なアップデートではあるけれど、でも新しいカードというのはやっぱりワクワクするものですね。最近LANDプロットも2つ買ってみたので(こちらも何がどうなるのかよく分かっていませんがw)今後が楽しみです。
---
---