Secret Rules of Last Stand
Become a pro at using and countering last stand. These little-known interactions can make or break your match. Let's learn the ins-and-outs of this ability and how to navigate through the fields of Flesh Golems and Krons.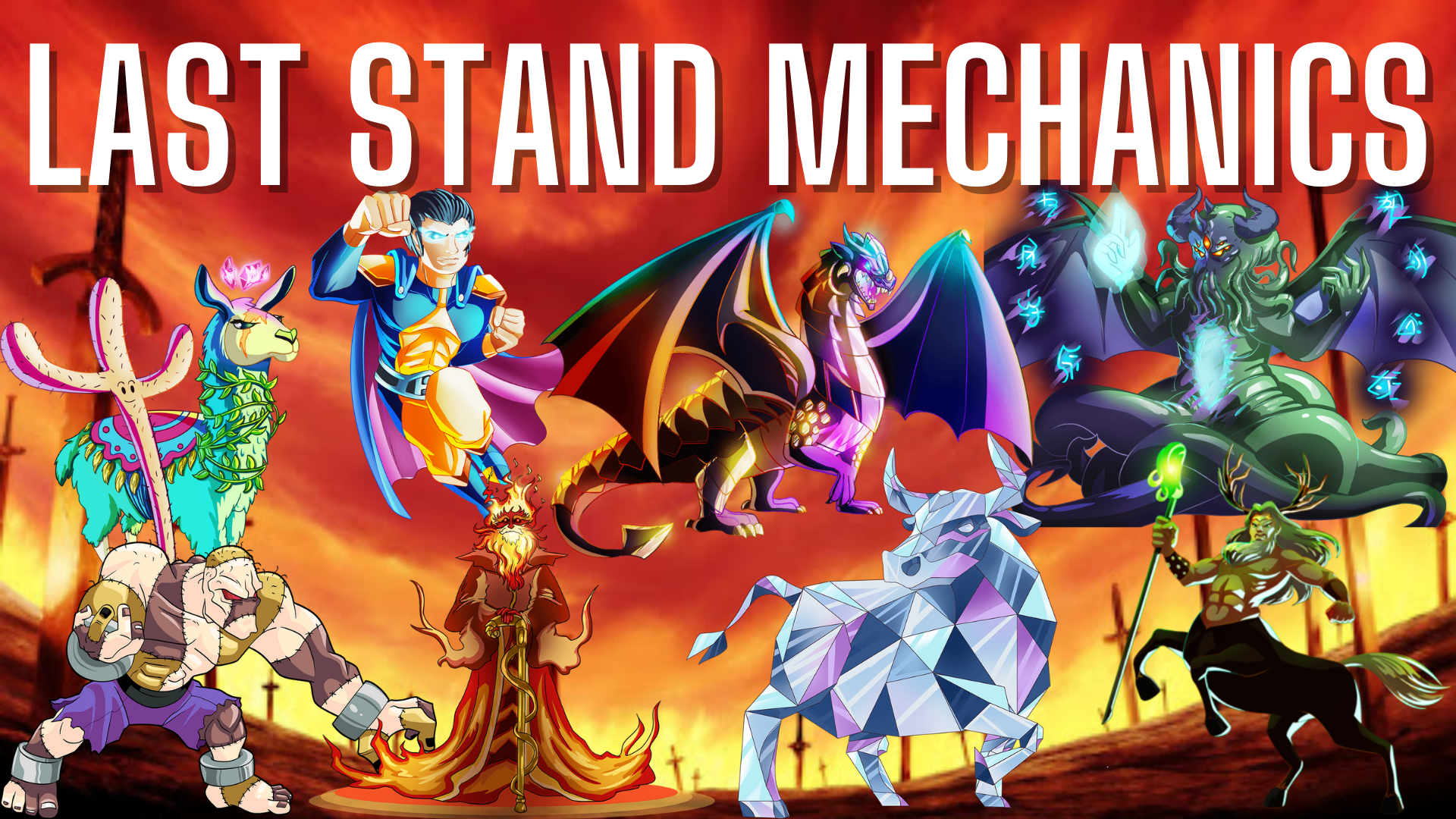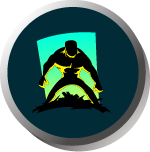 Gains increased stats if it's the only Monster on the team alive
Seems pretty basic, right? Yet, just like the dodge mechanic, there's arithmetic involved! Last Stand offers a 1.5 multiplier on all stats. How is that not simple? Well, let's throw some wrenches in that machine and see how it works! Not Snapon wrenches... I'm talking about Splinterlands wrenches of which there are two kind: Upgrades and Debuffs. First, we'll talk about Debuffs.
Debuffs
Demoralize
,
Silence
,
Slow
, and
Headwinds
reduce melee, magic, speed, and ranged by 1 respectively and will reduce the last stand numbers. For an example of how debuffs work with Last Stand see the below: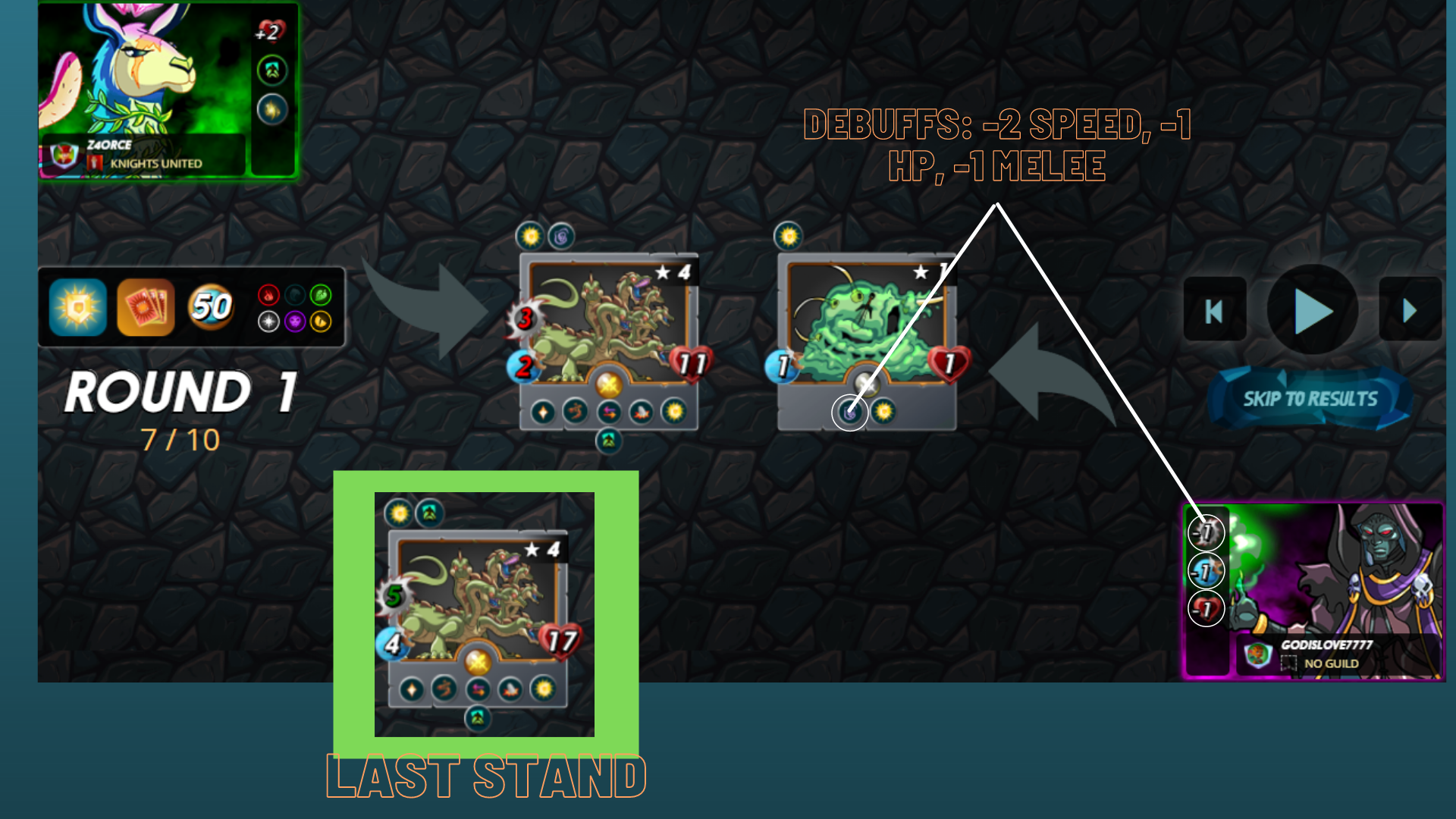 The Llama's cleanse doesn't come into the equation until AFTER the monster enters Last Stand, which means debuffs carry over into the calculation. Of course, the slow ability from the Creeping Ooze eventually gets cleansed, but summoner spell debuffs do not! So dust off that Bortus if you see your opponent abusing Llama Kron. To see what a normal Llama Hydra looks like, prepare yourself, because it's horrifying.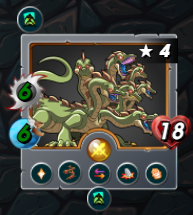 This combo wrecks me time and time again in Champion league and makes me regret not picking one up before price spikes. Anyways, back to the topic at hand. If you couple a Crypt Mancer's melee reduction with a couple demoralizes, and a couple speed debuffs, you get an interesting outcome which you'll see below.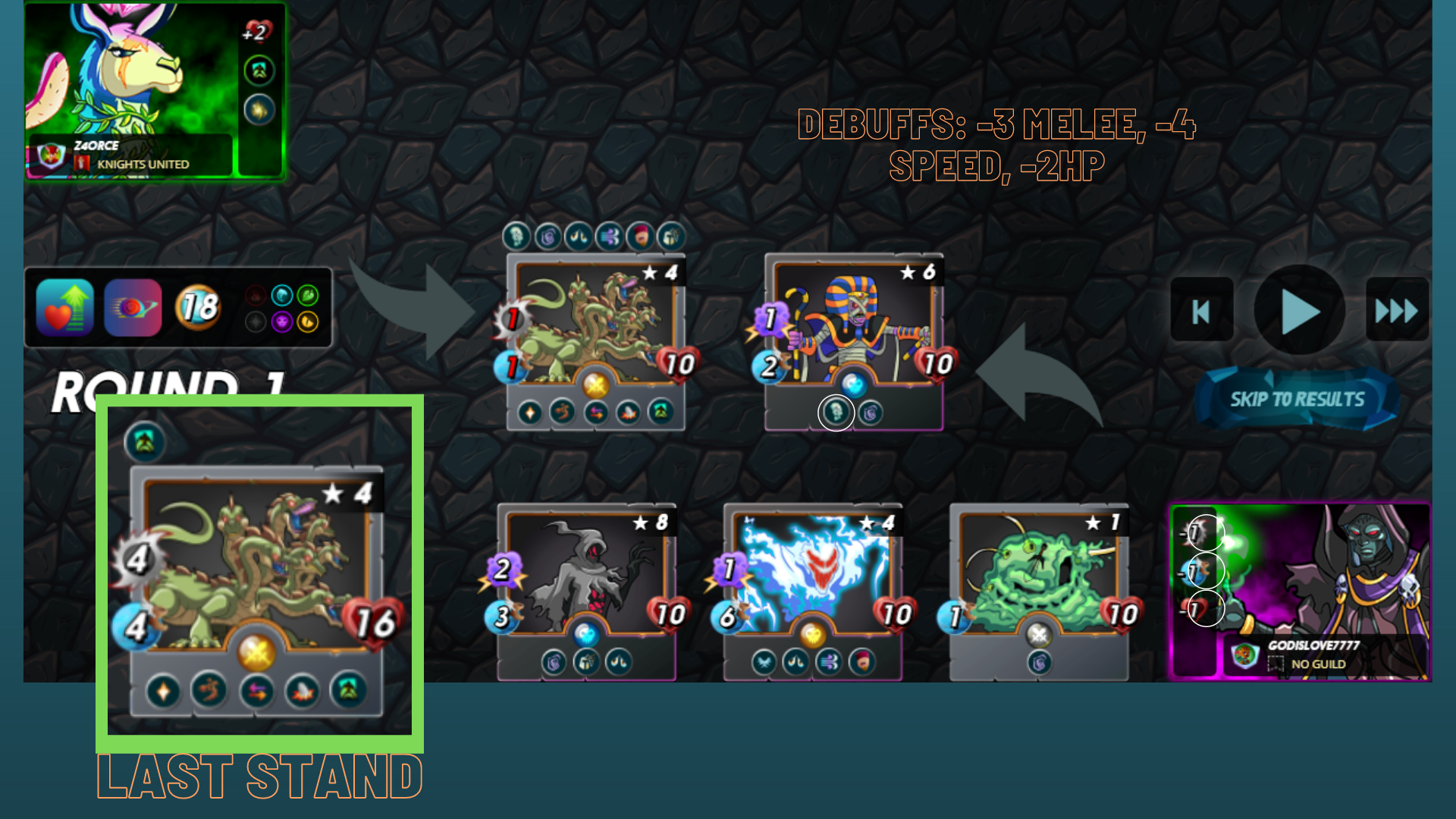 It's important to keep in mind that you cannot reduce a monster's base stats after debuffs are cleansed off, but you can reduce the impact of the Last Stand ability. Above, Hydra's base attack was 1, so after being multiplied by 1.5 and then rounded up, it had 2 attack. This means Last Stand boosted Hydra's attack by one, but Crypt Mancer's -1 simply reduces it back to it's base stat. The same situation occurred with Hydra's speed. That's a lot of fun math and interaction isn't it? Remember that, if there's no cleanse, these debuffs stick with the Last Standed monster!
Review of Debuffs
the first example: for every -2 debuff, you're nerfing the Last Stand bonus by 1
the last example: you can never reduce the Last Stand bonus to less than 1
Upgrades
Since Last Stand requires a monster to be the sole living creature on its team, this means buffs from friendly creatures will not come into play. However, summoner buffs will be calculated. This means, Torhilo with a Byzantine Kitty gets some extra speed! Kron with Llama, as we all know, gets some extra HP. Etc. One secret that I'm glad to share with you who've made it this far in the article is this, Enraged buffs carry into the Last Stand calculation. For example, check out this monstrous Stonesplitter Orc: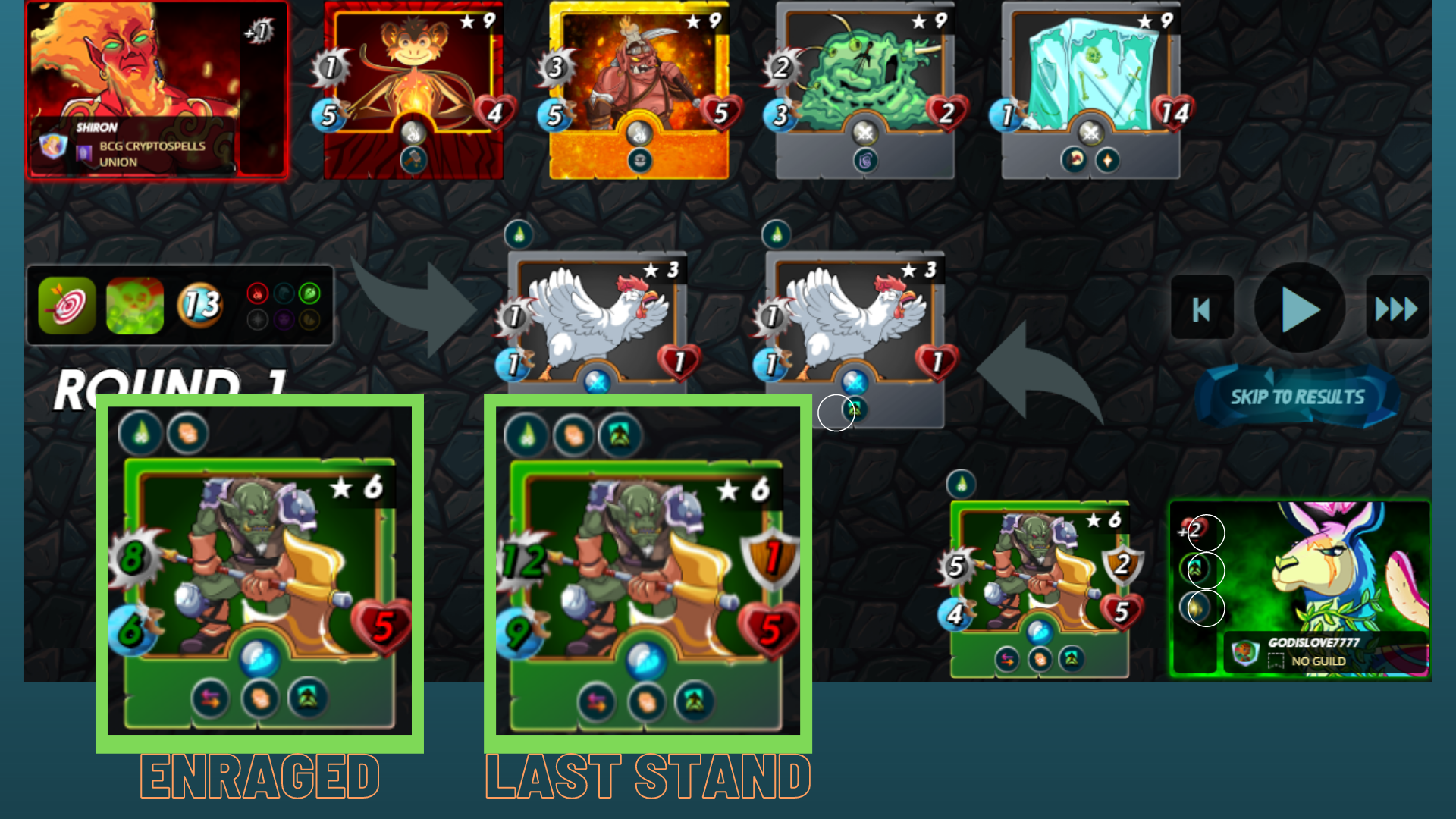 Now, I could have foregone playing the chicken and had my Stonesplitter Orc cleansed immediately, but I wanted to go for this awesome boost... for science. Low and behold, it worked out, and I survived somehow after my Orc went to 1 hp. Interestingly, and thankfully, the calculation for the HP bonus was based on total available HP, not current HP, which kind of throws me for a loop, but I like that quite a bit, since my Orc WAS at 1 HP before being boosted back to 5.
Is all this Gospel Truth? I'm not sure; the Devs could let us know exact details, but I'm just a player here sharing my experience! Just like I share my testimony with you guys during my live streams. Prayerfully you will find something useful for your journey!
Let me know your favorite Last Stand uses in the comments below! My personal favorite is Byzantine Kitty + Torhilo.
Blessings, fam
---
---