SPLINTERLANDS SHARE YOUR BATTLE Weekly Challenge! Dragons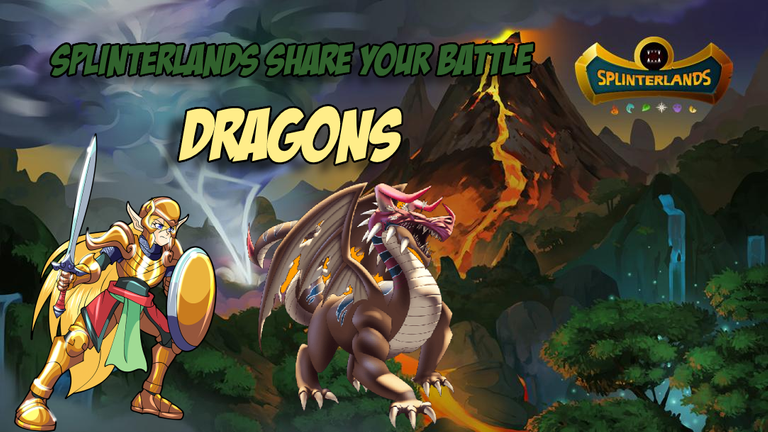 ---
The dragons have returned to center stage a place they belong. It is wild to see how strong this team can be. One of the main reasons is Kitty and that they can team up with the other teams. It is a lot of fun to play with the dragons also. Now I only have a few but I got a fun battle to share with you today. It was a little short but I don't think you will know who will win right away. Make sure you check out the Challenge here if you want to take part in this.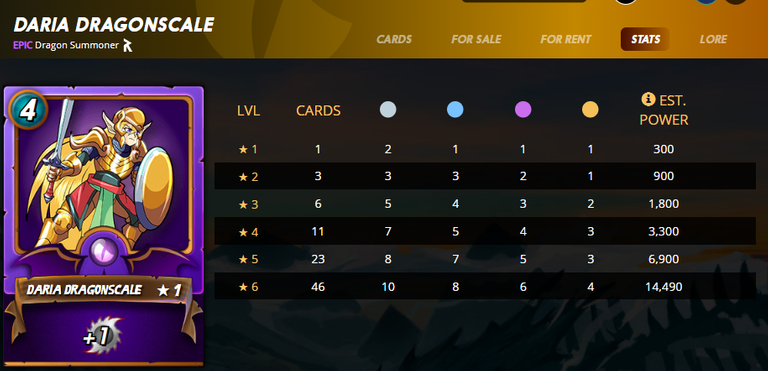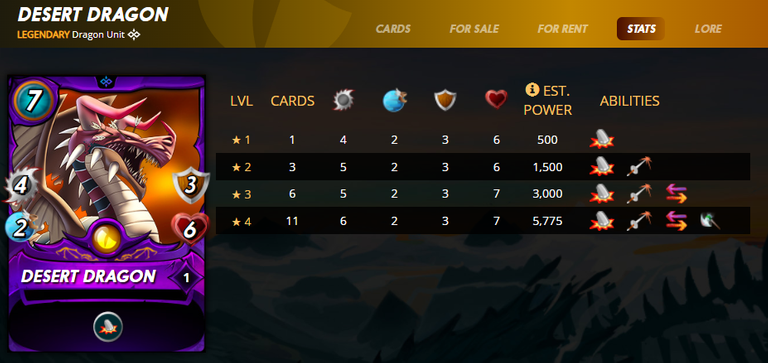 These are the dragons that took center stage in the battle for me so I wanted to talk about them a little bit. Daria Dragonscale was a rewards card and that is amazing. A summoner for the dragon team people use to get for free. This account started too late but the rental market allowed me to grab him. As an epic summoner he gets a little perk at level 2 he can summoner level 3 rares. This can give you a little advantage in some fights. Now the Desert Dragon is an overlooked dragon for sure. He doesn't come to mind as a very strong card. This is why he is cheaper but that trample move with a nice big attack can be strong. He picks up piercing and retaliate and then giant slayer. These skills work perfectly for a cad that is a bit on the slow side. He has the armor and life to take a few hits but magic can be an issue if he gets to strike back then that sets up a good shot at a trample double attack. Combo him with Daria and that extra attack can be big. Time to see how they worked out for me.

The Line Up
Now the key part of this battle is that it had Stampede and Equal Opportunity. Those combos are why I went with the Desert Dragon. Their hope was that he could go trample crazy now the other cards I went with was Eagle to hit hard and then the time mage to slow the other team and have a fast attack and then I went for a healer in the last spot. In general, my lineup wasn't great for the opportunity but my trample attacker would be able to attack for sure. I ran into a life team that went with a taunting mob to make my attacks hit the shield bearer. Other than that he went for the time mage to counter my slow and then had a few mobs to take up other hits and a double attacker. At first glance who do you think will win? I look to be outnumbered but look at those speeds. Also, they are not leveled up so maybe I can still win. You can watch the full replay here it is a fun one that ends pretty fast might give you a hint of what is about to happen.

Round 1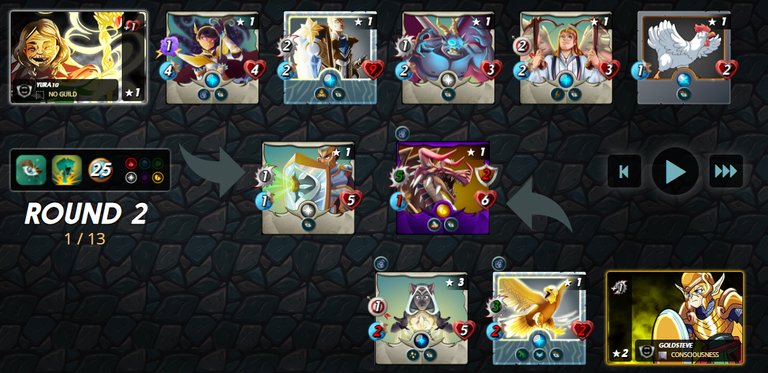 Okay, what will happen here. All my attacks in the back will hit the Shield Bearer and not do a lot but the armor might be done and little hp. They are going to swing at my time mage and my dragon should clear that armor and only lose one. But my mage might die unless it can dodge. The battle starts with the mages attacking then my healer and eagle clear out the armor. Then the double attack does kill my time mage but misses on the eagle. The other attacks do hit him but he survives with 2 life. Then the tanks trade blows and we head into round 2.

Round 2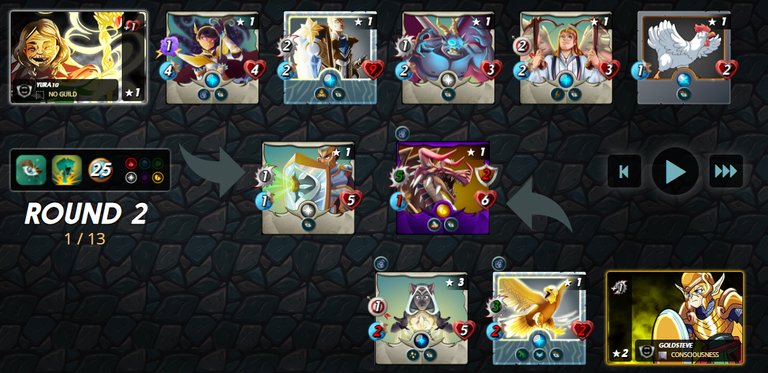 Things are not looking good for me but this is the wrong I could turn stuff around. Do you see it? The mage will hit my eagle but not kill it. I will hit the Shield Bearer for one and then his Arbalest will go and that means the eagle but it does doge one attack. That saved my healer from dying this round. Then my counter will begin. My dragon will kill the tank and trample into the time mage then that attack will be important. If I don't miss I will kill the mage and hit the Shield Bearer for a big hit. That works out perfectly and I am feeling betting going into the next round.

Round 3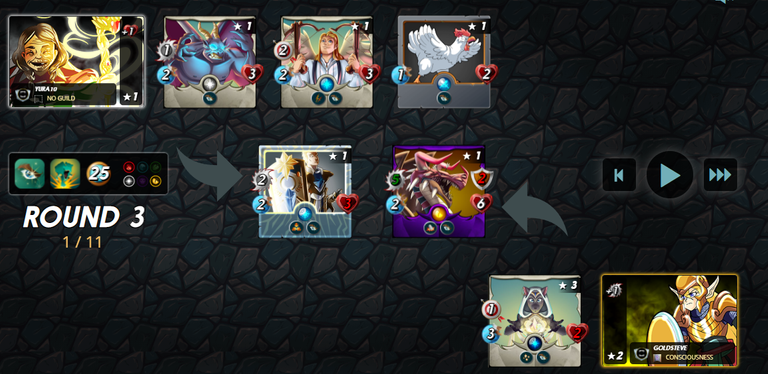 I am sure you can see it now. Yup, all those guys can die if my dragon doesn't miss an attack. None of the other attacks really matter. With the time mage gone, it does look like that might just work out because there isn't a lot of speed to dodge me. Just to add a little bit of an extra blow to him his double attacker misses both attacks on my healer. Then my dragon goes one by one and kills off the rest of the team. It is always fun to see that when it works in the stampede mode.

In the end, a little RNG in my favor worked out well for me. I am sure at first glance it looked like I was in trouble. Yet the rulesets are king in a lot of matches and if you ignore how they can power up a card it can cost you. I might have lost if the time mage was in the back as maybe I miss an attack in my stampede. But that didn't happen and I enjoyed the win a lot. Nothing like watching your trample guy just roll the other team like that. Get into the Splinterland sign up to play today.
---
---