SPLINTERLANDS SHARE YOUR BATTLE Weekly Challenge! Dragons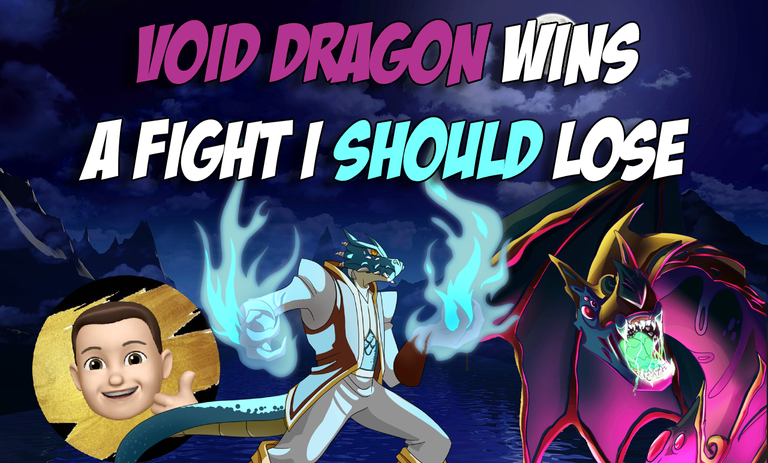 ---
Last weekend I was too busy to do this but glad to be back to share a battle. This week it is time for the Dragons. These cards are always fun to play with but I do have to head off to rent them. That isn't so bad because I get them for a few days and they are strong and I got a good shot at earning more than I spend. Make sure you check out the Challenge here if you want to take part in this. You only have a few more days to get into it. In this battle, I was not at an advantage but you can still win.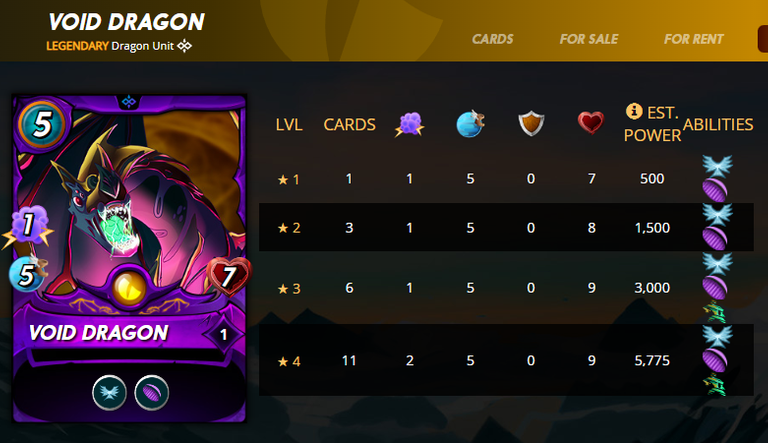 I always like to break down the card they ask us to use but this week we got to pick from any of the Dragons. I ended up only really using one monster. Yet the Void dragon was the reason I won the match. The basic things that the level 1 Void Dragon is good at are dodging and taking away the power of any 1 magic card. Now the weak part is that he is also a 1 magic card. It is a bit of a bummer that doesn't change till level 4. I am not sure how good he is in silver and gold before that happens but it worked well for me this time. I still have to get my summoners higher levels before I start to try him out at level 2 when gets another health.

The Line Up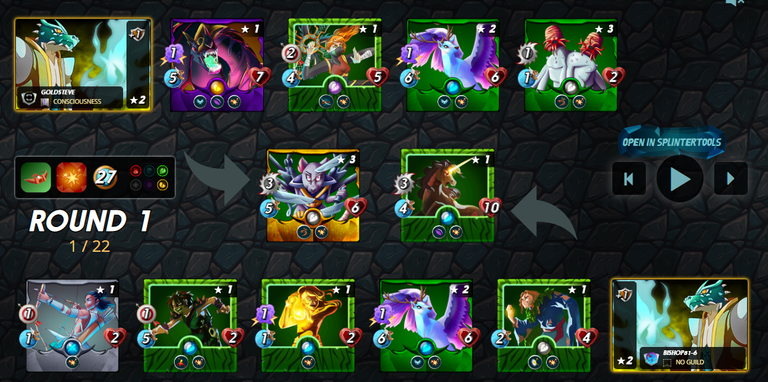 We both used the Drake of Arnak as our summoners. That makes sense in a blast game. It was also the close range that I overlooked a little. My idea for my team really was just speed. In a blast game, I want to attack fast. That is why I put the Venari Knifer up front with that 5 base speed I hoped he could dodge and if not thorns are helpful. But I knew that his 3 attacks should do 2 blast damage at least a few times. After that the Void Dragon who is also fast but I figured if they went magic at least the blast damage might not hurt. Then Beatrix next because it was the fastest 2 damage, archer. Follow up with a Regal Peryton who is also fast and flying and then last spot toss in that Mycelic Morphoid for thorns to counter sneak a bit. Then give them all armor. Now on the other side, they almost did the same thing. The Unicorn looked to be a very good counter to my weak mages. Then the Failed summoner bounced back some magic. Two out of his 4 back row attackers are also fast. I could not tell if I could pull this off or not. It didn't look that well for me. You can watch the full replay here

Round 1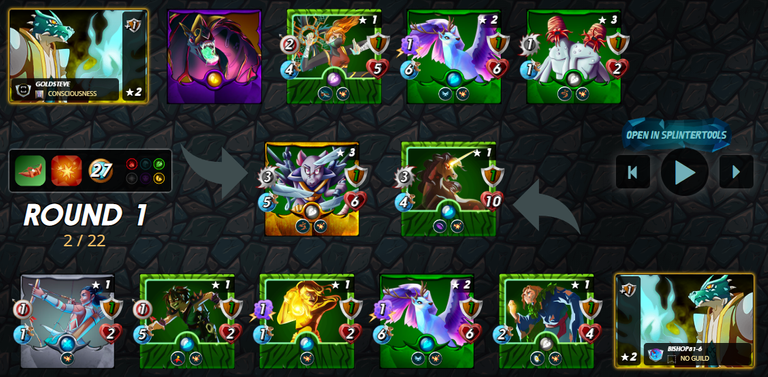 For a blast game, this is a funny first round. My Void Dragon and Regal Peryton can't hurt the Unicorn and well his mages can't hurt my Dragon. This battle was going to come down to the Tanks and the Archers. First attacks go to the Regal Perytons. I do one damage to the Failed Summoner and take one damage but then he deals one to my Knifer but nothing to the Void Dragon. Next is my Void dragon he also only hurts the Failed summoner but blocks the return. Then the Child of the Forest takes his shot but he misses. That was a big miss as he would do damage to 3 guys. My Knifer hits his attack and removes armor from both the Unicorn and the Failed summoner. Next, my Beatrix hits the Unicorn for 2 and brings the failed summoner down to 1. The Unicorn strikes back and takes my armor but gets hit by that two damage to bring him down to 6. The last attack by the Princes and Xenith archer hit and bring me down to 3 and 6 life and we move into that second round with everyone alive.

Round 2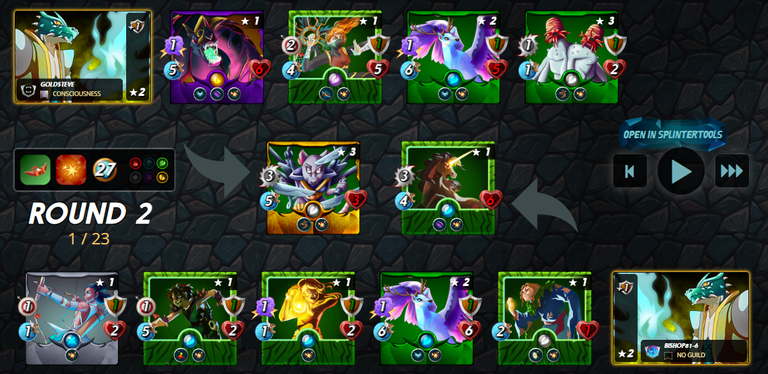 This round is where things get pretty wild. My Peryton attacks first and is able to finish off the Failed Summoner. I have the first kill. He strikes back and brings my Knifer down to 2. My Void dragon attacks and does one damage now to their Peryton. Next, the Child shoots and this time it hits my Void Dragon. The splash damage brings my Knifer down to 1 and takes away my armor on Beatrix. Glad the Knifer still had that 1 HP as he gets in a hit on the Unicorn for 3 bringing him down to 3 and taking that armor away from the Peryton. I follow that up with an attack from Beatrix that brings the Unicorn down to 1 and the Peryton down to 4. After that, the Unicorn Kills my Knifer but dies to the return damage. The splash hits my Void Dragon down to 3. Next goes the Princess but she can't hurt the Void dragon but does hit Beatrix for 1. Then the Xenith archer attacks but I get another miss. We head into round 3.

Round 3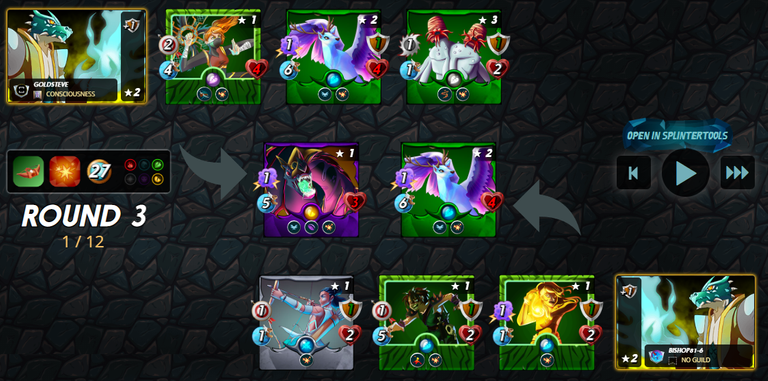 I like this setup a little more with my Void Dragon tanking with only one card targetting it that can even hurt it and that archer is slow. But that child has splash so that could be trouble. The round will start with my Peryton hitting their Peryton for 1 and the Princess for 1. Then his Peryton attacks but only does 1 to the Beatrix. Void Dragon goes next and hits the Peryton down to 2 and kills off the princess. Nice, we got it before it got to attack. The Child hits my Beatrix and the splash removes my Peryton armor and hits the Void dragon down to 2. My Beatrix misses and I am worried but the Xenith Archer also misses and we go into round 4.

Round 4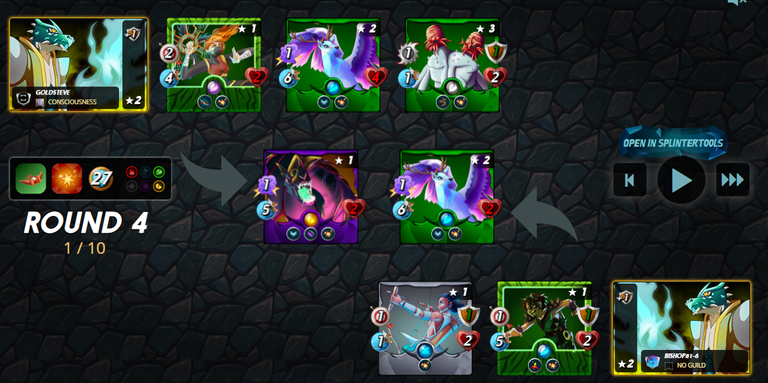 Okay so now that speed matters a lot. The Perytons will go first and that will put him at one hp and my Beatrix at 1 hp. But my Void Dragon attacks next and is able to kill off his Peryton and the Child before it can attack. The Xenith moves up front and my Beatrix removes its armor. It does get to attack and could have killed my Beatrix but that 1-speed card misses again. It takes one more round to wrap it up.

Round 5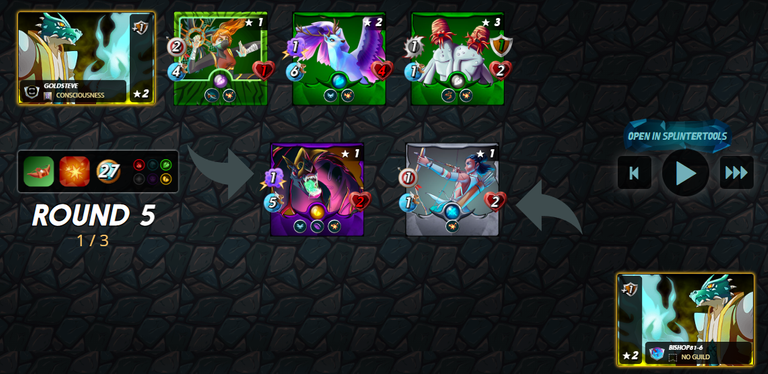 Well at this point the mages will finish off the fight and I will win those sweet RP points and some DEC and later on, we will also earn SPS.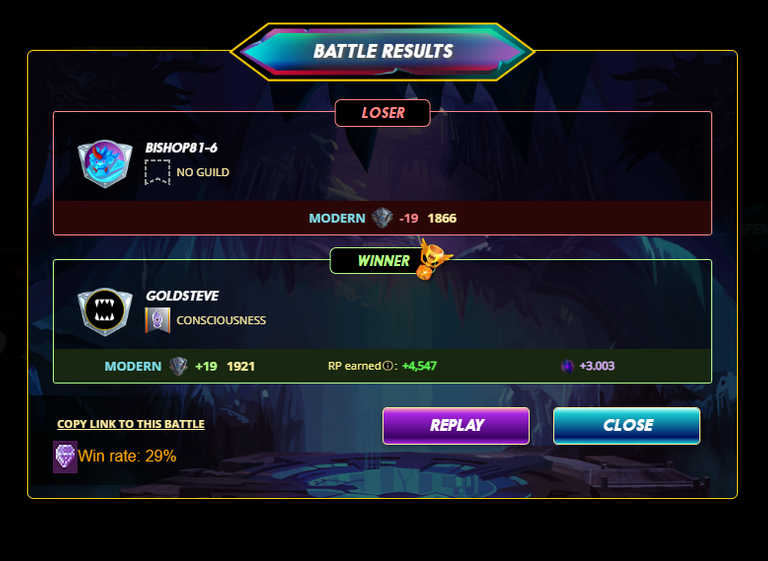 Splintertools says I only had a 29% win chance. I am not sure I agree when I look at how the battle went. Yet I did get a lot of RNG luck on my side. I hope you enjoyed my battle breakdown. Make sure you sign up to play Splinterlands and earn money while you do it.
---
---