Weekly Battle Challenge: Magi Necrosi (Wild Gold)
Card Analysis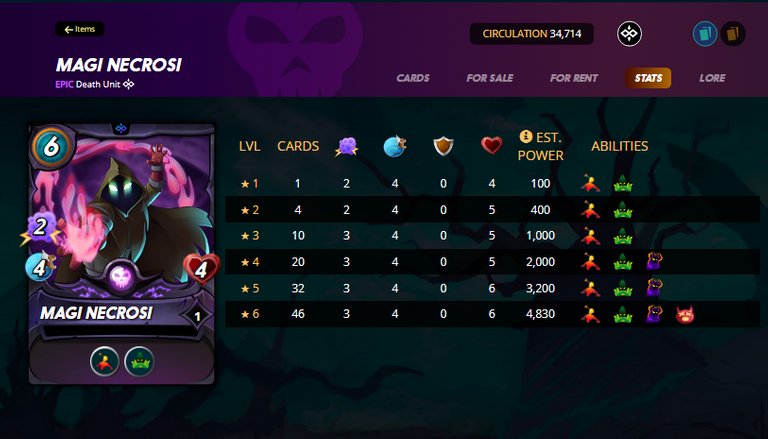 Our card of the week is Magi Necrosi, which is one of my favorite Death units in the Chaos Legion set. It packs a solid punch for a 6 mana monster and comes with plenty of useful abilities. Snipe is always useful and versatile. Camouflage is a great ability on it because it helps its survivability as a low HP heavy hitter. This kind of monster usually goes down in 1-2 hits from snipers and opportunists so they need protection. Oppress is the ability I am not uncertain about. Theoretically, we can be sniping down some support monsters in the middle of a lineup. I am just not sure if this occurs often enough. Stun is very good though, especially on a monster with solid speed like this. Essentially, it can take down soft monsters in 1-2 hits and can hold back durable monsters with stun.
When we add everything together, we can see that Magi Necrosi is a very strong 6 mana monster that can do well in any lineup. It has strong attacks, good survivability at the back, and can be a hassle for the opponent at any given lineup. A versatile card like this is ideal for any Splinterlands collection. Being in the CL set, this card can be played on both Modern and Wild formats and that is extra value for us. I'd recommend picking up this card if you are interested in the Death color.
---
---
Battle of the Day
The battle I will be showcasing today is a Wild Gold match with just one ruleset. This is a rare occasion in levels above gold, with multiple rulesets being the norm. Raw card quality is the key factor in matches like these as there's not a lot of wiggle room for the niche cards without rulesets to support them. Magi Necrosi doesn't mind this at all, being a good standalone card itself. Even better, it will have lots of snipe partners with Target Practice in play.

| Lineup | Breakdown |
| --- | --- |
| | As this is a high mana battle, I am running Astral Entrity, which is the highest cost Death summoner I have. Unless my opponent is running a full magic lineup, the dodge ability will surely provide value for me. This goes for all the other abilities it has as well. I see it as a safe pick that provides me with more value than the typical 4 mana summoners. |
| | I am running Dark Ha'On as my tank mainly for its Taunt ability. We are playing with a ruleset that gives Snipe to many monsters out there. It is extra important to have taunt up and keep our other attackers protected. If the opponent is running a slow lineup, the Scavenge ability gives it more HP to further tank more. Thus, this is a good tank against all kinds of teams. |
| | Creeping Ooze has always been a good utility card to plug into any lineup if we have 1 extra mana and a slot. Slow is useful in any ruleset as speed often decides who wins and who loses. The only ruleset to not play this is Reverse Speed. |
| | Next on the line is Queen of Crows. Positioning is something to consider for this card. With Close Range and high HP, it can be played in any position. Headwind does make you want to it at the very back more often than not so you can keep her alive longer for the debuff. I decided to put it up in front because Snipe targets the monsters up front ignoring melee monsters. I want it to tank for my backline. |
| | Magi Necrosi is the first one up in my line of attackers. Like what I have said above, this card is here to snipe and kill. It has one simple job but it is also the key job to every victory. |
| | Cthulhu is one of my favorite big Death unit above 10 mana. Aside from its obvious weakness of low speed, I like everything else about it. Great attack, good tankiness, and has flying to dodge some attacks as well. Our summoner has Dodge ability and it pairs well with Flying for extra dodging chance. This is a mini combo synergy. |
| | At the end of our team is a pure attacker, Dhampir Stalker. True Strike makes it so that it cannot miss so you are guaranteed to get damage output from this monster. It's not a popular card because it doesn't provide much besides that. Ranged also makes it much harder to use in most situations. For this match though, I just want damage and this is the best 7 mana card I can find for that single purpose. |
My overall game plan for this battle is simple: Tank it out with the big dudes and hope our attackers can kill the enemies faster than they do to us. It's not too different from a typical Splinterslands match but I make sure to load up on tanks up front.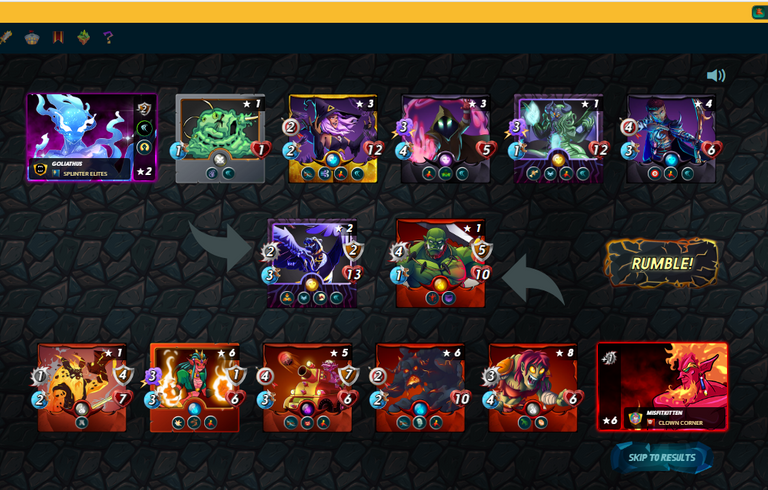 As you all can see I have the summoner level disadvantage as I am running mostly silver level cards at the gold level. Right off the bat, my Astral Entity turned out to be useful as it neutralized my opponent's armor gain buff. My opponent is running a pretty balanced team of mixed attack types and there are not a lot of ways to exploit it but to tackle them head-on.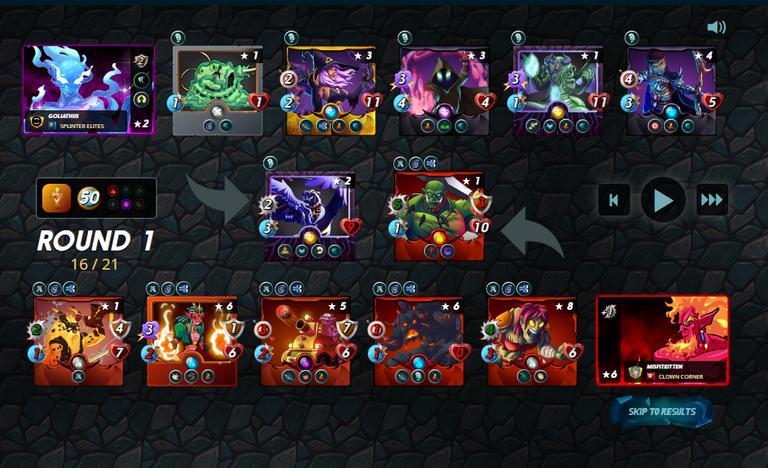 The first kill of this match was from us thanks to many things going in our favor. Creeping Ooze's speed reduction allowed us to attack earlier than our opponent and outright kill a monster before it even does anything. The armor debuff was key to this because Dhampir Stalker's 4 attacks would have hit the armor without the debuff.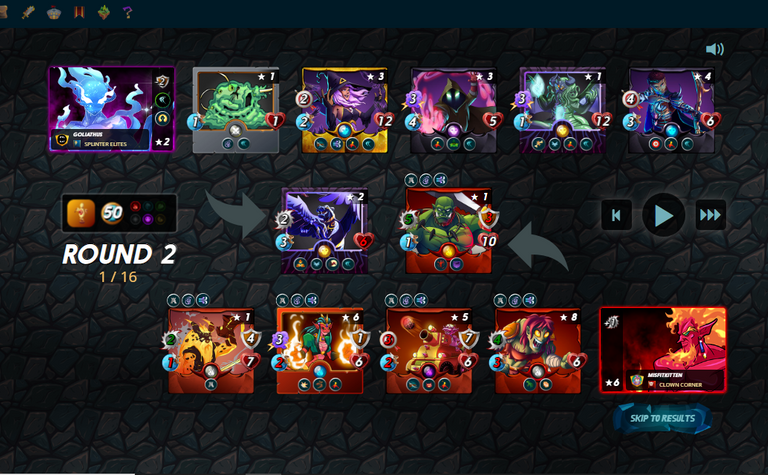 We looked good to start the second round. All our attackers had not taken any hits yet with our Dark Ha'On absorbing every damage and our sniping game plan was at work.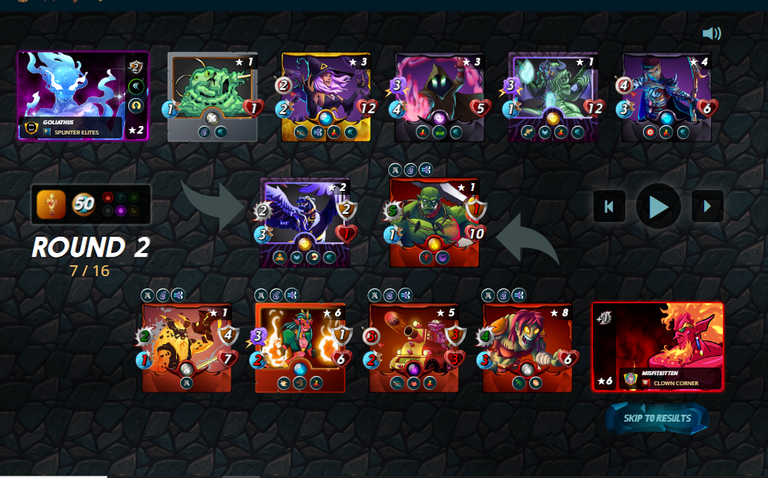 Our summoner's revive ability triggered just in time for a ranged attack from the opposing tank. This allowed it to tank two hits - one taken by the armor - for extra value.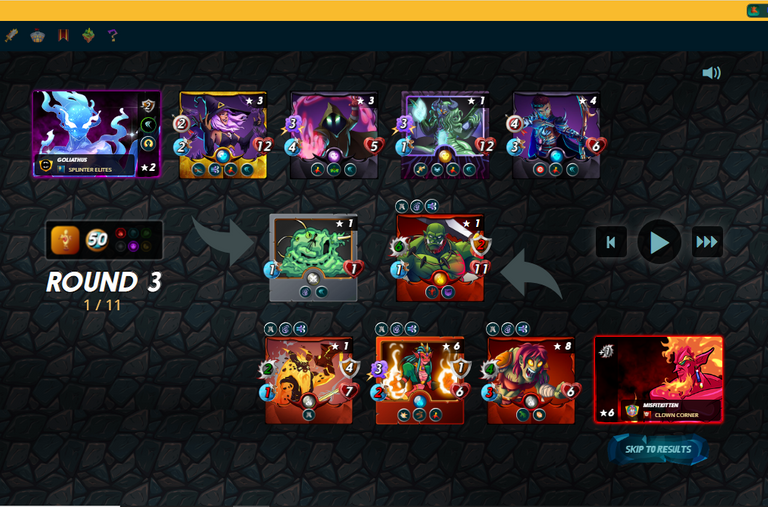 Our Creeping Ooze really did a lot of work in this match. As it survived till the beginning of round 3, my squad had the speed advantage for 3 rounds which is very impactful to the result of this match.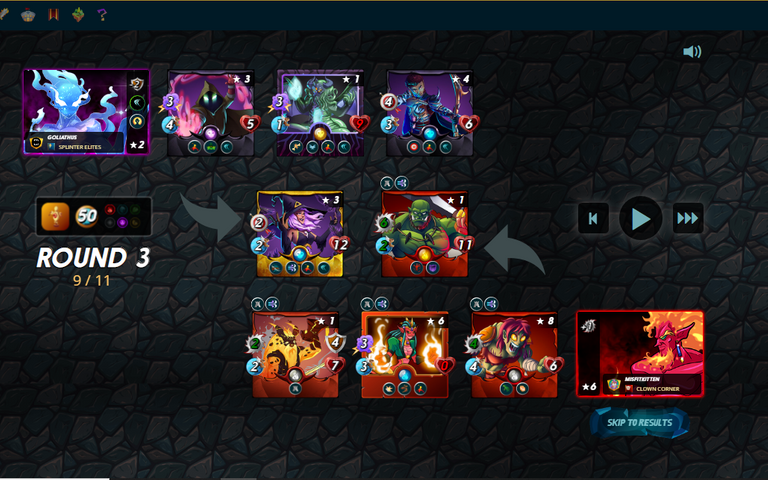 Our opponent missed a big hit from their massive tanker thanks to our Dodge ability and we are looking to close the game out by now. There weren't a lot of ways for my opponent to come back by now. I have more attacks and more HPs and there are no dodging abilities in my opponent's lineup to get lucky from.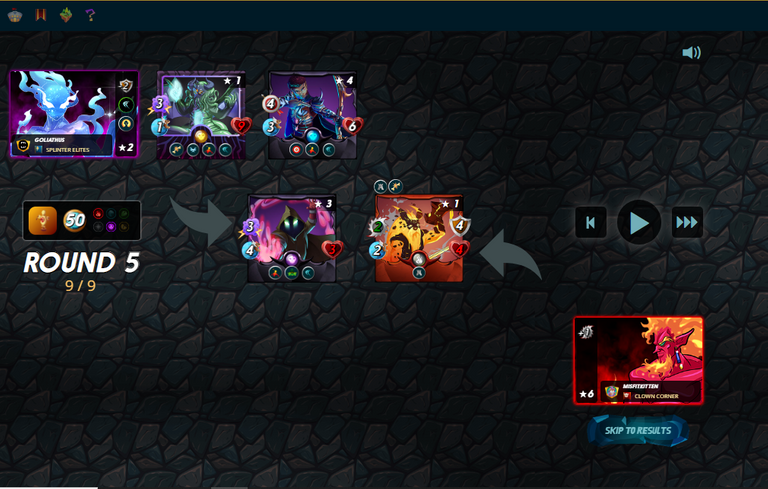 I'd say our squad worked very well for this game as I closed the game with 3 surviving monsters. There were things I could do better though like maybe focusing on just magic monsters. Dhampir Stalker was hitting a lot of armor and then the magic monsters killed said target without going through the armor. I should have either gone full magic or full ranged to not waste any of their attacks.
Aside from that, I think our plan worked very well. Our tanks held up long enough and our heavy hitters gunned the opponents down with relative ease.
---
---
Verdict
In conclusion, Magi Necrosi is a great card that can be played in any situation. I'd say it's a card you can always choose to play if you have 6 mana left and have no idea what to do with it. It is even better if you predict your opponent has low HP monsters in the middle where it can snipe. It's a miracle worker for me in many games and I hope some of you will give it a chance to shine.
That's all from me today. If you are not yet a warrior of the Splinterlands, grab your ticket and join us!
---
Disclaimer: Unlinked images are all taken by me from the Splinterlands game and/or the Splinterlands card database. Other images are properly credited. All rights reserved.
---
---