[Replay] [ENG][ESP]*Crypto & Gaming 15/03/23
Watch my last broadcast on VIMM:
(Unsupported https://www.vimm.tv/embedview/KsA23pHw8fqV?autoplay=1&mute=1)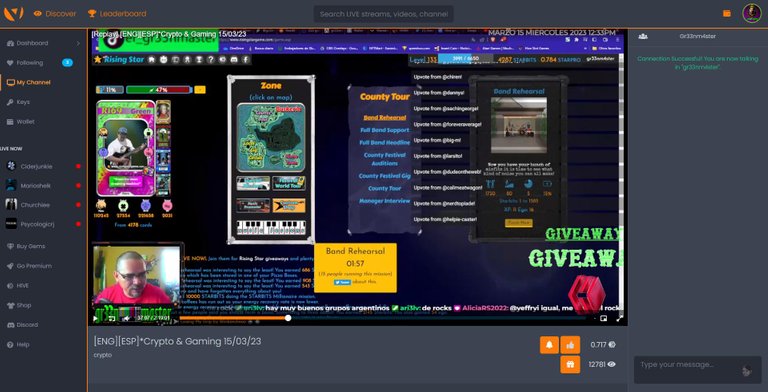 Watch on VIMM!
Les recuerdo que nuestros directos por las mañanas son los lunes, miércoles y viernes con GiveAways activos a todo lo que da.
I remind you that our live streams are on Mondays, Wednesdays and Fridays with GiveAways active at maximum power.
Set Up que utilizo en algunos de mis videos, gameplays y streams:
Xbox Series S
Xbox One Fat
Super Nintendo Mini
Capturadora HDMI Video Hecha en China
Micrófono Marca Blue Nano
Cámara web USB 1080 ANNA TOSANI Mod. A1080
Pc :
Procesador Intel iCore 5 4ra generación
SSD 1TB Adata
Tarjeta grafica Nvidia GeForce 1050 Ti
Ram Asus X2 16 GB
Monitor Vios 20" 1080p- Monitor Asus 20" 1080p-TV 40" 4K
Set Up that I use in some of my videos, gameplays and streams:
Xbox Series S
Xbox One Fat
Super Nintendo Mini
HDMI Video Capturer Made in China
Microphone Blue Nano
USB 1080 webcam ANNA TOSANI Mod. A1080
Pc :
Intel iCore 5 4th gen Processor
SSD 1TB Adata
Graphics card Nvidia GeForce 1050 Ti
Ram Asus X2 16 GB
Monitor Vios 20" 1080p - Monitor Asus 20" 1080p-TV 40" 4K

---
---