Battle analysis: Quad Silence EN-US/PT-BR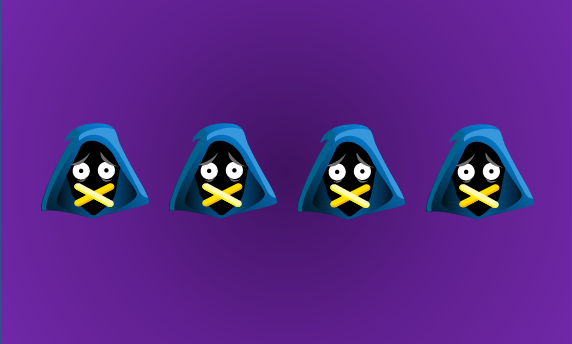 Introduction
In the game there are some buffs and debuffs that accumulate, that is, they can increase or reduce some attribute of allies or enemies more than once. Silence reduces enemy magic damage by 1 and is usually not a debuff with good availability in early leagues. But with the cards at maximum level there are several monsters with this ability, which if combined can destroy even more powerful cards, as will be presented in this post.
The strategy before the battle
The battle had the Close Range rule active, 48 MP available, and only Fire and Death Splinters were disabled. Looking at my opponent's history, I noticed that he had the Water Splinter Focus and his main deck had several monsters with magic attack. Mimosa Nightshade or Thadius Brood combined with 02 monsters with Silence could fulfill this role, as presented in Greengineer (2022-a), but Death Splinter was disabled. Using Bortus combined with some Water Splinter monsters would also work, but I was out of cards at my league level for this Splinter. So I resorted to Earth Splinter, which had 03 monsters with the ability Silence, Sporcerer, Mushroom Seer and Goblin Psychic and i also put the Neutral Monster Elven Mystic.
As my Focus was Dragon and all 04 had magic attack I used Summoner Delwyn Dragonscale to increase its firepower and distributes the 04 from second to fifth positions. As a tank I selected Robo-Dragon Knight with Void, Magic Reflect, Divine Shield, Piercing and Return Fire and in the rear I put Mycelic Slipspawn with Taunt, Forcefield and Slow. The sum of MP used by these monsters was less than the 48 available and I even had more powerful monsters to put on the team, but I would have to sacrifice my strategy.
Once assembled, the team was hoping that my opponent would continue to focus on the magic attack and this happened: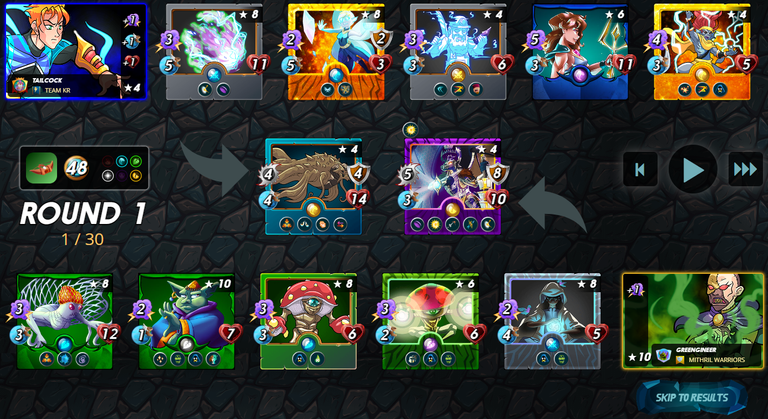 The battle
My opponent came with Summoner Valnamor. As a tank he chose The Kraken with Taunt, Demoralize, Enrage and Retaliate. In second position he had Prismatic Energy with Void and Magic Reflect. In third positiou he placed Ice Pixie with Shatter. In fourth position was Spirit Miner with Dodge, Swiftness and Blind. In fifth position he placed Nerissa Tridawn and in last position was Ruler of The Seas.
His aim was to crush my team with his high magic attack. If I tried to take advantage of the Close Range rule, The Kraken would dodge several attacks after activating Enrage.
In the first round The Kraken was eliminated by my team's combined attack.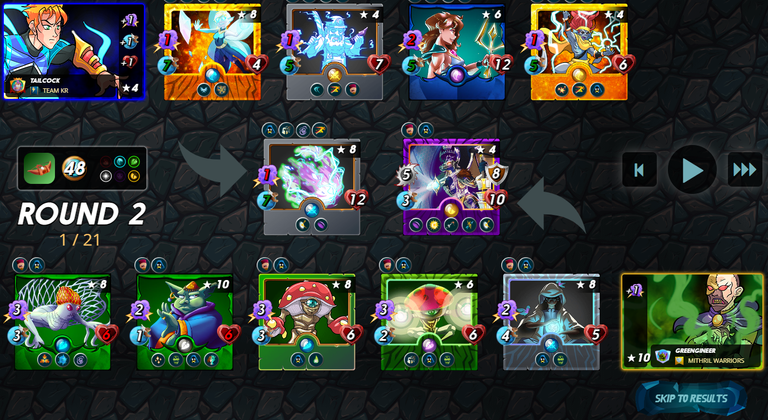 In the second round my Mycelic Slipspawn was shot down. Most of my team had taken damage from Reflect Magic.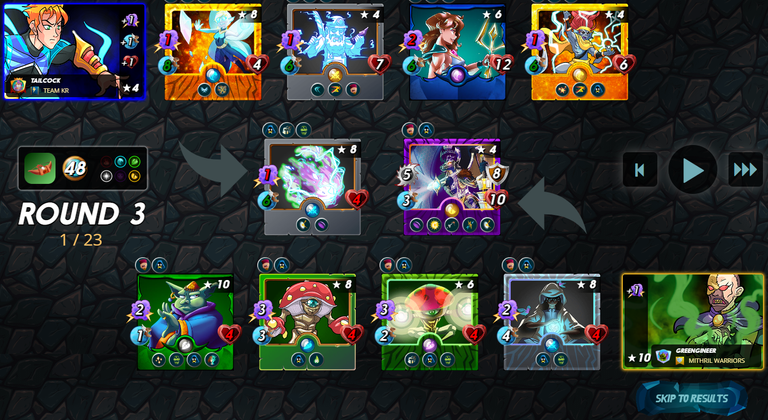 In the third round Prismatic Energy was eliminated.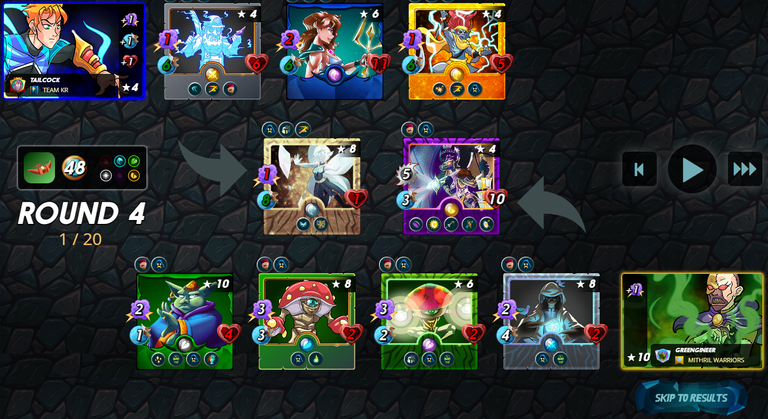 In the fourth round, Ice Pixie killed herself by attacking the Robo-Dragon Knight. The Spirit Miner and Nerissa Tridawn both fell in the wake of attacks performed by my team.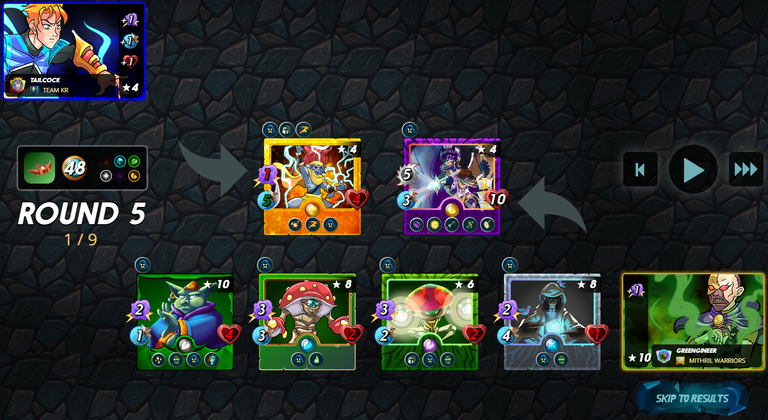 In the fifth round, Ruler of The Seas eliminated Elven Mystic with Blast, but was then eliminated by Mushroom Seer.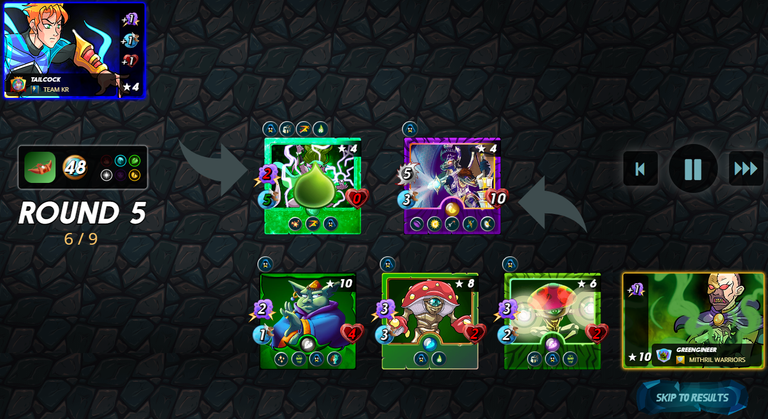 Despite having a more powerful team, my opponent focused on just one type of attack, which facilitated my counterattack and guaranteed me the victory.
I hope you enjoyed the battle, to follow in detail just click on Greengineer (2022-b).
PS: Sorry if there is any error in the above writing, as English is not my mother language.
References
@greengineer (2022-a, May 20). Battle analysis: Opportunity Battle EN-US/PT-BR. PEAKD. https://peakd.com/spt/@greengineer/battle-analysis-opportunity-battle-en-uspt-br

@greengineer (2022-b, June 24). Battle Link. Splinterlands - Collect, Trade, Battle!. https://splinterlands.com/?p=battle&id=sl_4a73985aa6b769935420524e04b1abeb&ref=greengineer
---
--------PT/BR----------
Introdução
No jogo há alguns buffs e debuffs que acumulam, ou seja, podem aumentar ou reduzir algum atributo dos aliados ou inimigos mais de uma vez. O Silence reduz em 01 o dano mágico inimigo e normalmente não costuma ser um debuff com boa disponibilidade nas ligas iniciais. Mas com as cartas em nível máximo há diversos monstros com essa habilidade, que se combinados podem destruir até mesmo cartas mais poderosas, como será apresentado neste post.
A estratégia antes da batalha
A batalha tinha a regra Close Range ativa, 48 de MP disponíveis e apenas os Splinters do Fogo e da Morte estavam desabilitados. Observando o histórico de meu oponente percebi que ele estava com o Focus do Splinter da Água e seu deck principal possuía diversos monstros com ataque mágico. A Mimosa Nightshade ou o Thadius Brood combinados a 02 monstros com Silence poderiam cumprir com este papel, assim como apresentado em Greengineer (2022-a), mas o Splinter da Morte estava desabilitado. Utilizando o Bortus combinado a alguns monstros do Splinter da Água também daria resultado, mas estava sem cartas no nível da minha liga deste Splinter. Desta forma recorri ao Splinter da Terra, no qual tinha 03 monstros com a habilidade Silence, o Sporcerer, o Mushroom Seer e o Goblin Psychic. Junto a eles coloquei o monstro neutro Elven Mystic.
Como meu Focus era Dragão e todos os 04 possuíam ataque mágico eu utilizei o Summoner Delwyn Dragonscale para aumentar seu poder de fogo e distribui os 04 da segunda a quinta posições. Como tanque selecionei o Robo-Dragon Knight com Void, Magic Reflect, Divine Shield, Piercing e Return Fire e na retaguarda coloquei o Mycelic Slipspawn com Taunt, Forcefield e Slow. A soma do MP utilizado por estes monstros era inferior aos 48 disponíveis e eu até possuía monstros mais poderosos para colocar na equipe, mas teria que sacrificar minha estratégia.
Uma vez montada a equipe era torcer que meu oponente continuasse focando no ataque mágico e isto aconteceu: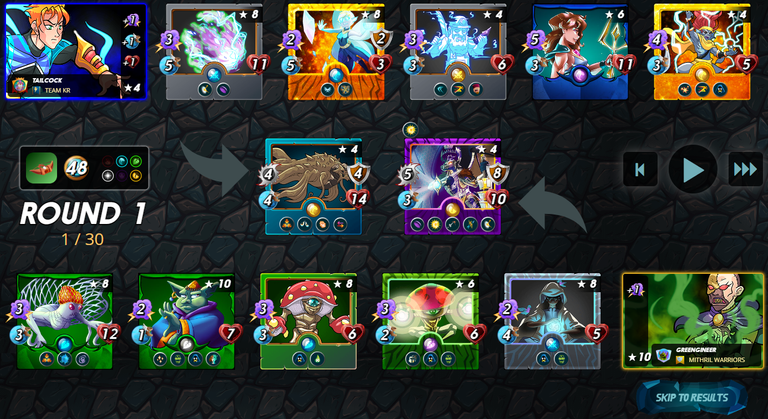 A batalha
Meu oponente veio com o Summoner Valnamor. Como tanque ele escolheu o Kraken com Taunt, Demoralize, Enrage e Retaliate. Na segunda posição ele tinha o Prismatic Energy com Void e Magic Reflect. Na terceira posição ele colocou a Ice Pixie com Shatter. Na quarta posição estava o Spirit Miner com Dodge, Swiftness e Blind. Na quinta posição ele colocou a Nerissa Tridawn e na última posição estava o Ruler of The Seas.
Seu objetivo era esmagar minha equipe com seu alto ataque mágico. Caso eu tentasse me aproveitar da regra Close Range o Kraken desviaria de diversos ataques após ativar o Enrage.
No primeiro round o Kraken foi eliminado pelo ataque combinado de minha equipe.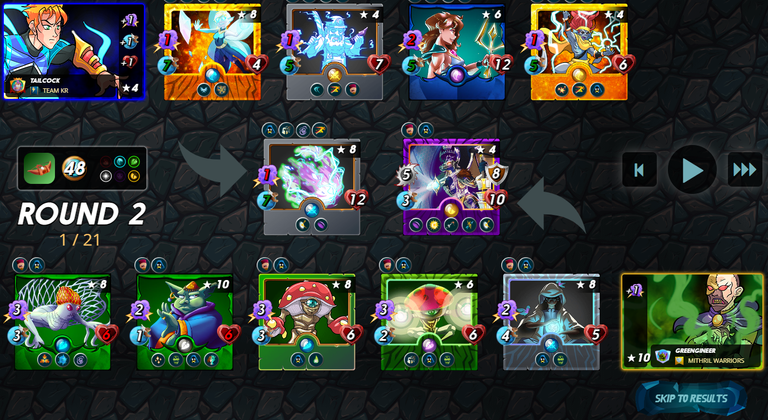 No segundo round meu Mycelic Slipspawn foi abatido. Boa parte de minha equipe havia recebido dano do Reflect Magic.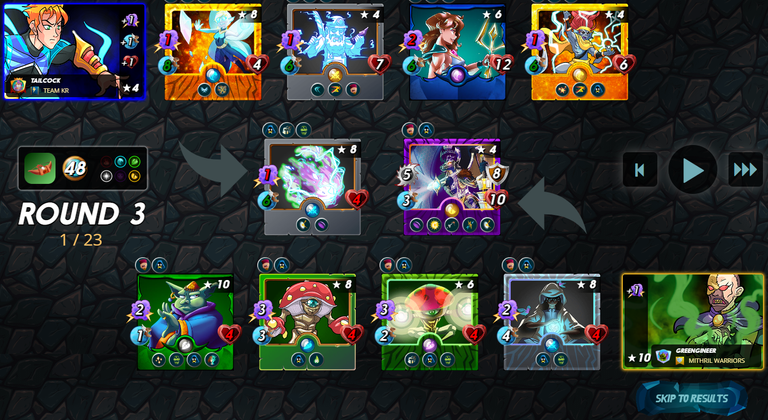 No terceiro round o Prismatic Energy foi eliminado.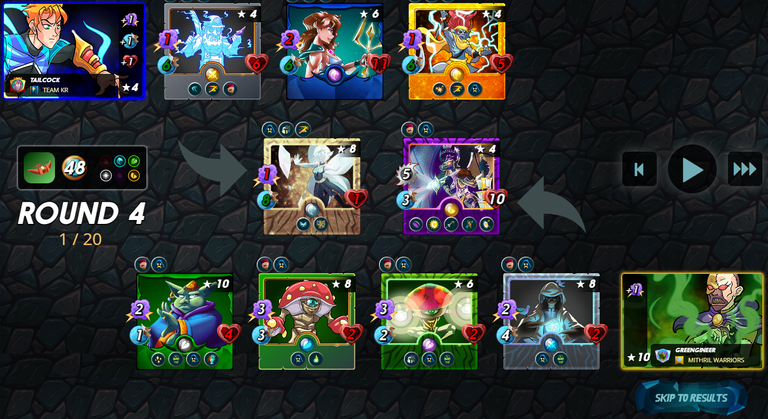 No quarto round a Ice Pixie se matou ao atacar o Robo-Dragon Knight. O Spirit Miner e a Nerissa Tridawn caíram na sequência de ataques executados pela minha equipe.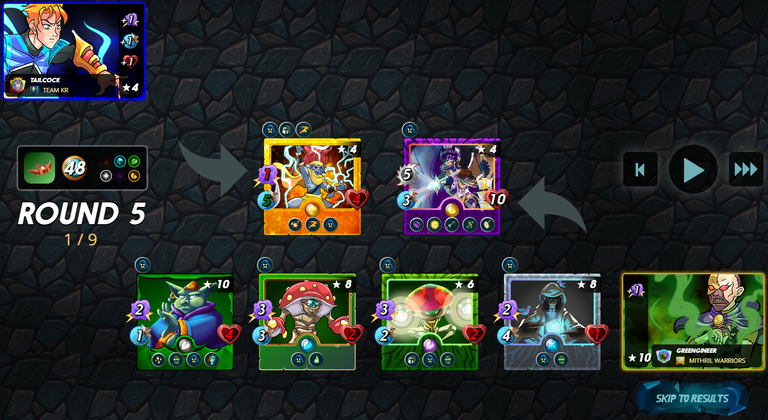 No quinto round o Ruler of The Seas eliminou o Elven Mystic com o Blast, mas foi eliminado na sequência pelo Mushroom Seer.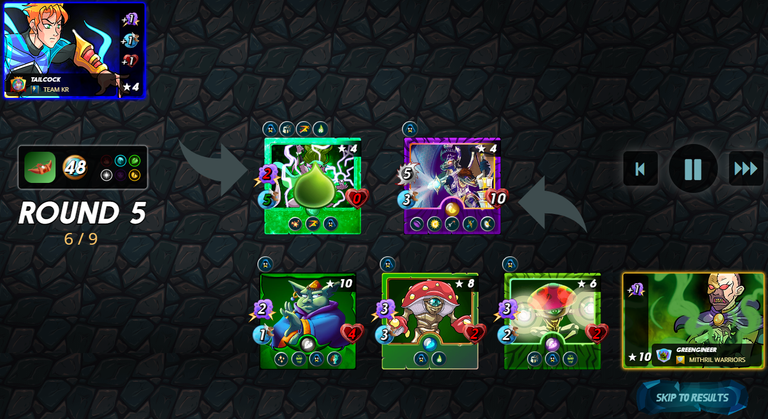 Apesar de contar com um time mais poderoso, meu oponente focou em apenas um tipo de ataque, o que facilitou meu contra-ataque e me garantiu a vitória.
Espero que tenham gostado da batalha, para acompanhar em detalhes é só clicar em Greengineer (2022-b).
Referências
@greengineer (2022-a, 20 de Maio). Battle analysis: Opportunity Battle EN-US/PT-BR. PEAKD. https://peakd.com/spt/@greengineer/battle-analysis-opportunity-battle-en-uspt-br

@greengineer (2022-b, 24 de Junho). Link de Batalha. Splinterlands - Collect, Trade, Battle!. https://splinterlands.com/?p=battle&id=sl_4a73985aa6b769935420524e04b1abeb&ref=greengineer
---
---