Battle analysis: Redemption + Dual Weaken EN-US/PT-BR
Introduction
Before the rewards change I used to play in the Gold League with Silver level cards. And several players did this, so much so that I managed to finish in Diamond League II with this strategy. With the recent changes it has been important to have a higher win rate so many players have had to choose to stay in the Silver League to guarantee more chests using the cards they have or rent at least the Focus cards at the Gold League level to and keep in major leagues, and this is what I have done and it has given good results: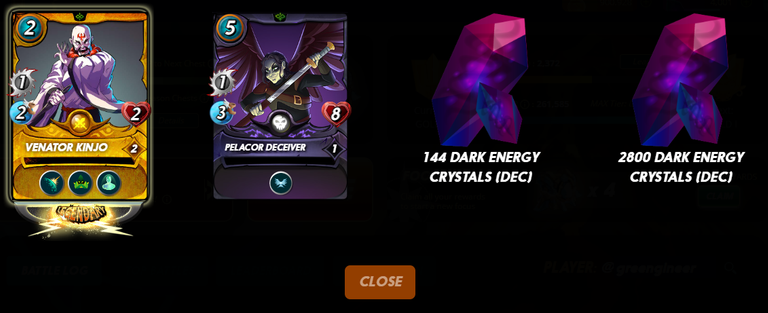 Using cards with higher levels, I now have access to abilities that were previously inaccessible, such as Redemption. In these last 02 days my Focus was the Splinter of Death, so I rented some cards looking to execute the strategy of combo monsters with Redemption and Weaken in order to end the match quickly.
The strategy before the battle
The match had the Unprotected rule, 17 MP available and only Fire and Death Splinters were enabled. Looking at my opponent's history, I realized that his Focus was Fire Splinter and he used Exploding Dwarf on the front line in several games. With his high speed and high attack power added to his Blast, Piercing, Retaliate and Trample skills he was a very dangerous opponent. I needed to stop him from activating Trample or Retaliate at any cost.
To counter his strategy I put 02 monsters with Redemption on my front line, so he would kill them both in a single attack and leave the game in the process. For this task I placed Cursed Slimeball and Halfling Alchemist in the first two positions. To increase the number of victims of Redemption I put 02 monsters with Weaken in the third and fourth positions, the Undead Priest and the Death Elemental. In the last positions I put Screaming Banshee and Life Sapper, the latter also with Redemption in case there were monsters with Sneak in my opponent's team. I used Zintar Mortalis as a Summoner due to not being able to rent Thadius Brood at the league level.
Once assembled the team was to wait for my opponent to come with the Exploding Dwarf as in his history, and this happened: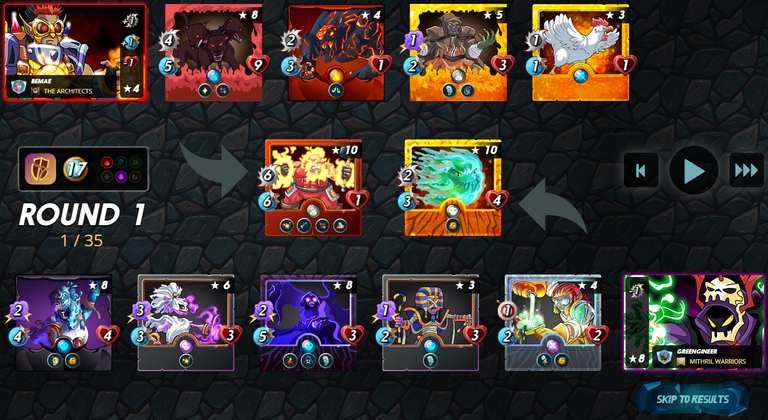 The battle
My opponent came with Summoner Plado Emberstorm and put Exploding Dwarf as his primary tank. As a secondary tank he came with Cerberus with Heal and Retaliate. In fourth place he came with the Goblin Shaman, with Weaken and Slow. To fill the remaining 02 slots he placed the Scorch Fiend with Demoralize in the third position and the Furious Chicken in the last position.
The monster that worried me the most was Cerberus due to its high HP and Heal skill, but the 02 Weaken would reduce the amount of Heal per round, giving me a chance.
In the first round Exploding Dwarf fell into my trap, triggering 02 Redemption when eliminating Cursed Slimeball and Halfling Alchemist. With that, only Cerberus was left in the game, which eliminated the Undead Priest, but was about to die after the attacks of the 03 remaining monsters on my team.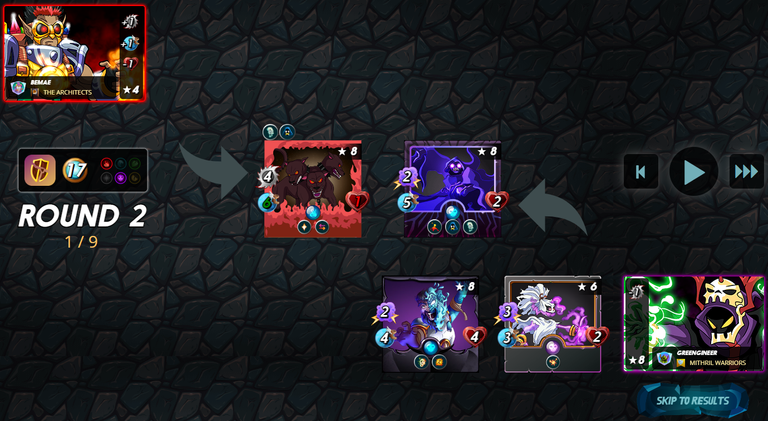 In the second round Cerberus recovered 02 HP and killed the Death Elemental, recovering another health with the removal of the Weaken debuff. However, my 2 remaining mages finished him off, ensuring my victory.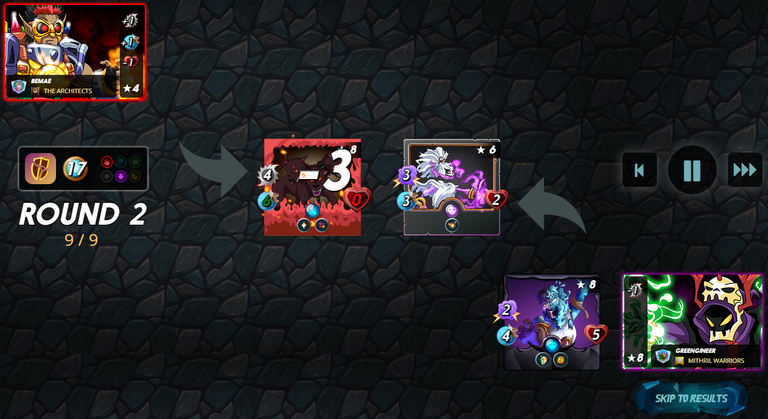 This match could have ended in a round if I had put Life Sapper in third place.
I hope you enjoyed the game, if you want to follow it in detail, just click on Greengineer (2022)
PS: Sorry if there is any error in the above writing, as English is not my mother language.
References:
@greengineer (2022, June 04). Battle Link. Splinterlands - Collect, Trade, Battle!. https://splinterlands.com/?p=battle&id=sl_e18372b47a2b7ca7d770ce09d78cbab8&ref=greengineer
---
--------PT/BR--------
Introdução
Antes da mudança das rewards eu costumava jogar na Liga Gold com cartas nível Prata. E vários jogadores faziam isto, é tanto que eu conseguia terminar na Liga Diamante II com esta estratégia. Com as mudanças recentes tem sido importante ter uma % de vitórias maior então muitos jogadores tiveram que optar por ficar na Liga Prata para garantir mais baús utilizando as cartas que tinham ou alugar ao menos as cartas do Focus no nível da Liga Ouro para manter o que faziam, e isto tem sido o que eu fiz e tem dado bons resultados: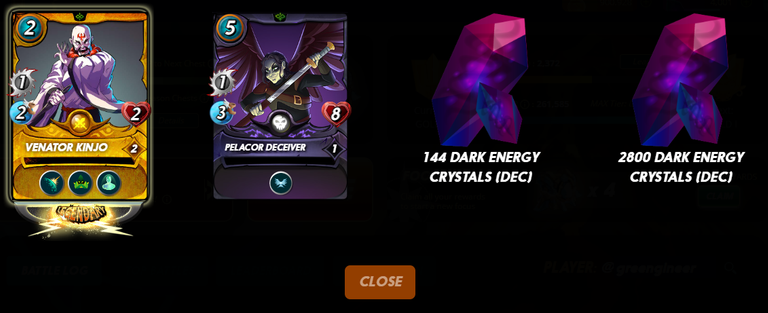 Utilizando cartas com níveis mais altos passamos a ter acesso a habilidades que antes eram pouco acessíveis, como é o caso do Redemption. Nestes 02 últimos dias meu Focus foi o Splinter da Morte, logo aluguei algumas cartas buscando executar a estratégia de combar monstros com Redemption e Weaken com o objetivo de acabar com a partida de forma rápida.
A estratégia antes da batalha
A partida tinha a regra Unprotected, 17 de MP disponíveis e apenas os Splinter do Fogo e da Morte estavam habilitados. Observando o histórico de meu oponente percebi que seu Focus era o Splinter do Fogo e ele utilizava o Exploding Dwarf na linha de frente em diversas partidas. Com sua alta velocidade e alto poder de ataque somados com as habilidades Blast, Piercing, Retaliate e Trample era um oponente muito perigoso. Eu precisava impedir que ele ativasse Trample ou Retaliate a qualquer custo.
Para contra-atacar sua estratégia eu coloquei 02 monstros com Redemption na minha linha de frente, pois assim ele abateria os dois em um único ataque e sairia do jogo no processo. Para esta tarefa coloquei o Cursed Slimeball e o Halfling Alchemist nas duas primeiras posições. Para aumentar o número de vítimas do Redemption eu coloquei 02 monstros com Weaken nas terceiras e quarta posições, o Undead Priest e o Death Elemental. Nas últimas posições coloquei a Screaming Banshee e o Life Sapper, este último também com Redemption caso houvesse monstros com Sneak no time de meu oponente. Utilizei o Zintar Mortalis como Summoner devido a não ter conseguido alugar o Thadius Brood no nível da liga.
Uma vez montado o time era esperar que meu oponente viesse com o Exploding Dwarf assim como no seu histórico, e isto aconteceu: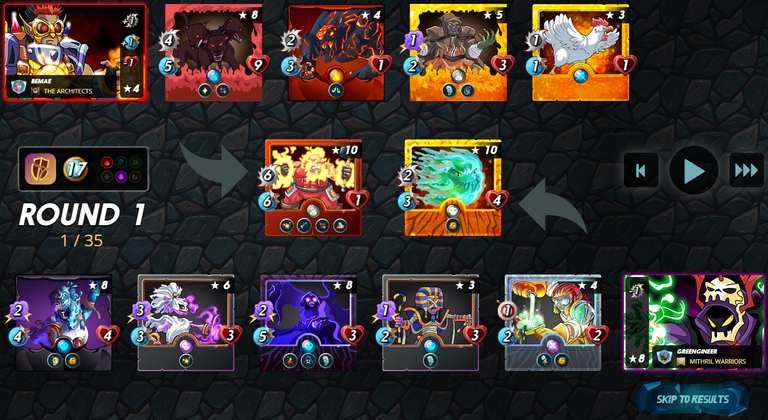 A batalha
Meu oponente veio com o Summoner Plado Emberstorm e colocou o Exploding Dwarf como tanque primário. Como tanque secundário ele veio com o Cerberus com Heal e Retaliate. Na quarta posição ele veio com o Goblin Shaman, com Weaken e Slow. Para ocupar os 02 slots restantes ele colocou o Scorch Fiend com Demoralize na terceira posição e a Furious Chicken na última posição.
O monstro que mais me preocupava era o Cerberus devido ao seu alto HP e habilidade Heal, mas os 02 Weaken reduziriam a quantidade de Cura por round, me dando uma chance.
No primeiro round o Exploding Dwarf caiu a minha armadilha, acionando 02 Redemption ao eliminar o Cursed Slimeball e o Halfling Alchemist. Com isto restou apenas o Cerberus na partida, que eliminou o Undead Priest, mas ficou prestes a morrer após os ataques dos 03 monstros restantes em minha equipe.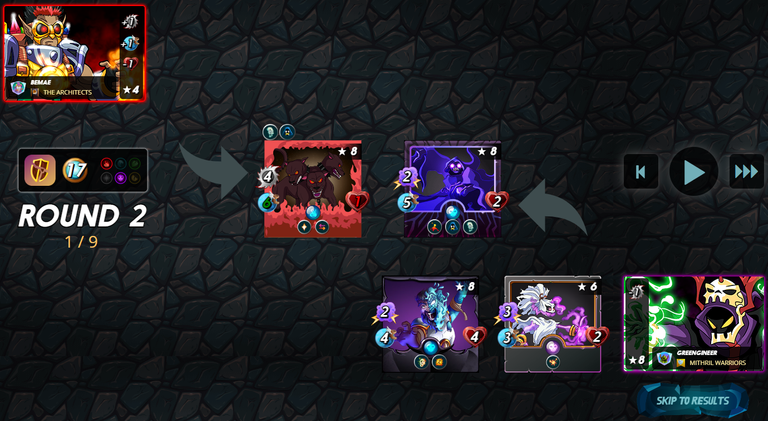 No segundo round o Cerberus recuperou 02 de HP e matou o Death Elemental, recuperando mais um de vida com a retirada do debuff Weaken. Porém meus 02 magos remanescentes terminaram com ele, garantindo a minha vitória.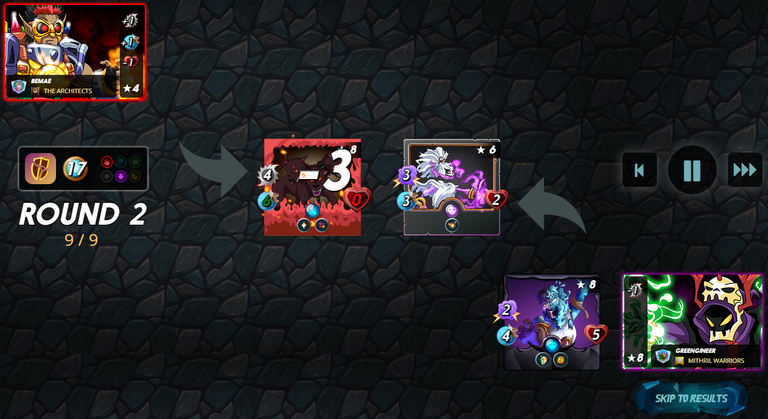 Esta partida poderia ter acabado em um round se eu tivesse colocado o Life Sapper na terceira posição.
Espero que tenham gostado da partida, se quiserem acompanhá-la em detalhes é só clicar em Greengineer (2022)
Referências:
@greengineer (2022, 04 de Junho). Link de Batalha. Splinterlands - Collect, Trade, Battle!. https://splinterlands.com/?p=battle&id=sl_e18372b47a2b7ca7d770ce09d78cbab8&ref=greengineer
---
---