Battle analysis: Yodin vs Venator Kinjo EN-US/PT-BR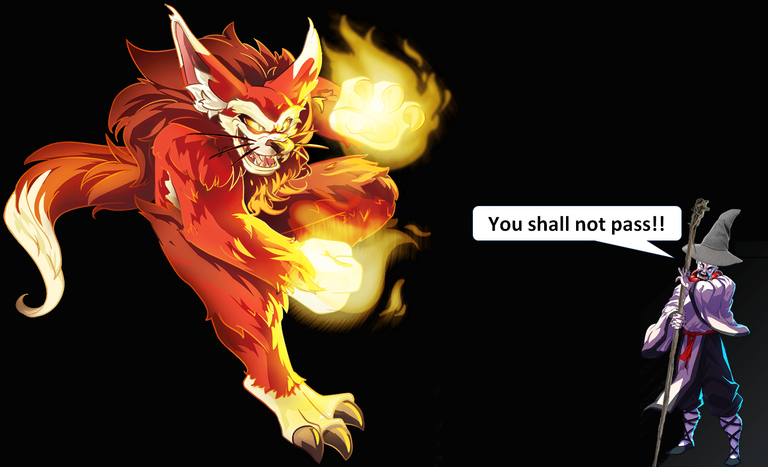 Introduction
Recently, new Rewards cards were released that included a very interesting skill in the game that is Reflection Shield. Three monsters came with this ability, one from Water Splinter, one from Death Splinter, and one from Neutral. The neutral monster is the Venator Kinjo: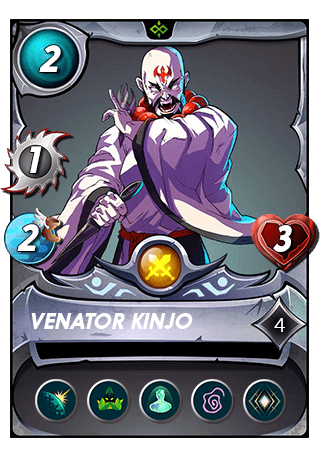 Reflection Shield: This ability makes the monster immune to damage from Thorns, Magic Reflect, Return Fire and Blast.
Camouflage: The monster becomes untargetable.
Immunity: The monster is immune to negative status.
Slow: Reduces enemies' movement speed by 01.
Amplify: Increases damage taken by enemy monsters with Thorns, Return Fire and Magic Reflect skills by 01.
Being a neutral card and with 02 MP it can fit in several compositions. Its most important ability is the aforementioned Reflection Shield, mainly because it protects it from Blast damage. Camouflage helps it deal with monsters with Opportunity or Scattershot and Immunity helps it in battles with the Noxious Fumes game rule. As a bonus he can still provide Slow and Amplify.
Let's see him in action in one of my battles to understand some of his potential.
The strategy before the battle
The battle had Super Sneak and Close Range game rules active, 46 MP available, and only Water Splinter disabled. Looking at my opponent's history I realized that his Focus was Fire Splinter and he had some battles with Yodin Zaku. As the available MP and the Close Range game rule favored its use, I tried to put together a strategy to counterattack it.
At the same time I should be concerned about the Super Sneak game rule, so I tried to focus my opponent's attack to my backline. For this I used Mycelic Slipspawn with Taunt, Forcefield and Slow. In the penultimate position I put the Venator Kinjo in order to protect the rest of my team from possible Blast damage. In third place I put Queen Mycelia to give my monsters extra protection and keep my Mycelic Slipspawn alive as long as possible with Triage. As a tank I chose the Grund with dual Strike and Trample. In second position I put Gold Dragon with Heal to hold the enemy tank's Blast damage and in fourth position I put Red Dragon to hold the backline in case my primary defense drops.
Once the team was assembled, I could only hope that my strategy was enough to hold my opponent.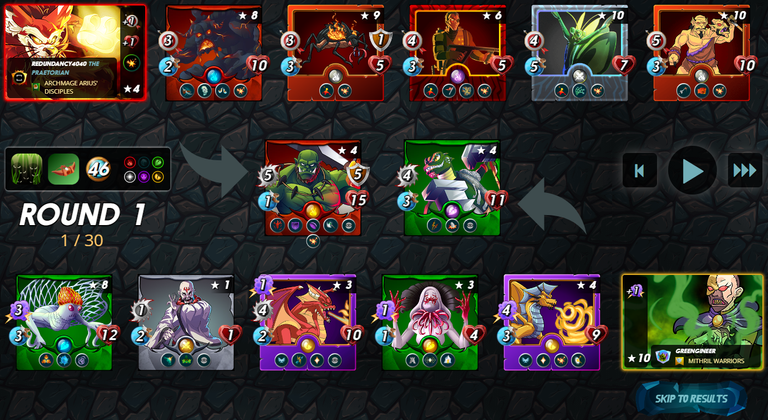 The battle
My opponent came with Yodin Zaku as a Summoner. As a tank he placed the Grum Flameblade. In the other positions he placed monsters with ranged attack being the Molten Ash Golem, the Fire Beetle, the Ferexia General, the Mantoid and the Ettin Spearman.
Three of these monsters had the Snipe ability, which could destroy my backline were it not for the presence of my Mycelic Slipspawn's Taunt.
In the first round all monsters remained alive. My Mycelic Slipspawn only didn't fall due to its Forcefield ability, which reduced the damage of 03 enemy monsters to 01.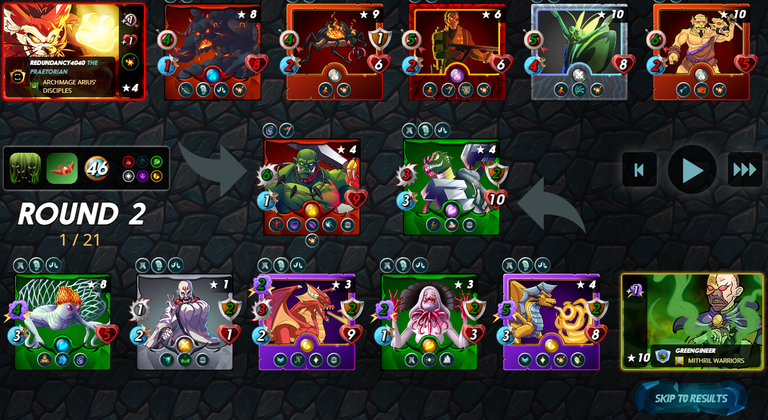 In the second round the Grum Fireblade went down with the second attack of the Grund, which activated the Trample and landed an attack on the Molten Ash Golem. In the sequence, Ettin Spearman fell with the Red Dragon's attack and then Queen Mycelia eliminated the Molten Ash Golem.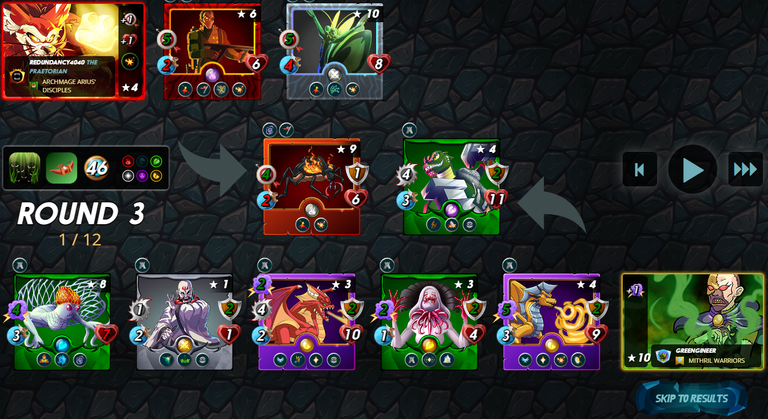 In the third round, the Fire Beetle fell with Mycelic Slipspawn's attack. In the sequence, the Ferexia General fell with the first attack of the Grund, that when activating the Trample also eliminated the Mantoid.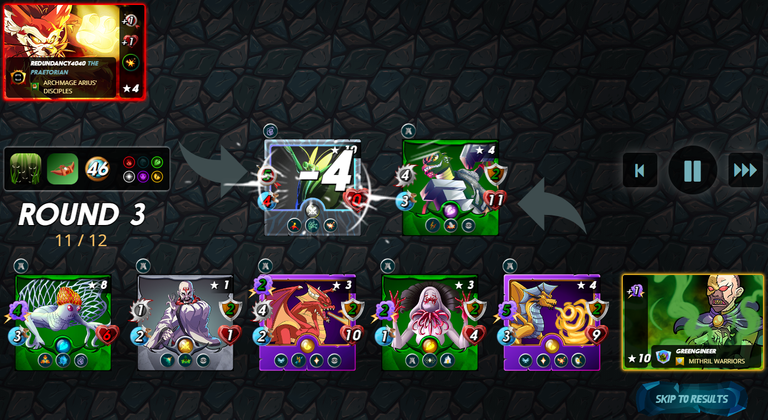 The strategy worked properly, ensuring not only the elimination of all my enemies but also the survival of all my allies. Venator Kinjo showed what he came for and I recommend always having one available in your deck.
Hope you enjoyed the match. To follow it in detail, just click on the link in Greengineer (2022).
PS: Sorry if there is any error in the above writing, as English is not my mother language.
References:
@greengineer (2022, June 10). Battle Link. Splinterlands - Collect, Trade, Battle!. https://splinterlands.com/?p=battle&id=sl_97dfa7dd9402a1135de77272d694b433&ref=greengineer
---
--------PT/BR--------
Introdução
Recentemente foram lançada novas cartas Rewards que incluíram uma habilidade muito interessante no jogo que é o Reflection Shield. Três monstros vieram com esta habilidade, um do Splinter da Água, um do Splinter da Morte e outro Neutro. O monstro neutro é o Venator Kinjo: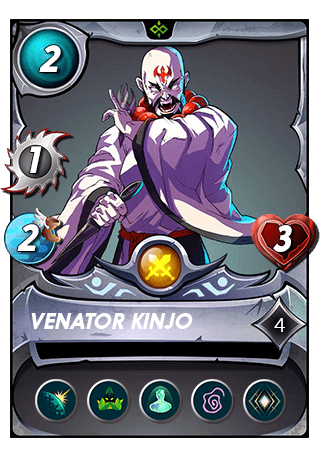 Reflection Shield: Esta habilidade deixa o monstro imune ao dano de Thorns, Magic Reflect, Return Fire e Blast.
Camouflage: O monstro fica inalvejável.
Immunity: O monstro fica imune a status negativos.
Slow: Reduz a velocidade de movimento dos inimigos em 01.
Amplify: Aumenta o dano recebido pelos monstros inimigos das habilidades Thorns, Return Fire e Magic Reflect em 01.
Sendo uma carta neutra e com 02 de MP ele pode se encaixar em diversas composições. Sua habilidade mais importante é o já mencionado Reflection Shield, principalmente por o proteger do dano do Blast. Camouflage o ajuda a lidar com monstros com Opportunity ou Scattershot e Immunity o ajuda em batalhas com a regra de jogo Noxious Fumes. De bônus ele ainda pode fornecer Slow e Amplify.
Vamos vê-lo em ação em uma de minhas batalhas para entender um pouco do seu potencial.
A estratégia antes da batalha
A batalha tinha as regras de jogo Super Sneak e Close Range ativas, 46 de MP disponíveis e apenas o Splinter da Água desabilitado. Olhando o histórico de meu oponente percebi que seu Focus era o Splinter do Fogo e ele tinha algumas batalhas com o Yodin Zaku. Como o MP disponível e a regra de jogo Close Range favorecia o seu uso eu busquei montar uma estratégia para contra-atacá-lo.
Ao mesmo tempo eu deveria me preocupar com a regra de jogo Super Sneak, então busquei focar o ataque de meu oponente para a minha backline. Para isto utilizei o Mycelic Slipspawn com Taunt, Forcefield e Slow. Na penúltima posição coloquei o Venator Kinjo visando proteger o restante da minha equipe de um possível dano de Blast. Na terceira posição coloquei a Queen Mycelia para dar uma proteção extra aos meus monstros e manter meu Mycelic Slipspawn vivo o maior tempo possível com Triage. Como tanque escolhi o Grund com dual Strike e Trample. Na segunda posição coloquei o Gold Dragon com Heal para segurar o dano do Blast do tanque inimigo e na quarta posição coloquei o Red Dragon para segurar a backline caso minha defesa primária caísse.
Uma vez montado o time só me restava torcer que minha estratégia fosse suficiente para segurar meu oponente.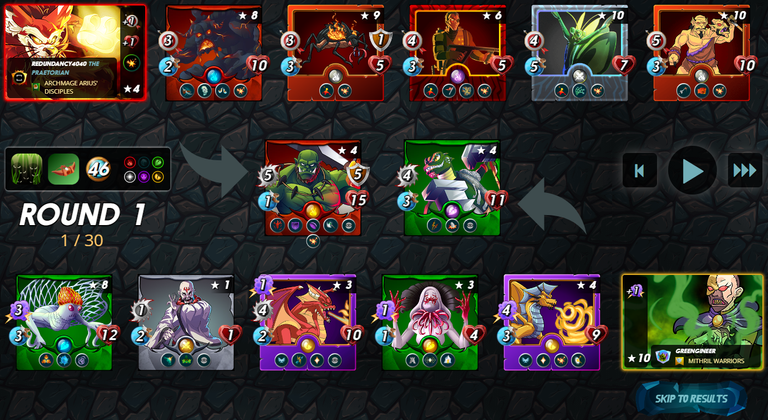 A batalha
Meu oponente veio com o Yodin Zaku como Summoner. Como tanque ele colocou o Grum Flameblade. Nas demais posições ele colocou monstros com ataque à distância sendo o Molten Ash Golem, o Fire Beetle, o Ferexia General, o Mantoid e o Ettin Spearman.
Três destes monstros possuíam a habilidade Snipe, que poderia destruir minha backline não fosse a presença do Taunt de meu Mycelic Slipspawn.
No primeiro round todos os monstros permaneciam vivos. Meu Mycelic Slipspawn só não caiu devido a sua habilidade Forcefield, que reduziu o dano de 03 monstros inimigos para 01.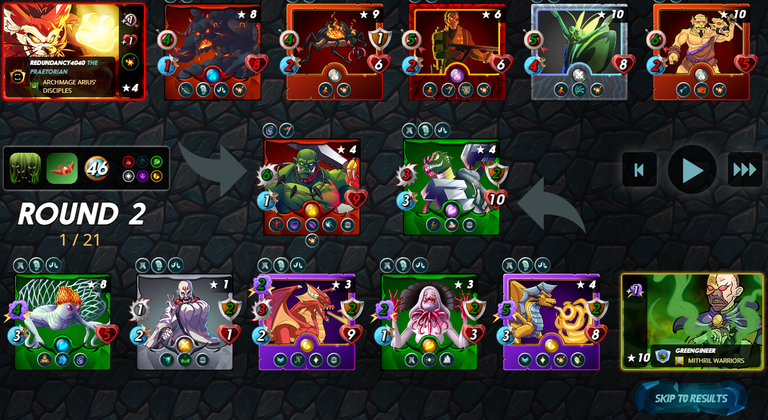 No segundo round o Grum Fireblade caiu com o segundo ataque do Grund, que ativou o Trample e acertou um ataque no Molten Ash Golem. Na sequência o Ettin Spearman caiu com o ataque do Red Dragon e em seguida a Queen Mycelia eliminou o Molten Ash Golem.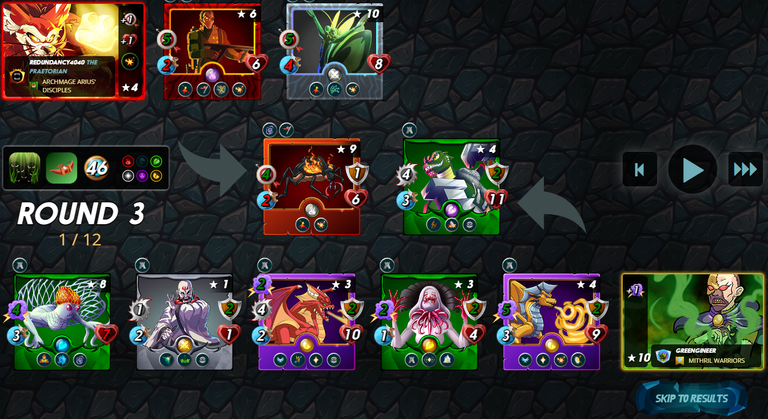 No terceirou round o Fire Beetle caiu com o ataque do Mycelic Slipspawn. Na sequência o Ferexia General caiu com o primeiro ataque do Grund, que ao ativar o Trample eliminou também o Mantoid.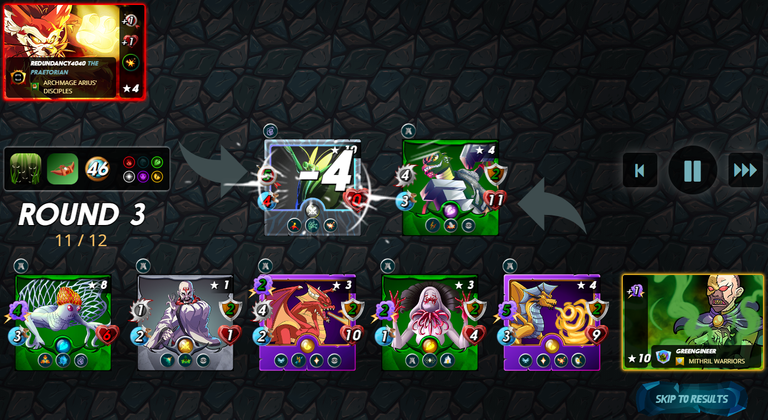 A estratégia funcionou de forma adequada, garantindo não só a eliminação de todos os meus inimigos mas também a sobrevivência de todos os meus aliados. O Venator Kinjo mostrou para o que veio e recomendo sempre ter um disponível no seu deck.
Espero que tenham gostado da partida. Para acompanhá-la em detalhes é só clicar no link em Greengineer (2022).
Referências:
@greengineer (2022, 10 de Junho). Link de Batalha. Splinterlands - Collect, Trade, Battle!. https://splinterlands.com/?p=battle&id=sl_97dfa7dd9402a1135de77272d694b433&ref=greengineer
---
---