SHARE YOUR BATTLE Weekly Challenge! DRAGONS! EN-US / PT-BR-4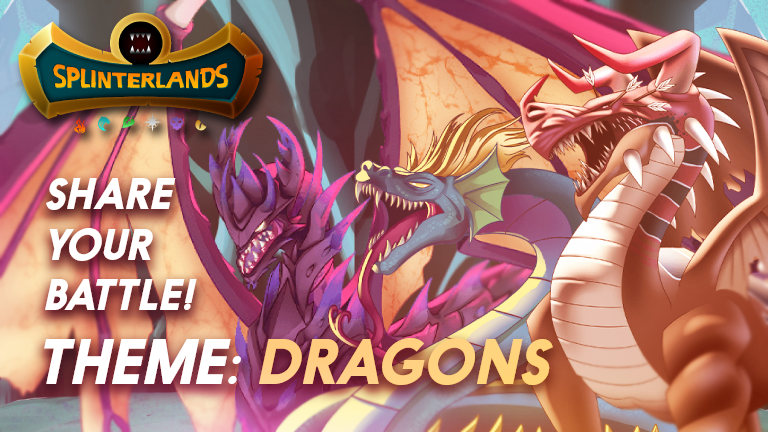 Introduction
Another weekly challenge released (Splinterlands, 2022), again with the Dragons theme, in which we can present any battle using this Splinter.
In battles with high MP we can use several powerful cards together and in Dragon Splinter this is not lacking. When I get this Splinter as a Focus I can use several different strategies, but a Summoner I use a lot is Delwyn Dragonscale: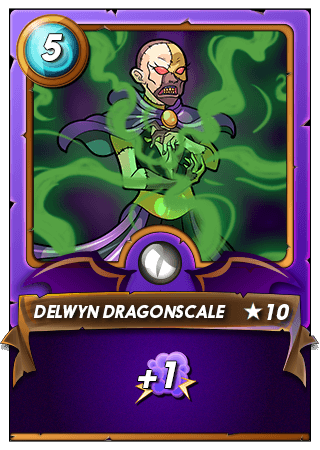 Before the release of Obsidian it was the only way to add magic attack to Earth Splinter monsters. But the higher MP consumption is still justified when you can combine with powerful dragons. I often use his combination with Earth Splinter to take advantage of Mycelic Slipspawn: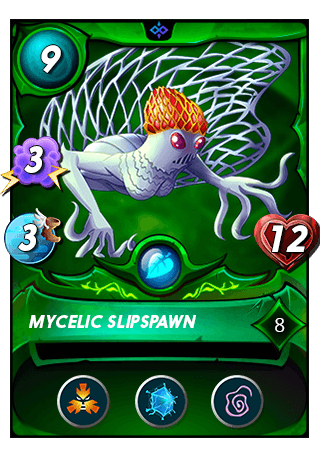 Taunt: Attracts the attack of enemies from second to last positions, with the exception of those who have the Scattershot ability.

Forcefield: Any attack that has a power of 05 and up only leaves 01 damage in this card (attacks from Recharge deal normal damage as long as the monster's attack power is 04 or less).

Slow: Reduces all enemy monsters movement speed by 01.
With the Forcefield skill, this card can last as long as it takes for your team to take down the enemy tank, as will be shown in this game.
The strategy before the battle
The battle had Unprotected and Explosive Weaponry rules, 99 MP available and all Splinters were enabled. Analyzing my opponent's history, I could see that his Focus was the Fire Splinter and that he used several cards with damage greater than 04. So I tried to use a strategy similar to that presented in Greengineer (2022-a), in which I used Mycelic Slipspawn on the backline combined with Venator Kinjo. But as there was a lot of MP available, I used Red Dragon to side with Mycelic, as it would return part of the damage back with Return Fire and recover part of the damage received with Heal.
Then I chose Delwyn Dragonscale as Summoner and put Mycelic Slipspawn in the rear and Red Dragon in the penultimate position. As a tank I chose Grund with Double Strike, Trample and Cripple and as a second tank I put Carnage Titan with Double Strike, Reach and Shield. To close the team, in the third and fourth positions I placed Gold Dragon and Kron The Undying.
Once assembled, the team was hoping that my opponent would come with several monsters with an attack greater than 04, and this happened: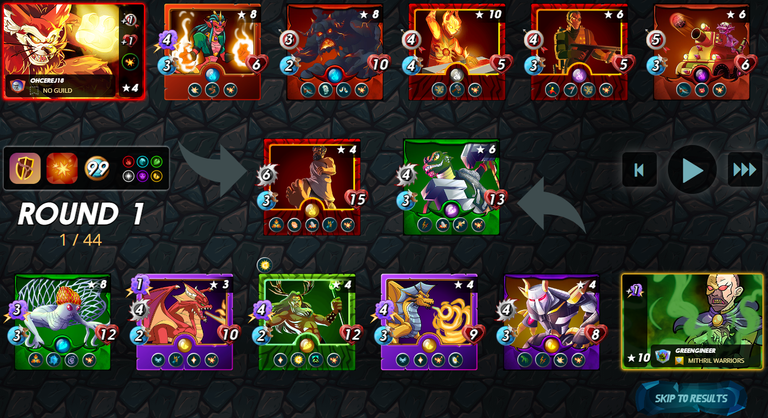 The battle
My opponent came with Yodin Zaku who only provided +01 HP and ranged damage to his allies, as Blast was already enabled with Explosive Weaponry. As a tank he chose the Magnor with Taunt, Enrage, Trample and Return Fire. In second position was Naga Fire Wizard with Shield and Thorns. In the other positions he placed 04 monsters with distance damage, being the Molten Ash Golem, the Flamesmith, the Ferexia General and the Lava Launcher respectively.
Upon receiving Yodin's buff, there are only 02 monsters left with attack less than 05 that would have no problems with Mycelic Slipspawn's Forcefield. His team depends on Magnor's survival for as long as possible, but since most of my attacks were magic he didn't have the defensive resources to stop my advance.
In the first round the Naga Windmaster was blasted from my Carnage Titan's attack. Then Magnor was eliminated by Grund, who activated Trample and dealt 2 more blows to Molten Ash Golem, eliminating Flamesmith with Blast damage. Then Kron eliminated the Molten Ash Golem leaving only 02 opponents on the enemy team.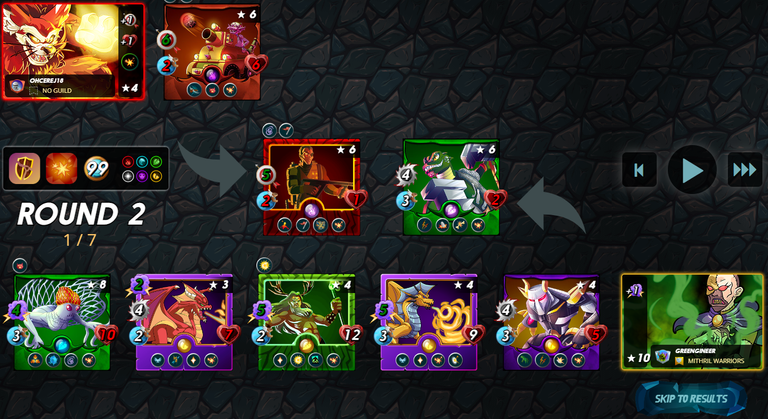 In the second round the Gold Dragon eliminated the Ferexia General and the Carnage Titan ended the battle by killing the Lava Launcher.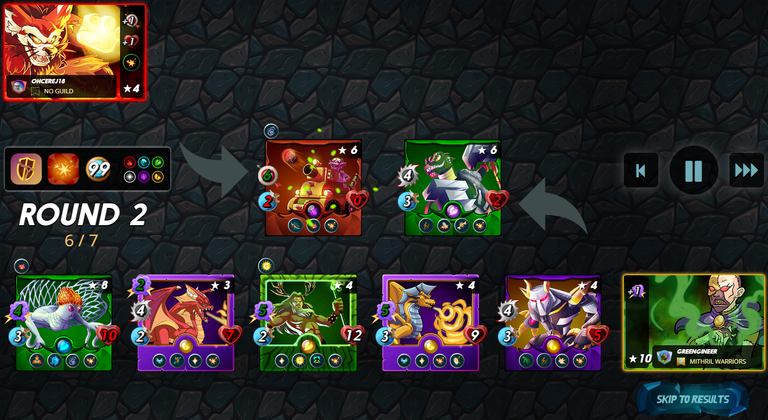 My opponent used Taunt like I did, but his monster didn't have enough defensive resource for his allies to be able to take down Mycelic Slipspawn before its fall. With this, his team was exposed at the beginning of the first round, causing the battle to end in the second round.
I hope you enjoyed the battle, to follow it in detail just click on the link in Greengineer (2022-b).
PS: Sorry if there is any error in the above writing, as English is not my mother language.
References
@greengineer (2022-a, June 11). Battle analysis: Yodin vs Venator Kinjo EN-US/PT-BR. PEAKD. https://peakd.com/spt/@greengineer/battle-analysis-yodin-vs-venator-kinjo-en-uspt-br

@greengineer (2022-b, June 24). Battle Link. Splinterlands - Collect, Trade, Battle!. https://splinterlands.com/?p=battle&id=sl_542f3ad0ed49495132853e585e785af1&ref=greengineer
---
--------PT/BR--------
Introdução
Mais um desafio semanal lançado (Splinterlands, 2022), novamente com o tema Dragões, no qual podemos apresentar qualquer batalha utilizando este Splinter.
Em batalhas com alto MP podemos utilizar diversas cartas poderosas em conjunto e no Splinter do Dragão isso é o que não falta. Quando pego este Splinter como Focus posso utilizar diversas estratégias diferentes, mas um Summoner que utilizo bastante é o Delwyn Dragonscale: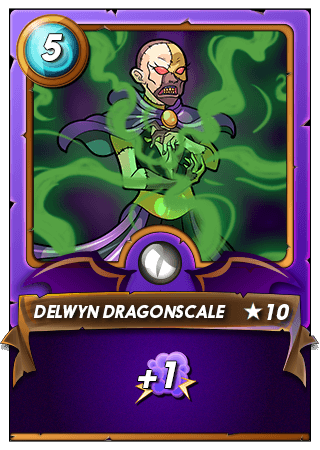 Antes do lançamento da Obsidian ele era a única forma de adicionar ataque mágico aos monstros do Splinter da Terra. Mas o consumo maior de MP ainda se justifica quando se pode combinar com poderosos dragões. Costumo utilizar bastante a combinação dele com o Splinter da Terra para aproveitar o Mycelic Slipspawn: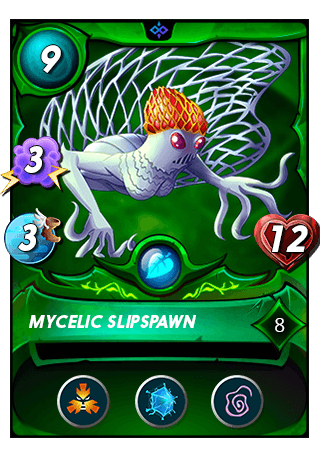 Taunt: Atrai o ataque dos inimigos das segunda a última posições, com exceção daqueles que possuem a habilidade Scattershot.

Forcefield: Qualquer ataque que possua o poder de 05 para cima só tira 01 de dano desta carta (ataques provenientes de Recharge dão o dano normal desde que o poder de ataque do monstro seja 04 ou menos).

Slow: Reduz em 01 a velocidade de movimento dos inimigos.
Com a habilidade Forcefield está carta consegue durar o tempo necessário para que sua equipe derrube o tanque inimigo, como será apresentado nesta partida.
A estratégia antes da batalha
A batalha tinha as regras Unprotected e Explosive Weaponry, 99 de MP disponível e todos os Splinters estavam habilitados. Analisando o histórico de meu oponente dava para ver que seu Focus era o Splinter de Fogo e que ele utilizava várias cartas com o dano maior que 04. Logo busquei utilizar uma estratégia semelhante a apresentada em Greengineer (2022-a), na qual utilizei o Mycelic Slipspawn na backline combinado com o Venator Kinjo. Mas como havia bastante MP disponível utilizei o Red Dragon para ficar ao lado do Mycelic, pois retornaria parte do dano de volta com o Return Fire e recuperaria parte do dano recebido com Heal.
Logo escolhi o Delwyn Dragonscale como Summoner e coloquei o Mycelic Slipspawn na retaguarda e o Red Dragon na penúltima posição. Como tanque escolhi o Grund com Double Strike, Trample e Cripple e como segundo tanque coloquei o Carnage Titan com Double Strike, Reach e Shield. Para fechar a equipe, nas terceira e quarta posições coloquei o Gold Dragon e o Kron The Undying.
Uma vez montada a equipe era torcer que meu oponente viesse com vários monstros com ataque superior a 04, e isto aconteceu: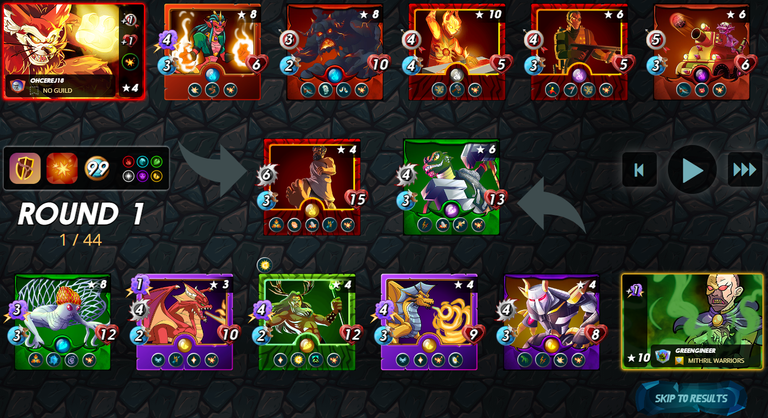 A batalha
Meu oponente veio com o Yodin Zaku só forneceu +01 de HP e dano a distância para seus aliados, já que Blast já estava habilitado com Explosive Weaponry. Como tanque ele escolheu o Magnor com Taunt, Enrage, Trample e Return Fire. Na segunda posição estava a Naga Fire Wizard com Shield e Thorns. Nas demais posições ele colocou 04 monstros com dano a distância, sendo o Molten Ash Golem, o Flamesmith, o Ferexia General e o Lava Launcher respectivamente.
Ao receberem o buff do Yodin só restaram 02 monstros com ataque inferior a 05 que não teriam problemas com o Forcefield do meu Mycelic Slipspawn. A equipe dele dependia da sobrevivência do Magnor o maior tempo possível, mas como a maioria de meus ataques eram mágicos ele não possuía recursos defensivos para conter meu avanço.
No primeiro round a Naga Windmaster foi elminada com o Blast do ataque de meu Carnage Titan. Em seguida o Magnor foi eliminado pelo Grund, que ativou o Trample e deu mais 02 golpes no Molten Ash Golem, eliminando o Flamesmith com o dano do Blast. Na sequência o Kron eliminou o Molten Ash Golem restando apenas 02 oponentes na equipe inimiga.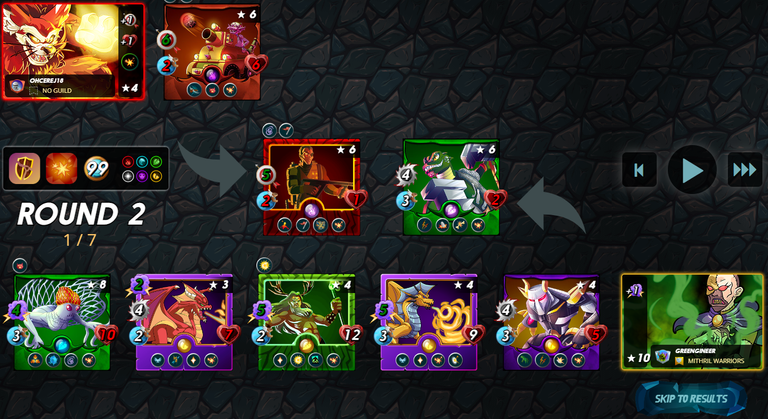 No segundo round o Gold Dragon eliminou o Ferexia General e o Carnage Titan finalizou a batalha ao matar o Lava Launcher.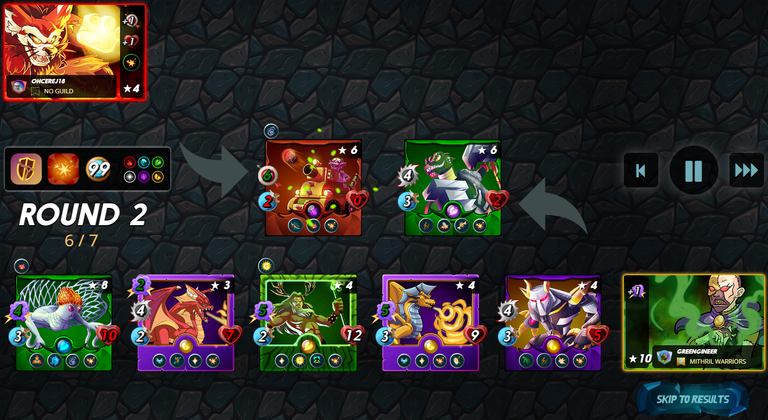 Meu oponente utilizou o Taunt como eu, mas seu monstro não possuía recurso defensivo suficiente para que seus aliados conseguissem derrubar o Mycelic Slipspawn antes de sua queda. Com isto sua equipe ficou exposta logo no início do primeiro round, fazendo com que a batalha acabasse já no segundo round.
Espero que tenham gostado da batalha, para acompanhá-la em detalhes é só clicar no link em Greengineer (2022-b).
Referências
@greengineer (2022-a, 11 de Junho). Battle analysis: Yodin vs Venator Kinjo EN-US/PT-BR. PEAKD. https://peakd.com/spt/@greengineer/battle-analysis-yodin-vs-venator-kinjo-en-uspt-br

@greengineer (2022-b, 24 de Junho). Link de Batalha. Splinterlands - Collect, Trade, Battle!. https://splinterlands.com/?p=battle&id=sl_542f3ad0ed49495132853e585e785af1&ref=greengineer
---
---