SHARE YOUR BATTLE Weekly Challenge! SCAVO FIREBOLT EN-US/PT-BR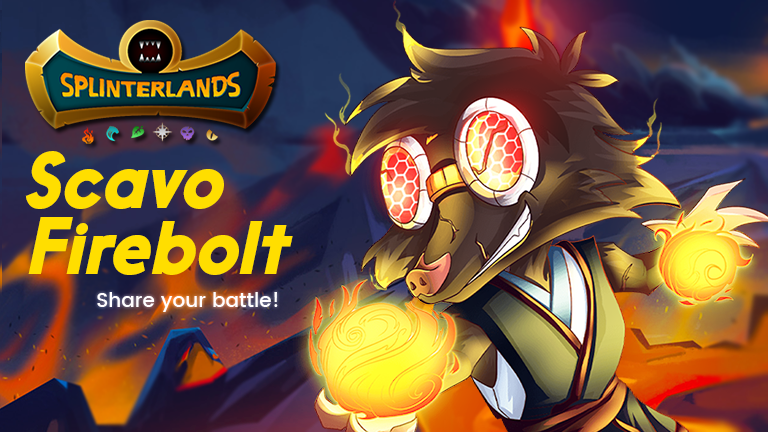 Introduction
Another challenge released (Splinterlands, 2022), this time about a Fire Splinter card from the Chaos Legion Set, the Scavo Firebolt.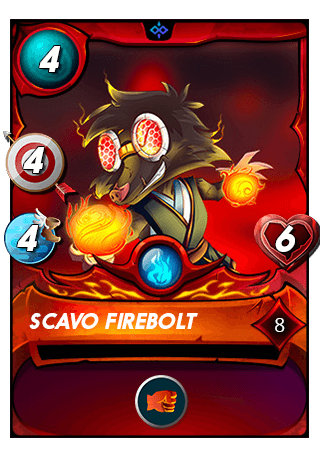 Knock Out: Doubles damage against opponents that are stunned. Acquire this skill at level 06.
Analyzing the abilities available for this card at first it may not seem so strong, but considering its low cost for summoning and high ranged attack this little guy excels in battles with low MP or with the Little League rule active.
As commented on Greengineer (2022-a), I don't usually use the Fire Splinter in my battles, but I couldn't help but participate in the challenge, so as soon as I found an opportunity I put it into action.
The strategy before the battle
The battle had the Spreading Fury and Fog of War rules active, 27 MP for summoning, and only Fire, Life and Earth Splinters were enabled. With Fog of War in action, I couldn't count on my strategy of using Sneak with the Splinter of Life, as presented in Greengineer (2022-b), and I was without any Earth Splinter summoners with league level, so I saw an opportunity to use the Fire Splinter.
My opponent's history had battles with both Obsidian and General Sloan. So I didn't have a definition of whether the predominant attack could be physical or magical. To cover both possibilities I put the Grum Flameblade as a tank, with the Void and Void Armor skills to cover the possibility of coming magic attacks and Fineas Rage in the second position with Reach and high movement speed in case the predominant attacks are physical. In the last position I put the Scavo Firebolt and with the remaining 01 MP I put the Ooze in the penultimate position. To use the 2 available slots, I used the Scorch Fiend and Furious Chicken monsters, with 0 MP for summoning, in the third and fourth positions.
Once the team was assembled, all I had to do was wait for my opponent, and he came with General Sloan.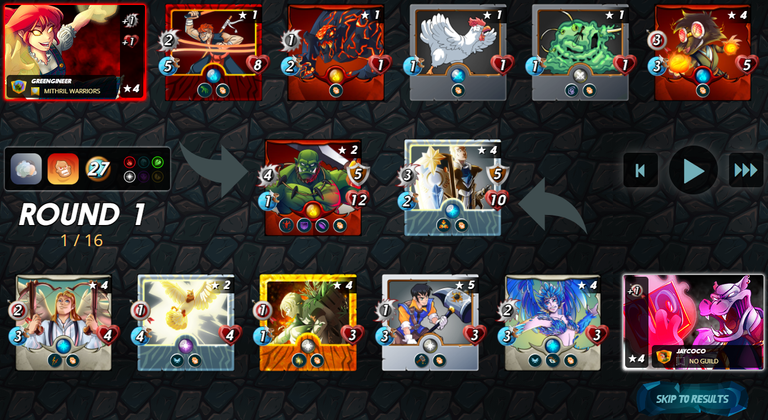 The battle
My opponent came with Shieldbearer as a tank with Taunt, Celestial Harpy with Opportunity in second position, Armorsmith with Repair in third position, Herbalist with Cleanse in fourth position, Thunderbird in fifth position and Pelacor Arbalest with Double Strike in last position.
With Taunt in play all my attacks would be aimed at my opponent's tank, but that wouldn't be a problem as I didn't have any monsters with Opportunity on my team. There were 02 monsters to support the Shieldbearer which were Armorsmith and Herbalist. This way any debuff that hit the enemy tank would be removed and it would always have Shield to deal with at least one attack coming from my allies.
In the first round I lost my Scorch Fiend with Celestial Harpy's attack. My Grum landed an 08 damage attack on the Shieldbearer, but was on the verge of dying.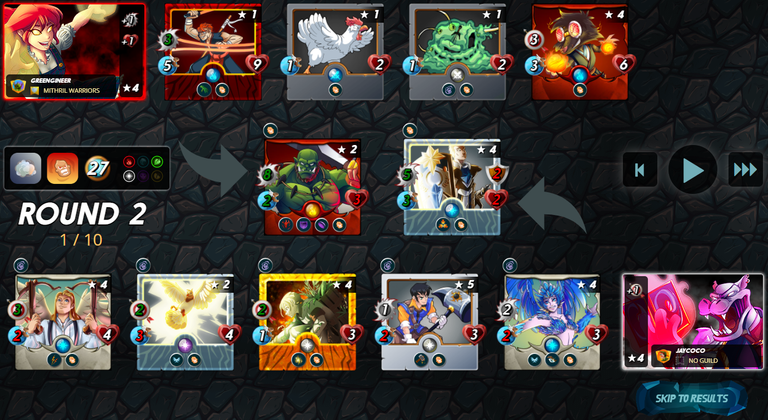 In the second round I lost my Grum, but then I defeated the Shieldbearer. My Fineas Rage has high movement speed when hit.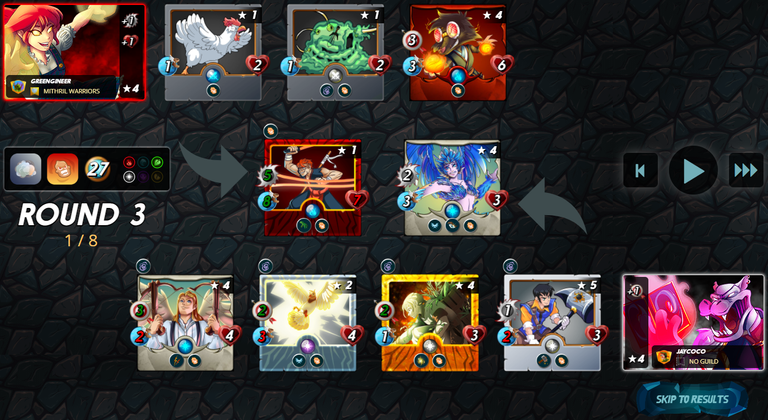 During the third round Celestial Harpy and Armorsmith were eliminated, but my Fineas Rage was left with only 01 HP.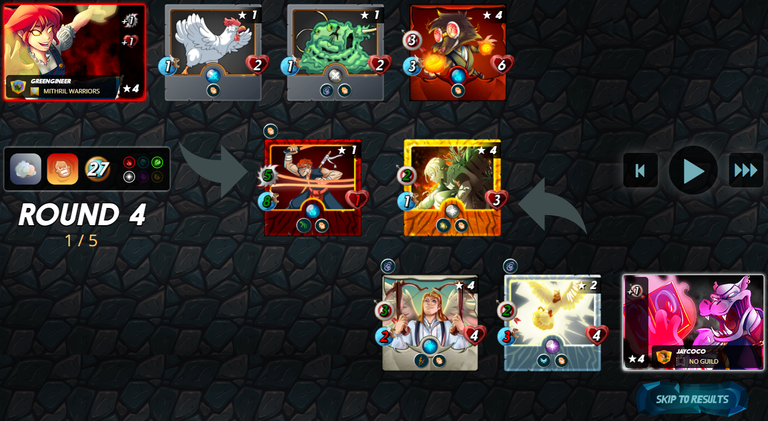 In the fourth round Fineas Rage eliminated the Herbalist and dodged all enemy attacks.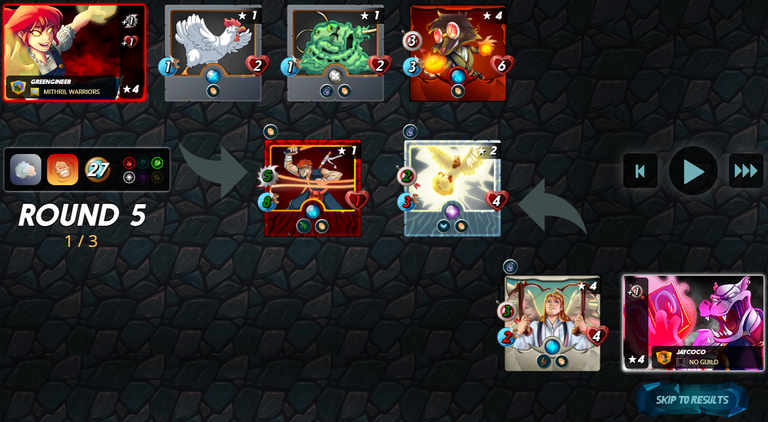 In the fifth round, Fineas Rage eliminated Thunderbird, leaving only Pelacor Arbalest.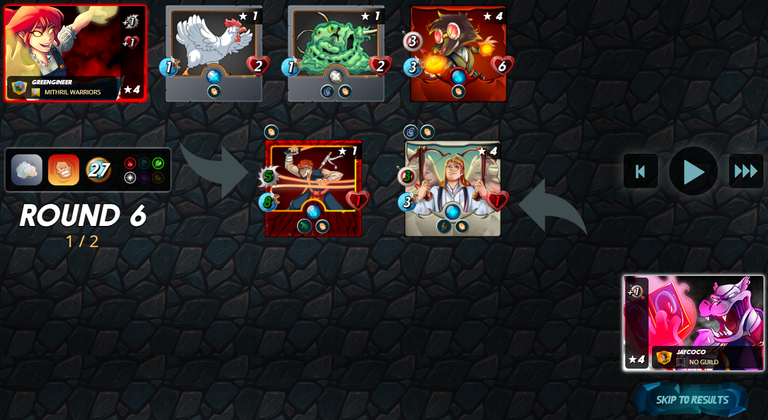 In the sixth round, Fineas Rage killed Pelacor Arbalest, guaranteeing my victory.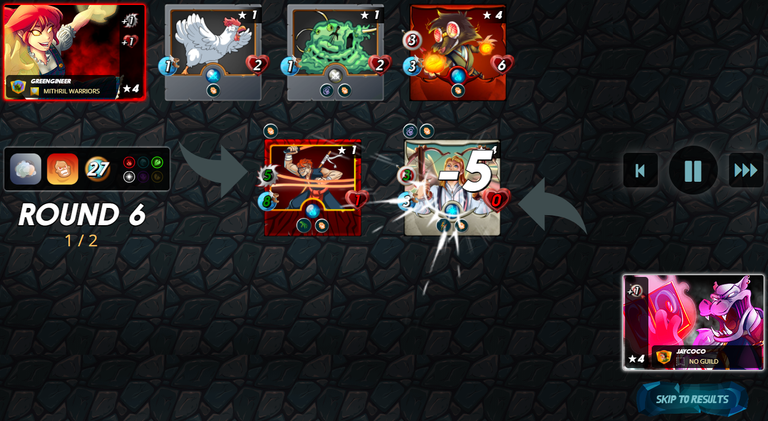 Despite the weekly challenge being about Scavo Firebolt, Fineas Rage stood out in the match with its high movement speed, eliminating several opponents and surviving until the end of the match.
Hope you enjoyed the match. To follow it in detail, just click on Greengineer (2022-c).
PS: Sorry if there is any error in the above writing, as English is not my mother language.
References:
@splinterlands (2022, May 18). SHARE YOUR BATTLE Weekly Challenge! SCAVO FIREBOLT. PEAKD. https://peakd.com/hive-13323/@splinterlands/share-your-battle-weekly-challenge-scavofirebolt

@greengineer (2022-a, April 02). SHARE YOUR BATTLE Weekly Challenge! RADIATED BRUTE EN-US/PT-BR. PEAKD. https://peakd.com/spt/@greengineer/share-your-battle-weekly-challenge-radiated-brute-en-uspt-br

@greengineer (2022-a, January 18). SHARE YOUR BATTLE Weekly Challenge! Feral Spirit EN-US/PT-BR. PEAKD. https://peakd.com/hive-13323/@greengineer/share-your-battle-weekly-challenge-feral-spirit-en-uspt-br

@greengineer (2022-b, May 19). Battle Link. Splinterlands - Collect, Trade, Battle!. https://splinterlands.com/?p=battle&id=sl_0406ec326664ae52a63b43193e96b57f&ref=greengineer
---
--------PT/BR--------
Introdução
Mais um desafio lançado (Splinterlands, 2022), desta vez sobre uma carta do Splinter de Fogo do Set Chaos Legion, o Scavo Firebolt.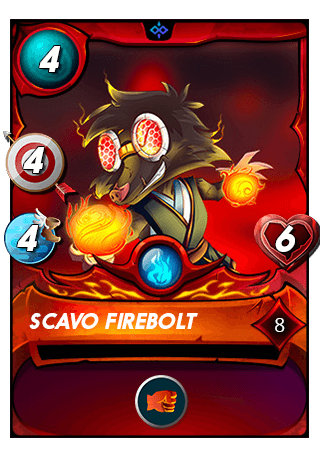 Knock Out: Dobra o dano contra oponentes que estejam atordoados. Adquire esta habilidade no level 06.
Analisando as habilidades disponíveis para esta carta em um primeiro momento ela pode não parecer tão forte, mas levando em conta seu custo para invocação e alto ataque à distância este pequenino se destaca em batalhas com baixo MP ou com a regra Little League ativa.
Como comentado em Greengineer (2022-a), não costumo utilizar o Splinter de Fogo em minhas batalhas, mas não poderia deixar de participar do desafio, então logo que encontrei uma oportunidade o coloquei em ação.
A estratégia antes da batalha
A batalha tinha as regras Spreading Fury e Fog of War ativas, 27 de MP para invocação e apenas os Splinters do Fogo, da Vida e da Terra estavam habilitados. Com Fog of War em ação não poderia contar com minha estratégia de utilizar Sneak com o Splinter da Vida, como apresentado em Greengineer (2022-b), e estava sem nenhum summoner do Splinter da Terra com level da liga, logo vi uma oportunidade de utilizar o Splinter de Fogo.
O histórico de meu oponente possuía batalhas tanto com a Obsidian quanto com a General Sloan. Desta forma eu não tinha uma definição se o ataque predominante poderia ser físico ou mágico. Para cobrir as duas possibilidades coloquei o Grum Flameblade como tanque, com as habilidades Void e Void Armor para cobrir a possibilidade de vir ataques mágicos e o Fineas Rage na segunda posição com Reach e alta velocidade de movimento para o caso dos ataques predominantes serem físicos. Na última posição coloquei o Scavo Firebolt e com o 01 de MP restante coloquei o Ooze na penúltima posição. Para utilizar os 02 slots disponíveis utilizei os monstros Scorch Fiend e Furious Chicken, com 0 de MP para invocação, nas terceira e quarta posições.
Uma vez montada a equipe só me restava aguardar meu oponente, e ele veio com a General Sloan.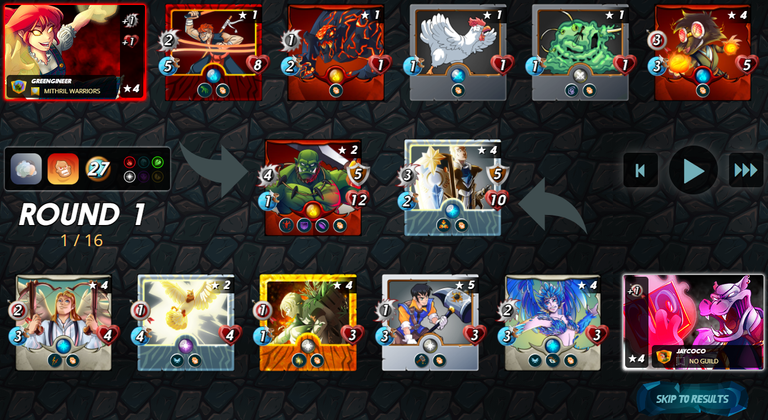 A batalha
Meu oponente veio com o Shieldbearer como tanque com Taunt, a Celestial Harpy com Opportunity na segunda posição, o Armorsmith com Repair na terceira posição, o Herbalist com Cleanse na quarta posição, o Thunderbird na quinta posição e o Pelacor Arbalest com Double Strike na última posição.
Com o Taunt em jogo todos os meus ataques seria direcionados ao tanque de meu oponente, mas isto não seria um problema pois eu não tinha nenhum monstro com Opportunity na minha equipe. Haviam 02 monstros para dar suporte ao Shieldbearer que eram o Armorsmith e o Herbalist. Desta forma qualquer debuff que atingisse o tanque inimigo seria removido e ele sempre teria Shield para lidar com ao menos um ataque vindo de meus aliados.
No primeiro round perdi meu Scorch Fiend com o ataque da Celestial Harpy. Meu Grum acertou um ataque com 08 de dano no Shieldbearer, mas ficou prestes a morrer.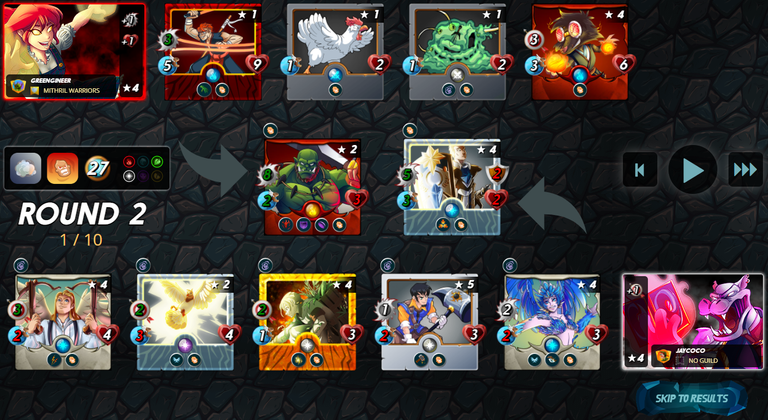 No segundo round perdi meu Grum, mas eliminei o Shieldbearer em seguida. Meu Fineas Rage ficou com alta velocidade de movimento ao ser atingido.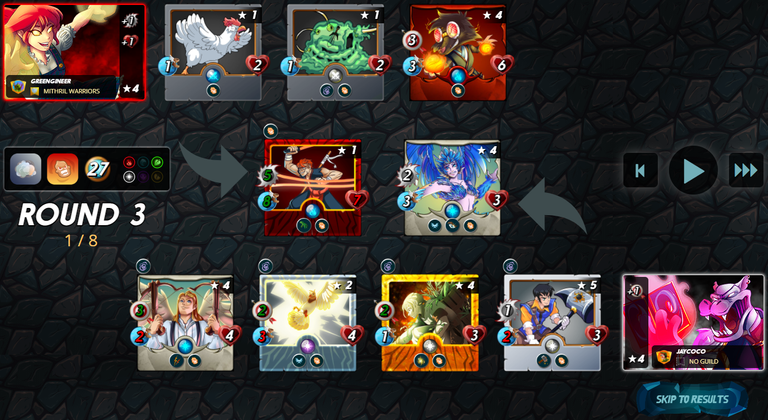 Durante o terceiro round a Celestial Harpy e o Armorsmith foram eliminados, mas meu Fineas Rage ficou com apenas 01 de HP.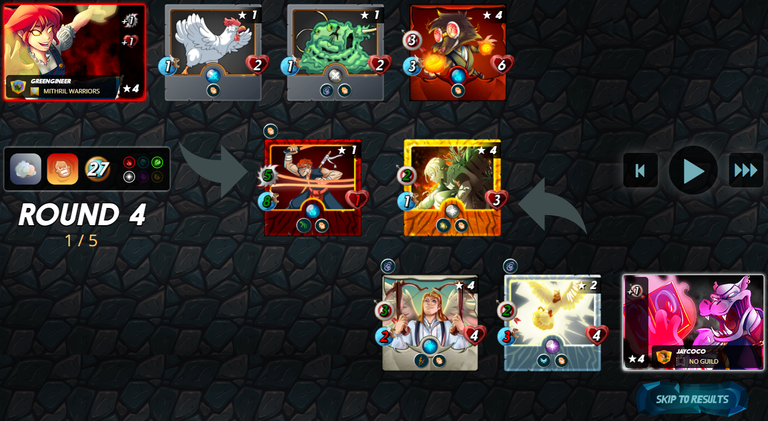 No quarto round o Fineas Rage eliminou o Herbalist e desviou de todos os ataques inimigos.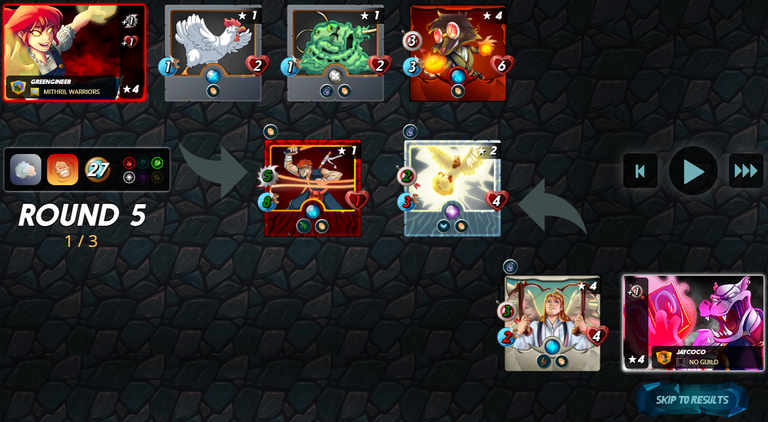 No quinto round o Fineas Rage eliminou o Thunderbird, restando apenas o Pelacor Arbalest.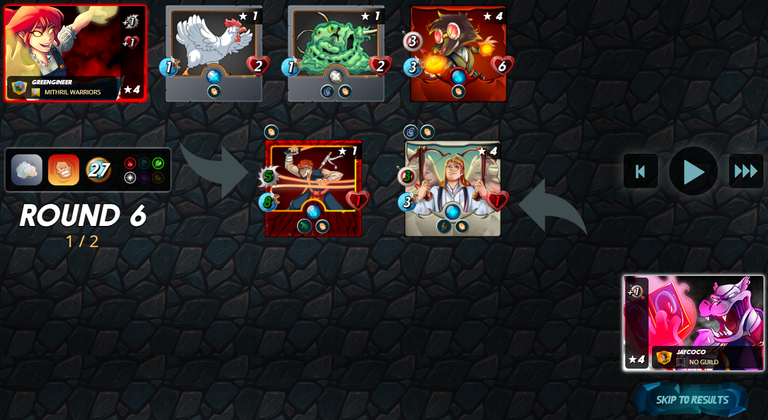 No sexto round o Fineas Rage matou o Pelacor Arbalest, garantindo a minha vitória.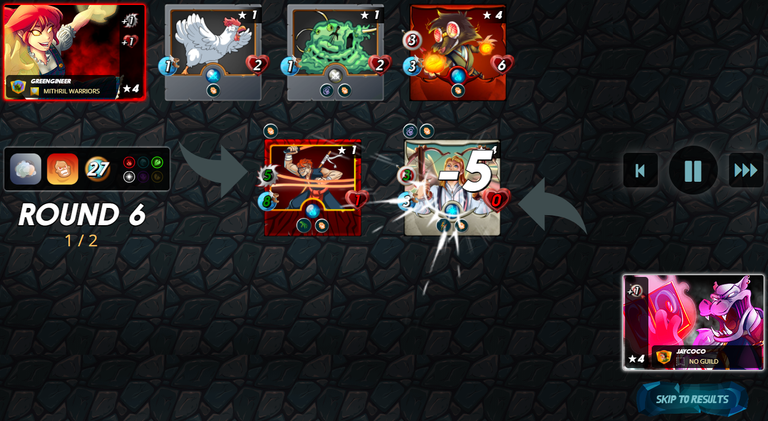 Apesar do desafio semanal ser sobre o Scavo Firebolt, o Fineas Rage se destacou na partida com sua alta velocidade de movimento, eliminando diversos adversários e sobrevivendo até o final da partida.
Espero que tenham gostado da partida. Para acompanhá-la em detalhes é só clicar em Greengineer (2022-c).
Referências:
@splinterlands (2022, 18 de Maio). SHARE YOUR BATTLE Weekly Challenge! SCAVO FIREBOLT. PEAKD. https://peakd.com/hive-13323/@splinterlands/share-your-battle-weekly-challenge-scavofirebolt

@greengineer (2022-a, 02 de Abril). SHARE YOUR BATTLE Weekly Challenge! RADIATED BRUTE EN-US/PT-BR. PEAKD. https://peakd.com/spt/@greengineer/share-your-battle-weekly-challenge-radiated-brute-en-uspt-br

@greengineer (2022-a, 18 de Janeiro). SHARE YOUR BATTLE Weekly Challenge! Feral Spirit EN-US/PT-BR. PEAKD. https://peakd.com/hive-13323/@greengineer/share-your-battle-weekly-challenge-feral-spirit-en-uspt-br

@greengineer (2022-b, 19 de Maio). Link de Batalha. Splinterlands - Collect, Trade, Battle!. https://splinterlands.com/?p=battle&id=sl_0406ec326664ae52a63b43193e96b57f&ref=greengineer
---
---