SHARE YOUR BATTLE Weekly Challenge! XENITH ARCHER EN-US/PT-BR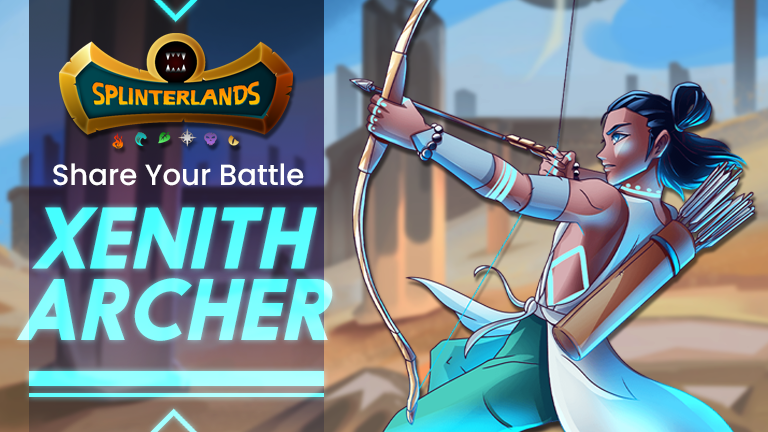 Introduction
Another weekly challenge released (Splinterlands, 2022), this time about a neutral card from the Chaos Legion Set, the Xenith Archer.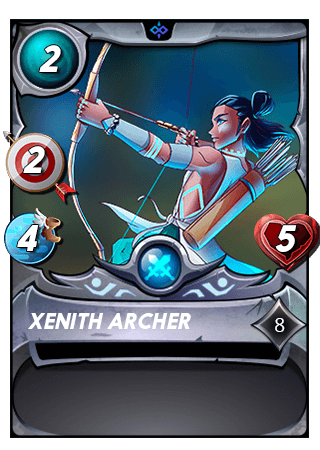 With low MP consumption and can be used in any composition, Xenith Archer is a good ally in battles with low MP available or with the Little League rule active. As a weak point the card has no abilities at any level, but when Back to Basics is in play it makes no difference. Until the Gold league it became a strong competitor to the Highlander Archer, which only reaches 03 attack at Level 09, but with 01 more MP for summoning.
The strategy before the battle
The game had the Closed Range and Rise of the Commons rules active, 19 MP available, and all Splinters were available. My enemy was Focused on Water Splinter and had battles with both magic and melee comps.
As my Focus was Earth Splinter I chose Summoner Mylor Crownling to deal with the risk of melee monsters coming. As he could reinforce his tank I tried to use monsters that attack other positions, with the Opportunity and Sneak skills. For this task I placed the Screeching Vulture and Venari Scout with Opportunity in third and fifth positions and the Goblin Sorcerer with Sneak in fourth position. As a tank I chose the Hill Giant and in the second position I put the Failed Summoner in case magic attack came. With the remaining 02 MP I put Xenith Archer in the last position.
Once the team was assembled, I had to hope that there were no Thorns in their team, which could get me into trouble: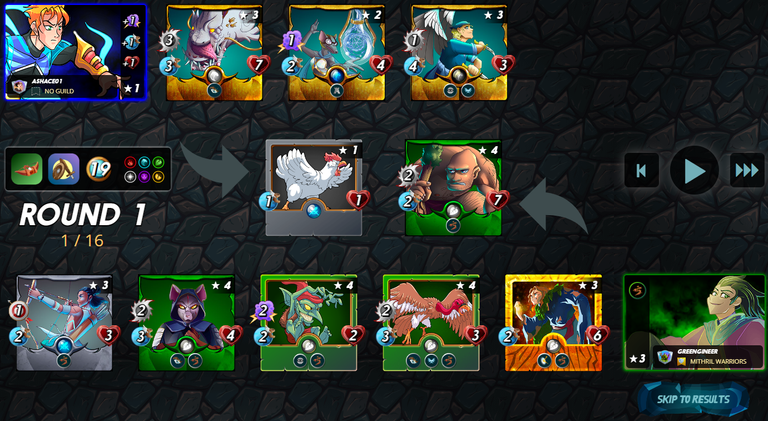 The battle
My opponent came with Summoner Valnamor, Furious Chicken as a tank, Deeplurker with Opportunity in second position, Venari Wavesmith with Protect in third position and Pelacor Bandit with Sneak in last position.
Using Valnamor with low MP available with 02 Melee monsters didn't seem like a very sensible choice, but Venari Wavesmith's Protect would give my physical attack a little work and make Mylor's Thorns take a while to have an effect on my enemies.
In the first round I lost my Goblin Sorcerer with Deeplurker's attack. Furious Chicken was defeated by Venari Scout.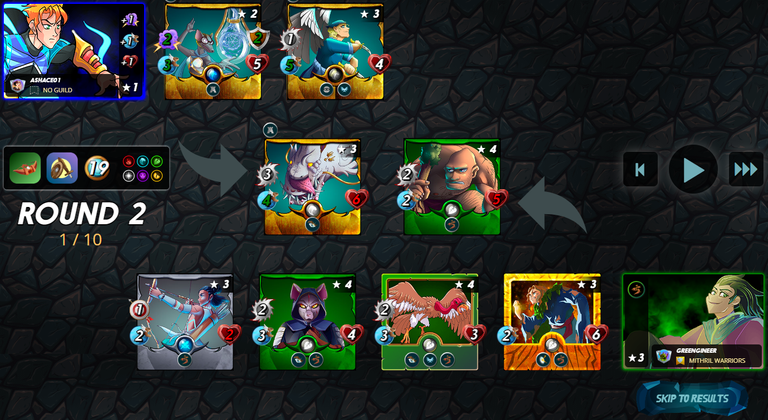 In the second round I lost my Hill Giant with Venari Wavesmith's attack. Afterwards the Pelacor Bandit was eliminated by the Venari Scout.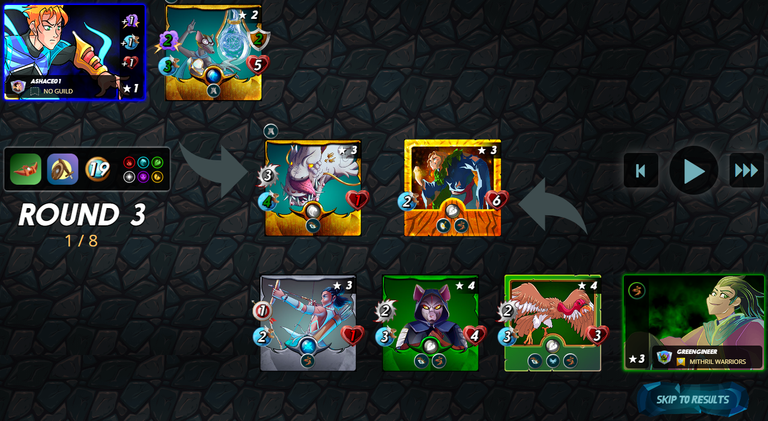 In the third round the Deeplurker was eliminated by Thorns when attacking the Failed Summoner. Only Venari Wavesmith was left on my opponent's team.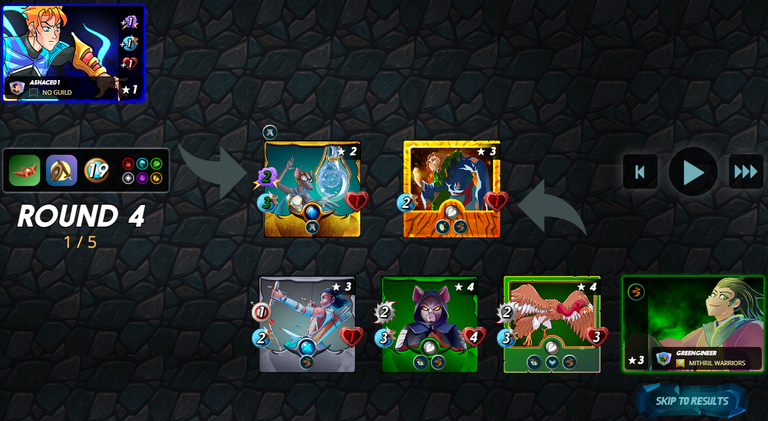 In the fourth round Venari Wavesmith eliminated my Failed Summoner, but then fell with Magic Reflect damage.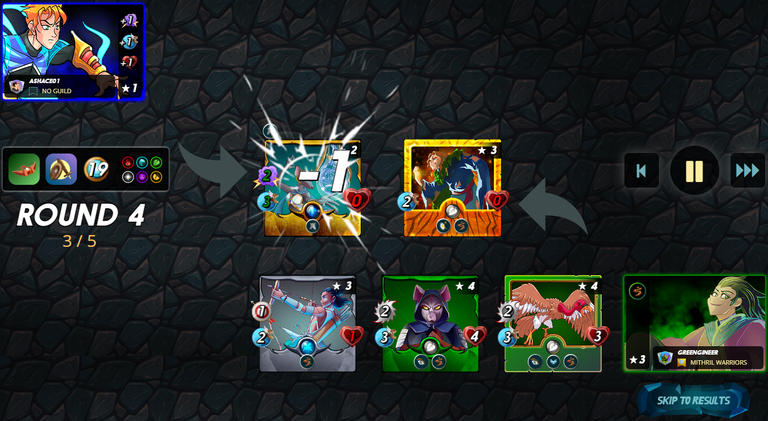 Xenith Archer fulfilled the role of protecting my attackers with Opportunity from the Pelacor Bandit. Despite not having taken down any monsters directly, she inflicted damage either from her attack or from Thorns, speeding up my opponent's fall.
I hope you enjoyed the battle, to follow it in detail just click on Greengineer (2022).
PS: Sorry if there is any error in the above writing, as English is not my mother language.
References:
@splinterlands (2022, June 30). SHARE YOUR BATTLE Weekly Challenge! XENITH ARCHER. Peakd. https://peakd.com/hive-13323/@splinterlands/share-your-battle-weekly-challenge-xenith-archer

@greengineer (2022, July 01). Battle Link. Splinterlands - Collect, Trade, Battle!. https://splinterlands.com/?p=battle&id=sl_8790ebde4061084b570d0b693ae05f7e&ref=greengineer
---
--------PT/BR--------
Introdução
Mais um desafio semanal lançado (Splinterlands, 2022), desta vez sobre uma carta neutra do Set Chaos Legion, a Xenith Archer.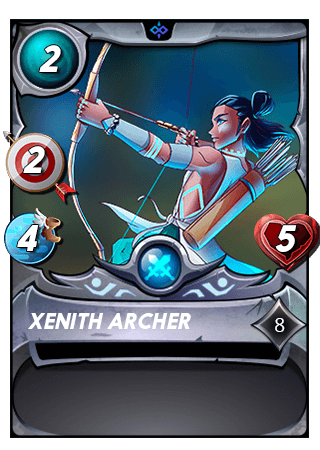 Com baixo consumo de MP e podendo ser utilizada em qualquer composição, a Xenith Archer é uma boa aliada em batalhas com pouco MP disponível ou com a regra Little League ativa. Como ponto fraco a carta não possui habilidades em nenhum nível, mas quando Back to Basics está em jogo isto não faz diferença. Até a liga Ouro ela se tornou uma forte concorrente do Highlander Archer, que só atinge 03 de ataque no Level 09, mas com 01 de MP a mais para invocação.
A estratégia antes da batalha
A partida tinha as regras Closed Range e Rise of the Commons ativas, 19 de MP disponíveis e todos os Splinters estava disponíveis. Meu inimigo estava com o Focus no Splinter da Água e tinha batalhas tanto com composições mágicas quanto com ataque corpo-a-corpo.
Como meu Focus era o Splinter da Terra escolhi o Summoner Mylor Crownling para lidar com o risco de vir monstros melee. Como ele poderia reforçar seu tanque eu busquei utilizar monstros que atacassem outras posições, com a habilidade Opportunity e Sneak. Para esta tarefa coloquei o Screeching Vulture e o Venari Scout com Opportunity nas terceira e quinta posições e o Goblin Sorcerer com Sneak na quarta posição. Como tanque escolhi o Hill Giant e na segunda posição coloquei o Failed Summoner caso viesse ataque mágico. Com os 02 de MP restante coloquei a Xenith Archer na última posição.
Uma vez montado o time era esperar que não tivesse Thorns em sua equipe, o que poderia me trazer problemas: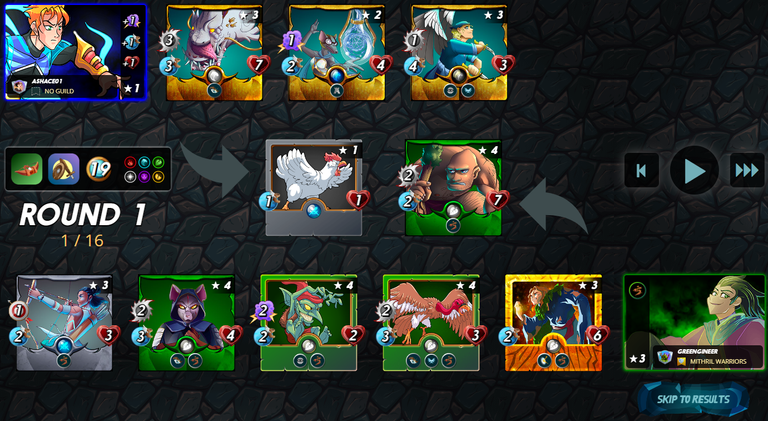 A batalha
Meu oponente veio com o Summoner Valnamor, a Furious Chicken como tanque, o Deeplurker com Opportunity na segunda posição, a Venari Wavesmith na terceira posição e o Pelacor Bandit na última posição.
Utilizar o Valnamor com pouco MP disponível com 02 monstros Melee não parecia uma escolha muito sensata, mas o Protect da Venari Wavesmith daria um pouco de trabalho ao meu ataque físico e faria o Thorns do Mylor demorar a ter efeito sobre meus inimigos.
No primeiro round perdi meu Goblin Sorcerer com o ataque do Deeplurker. A Furious Chicken foi derrotada pelo Venari Scout.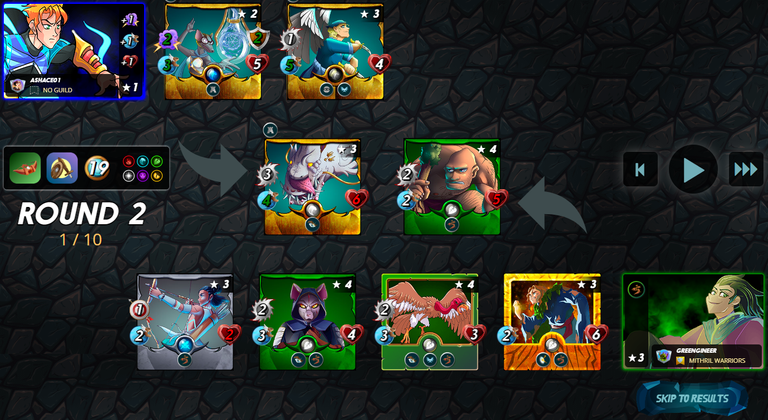 No segundo round perdi meu Hill Giant com o ataque da Venari Wavesmith. Na sequência o Pelacor Bandit foi eliminado pelo Venari Scout.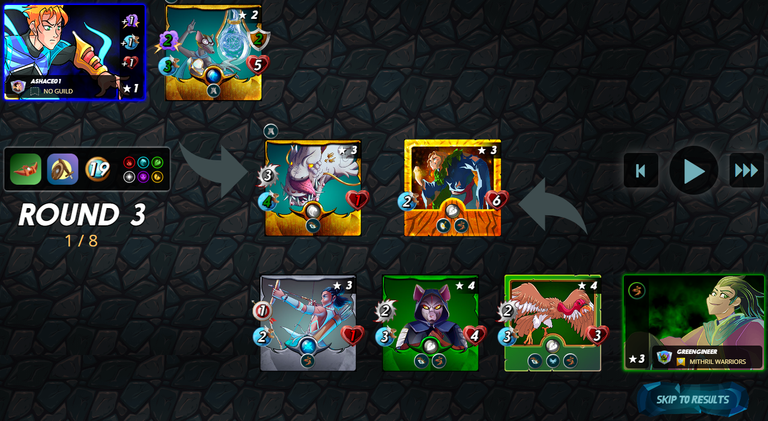 No terceiro round o Deeplurker foi eliminado pelo Thorns ao atacar o Failed Summoner. Restou apenas a Venari Wavesmith no time de meu oponente.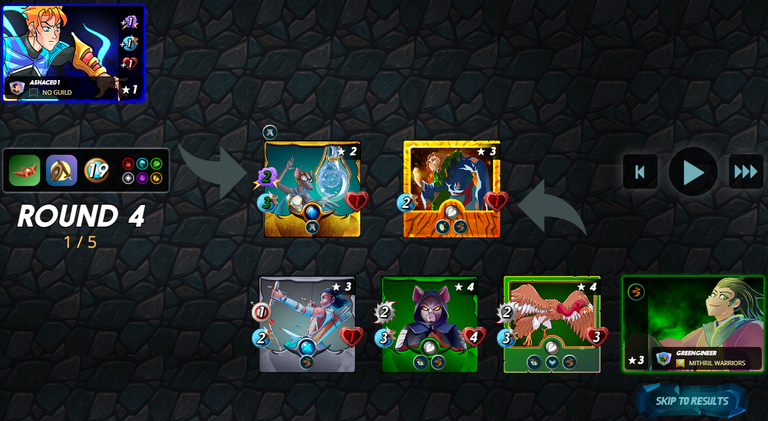 No quarto round a Venari Wavesmith eliminou meu Failed Summoner, mas caiu em seguida com o dano do Magic Reflect.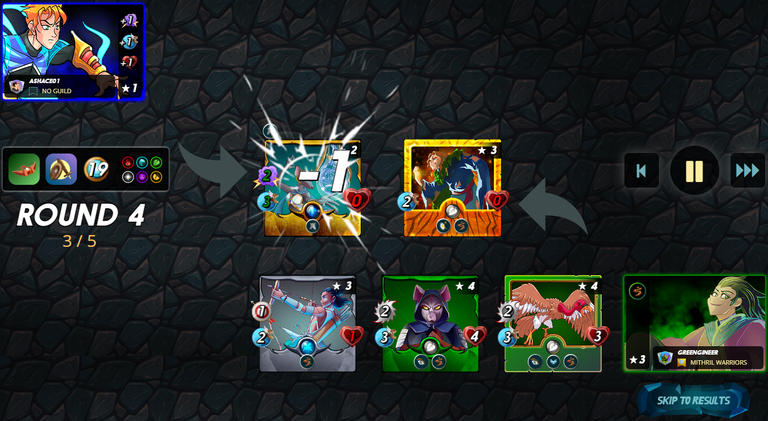 A Xenith Archer cumpriu com o papel de proteger meus atacantes com Opportunity do Pelacor Bandit. Apesar de não ter abatido nenhum monstro diretamente, ela infringiu dano seja por seu ataque ou por Thorns, agilizando a queda de meu oponente.
Espero que tenham gostado da batalha, para acompanhá-la em detalhes é só clicar em Greengineer (2022).
Referências:
@splinterlands (2022, 30 de Junho). SHARE YOUR BATTLE Weekly Challenge! XENITH ARCHER. Peakd. https://peakd.com/hive-13323/@splinterlands/share-your-battle-weekly-challenge-xenith-archer

@greengineer (2022, 01 de Julho). Link de Batalha. Splinterlands - Collect, Trade, Battle!. https://splinterlands.com/?p=battle&id=sl_8790ebde4061084b570d0b693ae05f7e&ref=greengineer
---
---