Ta naše guildička #cesky ..., Ta je tak hezká, tak hezká... (@krakonos)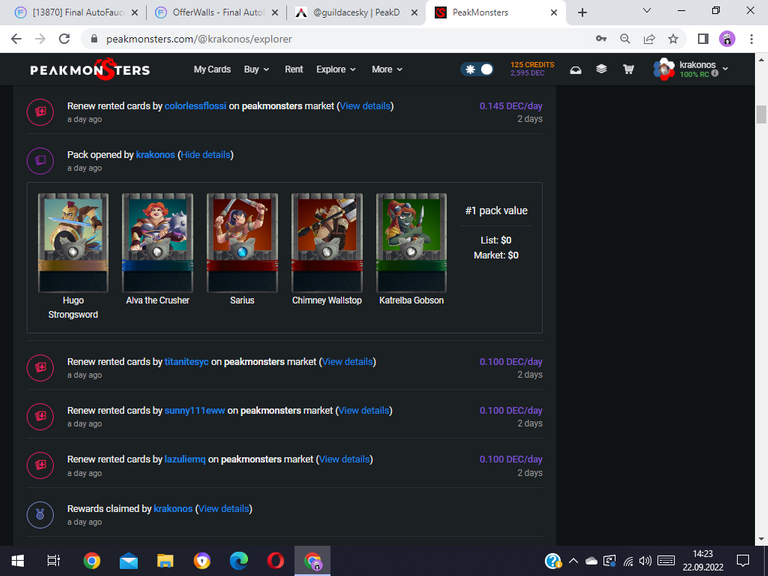 Tak zase si jednou dovolím napsat... Aby bylo na budovy... Smysluplná mi přijde Aréna lvl2. O polovinu víc meritů.
Vynechal jsem pár Brawlů. Byly tam nějaké technické kompetenční potíže mezi mnou a robotem. Ale zase je začnu bojovat. Bojovat...
Smyslem mého boje je, aby bylo co nejdřív hotovo. Jak to dopadane... Stejně dostanu v nejlepším případě 192 merits. Obvykle 115. Když by se zvýšily odměny o 50%... Stejně je to nula nula nic. Ale proč ne... Dám to i za syna. Prý se výhledově budou dávat i SPS...
Většinou proti mně v brawlu bojují daleko silnější, s lepšími kartami než já.
Jak psal dnes @godfish . Hive je lepší kšeft než Splinterlands. Pro většinu z nás. Ale jednou, kdo ví. Ještě snad mám nějaký čas... A třeba budu mít jednou i štěstí!
Jak vidíte z printscreenu, zatím ho nemám. To štěstí. I když... Hraje za mě robot. Ručně jen odehraju brawly, nastavím podmínky pronájmu karet a stakuju SPS.
Nemůžu hře upřít, že se vyvíjí. Tak mě zajímá, kam. Drugwars... Přestal jsem. Už se mi na ni nechce myslet. Kdyby se to náhodou zase rozjelo, @petrvl dá jistě vědět.
No, za tenhle text asi Aréna lvl2 nebude. Ale když v psaní vytrvám...
---
---