My Strategy to 1 Million $DEC-B [DEC Batteries] & Plans Ahead...
Hey All,
Currently we have the SALE of 2 Billion DEC Batteries aka DEC-B going on the Splinterlands gaming portal. And as of writing this article close to 569+ Mil. DEC-B has been sold out. We still have the SALE going on with close to 1.4+ Billion DEC_B available for SALE. Players/Users can SWAP their VOUCHER and DEC aka Dark Energy Crystal tokens for DEC-B. DEC which is the primary currency in the game can be used to buy in game assets like cards, magical items, potions and many other things. The important part where this gets interesting is that all the SALE proceeds may it be DEC or VOUCHER tokens all of them would be burned.. Yes, BURN, BURN and BURN them all so as to help get $DEC back to its peg value.
1 Million DEC-B for 5K VOUCHER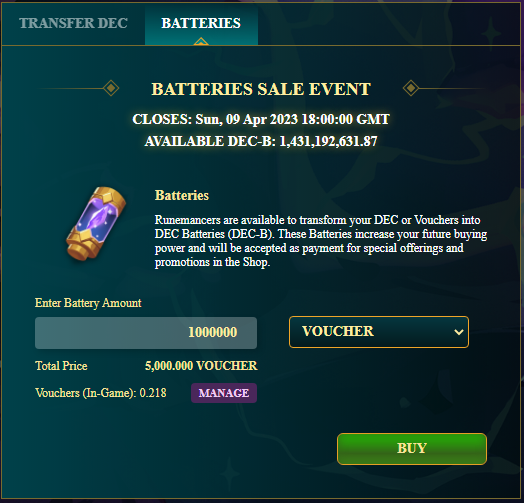 The sale of DEC-B is coming to an end, it closes in about ONE months time frame from now i.e. on Sun, 09 Apr 2023 18:00:00 GMT OR until all 2 Billion DEC-B tokens have been sold out, whichever comes first. Looks like all 2 Billion DEC-B tokens will not get sold out and hence we would see the SALE proceeding ending on 9th April. As stated DEC-B can only be bought by DEC or VOUCHER and here is the swap/exchange ratio 0.8 DEC or 0.005 VOUCHER tokens per DEC-B. This was all it about how to get DEC-B and if you see the above image you need 5K VOUCHER to swap it for 1 Million DEC-B.
I am specially taking about VOUCHERs token here for DEC-B as this is part of my strategy. I am specially targeting VOUCHER for DEC-B as in my case, I am getting a decent amount VOUCHERs daily and to be precise I am able to accumulate 25+ VOUCHERs daily via all the passive income streams. At time, I am also buying VOUCHER tokens when they available at discounted price and swapping them all for DEC-B. But I am not going to restrict myself with only VOUCHER option. As I do have DEC rental streams as well and if required to achieve my DEC-B GOAL, I may further take the DEC rental income stream to swap for DEC-B as well.
My Strategy to 1 Million $DEC-B
The main strategy that I am following here is that - I am converting all my VOUCHER tokens that I receive for rewards may it be staking or HOLDing in game assets if directly being converted to DEC-B. Here is my current stake of DEC-B HOLDing which account to 205K+ as of today.

If you would have noted from previous post of Splinterlands team around DEC-B and it use cases. Check the post Here on everything you need to know about DEC-B before investing. Then team has clearly indicated that DEC-B holders [HODL your DEC-B] are going to be rewarded over the long term rather than just providing an immediate benefit or discount immediately in buying game assets. Hence this is second part of my strategy to HODL DEC-B for a longer period of time and take its full advantage later point in time.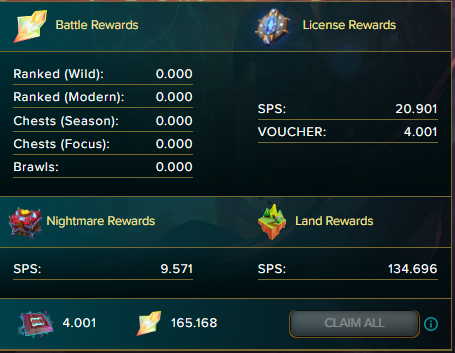 Building Upgrades, Maintenance, and Boosts in the Land Expansion with DEC-B
Finally, my strategy to accumulate DEC-B has to do with LAND assets as well. I have a tract which is like 100 plots and after reading through the DEC-B utility around LAND expansion, I thought it would be better to grab some DEC-B before they are all gone. Upgrading your Building and boosting them would require DEC-B for sure. Therefore it should be a good investment if you have LAND and are playing to HODL DEC-B as well.
We often have limited cash at our dispersal and hence I restricted myself to accumulating 1 Million DEC-B for now. I am yet far away from achieving my DEC-B GOAL but at the same time I am optimistic that I should be able to make it considering my swap of VOUCHER tokens daily for DEC-B. Last but not the least this plan to accumulating DEC-B is also associated to bring back DEC back to its peg. DEC-B is not only going to provide value to the player by providing them different benefits who HODLs DEC-B. But is also helping to improves the Token Economics for DEC by trying to bring back its peg value and hence I am in for it. I am in for DEC-B for long-term so before investing just see what your GOALs or investment plan on ROI is.. :-) cheers
My Strategy to 1 Million $DEC-B [DEC Batteries] & Plans Ahead...
Have Your SAY on DEC-B...
Do you HODL DEC-B? Are you swapping your DEC or VOUCHER tokens for DEC-B? What are your plans for DEC-B? I will definitely continue buying DEC-B..At least the plan is to get 1 Million DEC-B..But lets see how it goes. Let me know your thoughts in the comment box below... :-)
#voucher #sps #dec #decb #bridge #splinterlands #decbatteries #1milliondecb

Best Regards
Image Credits:: splinterlands
Posted Using LeoFinance Beta
---
---