SplinterLands:: All set for Buying CHAOS LEGION PACks. Awaiting the Right Moment...
Hey All;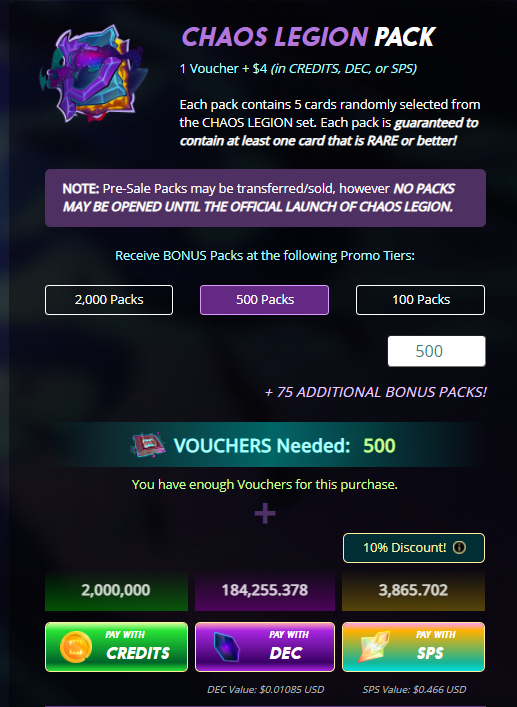 I have all the required SPs and VOUCHERs for buying 500+ CHAOS LEGION PACks. Only that, I'm waiting for is the hike/pump to the price of SPs. At the current price of SPs which is close to $0.45 cents, I'll need to shed almost 3800+ SPs for buying 500+ CHAOS LEGION PACks.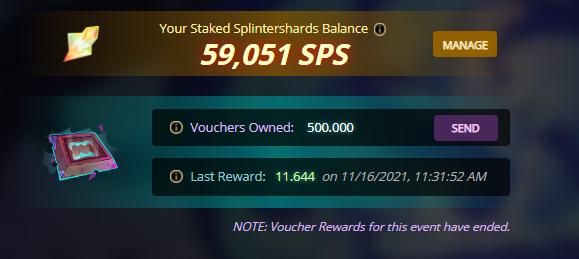 With close to 59K+ SPs staked and owning 500 VOUCHERs. And if I buy 500 Packs, I get additional 75 packs and that was my target to leverage/get these additional Boun of packs along with getting some promo cards and being eligible for the Airdrop.
Seeing the SPs price tank. I was a bit hesitant to make the purchase. Two days back, when I checked how many SPs, I would need to shed for 500 packs it was showing 4200+ SPs. As of writing this article, I'll need to pay 3800 SPs. There was a point, I would have got it for 3K SPs but then I was falling short of VOUCHERS.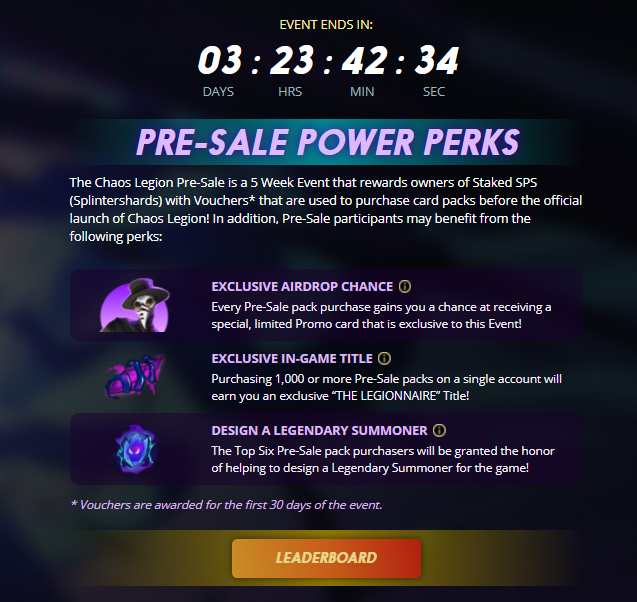 The price that I am looking for or to price the amount of SPs that I want to spend in buying these 500 CHAOS LEGION PACks is somewhere around 3500 SPs. Not sure if this is gonna happen in a day or two. But still, there are close to FOUR days left before the Pre-Sale ends. I'll be keeping a close watch on the price of SPs and if there is a sudden pump in price. I'll be pulling the trigger and finally buy the 500 packs.
Have Your SAY....
Are you set to buying the CHAOS LEGION PACks? Or still, waiting for VOUCHERs - SPs pump?
---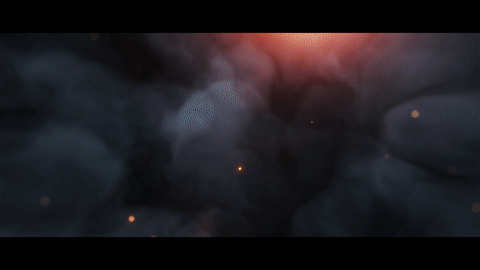 ---
Find Me on the Other Social Media Platforms::

Join me on Odysee & Earn 8 LBCs for FREE... YES for FREE...
HealthDear Youtube; Information tied to Health
HealthDear LearnTogether; Learn English & Hindi
LearnTogether FaceBook Page
---

---
Image Courtesy: SplinterLands
Posted Using LeoFinance Beta
---
---