Splinterlands:: Liquidity Pools - Simple steps to Join and Earn APR higher than 150%+

Hey All,

Yesterday, I did swap some of my $RUNE for $BUSD to buy in SPS Validator Node. SOLD - $RUNE to Buy Splinterlands - SPS Validator Node License... A Dream Come True... After having bought the $SPS validator node, I still had close to $1K+ left to invest.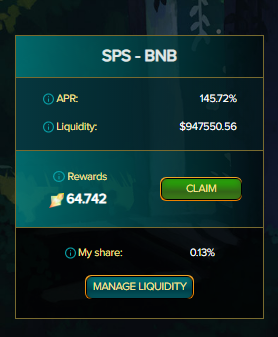 Looking at the various APRs for LP with SPS, I thought it would be nice to enter $SPS - $BNB pool. Currently, the APR is 145% and I already have close to 64 SPS to be claimed. Which is worth $5+ and these are just one days' worth of rewards; not sure if these rewards also include the LP rewards which is 5% on Pancakeswap.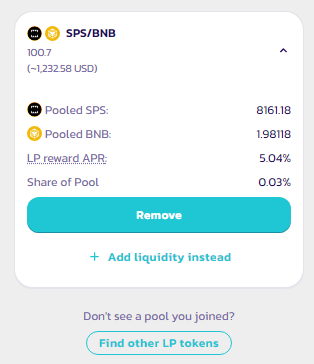 Steps Steps to provide LP for $SPS pools
Lets look now look into Simple steps to providing liquidity for $SPS. First decide which pool you would to enter. In my case, I decided to enter $BUSD to $BNB as this pool was giving APR greater than 100+%.
Considering, that I didn't have any liquid BNB and SPS, I had to swap my $BUSD for $BNB and $SPS both.
$BUSD to $BNB - Swapped 2 BNB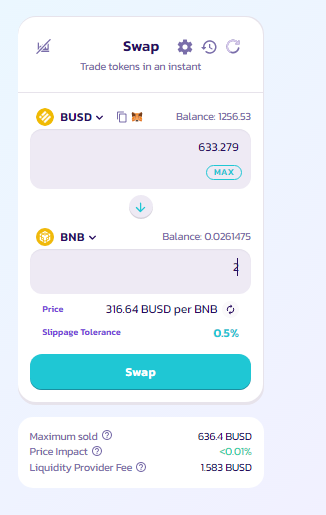 I decided to go for providing 2 BNB worth of LP on one side and rest would be another 2 BNB worth of $SPS. So swapped closed to 623 $BUSD and this gave me 2 BNB tokens.. The next step was to get the equivalent worth of $SPS
$BUSD to $SPS Swapped 8K+ SPS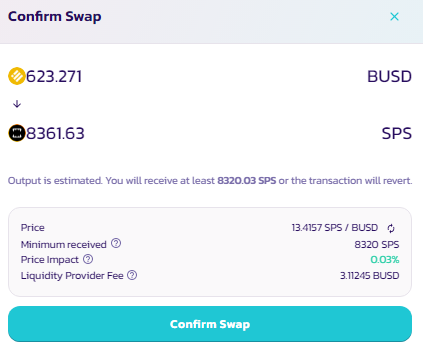 As stated, above I need to have the equivalent worth of $SPS. Hence swapped 623 $BUSD for $SPS and this got me 8K+ $SPS. Almost ready now to provide the liquidity and this is going to be the last step.
Provide Liquidity - $BNB - $SPS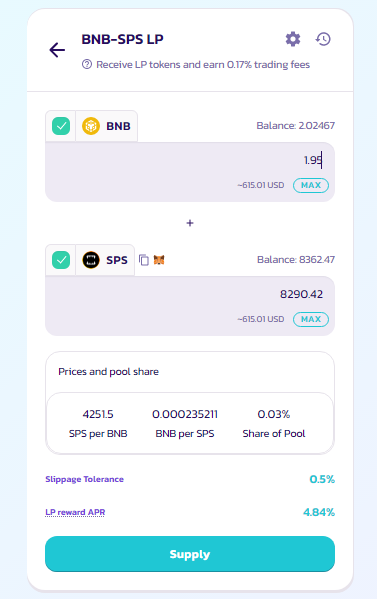 Go the liquidity i.e. BNB-SPS LP page and select max, as I wanted to have all these funds added to the BNB-SPS pool and click supply. Confirm the transactions and in no time these funds would be added to the pool.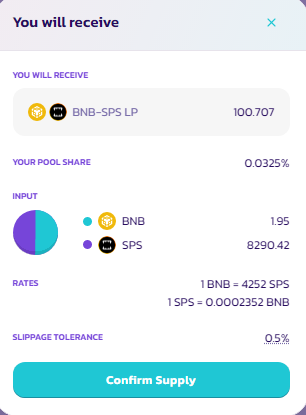 Once you click supply this is the screen that will pop-up showing you the details - what you will receive, the pool share and the bifurcation of BNB and SPS. If you are happy with the details shown, click - "confirm supply" button and you are done with providing the liquidity. And ready to reap the benefits of getting SPS rewards daily. Its not even a day that, I provided the liquidity and I already have 60+ SPS as rewards to be claimed. If you have funds that are lying ideal in the wallet, then I guess its best to provide LP in a safe project of your choice in which you have 100% trust and enjoy those rewards; with higher APR rates.
Image Courtesy:: splinterlands, pancakeswap.finance

Best Regards
Posted Using LeoFinance Beta
---
---