A cheap and powerful defense that you must have [PT-BR/ENG]

Versão em Português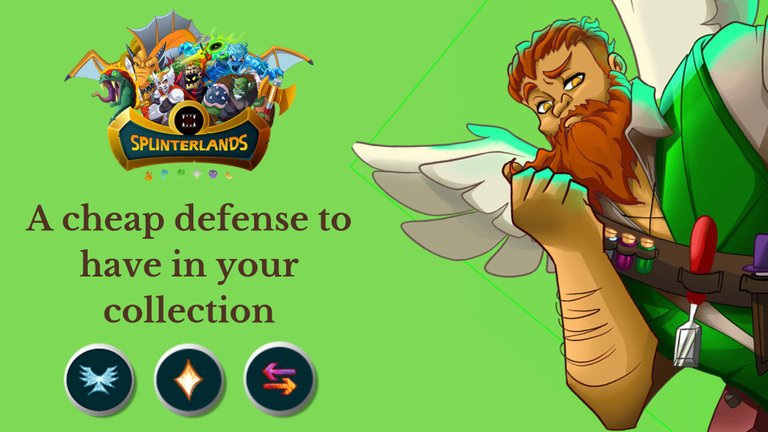 Olá a todos, sejam bem vindo a mais um post sobre Splinterlands e desta vez irei falar sobre a carta Pelacor Mercenary que muitos já devem conhecer já que é possível conseguir ela gratuitamente nos baús de recompensas, mas mesmo sendo uma carta de recompensa ela é incrivelmente poderosa e útil para se ter no campo de batalha e neste post irei falar mais sobre ela.
A primeira coisa que você precisa saber sobre o Pelacor Mercenary e que já mencionei antes é que você consegue ele através dos báus de recompensas então se você é um jogador ativo em Splinterlands realizando suas missões e ganhando báus então você não terá dificuldade de possuir ele em sua coleção e também subir de level já que o Pelacor Mercenary é uma carta comum então não é dificil de conseguir ele nos báus.
Mas se você não possuir paciência e quiser ter o Pelacor Mercenary em seu level máximo o mais rápido possivel então você pode comprar ele no marketplace e a boa noticia é que será bem barato porque já existe muitas cartas em circulação e também porque é uma carta que você pode conseguir gratuitamente, então o valor dele atual é de apenas $0.01 por BCX e você pode conseguir ele ainda mais barato se comprar em um level mais alto como no level máximo já que ele irá custar apenas $0.008 por BCX.
Mas okay, agora que você sabe que pode conseguir ele gratuitamente ou por um preço muito baixo no marketplace vamos falar sobre a utilidade da carta mas antes vamos dar uma rápida olhada em sua história para conhecer um pouco mais sobre a origem da carta.
---
História
---
Muitos séculos atrás, os Pelacor seguiram o profeta Edalus, no que ficou conhecido como o 'Exílio'. Eles o seguiram até as Montanhas de Fogo ao redor do Monte Praetorous. Por gerações eles viveram sozinhos nessas montanhas, escondidos. Eles foram ensinados a adorar os deuses do sol e da lua, Solaki e Lunaki, divindades que surgiram a partir dos ossos dos pais mortos de Edalus e de sua mente zelosa. As escrituras dizem que os dois deuses foram levados aos céus em pedaços de terra consagrada, arrancados do mundo para elevá-los bem alto, para que seus adoradores sempre olhassem para eles e estivessem para sempre sob seu grande poder celestial.
Na noite mais escura de cada ano, Edalus invocava rituais que mudavam os corpos de seu povo. Aproveitando o poder adormecido sob as montanhas, ele fez com que asas angelicais brotassem de suas costas. Essa mudança foi permanente e, de fato, a maioria dos descendentes de Pelacor herdou os apêndices de seus pais.
Quando Edalus finalmente faleceu, por mais antigo que fosse, houve lutas internas entre as pessoas sobre quem deveria liderar. Fraturas em seu modo de vida harmonioso começaram a aparecer e surgiram duas facções muito definitivas. Um adorava o irmão Deus, Solaki, e o outro adorava a irmã Deus, Lunaki. Assim começou a 'Guerra dos Filhos e Filhas', onde Pelacor lutaram uns contra os outros, uma rivalidade que ainda continua até hoje entre alguns.
Quando o véu mágico sobre Praetoria e as Montanhas de Fogo caiu, e as Legiões do Caos invadiram, os Pelacor decidiram que não poderiam mais se esconder. Acreditando que a Chaos Legion se voltaria contra seus deuses flutuantes se eles conquistassem as Splinterlands, eles começaram sua 'Grande Descida' para as terras baixas, determinados a lutar contra essa nova ameaça que havia chegado ao seu mundo e se juntaram aos exércitos dos Lowlanders.
Eu sempre gosto de botar a história da carta em meus posts porque é interessante saber mais sobre as cartas além de sua utilidade no campo de batalha e é sempre legal ler para dar um pouco mais de emoção quando você estiver utilizando ela na batalha já que você irá ter uma certa compreensão maior sobre a carta.
---
Estatísticas
---
Agora está na hora de entender como o Pelacor Mercenary funciona nas batalhas e para isso vamos precisar dar uma olhada em suas estatísticas.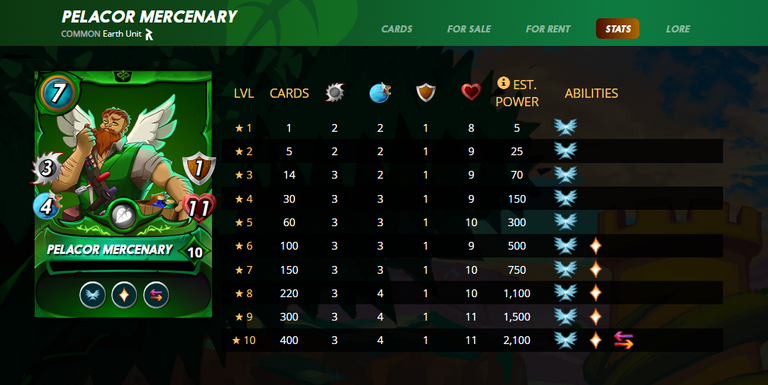 Como mencionei antes o Pelacor Mercenary é uma carta comum e ele pertence ao deck de terra, então você só será capaz de utilizar ele se escolher o deck de terra, o deck de dragão (combinando com o deck de terra) ou usando o deck neutro (combinado com o deck de terra).
Seu tipo de ataque é melee então ele será capaz apenas de atacar na primeira posição, a única exceção seria se a batalha possuir uma regra em que permitesse cartas melee de atacar em qualquer posição como as regras Melee Mayhem, Equal Opportunity ou Super Sneak.
O principal destaque do Pelacor Mercenary é sua defesa já que ele possui uma grande quantidade de vida e até mesmo um pouco de escudo que será muito útil contra ataques melee e ranged, seu custo de mana é 7 e esse é um valor alto mas será um bom gasto para a defesa que ele irá fazer nas suas batalhas. Por último ele possui 3 habilidades que são a Flying, Heal e Retaliate.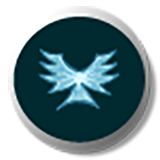 A primeira habilidade é a Flying e ela irá fazer o Pelacor Mercenary aumentar suas chances em +25% de se esquivar de ataques melee e ranged de cartas que não possuem a habilidade Flying. Para aqueles que já a conhecem sabem que é uma habilidade bem chata de se lutar contra então irá te dar uma boa vantagem quando você tiver o Pelacor Mercenary em suas batalhas.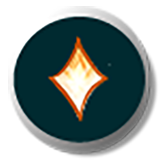 A segunda habilidade é a Heal e ela irá fazer o Pelacor Mercenary se curar em 1/3 da sua vida máxima por round. Na minha opinião habilidades de cura são muito importantes nas batalhas e fazem uma grande diferença no resultado já que elas irão fazer as suas cartas sobreviverem por mais tempo no campo de batalha.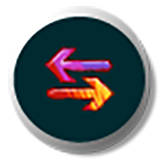 A terceira habilidade é a Retaliate e ela irá fazer o Pelacor Mercenary ter 50% de chance de revidar o ataque quando ele for atacado por cartas melee e isso irá fazer com que ele seja mais ainda útil já que além de ser uma ótima defesa ele também terá a chance de causar mais dano na batalha quando for atacado por cartas melee.
Uma carta barata, poderosa e útil nas batalhas é o sonho de qualquer jogador de Splinterlands, principalmente para aqueles que estão começando agora e o Pelacor Mercenary é a carta certa nesse aspecto.
Esse foi meu post sobre a carta Pelacor Mercenary, espero que tenha gostado, obrigado por ler e até uma próxima vez!
Se ainda não conhece Splinterlands e quer começar sua jornada você pode acessar o site através deste link: Splinterlands
(Esse é meu link de referência então use apenas se quiser, você pode acessar usando o link de outra pessoa ou pesquisando por Splinterlands no seu navegador)

English Version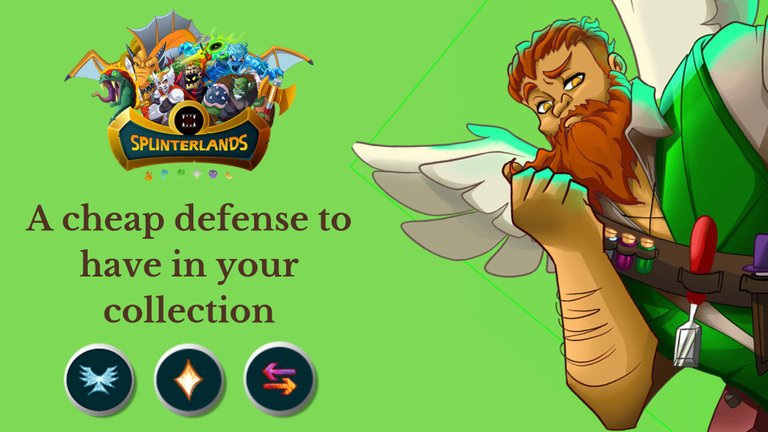 Hello everyone, welcome to another post about Splinterlands and this time I will talk about the Pelacor Mercenary card that many may already know since it is possible to get it for free in the reward chests, but even though it is a reward card it is incredibly powerful and useful to have on the battlefield and in this post I will talk more about it.
The first thing you need to know about the Pelacor Mercenary and that I mentioned before is that you can get it through the reward chests so if you are an active player in Splinterlands doing your missions and earning chests then you won't have a hard time having him in your collection and also level up since Pelacor Mercenary is a common card so it's not hard to get it in the chests.
But if you don't have patience and want to have Pelacor Mercenary at its maximum level as soon as possible then you can buy it on the marketplace and the good news is that it will be very cheap because there are already many cards in circulation and also because it is a card that you can get it for free, so its current value is only $0.01 per BCX and you can get it even cheaper if you buy it at a higher level like max level since it will only cost $0.008 per BCX.
But okay, now that you know you can get it for free or for a very low price on the marketplace, let's talk about the card's usefulness, but first let's take a quick look at its history to know a little more about the card's origin.
---
History
---
Many centuries ago, the Pelacor followed the prophet, Edalus, on what has become known as the 'Exile.' They followed him into the Mountains of Fire surrounding Mount Praetorous. For generations they lived alone in these mountains, hidden away. They were taught to worship the sun and moon gods, Solaki and Lunaki, deities dreamt into existence from the bones of Edalus' dead parents and his zealous mind. The scriptures read that the two Gods were carried into the heavens upon pieces of consecrated land, torn from the World to raise them high, so that their worshipers would always look up to them and forever be beneath their great heavenly power.
On the darkest night of each year, Edalus would invoke rituals that would change the bodies of his people. Drawing upon the dormant power beneath the mountains, he caused angelic wings to sprout from their backs. This change was permanent and, in fact, most Pelacor offspring inherited the appendages from their parents.
When Edalus finally passed away, ancient as he was, there was infighting between the people as to who should lead. Fractures in their harmonious way of life started to appear, and two very definitive factions arose. One worshiped the brother God, Solaki, and the other worshiped the sister God, Lunaki. So began the 'War of the Sons and Daughters', where Pelacor fought against one another, a rivalry that still continues to this day amongst some.
When the magic veil over Praetoria and the Mountains of Fire fell, and the Chaos Legions invaded, the Pelacor decided they could hide away no more. Believing that the Chaos Legion would turn upon their floating Gods next if they conquered the Splinterlands, they began their 'Great Descent' into the lowlands, determined to fight this new threat that had arrived upon their world, and joined with the Lowlanders armies.
I always like to put the story of the card in my posts because it's interesting to know more about the cards beyond their usefulness on the battlefield and it's always nice to read to give a little more excitement when you're using it in battle already that you will have a certain greater understanding of the card.
---
STATS
---
Now it's time to understand how the Pelacor Mercenary works in battles and for that we'll need to take a look at its stats.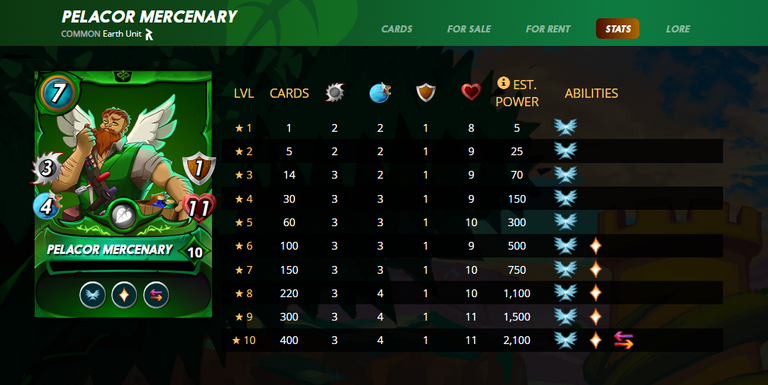 As I mentioned before, Pelacor Mercenary is a common card and it belongs to the Earth deck, so you will only be able to use it if you choose the Earth deck, the Dragon deck (matching the Earth deck) or using the neutral deck. (combined with the earth deck).
His attack type is melee so he will only be able to attack in the first position, the only exception would be if the battle has a rule that allows melee cards to attack in any position like the Melee Mayhem, Equal Opportunity or Super Sneak rules.
The main highlight of Pelacor Mercenary is its defense since it has a large amount of health and even a little shield that will be very useful against melee and ranged attacks, if Its mana cost is 7 and this is a high value but it will be a good expense for the defense that it will do in your battles. Lastly he has 3 abilities which are Flying, Heal and Retaliate.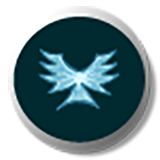 The first ability is Flying and it will make Pelacor Mercenary increase your chances by +25% to dodge melee and ranged attacks from cards that don't have the Flying ability. For those who already know it, it is a very annoying ability to fight so it will give you a good advantage when you have Pelacor Mercenary in your battles.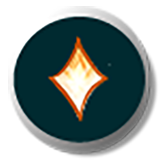 The second ability is Heal and it will make the Pelacor Mercenary heal for 1/3 of its maximum health per round. In my opinion healing abilities are very important in battles and make a big difference in the outcome as they will make your cards survive longer on the battlefield.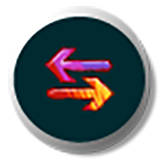 The third ability is Retaliate and it will make Pelacor Mercenary have a 50% chance to strike back when he is attacked by melee cards and this will make him even more useful since in addition to being a great defense he will also have a chance to deal more damage in battle when he is attacked by melee cards.
A cheap, powerful and useful card in battle is the dream of any Splinterlands player, especially for those who are starting now and Pelacor Mercenary is the right card in this regard.
This was my post about the Pelacor Mercenary card, I hope you enjoyed it, thanks for reading and see you next time!
If you still don't know Splinterlands and want to start your journey, you can access the site through this link: Splinterlands
(This is my referral link so use it only if you want, you can access it using someone else's link or by searching for Splinterlands in your browser)
---
---